This Mediterranean Buddha Bowl Meal Prep recipe includes a fragrant bulgur pilaf with pistachios and raisins, smoky roasted eggplant, steamed kale, blistered red peppers, zucchini, tomatoes, chickpeas, and a zesty tahini dressing. It's a buffet of nourishing Mediterranean goodness.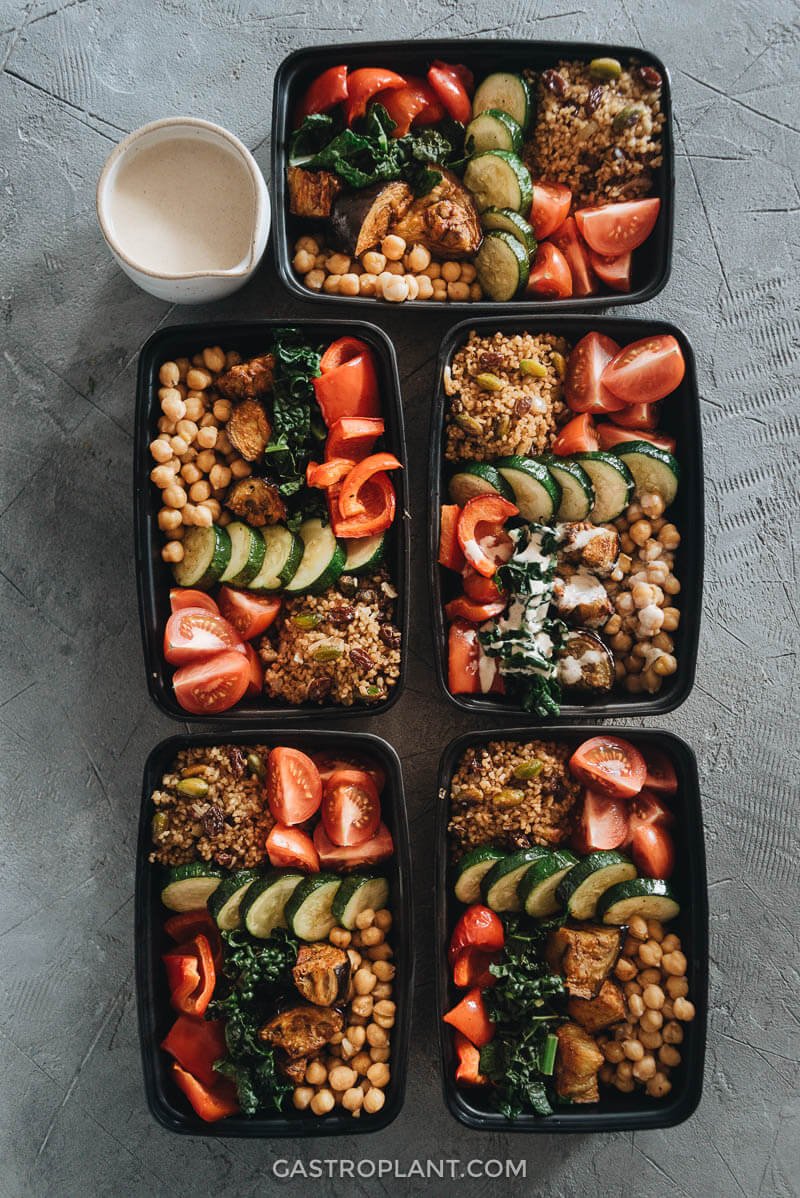 Plants in "Mediterranean" cuisine
As far as global cuisines go, Mediterranean is one of the best in terms of its array of delicious, fresh, (and inexpensive) plant-based foods. I know I'm over-generalizing by using the term "Mediterranean",  a word sometimes used to describe food in Greece, Turkey, the Levant, North Africa, and the Arabian Peninsula. But, thanks to the Ottoman Empire and its proliferation of the best foods within its bounds, these places do share a lot of culinary customs. Ingredients such as olives, legumes, eggplant, peppers, and grapes are used extensively in all these places. And some of my favorite foods – hummus, baba ghanoush, flatbread, and tabbouleh (or variants thereof) can be found in many of these places.
Even before I started eating plant-based I was really into Mediterranean veggie dishes. One of the dishes I would make to procrastinate on my undergraduate studies was stuffed grape leaves. I made hummus using an immersion blender. And I would load up on falafel and salad for a cheap and filling meal. At a time when I was tempted to season food as heavily as possible, for maximum intensity, I found that a light, simple seasoning of lemon juice and tahini on fresh ingredients could be equally satisfying.
Making a Mediterranean Buddha Bowl Meal Prep
When I was coming up with this recipe, I had a few different goals. I wanted to make sure that there was a lot of diversity of flavor and texture, as well as a fair representation of the elements of Mediterranean cuisines. At the same time, I wanted to keep it simple and as homemade as possible and avoid ingredients that are uncommon.
The bulgur pilaf
The most complex component of the recipe is the bulgur pilaf. The bulgur is sauteed with onion, garlic, and spices and simmered briefly with raisins and pistachios. The fragrance of the spice is noticeable but not overpowering and there are a few different textures to enjoy.
If you're not familiar with bulgur, it is a type of whole-grain wheat. It has been parboiled (i.e. partially precooked), so it doesn't take long to cook. The texture is like rice, but a bit chewier and less starchy. It contains almost as much protein and more fiber than quinoa and is a versatile whole grain to keep on hand.

Roasted veggies
While there are a number of really delicious Mediterranean dishes that are made from roasted veggies, including baba ghanoush and muhammara, I stuck with the simple roasted veggies themselves. Tender roasted eggplant is dusted with smoked paprika to create a similar flavor as baba ghanoush made from smoky fire-roasted eggplant. Red peppers are roasted until blistered to release their inherent sweetness. And the zucchini slices are cooked until just tender, to provide a refreshing counterbalance to the other flavors.
The roasted veggies are cooked all at the same time (though not for the same duration) to simplify the process. The eggplant takes the longest, and the pepper and zucchini should take about the same amount of time.
Alternatively, you can roast the veggies in the air fryer if you'd like to make smaller batches. Or if you don't have access to an oven (like me).
The other ingredients
Chickpeas, kale, and tomatoes make up the rest of the ingredients in the bowl and their preparation is extremely simple. The chickpeas just need to be heated and seasoned. The shredded kale is briefly steamed in the microwave and seasoned with a splash of vinegar. The tomatoes are just sliced tomatoes.
The sauce
I like tahini by itself, but wanted a dressing that captures a bit more range of flavor, so I added lemon, garlic, and cayenne. It makes a good all-purpose dressing for any sort of veggies and adds a bit of fat and protein, as well.

Potential additions and substitutions
There are dozens of different ways to customize your Mediterranean style meal prep
Prepackaged hummus, baba ghanoush, and tabbouleh are available at lots of grocery stores.
Canned stuffed grape leaves are also great.
Canned artichokes and hearts of palm, too.
Trader Joe's makes a really nice canned fried eggplant.
Roasted red peppers can be bought in jars.
Pickled veggies, including onions, carrots, and peppers can be delicious, but check the salt content before you buy (some are absolutely loaded with it)
You can substitute other greens for the kale. If you're using spinach or a salad mixture, you don't need to cook them.
You can substitute couscous for the bulgur and use all the same seasonings, though you'll need to follow the instructions on the package around the amount of liquid needed.
Cooking and meal prep tips
You can eat the prepared meal prep portions cold or reheat them. They're delicious both ways. The dressing will be very thick when chilled and it may be easier to work with if gently heated.
If you reheat a portion, you may want to set the kale and tomato aside. The kale could risk becoming overcooked (and bitter) and the tomato could lose its freshness. I'll leave that up to you.
If you're curious about my other meal prep recipes, see my Japanese Buddha Bowl Meal Prep and my Meal Prep Page (to be updated)
If you try this recipe out, let me know! Leave a comment, rate it (once you've tried it), and take a picture and tag it @gastroplant on Instagram! I'd love to see what you come up with.
Print Recipe
Mediterranean Buddha Bowl Meal Prep
This recipe includes a fragrant bulgur pilaf with pistachios and raisins, smoky roasted eggplant, steamed kale, blistered red peppers, zucchini, tomatoes, chickpeas, and a zesty tahini dressing. It's a buffet of nourishing Mediterranean goodness.

Ingredients
Pilaf
2

Tablespoons

olive oil

2

shallots

minced (or 1/2 large onion)

2

cloves

garlic

minced

1/4

teaspoon

salt

1

teaspoon

ground cumin

1

teaspoon

ground coriander

1/8

teaspoon

ground cinnamon

1

cup

uncooked bulgur wheat

1/2

cup

shelled pistachios

1/2

cup

raisins

1 1/4

cups

vegetable broth
Roasted Vegetables
3/4

pound

eggplant

cut into 1-inch cubes (about half a large eggplant)

2

red bell peppers

cut into 1-inch squares

2

zucchini

cut into 1/4-inch slices

3

Tablespoons

olive oil

1/2

teaspoon

smoked paprika

Salt and pepper
Chickpeas
1

can chickpeas

drained and rinsed

1

teaspoon

olive oil

Salt and pepper
Kale
1

bunch kale

shredded

2

teaspoons

apple cider vinegar

Salt
Tomatoes
1

pound

fresh tomatoes

sliced (a small variety such as cherry, grape, or campari)
Sauce
4

Tablespoons

tahini

3

Tablespoons

water

1

Tablespoon

lemon juice

A pinch of salt

A pinch of ground cayenne

A pinch of garlic powder
Instructions
Cook the pilaf
Heat olive oil in a medium-sized saucepan over medium heat. When the oil is hot, add the shallots and garlic. Stir and cook for 2 minutes. Add the salt, cumin, coriander, and cinnamon. Continue to stir for 1 minute as the spices are toasted. Add the bulgur, pistachios, and raisins. Continue stirring for another 1 minute to mix everything well. Add the vegetable broth and stir well. When the liquid reaches a boil, reduce heat to low and cover the saucepan. After 10-15 minutes, when the liquid has been absorbed, remove from heat and fluff with a fork.
Roast the vegetables
Option 1 - Oven: Preheat oven to 425F. Carefully coat each piece of eggplant in olive oil, taking care not to leave any piece in the oil too long (eggplant can absorb a lot of oil quickly). Place the eggplant pieces on a lined baking sheet. Season the eggplant with salt. Toss the red bell peppers and zucchini slices in the remainder of the oil and season with salt. Spread evenly on another lined baking sheet (or the same one as the eggplant, if it is large enough). Place both baking sheets in the oven, once preheated. The eggplant should take about 30 minutes and the zucchini and pepper should take about 20. The eggplant should be browned and tender, the zucchini cooked through, and the pepper lightly blistered. Check on them after 10 minutes, and then again at 15, 20, and 25 minutes and flip as needed. After removing the baking trays, season all the vegetables with black pepper. Sprinkle the smoked paprika over the eggplant and stir well to coat.

Option 2 - Air-Fryer: Preheat air-fryer at 270F for 5 minutes. Carefully coat each piece of eggplant in olive oil, taking care not to leave any piece in the oil too long (eggplant can absorb a lot of oil quickly). Spread the eggplant in the air-fryer basket and season with salt. Air fry at 270F until well browned and tender, about 15 minutes. Transfer the eggplant to a bowl and season with smoked paprika and black pepper. Toss the zucchini in the olive oil until lightly coated. Spread the zucchini in the air-fryer basket. Season zucchini with salt. Air fry at 270F for 8-10 minutes until cooked through. Transfer zucchini to a bowl and season with black pepper. Spread the pepper pieces in the air fryer basket (no oil needed). Air fry the peppers at 270F for 8-10 minutes until the peppers are cooked and lightly blistered. Transfer peppers to a bowl and season with salt and pepper.
Prepare the chickpeas
Combine the chickpeas and olive oil in a bowl. Season with salt and pepper. Stir well.
Prepare the kale
Place the kale in a large microwave-safe bowl and cover the bowl with a large plate. Microwave on high for 45 seconds. Check on the kale and taste a piece. If it is a vibrant green color and cooked through, it is ready. If it is still tough, cover the bowl and heat in the microwave for another 15 seconds. Repeat this until the kale is just barely cooked. Be careful not to overcook the kale. Cooking time will vary depending on the power of your microwave. Season kale with the apple cider vinegar and salt to taste.
Sauce
Combine all the ingredients for the sauce in a medium-sized bowl, but only add 2 tablespoons of water to start. Stir well. If the sauce is too thick for your liking, you can gradually add more water until the consistency is satisfactory.
Assemble the meal prep portions
Distribute the pilaf, roasted vegetables, chickpeas, kale, and sliced tomato evenly among the meal prep containers. You can either drizzle the sauce now or put the sauce in containers for serving later.
Notes
When making the sauce, take note of the composition of the tahini. It can include a lot of solid or a lot of liquid, and this will affect the flavor and texture of the sauce. Stir the tahini well before spooning it out of the container and pay attention to the consistency as you mix water into the sauce, so that you don't thin it out too much.
The sauce will thicken significantly when chilled. Warming the sauce (or the whole meal prep bowl) will help thin out the sauce.