Orange and Prune Scones are bright and citrusy, spiced with nutmeg and cinnamon, and on the less-sweet side. The texture is fluffy and crumbly and moist. They pair perfectly with your morning coffee or afternoon tea and are really easy to make.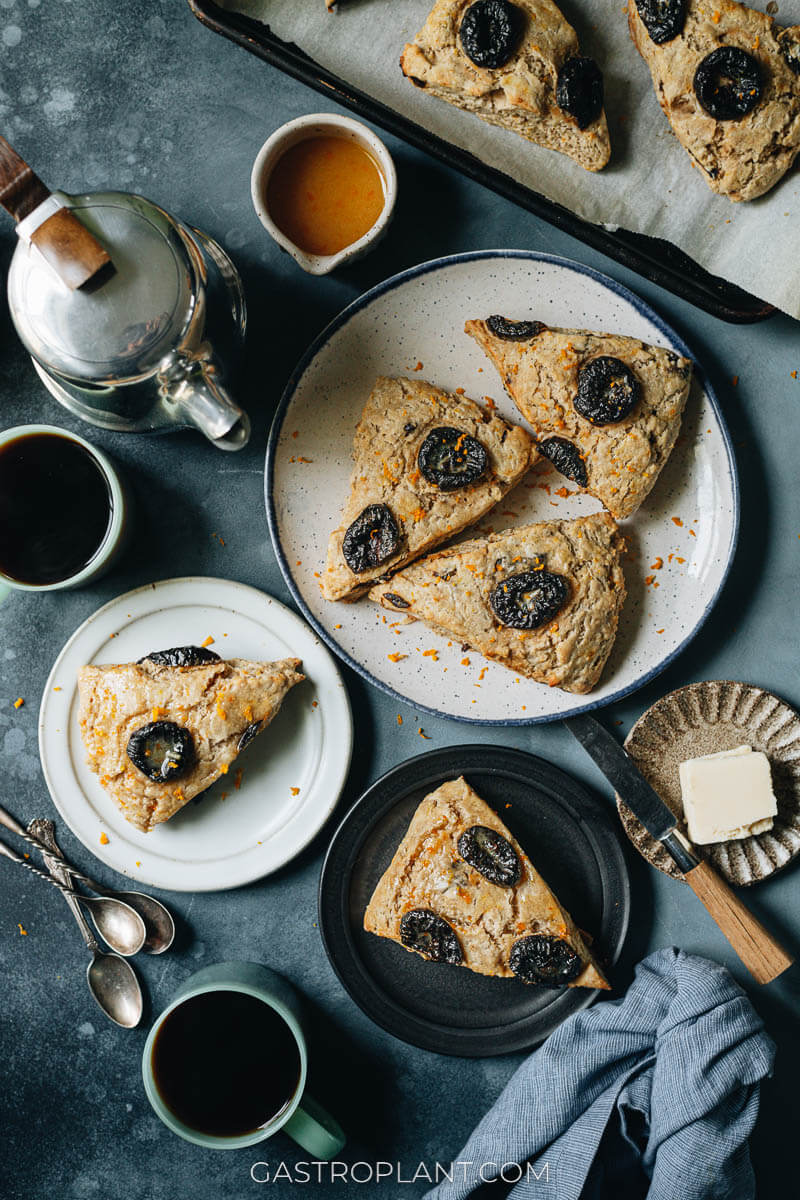 Orange and Prune Scones: An Easy Winter Morning Treat
When the days get cold, I find myself wanting a warming pastry or bread to go with my usual morning coffee. I don't much care for the super sweet stuff, but I do enjoy something sweet with some dimension of flavor.
Last year, I developed a recipe for Scandinavian cinnamon buns along these lines – they were on the not-so-sweet side and boosted with toasted cardamom.
This time, I wanted to go for something easier. Scones happen to be super easy to make, since they don't use yeast or require hardly any kneading.
British-Inspired Orange and Prune Scones
Not being someone who can just pull a scone recipe out of the air (I only bake a few times a year), I looked for some proper British guidance when setting the foundation of this recipe.
This very basic recipe from the BBC served as my template for the less-sweet scone dough. Three tablespoons of sugar is not a lot for eight scones, but with the extra sweetness of the prunes, plus the optional orange glaze, it's perfect.
Getting the Best Texture for Your Scones
Since scones are non-yeasted, you need to do a few key things to get the texture to come out light and fluffy rather than dense.
The first key is to freeze the vegan butter and use a grater to get it into tiny bits without becoming liquid. During the baking process, the tiny bits melt and create pockets of space within the scones. It's also helpful if your kitchen is on the cool side (easy in winter) to keep the butter from melting as you work on the dough. It also helps if you chill your mixing bowl.
The second key for fluffier scones is to handle the dough as little as possible when mixing, combining, and rolling it. Some of my early scones were really dense and tough because I kneaded the dough like I was making bread – don't do this! You want the dough to be just mixed enough. It's OK if it's a bit wet and lumpy – look at the picture below.
The third is to chill the dough – I use the fridge and the freezer in different steps to get the dough cool so that the butter doesn't melt and so that the scones bake at the correct rate.
(A quick thank-you to Sally of Sally's Baking Addiction for sharing her expertise on scone science.)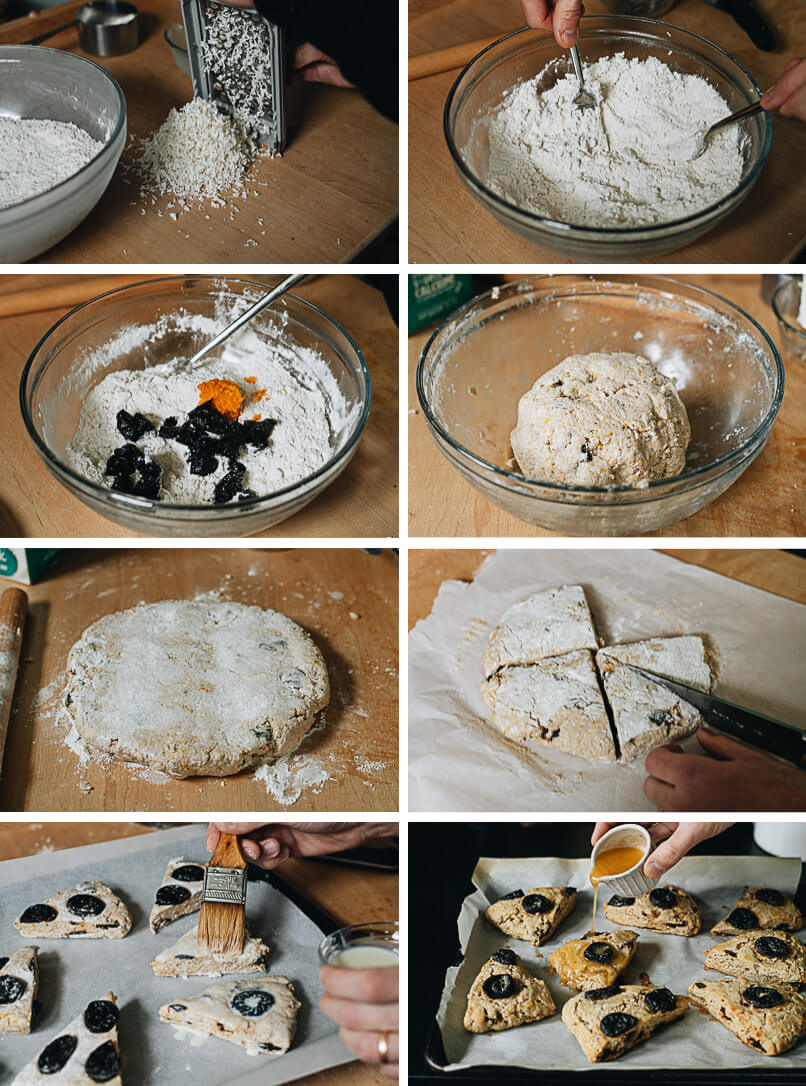 A Zesty Orange Vanilla Glaze for a Touch of Sweet
These scones are not all that sweet (British scones are usually dressed with jam). So, I included an orange vanilla glaze that you can either put onto the scones after baking or spread it onto one as you eat it, like you would with jam.
I adapted the glaze from the glaze in this recipe here. My version adds a healthy dose of orange zest so that the flavor is super orangey.
How to Serve the Orange and Prune Scones
While the glaze is a really easy and tasty accompaniment to the scones, there are some other approaches you can take:
Cut them in half and spread some jam and your choice of buttery spread onto them
Try orange marmalade instead of jam for a bright bittersweetness
Slather some whipped coconut cream onto them if you're feeling adventurous
And of course, remember to always have a cup of coffee or tea any time you're eating a scone.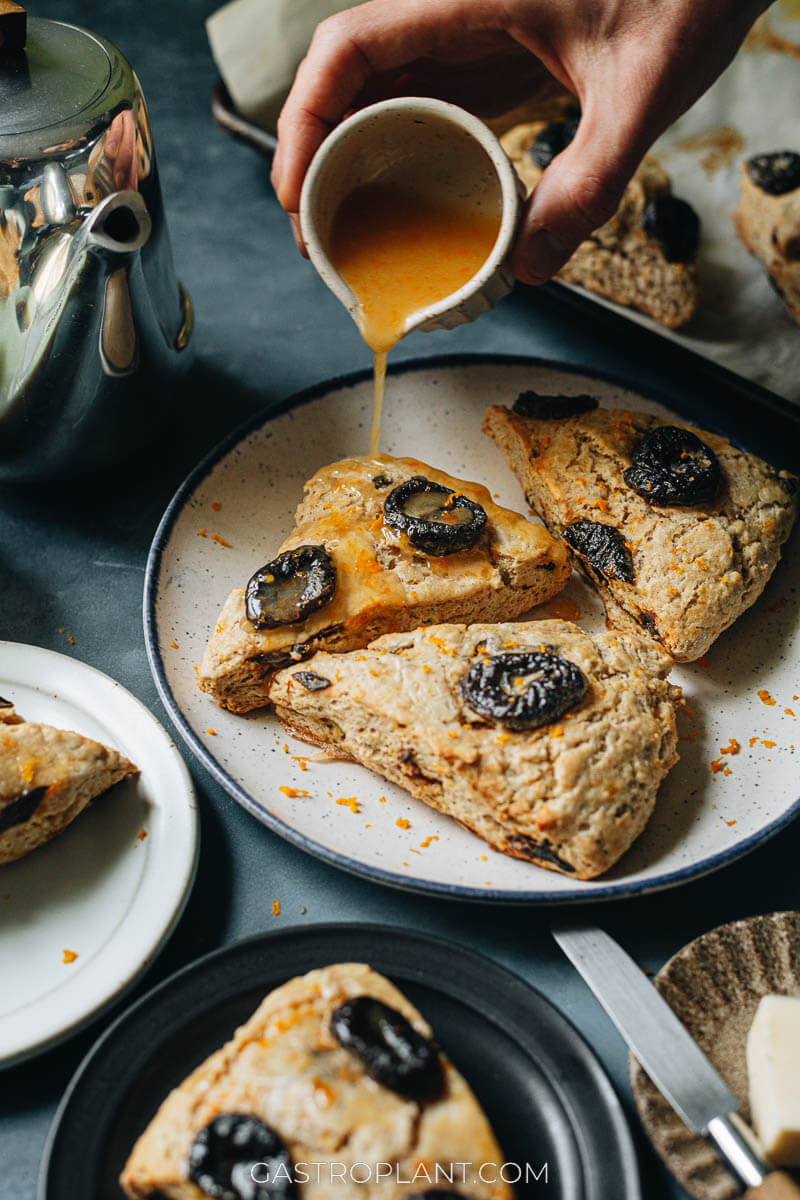 Final Thoughts
I was really happy with how these turned out, with the fruity orange-plum combination against the warm spice of the cinnamon and nutmeg. And they're not any sweeter than they need to be. I really tried to keep the sugar in a supporting role, so that the other ingredients would shine.
If the orange and prune scones sound like your cup of tea, I hope you give them a try. Please let me know in the comments if you do!
Print Recipe
Vegan Orange and Prune Scones
Orange and Prune Scones are bright and citrusy, spiced with nutmeg and cinnamon, and on the less-sweet side. The texture is fluffy and crumbly and moist.
Equipment
cheese grater

baking sheet

parchment

glass mixing bowl

preferably pre-chilled in freezer

fridge and freezer

with enough space for a baking sheet
Ingredients
360

grams

all-purpose flour

plus more for dusting

5 ½

teaspoons

baking powder

1

teaspoon

salt

3

Tablespoons

caster sugar

1

teaspoon

ground cinnamon

1

teaspoon

ground nutmeg

115

grams

vegan butter

(about 1 stick) frozen and grated

150

grams

prunes

pitted, about 18 prunes, half diced and half halved into disks

Zest from 1 medium orange

about 1 ½ Tablespoons

255

milliliters

plant milk

preferably unsweetened and unflavored, plus more for brushing
Glaze
2

Tablespoons

vegan butter

melted

¾

cup

powdered sugar

1 ½

Tablespoons

plant milk

preferably unsweetened and unflavored

¼

Tablespoon

vanilla extract

1 ½

Tablespoons

orange juice

Zest from ½ medium orange

(2-3 teaspoons)
Instructions
Combine the flour, baking powder, salt, caster sugar, cinnamon, and nutmeg in a large chilled glass bowl. Whisk to combine thoroughly. Rub in the grated vegan butter with forks until the mixture resembles fine breadcrumbs. Gently stir in the diced prunes and orange zest until distributed evenly.

Gradually stir in the milk until you have an integrated, lumpy dough ball. Stop as soon as the dough is consistent with no dry spots or remaining liquid. Do not overstir or overwork. (See note on dough consistency.)

Place the dough ball onto a lightly floured working surface. Gently roll the dough into a round, even 2-centimeter thick disk, doing as little work on the dough as possible. Spread the halved prunes on the top and press them very gently onto the surface. Transfer the dough disk upside down onto a parchment-lined baking sheet and put it into the refrigerator for 30 minutes.

Begin preheating the oven to 220C (425F). Remove the baking sheet from the fridge and cut the dough like a pizza into 8 wedges. Lift the parchment off the baking sheet, place it on the counter, and line the baking sheet with a new piece of parchment. Transfer the cut wedges, right-side-up so that the halved prunes face up, onto the freshly lined baking sheet, spaced about 4 centimeters apart. Brush the tops, but not the sides, of the wedges evenly with plant milk.

Put the baking sheet with the dough wedges in the freezer for 15 minutes while the oven preheats.

Remove the sheet from the freezer and bake for 15-25 minutes until the tops are golden brown.

Allow the fresh scones to cool before serving. (See note on doneness.) Serve with the glaze if desired.

You may want to let the scones air dry for up to 24 hours before sealing them in an airtight container, which they should be good for 5 days in. (See note on storage.)
Make the Glaze
Combine all the glaze ingredients in a small bowl. Whisk to mix well. You can either drizzle the glaze onto the cooled scones or serve it alongside them as a spread.
Notes
You can adjust the consistency of the dough before moving forward. It should be fairly wet, and lumps are totally fine. Add a bit more plant milk if it's too dry, or a bit more flour if too sticky to handle. You may need a silicone scraper to remove the dough from the bowl.
The time needed to bake the scones can vary on a few different factors, including the dough, your oven temperament, and your freezer temperature. I like to go by appearance and internal temperature. The scones should be light golden brown, if not darker, and the internal temperature should approach 93C (200F), which you can measure with a probe thermometer. It's also OK to bake the scones on the lighter side, as shown in the photos, so they can take a bit more toasting when you reheat them later.
I like my scones with a little bit of crust on the outside, so I leave them out for a day before sealing them up. If you prefer them more on the moist side, like a muffin, you can seal them up as soon as they've cooled.
More Unexpected Plant-Based Sweets