Vegan Jajangmyeon features fresh noodles topped with a sticky, glossy, addictively umami black bean sauce with veggies, tofu, and mushrooms. Inspired by Korean instant noodles but much healthier, it's a deeply comforting dish with a generous dose of nourishment.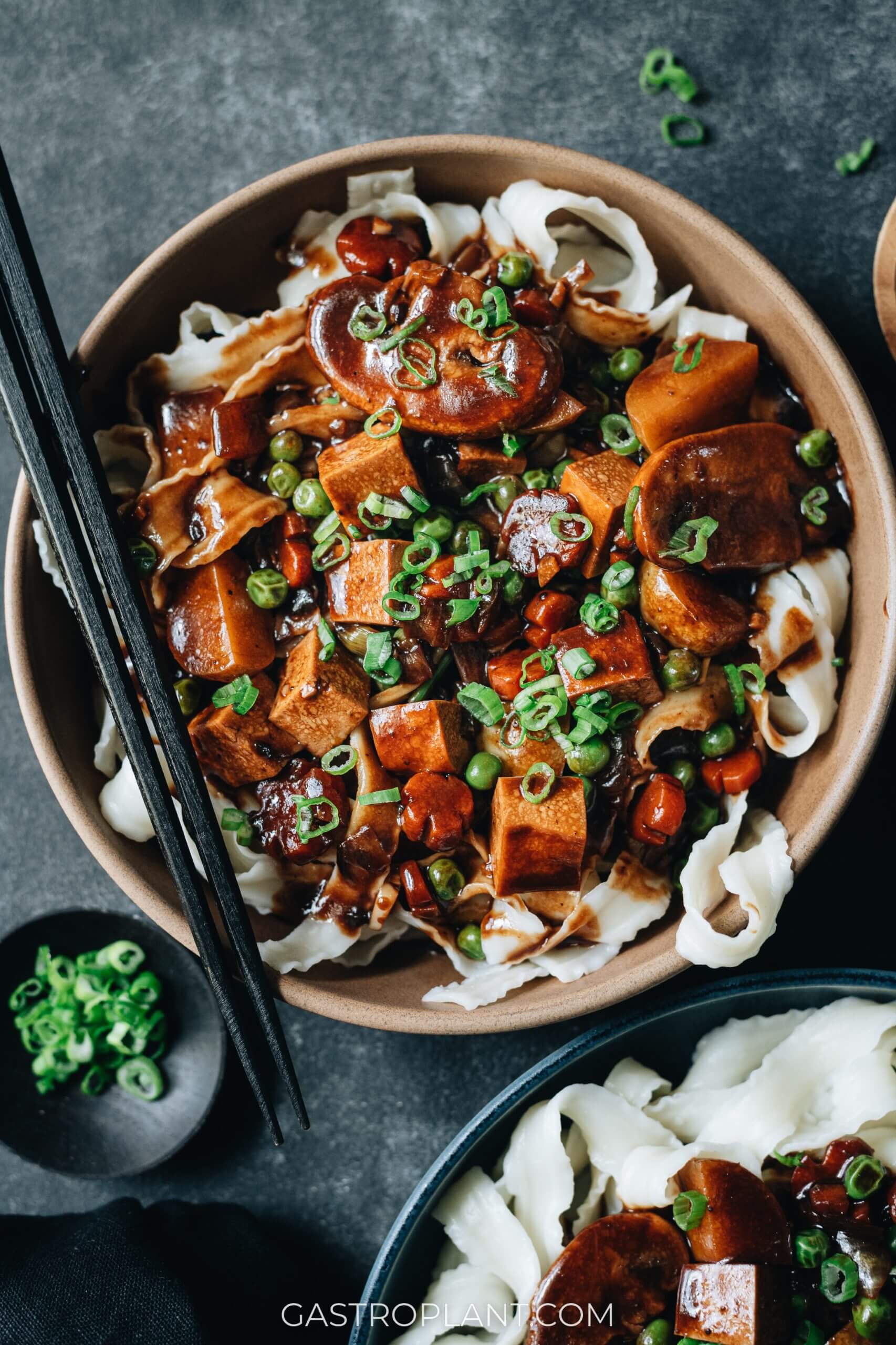 Vegan Jajangmyeon – Noodles in Magic Brown Sauce
This vegan Jajangmyeon consists of noodles topped with peas, carrots, potatoes, mushrooms, and chewy tofu in a magical brown sauce. Jajangmyeon is beautiful because of that savory-sweet slightly garlicky sauce that sticks relentlessly to noodles and to your taste buds. 
It's not a fancy or flashy dish, and it doesn't have much in-your-face intensity. But the sauce is so distinctive and satisfying that you may never forget it.
Vegan Jajangmyeon: Inspired by Chapagetti
My introduction to jajangmyeon was through the instant noodle version, Chapagetti. My mom would cook it for me and my siblings starting in elementary school. She had taken a liking to it living in Korea in the late 80s. But it was a once-every-few-years treat, since we didn't live anywhere near a Korean grocery.
What stuck with me about Chapagetti was the rounded soy-sauce flavor, with hints of scallion and sesame, plus the gooeyness of the sauce. And for me, the dehydrated peas, carrots, and onions amusingly pretended to make the dish "balanced".
When I tried some actual jajangmyeon in a restaurant, I was impressed at how closely Chapagetti had mimicked it. I decided to cook a vegan version to pay homage to both the instant version and the original.
I referred to Maangchi's non-vegan jajangmyeon recipe as I developed mine. That way, I could make sure I wasn't straying too far from the original. I really like her direct, essentials-only approach in that recipe.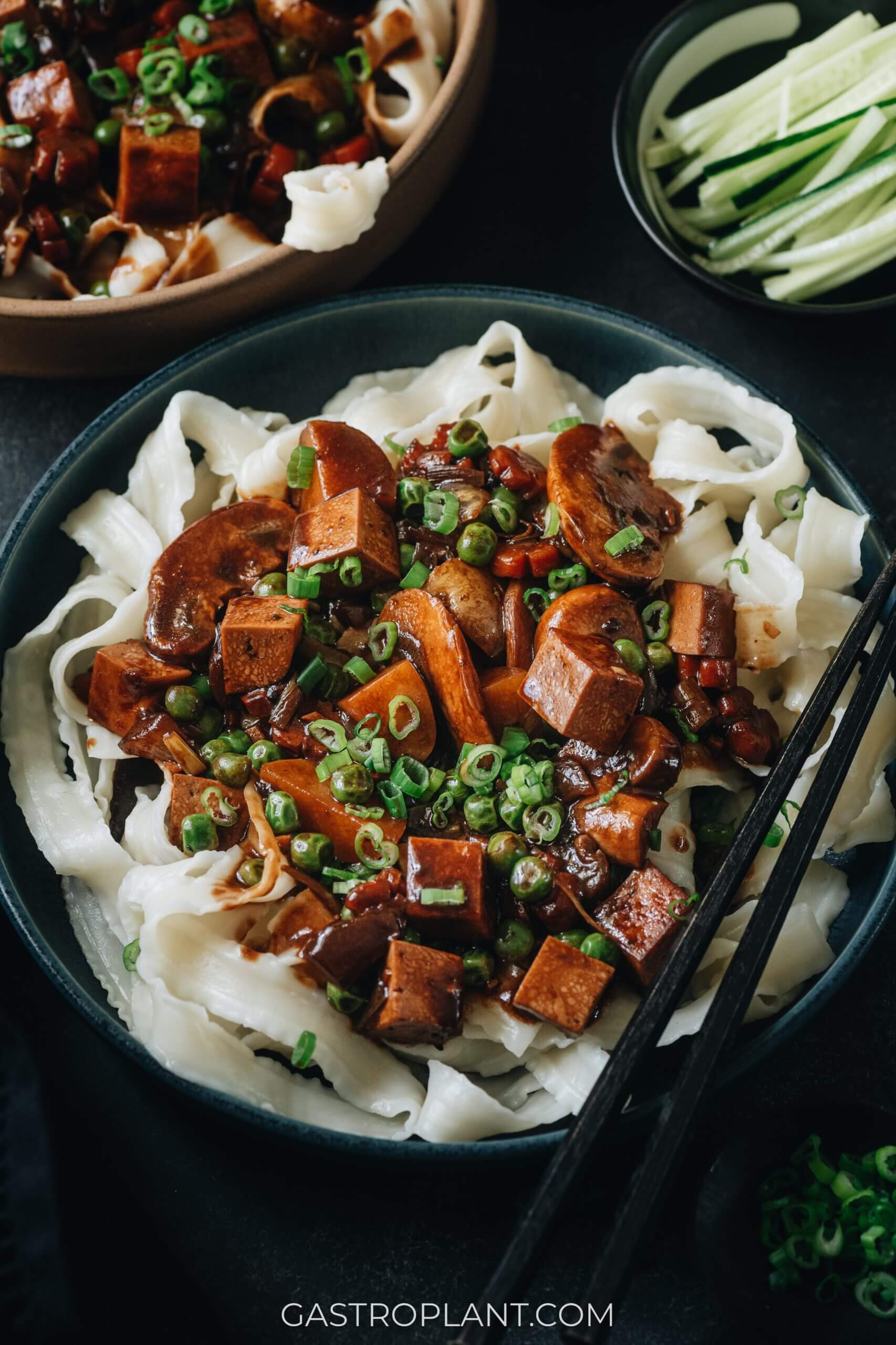 What's Different about this Vegan Jajangmyeon
There are a lot of different jajangmyeon recipes out there, vegan and not. And they have some similarities but there are also quite a few variations. I went with a combination of classic ingredients and things I felt like including. You can make tweaks as you like, but here's what I did include:
Brown mushrooms and baked tofu – the most common version of this contains ground pork, so I used mushrooms and tofu for some nice texture and an umami boost.
Peas and carrots – these aren't always included in homemade versions, but I like them for color and texture.
Potato – not uncommon in jajangmyeon, the soft starchy texture is really satisfying together with the sticky sauce.
How to Make Jajangmyeon
The cooking process for the sauce is pretty straightforward. Here's the run-down:
You'll stir fry green onion, carrot, and mushroom in your skillet and get them to caramelize a bit. Then add tofu and potato and garlic.
From there, you mix the Korean black bean sauce (more on that in a minute) with oil in the pan and fry it a bit before mixing it with everything else in the pan.
You'll add water and mix everything together to simmer, and get the flavors to meld, stirring to mix the bean sauce evenly.
Then add your frozen peas and a cornstarch slurry – the peas cook as the sauce thickens. Finish the sauce off with a bit of toasted sesame oil before you start heaping it on your noodles.
I included steps in the recipe to boil the noodles. You can do this in parallel with the sauce since it's mostly inactive cooking. And you'll have the noodles and sauce ready at the same time so you can enjoy it right away.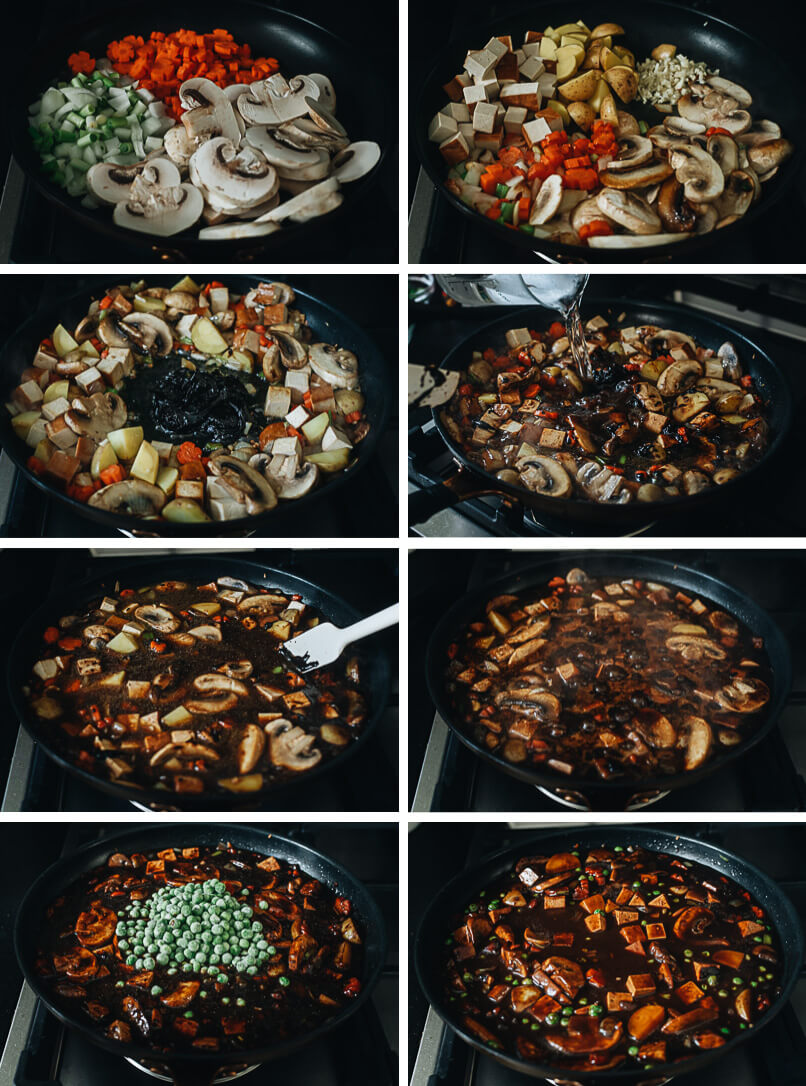 Korean Black Bean Sauce
There are a few different kinds of Korean bean sauce available on the market. So it's important to make sure you get the correct one for vegan jajangmyeon. It doesn't help that there are different ways to describe this sauce, in both English and Korean. I'll do my best to point you in the right direction.
All the ones I've used have the word "black" in the English description or title. Note that the sauce is made from soybeans (not black beans) but this is a good indicator. The word "fermented" may also be there, but it's not really a differentiator.
The Korean may say chunjang (춘장), jajang (자장), or jjajang (짜장) – this is what you want.
Do NOT use doenjang (soybean paste), ssamjang (spicy soybean paste), or gochujang (red chili paste) for jajangmyeon. (These three pastes/sauces are amazing, just not intended for this dish.)
There are some Chinese-style brands of "black bean sauce with garlic" (Kikkoman, Lee Kum Kee). I do not recommend those for this dish.
Though if a Korean brand has a "Chinese Black Bean Sauce", it should be good. Jajangmyeon is of Chinese origin and may be considered Korean-Chinese food by some.
The brand I typically use is Wang Korea Fermented Black Bean Paste. (Though the current Amazon price is absurd – buy another brand or buy it locally.)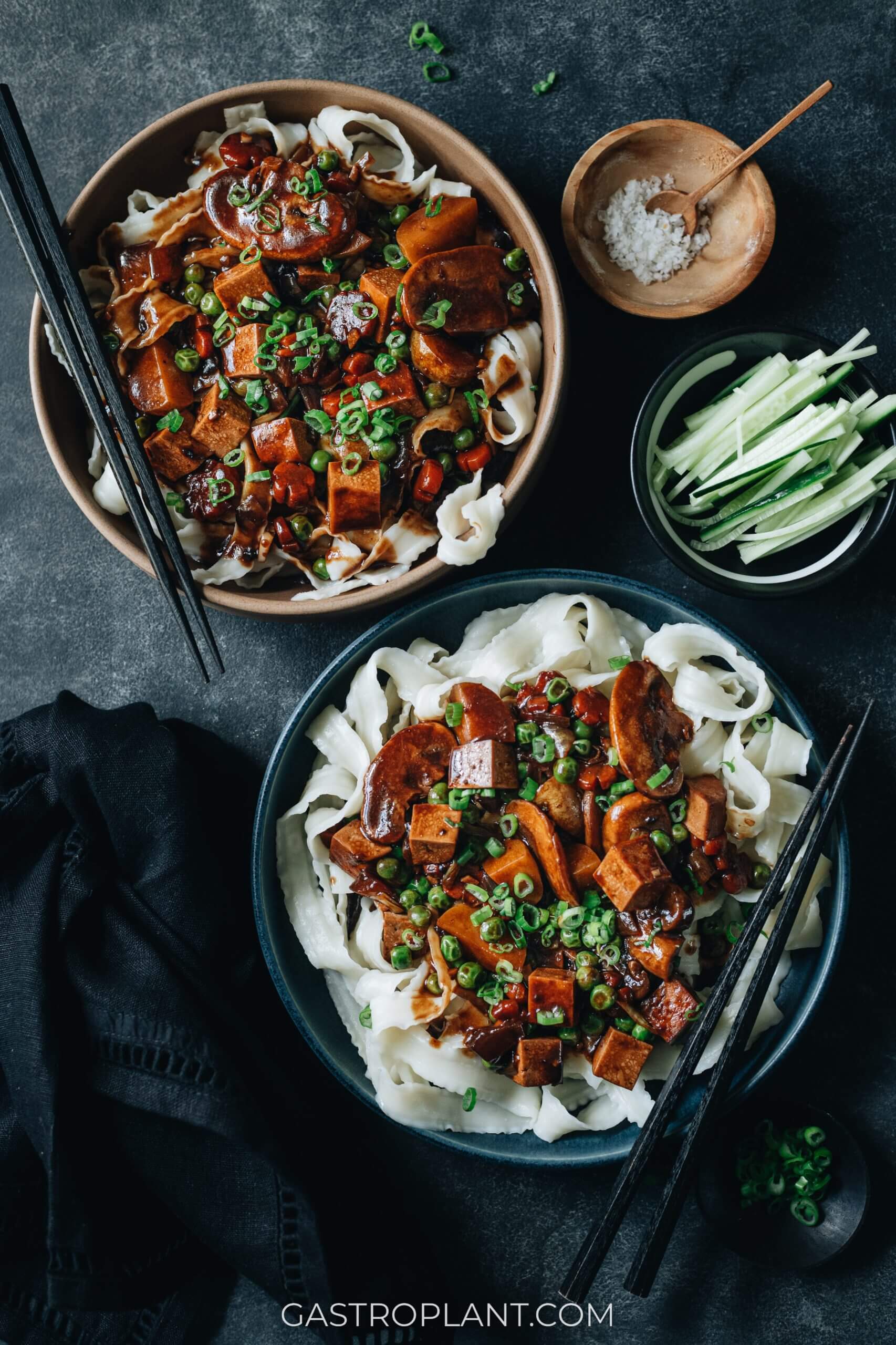 What Kind of Noodles to Use
I love to use the fresh Korean wheat noodles from the refrigerated section of the Asian grocery. They may be called "Chinese noodles" (jung hwa myeon / 중화면) or "Udon" (though different from Japanese udon). They are usually twisted into servings in the package.
When I did the photo shoot for this recipe, I used fresh Chinese knife-cut noodles (Havista brand "Shanxi planed"). They aren't the traditional type for the recipe, but these big thick ribbons pick up lots of sauce and the chewy tooth-feel is a treat.
Frozen udon noodles aren't traditional here but are convenient and would work in a pinch.
You can also use dried Korean or Chinese noodles, but I would go for thicker ones – make sure the strands are at least as thick as spaghetti.
More Veggies to Use in Vegan Jajangmyeon
I chose the veggies in this dish for color, texture, and variety, but you should feel free to swap them out as you like.
It is not unusual to use zucchini (remove seeds and cut into cubes), Korean radish (peel and cut into cubes), or green cabbage (diced).
Depending what you have on hand, you might also include celery (diced), corn kernels, or sweet bell pepper (diced).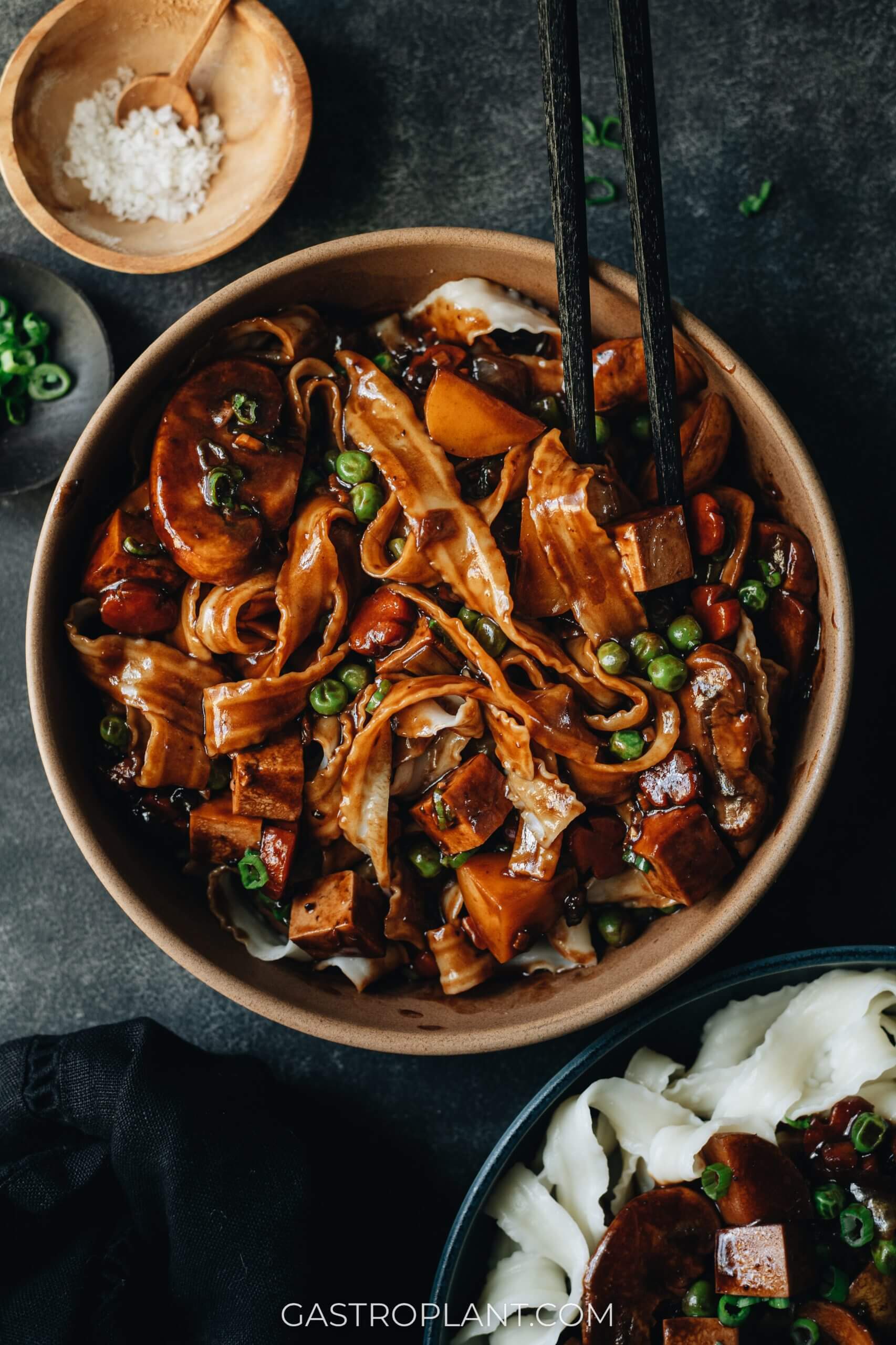 Print Recipe
Vegan Jajangmyeon
This dish features a velvety sauce with hugely comforting umami, loaded with veggies, tofu, and mushrooms, piled on top of fresh, chewy noodles.
Ingredients
4

servings fresh wheat noodles

Korean or Chinese

4

tablespoons

peanut oil

separated (2+2)

1

cup

green onion

cut into ¼ inch (½ cm) lengths (80 grams)

8

ounces

brown mushrooms

sliced (230 grams)

1

cup

carrot

peeled and cut into flowers ¼ inch (½ cm) thick (or diced to same thickness)

⅛

teaspoon

salt

1

cup

potato

cut into ½ inch (1 cm) cubes, russet or yukon (160 grams)

4

ounces

baked tofu

cut into ½ inch (1 cm) cubes (115 grams)

3

cloves

garlic

minced

⅓

cup

Korean fermented black bean paste

may be called jajang or chunjang

2 ¼

cups

water

separated (2+¼)

1

cup

frozen green peas

(130 grams)

2

Tablespoons

cornstarch

1

teaspoon

sugar or other sweetener

1

teaspoon

toasted sesame oil

½

English cucumber

cut into matchsticks for garnish
Instructions
Start a large pot of water over high heat to boil the noodles. Continue with prep and the other cooking steps while the water heats up. If it reaches a boil before you're ready to cook the noodles in step 5, reduce the heat to a simmer in the meantime.

Heat half of the peanut oil in a large nonstick skillet over medium-high heat. When hot, add the green onion, mushroom, and carrot. Mix them with the oil and season with the salt. Stir for 1 minute, then leave undisturbed for 2 minutes to caramelize. Add the potato, tofu, and garlic and stir fry for about 4 minutes, until the potato is slightly translucent.

Use your spatula to clear a space in the center of your pan. Add the rest of the peanut oil to that space and add the Korean fermented black bean paste into it. Stir the paste together with the oil for 1 minute to develop the flavor. Then stir the paste with the other ingredients in the pan for 2 minutes.

Add 2 cups of the water to the pan and stir well so that there aren't any large lumps of black bean paste. Once the liquid reaches a boil, reduce heat to low and let simmer until the potato is tender, about 10 minutes. As the sauce simmers, look for bits of undissolved black bean paste and stir them in.

While the sauce is simmering, boil the noodles according to the package instructions. This could take anywhere from from 1 to 12 minutes, depending on the type of noodles. Drain the noodles and set aside. Do not overcook them.

Combine the cornstarch, sugar, and remaining ¼ cup water in a small bowl. Whisk thoroughly until smooth.

When the sauce has finished simmering in step 4, taste a piece of carrot and a piece of potato. If both are tender, add the peas and stir in the cornstarch slurry. Stir until the sauce thickens, about 1 minute. (If either the carrot or potato is not tender, cook for another couple of minutes until both are to your liking before stirring in the slurry.

Turn off the heat and stir in the sesame oil.

Serve the sauce over the noodles with a generous cucumber garnish. Can be served hot or at room temperature.
More Asian-Inspired Plant-Based Recipes