Pan-roasted wild mushrooms get caramelized over high heat and paired mysteriously with fresh grapes. Boosted by a splash of sherry and vinegar and accented with green onion, it's an unusually addictive umami dish that's easy to make. Optional soft vegan cheese adds another layer of tasty intrigue.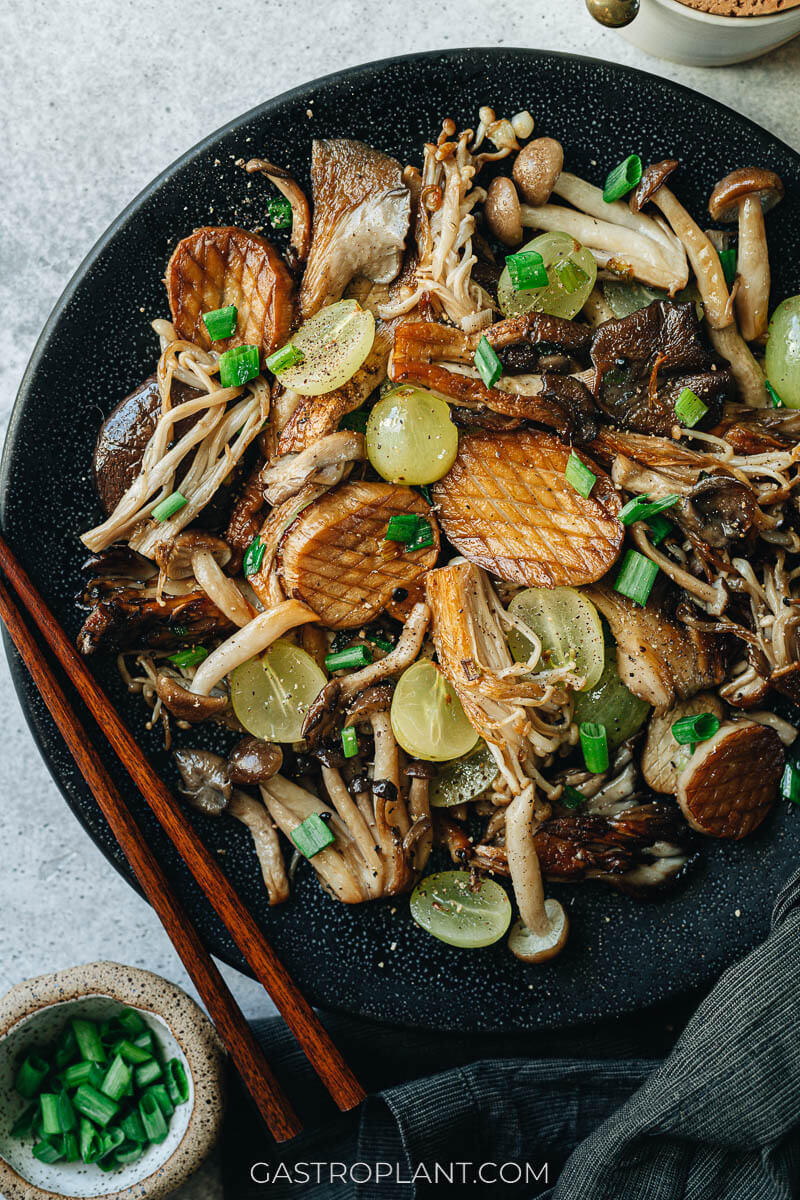 Why make pan-roasted wild mushrooms with grapes?
This dish uses simple and tasty flavor combinations, is pretty easy to make, and pairs well with a variety of different types of cuisine. It has quickly become one of my go-to mushroom dishes and I'm excited to share it with you.
Inspired by Tomiño in NYC
I got the idea for this dish from a restaurant in Manhattan's Little Italy, a Spanish (specifically Galician) restaurant called Tomiño. The restaurant serves fantastic food, though I cannot recommend it for strict vegan cuisine.
They have a dish called Parrillada de Setas ("grilled mushrooms") that includes grapes, goat cheese, and a honey mousse. I admit it's fancier than my version here. But the combination of beautifully roasted mushrooms enhanced by sherry and paired with grapes is a winner on its own and not difficult to recreate at home.
Developing the Flavor of Mushrooms
We'll do two main things to make the mushrooms sing: pan roast them at high heat and combine them with sherry.
Use a heavy pan if possible
I like to use a carbon steel pan with a good bit of oil to get the best caramelization. I have made this in a nonstick skillet too, though you need to take care to keep the heat high without burning your oil. If using a nonstick pan you may want to cook the mushrooms in 2 batches, at least at first, so you can make sure you caramelize them nicely.
Don't stir the mushrooms right away
After you add the mushrooms, let them sit undisturbed for a few minutes so they get blistered. The outside will brown, and the inside will eventually release a bit of water, which will boil off and concentrate the mushroomy flavor. This is the basic gist of pan roasting mushrooms.
Sherry makes mushrooms magical
The combination of dry sherry and mushrooms is one of my favorites in all of cooking. The sherry itself is kind of fruity and kind of nutty and somehow really makes the flavor of mushrooms explode.
In this recipe, we'll add the sherry, together with some white wine vinegar for acidity and contrast, to the mushrooms at the end of pan roasting. The liquid will mostly evaporate in the hot pan, infusing the mushrooms with a concentrated umami.
How do the grapes fit into all of this?
I haven't quite figured this out myself, but I think the grapes connect with the fruitiness of the sherry and their sweet-tart flavor profile contrasts nicely against the salty mushrooms. That's my best guess, anyway.
The sliced grapes get added to the hot mushrooms once the heat is off and you're nearly ready to serve the dish. You want the grapes to take on a little bit of the mushroom-sherry flavor but not become too wilted by the heat. You'll appreciate their juicy firmness this way.
What Kinds of Mushrooms to Use
When I developed this recipe, I used a mix of fresh king oyster, oyster, shimeji, maitake, and enoki mushrooms. It's fun to use all these different types for a special occasion, but it's totally OK to use regular white (button) or brown (crimini) mushrooms if you like. They'll still caramelize up nicely and work with the flavors here.
If you decide to use shiitake mushrooms in this dish, I recommend that you don't make them more than 25% of the overall mix, because they can be overpowering.
What to serve with the pan-roasted wild mushrooms
While this dish is Spanish-inspired and it does go really well with Spanish (and other Mediterranean) food, I have found that it goes surprisingly well with Chinese and other Asian dishes as well.
Here are some I'd suggest:
Take a chance on this dish
I've served the pan-roasted wild mushrooms with grapes a couple of times for social occasions, and it's been well received. It was fun getting friends to take a chance on the unexpected combination of grapes and mushrooms. It's a small gamble with a pleasant payoff. I hope you enjoy it as well.
Print Recipe
Pan-Roasted Wild Mushrooms with Grapes
Wild mushrooms caramelized over high heat are paired mysteriously with fresh grapes. Boosted by a splash of sherry and vinegar and accented with green onion, it's an unusually addictive umami dish that's easy to make.
Ingredients
1.5

pounds

assorted mushrooms

e.g. maitake, oyster, king oyster, enoki, shimeji, chanterelle cut into bite-sized pieces as needed; see notes

3

Tablespoons

neutral high-heat oil

4

green onions

sliced thinly and white parts separated from green

1

Tablespoon

dry sherry

½

Tablespoon

white wine vinegar

Salt and pepper to taste

1

cup

fresh grapes

sliced in half

optional ¼ cup vegan soft cheese (mozzarella or cream cheese)
Instructions
Heat oil in a large heavy skillet over medium-high heat until shimmering

Add the mushrooms. Season generously with salt. Don't stir for the first 5 minutes.

When the mushrooms are nicely browned on the bottom, begin to flip them. Two minutes after beginning to flip and stir, add the white part of the green onion. Continue to cook until nicely browned on all sides but not quite completely cooked.

Add the sherry and vinegar and stir. Cook until most of the liquid has evaporated. Add the grapes and green part of the green onion. Stir briefly with the heat still on, then turn it off. Add the vegan cheese in several clumps. Allow to sit in the hot pan for a few moments so that the cheese softens a bit.

Taste a bite and season as needed with salt and pepper. Serve immediately.
Notes
Make sure the mushrooms are dried thoroughly before cooking, for the best sear.
One of the best ways to cut king oyster mushrooms (if using) is by slicing them and then scoring the cut sides. In this case, don't make the slices any more than ½ inch (1.25 cm) thick so that they'll be cooked through with the other mushrooms.