These roasted portobello mushrooms are tender, juicy, and very concentrated in flavor. They work well in a Buddha bowl, a salad, or even on their own. And the recipe couldn't be simpler.

Roasted portobello mushrooms as a staple
For me, a key part of switching to a plant-based diet was making delicious everyday meals. If I could make plant-based meals that were easier, tastier, and healthier than omnivorous ones, I would really have no reason not to stay plant-based.
This dish hits all three of those – easy, tasty, and healthy. Portobello mushroom caps are cleaned and trimmed, then put into the oven or air fryer without oil or seasoning. They cook for 16 minutes, with one flip in the middle. When they're done, you're left with some of the juiciest and most flavorful mushrooms you've ever tasted. I almost named this recipe "portobello mushroom steak" because it does remind me a bit of steak with its sensations: a slightly smoky char, juicy interior, and general succulence.
This method might be the easiest way to cook mushrooms, ever. The most common method of cooking mushrooms, sauteing, takes a lot more attention, not to mention oil. And results can vary. With this method, great mushrooms become a lot more accessible.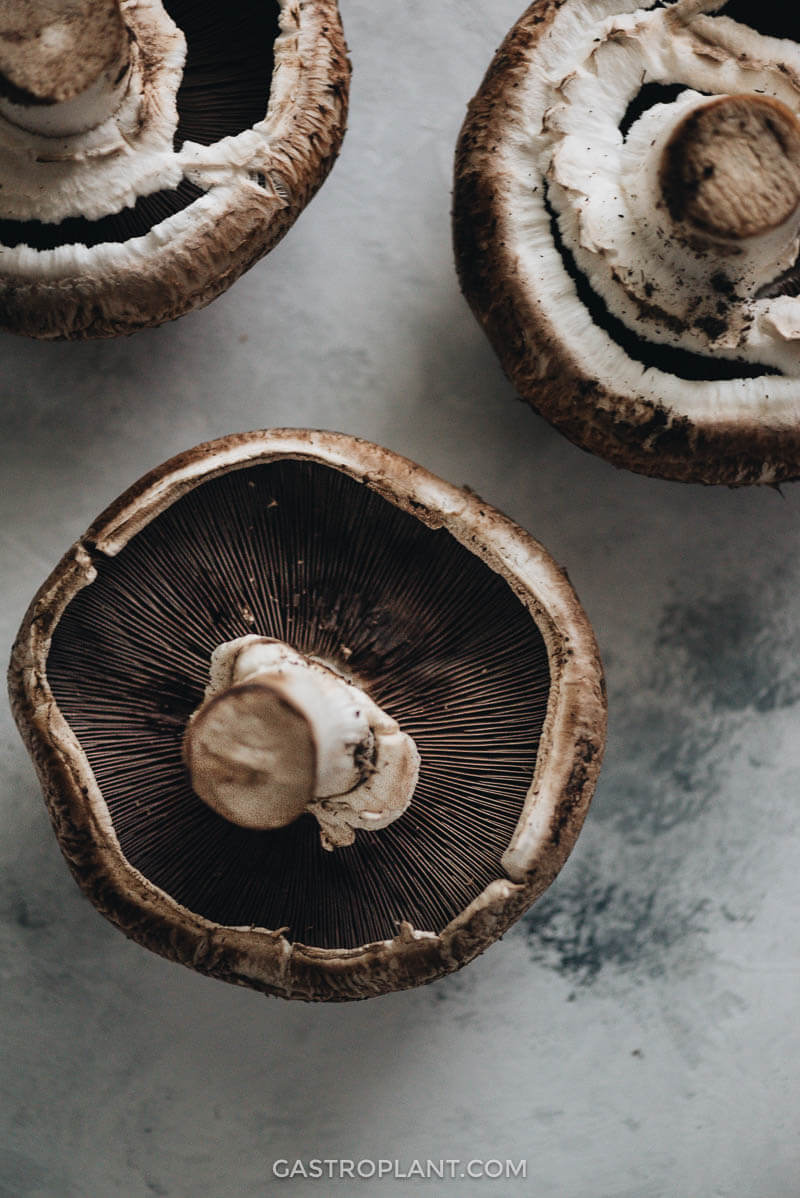 Versatility
While you can serve this roasted portobello mushroom as its own dish, it makes a really versatile component of other dishes, too.
You can serve it whole as a mushroom "burger": season it with salt and pepper and place it in a bun with sliced tomato and avocado and a slather of vegan mayo.

Or you can make tacos: slice the mushroom, season it with salt, lime, and chili powder, and add it into a tortilla with a couple spoonfuls of black beans and some salsa.

Mix it into a salad: slice and season the mushroom with salt and marjoram, then combine with spinach, arugula, artichoke hearts, sun-dried tomatoes, olive oil, and wine vinegar.

Make a Buddha bowl with it: cut the mushroom into cubes and serve with wild rice, roasted sweet potato slices, cooked cauliflower, steamed kale, chopped almonds, and lemon juice.

Roasted mushrooms also work great in enchiladas.
These examples give you some ideas of what you can do with the mushroom once it's cooked. This reliably awesome mushroom pairs well with so many things. The value of the recipe is in its simplicity, consistency, and great results.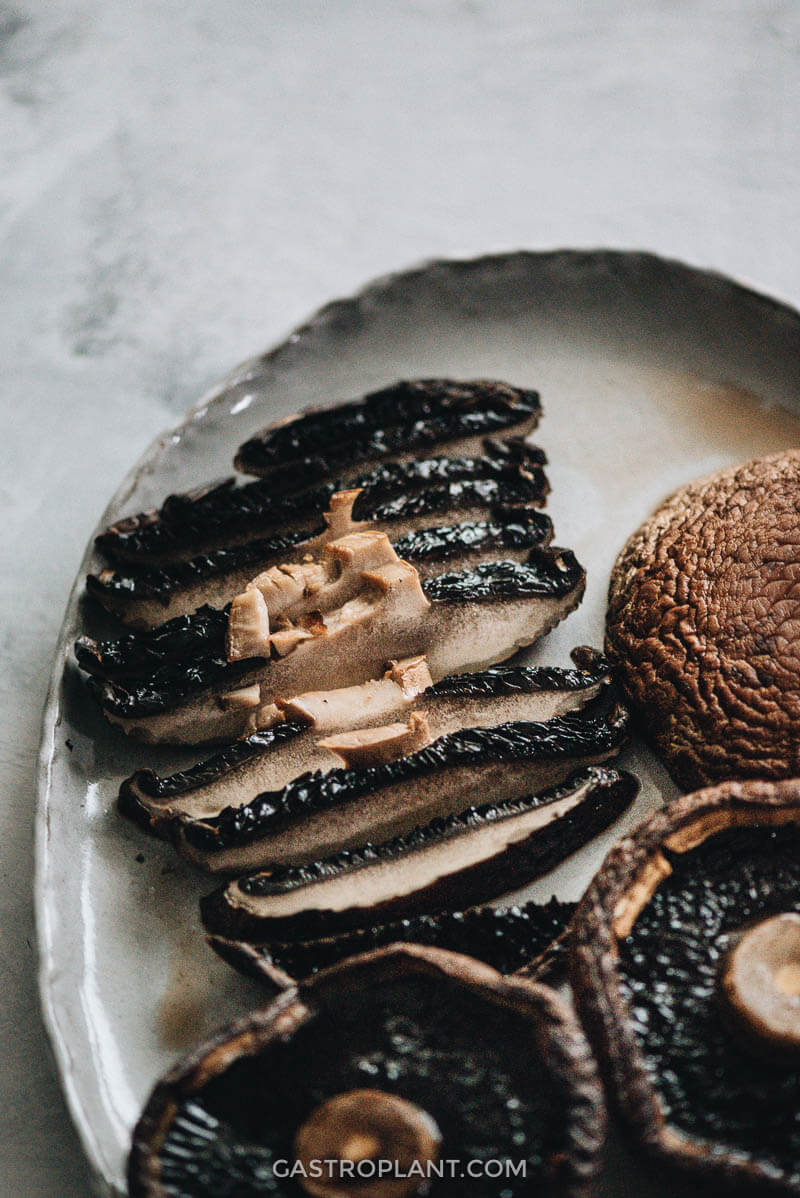 Cooking notes
Try a piece of the cooked mushroom before seasoning it. You may find that the natural essence of the mushroom is flavorful enough. This process really does concentrate the flavor. If you do choose to season it, salt and some sort of acid (lemon, lime, vinegar) will really make it pop.
A key part of the recipe is the flip. Start the mushroom gills-side-down. Then, halfway through flip the mushroom so that the gills are up. This creates a sort of bowl, so the mushroom juice won't spill out. Remove the mushroom from the air fryer basket as if it is a bowl.
Since the recipe doesn't use any oil, the exterior of the cooked mushrooms may be slightly dry. The dry exterior won't hold seasoning well, so you should season the mushrooms after slicing them. Slicing will release juice, which will allow the seasoning to stick.
The recipe includes options for both an oven and an air fryer.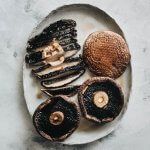 Print Recipe
Roasted Portobello Mushrooms (oil-free)
These roasted portobello mushrooms are tender, juicy, and very concentrated in flavor. They work well in a buddha bowl, a salad, or even on their own. And the recipe couldn't be simpler.
Ingredients
2

portobello mushroom caps

salt

(optional) to taste

ground black pepper

(optional) to taste

lemon juice

(optional) to taste
Instructions
Preheat oven to 450F (or 425F if using convect).If using air fryer, preheat to 390F (or highest, if lower than 390F).

When preheating, gently rinse the mushrooms and rub any dirt spots away with a paper towel. Trim the stems as needed so that the mushrooms will sit flat when gills-side down.

If using an oven: once the oven is preheated, place the mushrooms on a lined baking sheet, gills-side down, into the oven.Bake for 10 minutes. Carefully flip the mushroom caps so that they are gills-side-up (like a bowl). Bake again for 10-12 minutes.

If using an air fryer: after the air fryer has preheated for 4 minutes, place the mushrooms in the air fryer basked gills-side down.Air fry for 8 minutes at 390F. Carefully flip the mushroom caps so they are gills-side-up (like a bowl). Air fry for 8 more minutes.

Remove the mushrooms when they are cooked through (if you're unsure, slice a piece and taste it. The mushroom should be tender and juicy.

Slice and season the mushroom caps with salt, pepper, and lemon juice (if using) right before serving.