This curry tofu scramble is a vibrant, satisfying, and healthy first meal of the day. It tastes like it should be unhealthy but it's full of clean fuel.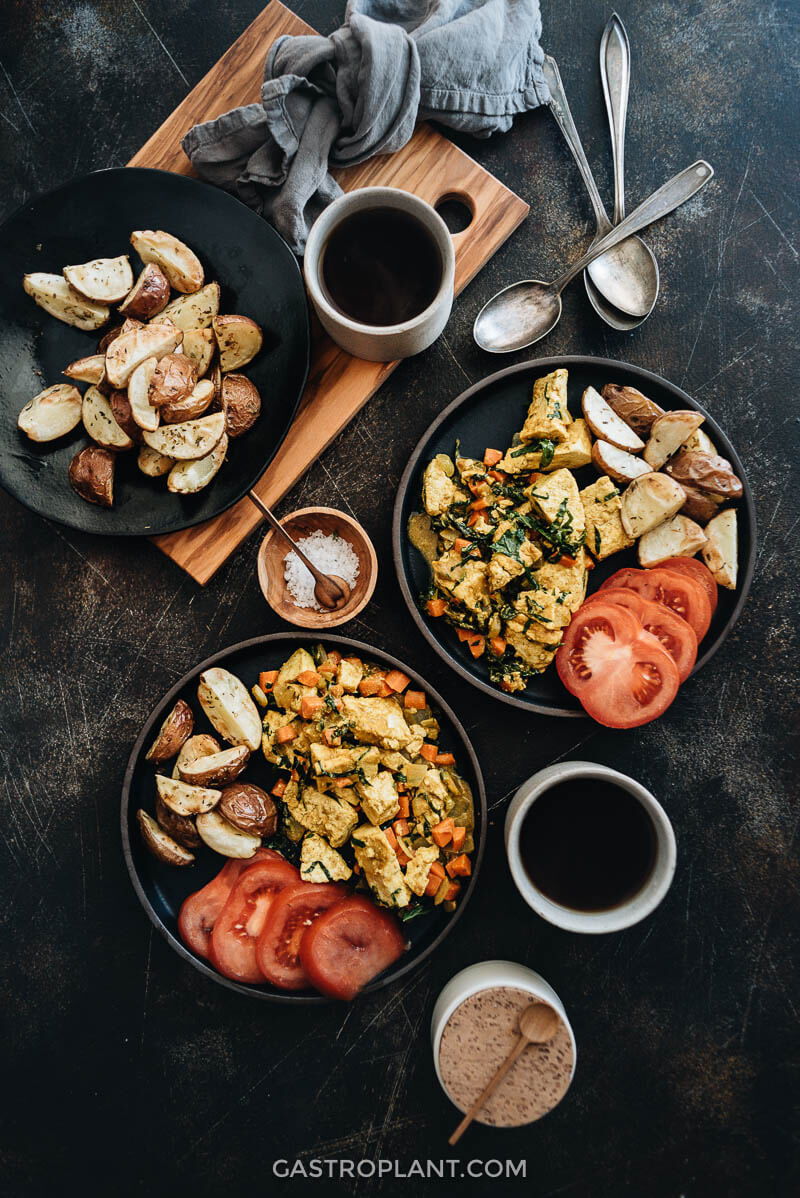 A light yet satisfying breakfast scramble
One of the things I've really loved about eating plant-based is that even delicious and filling meals don't get in the way of a busy day. There's no food comas and no feeling that there's a "brick" in your stomach for hours after you've eaten. Your brain and body are free to do whatever you want. There's no "recovery period" from a good plant-based meal.
I ate two plates of this curry tofu scramble for brunch, along with a generous helping of home fries. I was more than satisfied with the portion, and the bright flavors made it easy to gobble down. Yet 45 minutes after finishing, I was with my wife on the trail, taking a five-mile run. There's no way I could do that after eating any typical omnivorous brunch.
The flavors here revolve around Indian-inspired curry. But the accents of other spices make the dish really pop. I use a Madras curry powder, accented with ground cumin, coriander, and a bit of cardamom. The tofu absorbs them nicely with the aid of some veggie stock and some nutritional yeast. Optional coconut milk brings some intense creaminess and balances the spices.
I served this scramble with some roasted potatoes and sliced tomatoes and it was a solid pairing. It would also be great with sliced avocado and toasted bread.
The dish, while straightforward and simple to prepare, does require a bit of chopping (carrot, onion, kale) so I'd say it's more of a weekend breakfast than a weekday one.
Cooking notes
I used extra firm tofu and chose to chop the tofu into irregular bite-size pieces with the spatula in the skillet. You can use softer tofu and break it apart more (or mash it) if you prefer that texture.
I recommend mild curry powder because spicy powders can vary greatly in their chili content. If you want to spice the dish up a bit, you can add some chili powder separately, or even serve it with hot sauce.
Print Recipe
Curry Tofu Scramble
This curry tofu scramble is a vibrant, satisfying, and healthy first meal of the day. It tastes like it should be unhealthy but it's full of clean fuel.
Ingredients
1

pound

tofu

extra firm (or other), drained

3

carrots

medium, peeled and diced

1

cup

onion

diced

1/2

cup

kale leaves

separated into rib and leaf, with ribs diced and leaves shredded

2

Tablespoons

olive oil

1

Tablespoons

vinegar

apple cider or other

1/2

cup

vegetable stock

1/2

teaspoon

salt

2

Tablespoons

nutritional yeast

2

Tablespoons

coconut milk

(optional)
Seasoning mix
2

Tablespoons

curry powder

Madras, mild

1

teaspoon

ground cumin

1

teaspoon

ground coriander seed

1/4

teaspoon

ground cardamom
Instructions
Heat olive oil in a medium-sized skillet over medium heat.

When the oil is hot, add carrot, onion, and kale ribs. Saute for 3-4 minutes, until ingredients are half-cooked. Add seasoning mix. Stir to coat well.

Continue to cook for 2-3 minutes until spices are lightly toasted and become fragrant.

Add tofu to skillet and give it a stir, breaking it into scrambled chunks.

Add vinegar, coconut milk (if using), salt, and half of the vegetable stock. Stir for a minute or so until blended.

Add shredded kale leaves. Cook for 1-2 minutes until kale leaves are wilted, stirring occasionally.

Add nutritional yeast. Stir. Add more vegetable stock achieve desired consistency. The scramble should not be too dry.

Serve immediately.

Notes
Extra firm tofu is suggested here, but this is a matter of preference. If you like a soft mouthfeel, feel free to use soft tofu.
Mild curry powder is recommended because spicy curry powders can vary a lot in their chili level. If you prefer a spicier dish you can use spicy curry powder or add some chili powder to the spice mix, but be careful not to over-season the dish.