This Creamy Vegan Mushroom Pasta features a sauce that is intensely creamy with a full-bodied mushroom flavor. The recipe uses cashews, almond milk, and dried mushrooms to create a very satisfying plant-based sauce.
Discovering cashew cream
I was introduced to cashew cream in a pasta sauce by The Happy Pear, in their creamy mushroom pasta recipe. They run a very impressive venture that promotes nourishing plant-based eating in a number of different ways, including recipes. And the "pear" themselves (identical twins Dave and Steve) are very entertaining and exude lots of positive energy. I highly recommend checking them out.
Over the past several months I've been cooking their mushroom pasta, experimenting and tweaking each time. The original recipe is very simple and straightforward and also oil-free. If those aspects interest you, please do consider their recipe. I eventually made several enhancements to it in order to get a richer and more full-flavored sauce.
Making the sauce my own
I generally enjoyed the sauce in the original recipe but felt that it could be made richer with not too much more effort. Since the two major things I added, dried mushrooms and nutritional yeast, end up going in the blender, it isn't much more work to add them. And they make a tremendous difference in the flavor of the sauce.
Other tweaks I made include swapping the lemon juice for vinegar and adding sherry. You can use either lemon juice or vinegar, but it's important that you have one of those. The benefit you get from the acidity of either ingredient cannot be understated. Sherry can make any cream sauce pop. Just a splash adds another layer of flavor that is perfect with the mushrooms.
The usefulness of cashew cream
The cashew cream at the heart of this sauce impressed me so much that I started to experiment with it in other contexts. I developed a creamy tonkotsu ramen broth and enchilada filling with it. I'm planning to make more pasta sauces, definitely a cream of mushroom soup, and maybe even desserts with it. It is very versatile and you can expect to see it in many more recipes to come. Let me know if you have any suggestions in the comments!
The cooking process for the Creamy Vegan Mushroom Pasta
This one is pretty straightforward. Boil the pasta in salted water, drain it, and set it aside. Saute onion, garlic, and mushrooms in olive oil. Blend several ingredients to make a cashew cream. Mix the cashew cream in with the sauteed mushrooms. Stir in the pasta. Eat.
Creamy Vegan Mushroom Pasta
Cooking Notes
The recipe requires a high-speed blender for the cashew cream.
In the recipe, a half-pound of pasta is called for, but the amount of sauce is enough for up to a whole pound of pasta.
You can do some of the cooking activities simultaneously – boil the pasta while sauteing the mushrooms, or blending the cream while doing either of those. But be mindful of cooking times if you do.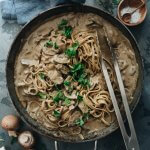 Print Recipe
Creamy Vegan Mushroom Pasta
This Creamy Vegan Mushroom Pasta features a sauce that is intensely creamy with a full-bodied mushroom flavor. The recipe uses cashews, almond milk, and dried mushrooms to create a very satisfying plant-based sauce.
Ingredients
1/2

pound

pasta

cooked and drained, with the boiling water reserved
Cashew Cream
1/2

cup

dried mushrooms

soaked 30 minutes in 2 cups warm water then drained

1

cup

soaking water from the dried mushrooms

with the other cup set aside

1

cup

cashews

soaked for at least 1 hour

2

cups

unflavored unsweetened plant milk

1/4

teaspoon

salt

2

Tablespoons

vinegar

1/2

cup

nutritional yeast
Saute
1

Tablespoon

olive oil

3

cloves

garlic

minced

1/4

pound

onion

diced

1

pound

fresh mushrooms

sliced

1

Tablespoon

sherry

or vegetable stock or water

1

Tablespoon

soy sauce
Garnish
8

sprigs

fresh parsley

chopped

2

sprigs

fresh thyme

chopped

Ground black pepper
Instructions
Combine all the ingredients for the cashew cream in a high-speed blender. Blend on low for 20 seconds, then on high for 40 seconds, until it forms a smooth creamy liquid.

Heat olive oil in a large skillet over medium heat.

When the oil is hot, add the onion and garlic. Stir until just transparent, about 2 minutes.

Add the mushrooms. Stir and cook until the mushrooms are just cooked through, about 5 minutes. If the mushrooms stick to the pan at any time you can add the tablespoon of sherry, vegetable stock, or water and scrape the mushrooms free.

Stir in the soy sauce and blended cashew cream. Reduce the heat to medium-low. Bring to a simmer and taste the sauce. Add salt as needed. Stir in some the mushroom soaking water or pasta boiling water if you need to thin out the sauce.

Add pasta into the skillet with the sauce. Use tongs or chopsticks to stir the pasta and coat it thoroughly with sauce. Simmer until the pasta is heated through.

Garnish with parsley, thyme, and black pepper and serve immediately.
Notes
This recipe produces a generous amount of sauce for half a pound of pasta. You can use the same amount of sauce for a whole pound of pasta, though you'll need to thin the sauce out a little bit and add extra salt, garlic, and vinegar to taste.
The
dried mushroom blend that I use
contains oyster, portobello, black trumpet, and porcini mushrooms. You can use any one or combination of those. Dried white/button/champignon mushrooms works nicely, as well. I use dried mushrooms here because of their potent flavor.
If you have a very high-speed blender (e.g. Vitamix) you can get by without soaking the cashews.
Almond milk is my usual plant milk.
For fresh mushrooms, I use brown/cremini. Portobello, white, porcini, oyster, and king oyster will work well here.