The Italian Fennel and Radicchio Salad has carrots, tomatoes, oranges, olives, mushrooms, and homemade croutons. The clean and contrasting flavors make for an easy and satisfying salad for any season.
Stumbling upon the Italian Fennel and Radicchio Salad
I came across this salad while traveling in Italy last year and it struck me as interesting, despite its simple ingredients. There were two ingredients in particular – radicchio and fennel root – that I was unfamiliar with at the time. But they added so much to the salad that I wanted to recreate the recipe and share it with you.
The salad had lots of familiar ingredients, too, but in an unexpected combination. There were tomatoes, oranges, olives, arugula, sliced white mushrooms, and croutons. Lots of these ingredients are pretty standard in salads. But the combination of the orange and olive was especially nice due to the sweet-savory contrast.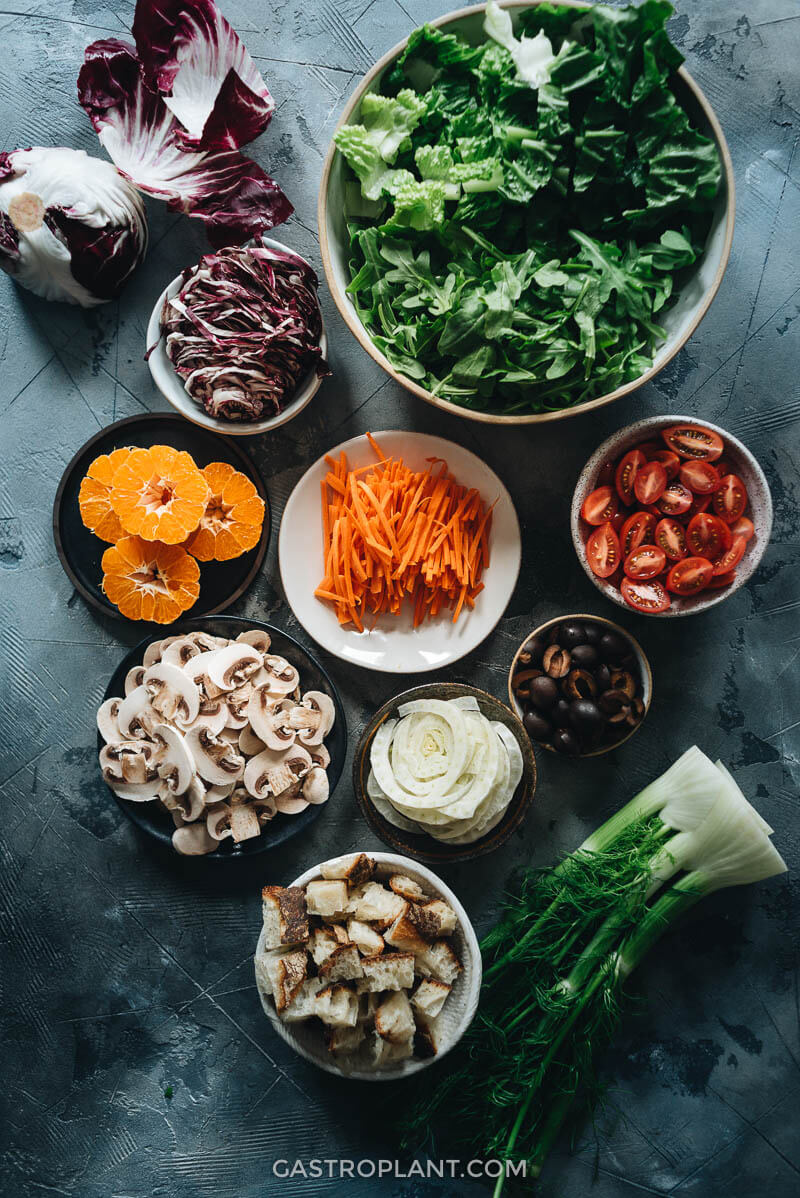 A Bit About Fennel Root
I had only ever had fennel root cooked before this salad, never raw. When sliced thin, the texture is crunchy and crisp like celery, but without any of the stringy strands. And the flavor has a very mild tinge of anise or licorice. I could practically put it in any salad because of the nice texture and its flavor will never be overpowering. It's also got a good nutritional profile. Now that I'm familiar with the root, I'm surprised it doesn't appear more commonly in salads.
A Word About Radicchio
It may look like a small purple cabbage, but the flavor is totally different. Radicchio is among the bitterest vegetables I've tried. I don't think I would ever eat it by itself, it's that bitter. But paired with sweet, savory, and sour flavors, radicchio adds a special depth of flavor. Together with the oranges, olives, and vinegar dressing it makes an interestingly nuanced salad.
Raw Mushrooms?
I was surprised to see raw white mushrooms when I tried the original version of this salad. It used to be common to see raw mushrooms in salad bars in the US, but I see it less and less nowadays. It turns out that there is no public consensus on whether mushrooms should be eaten raw. Some people support it while others don't. If you prefer to skip the raw mushrooms, please feel free to do so. The salad will still be delicious.
Homemade Croutons
You can use pre-made store-bought croutons, but I urge you to make your own at home. You just need a few slices of bread and a way to toast them up. You can use the toaster, the oven, or a hot skillet.
The toaster is the easiest but doesn't really create crispy croutons that aren't burned.
The oven is fairly hands off and crisps them nicely. It's a good choice if you're going oil-free.
The skillet gets slightly better results than the oven but requires more attention. I use the skillet if I'm going to use oil on the croutons (either olive oil or plant butter).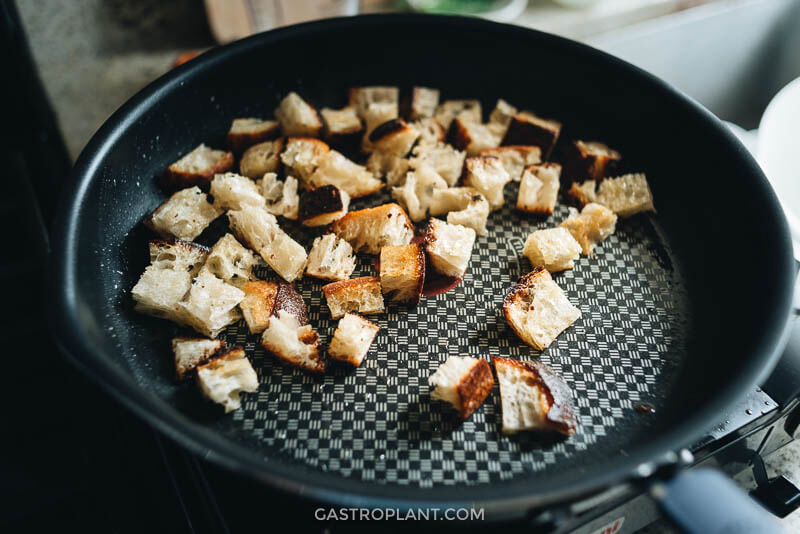 The Dressing
This is the easiest part. Since there is so much depth and variety of flavor among the salad ingredients, the dressing consists of just white wine vinegar. There isn't much need for anything else – the salad is already salty, sweet, bitter, and juicy. The refreshing tartness of the white wine vinegar ties everything together succinctly.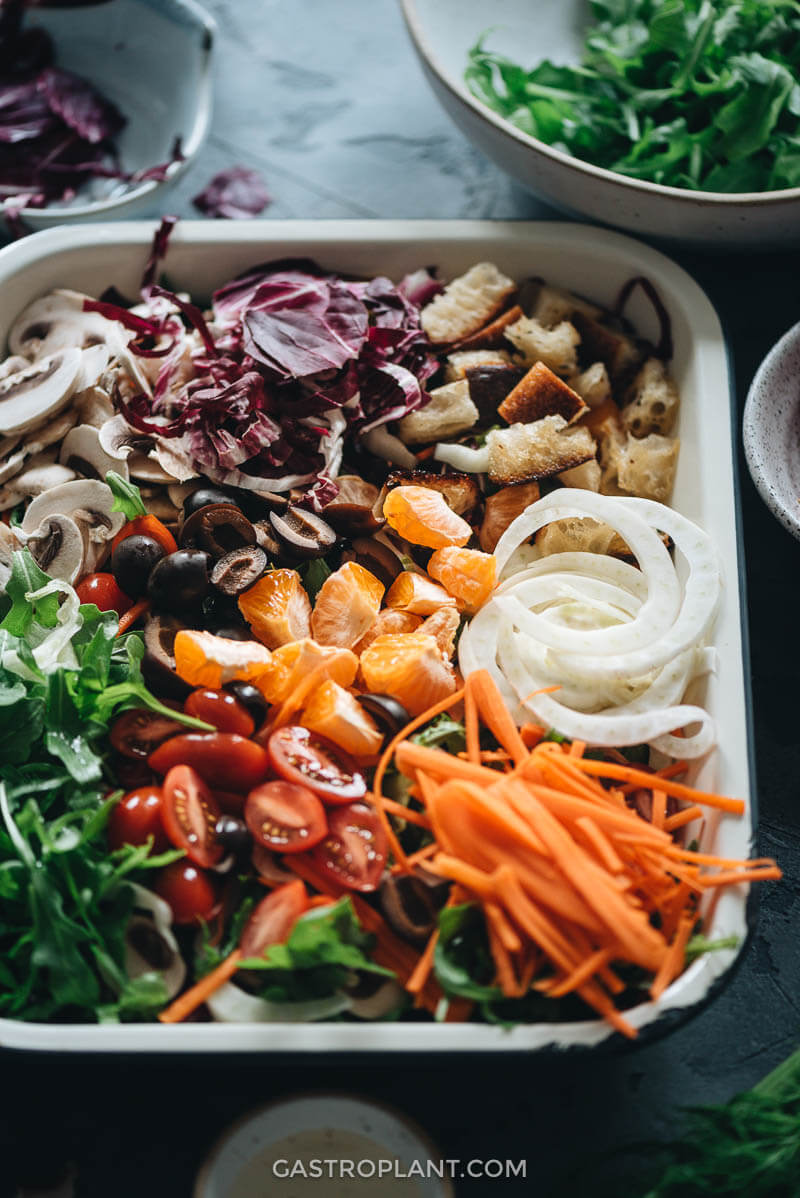 More Unusual but Delicious Salads
If you try this recipe out, let me know! Leave a comment, rate it (once you've tried it), and take a picture and tag it @gastroplant on Instagram! I'd love to see what you come up with.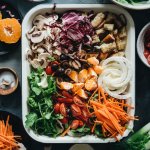 Print Recipe
Italian Fennel & Radicchio Salad
The salad has fennel, radicchio, carrots, tomatoes, oranges, olives, mushrooms, and homemade croutons. The clean and contrasting flavors make for an easy and satisfying salad for any season.
Ingredients
Salad
2-4

cups

romaine lettuce

chopped

2-4

cups

arugula

1

cup

radicchio

sliced very thinly

1

cup

fennel root

sliced very thinly

1

cup

carrot

shredded or julienned

1.5

cups

grape or cherry tomatoes

cut in half

2

medium oranges

peeled and chopped

1

cup

pitted black olives

cut in half
Croutons
2

cups

bread

cut into 3/4-inch (2-cm) cubes

1-2

Tablespoons

oil

plant-based butter or olive oil (optional)
Dressing
2-3

Tablespoons

white wine vinegar
Instructions
Cook the Croutons
In the toaster - Before cutting the bread into cubes, toast the slices of bread until crispy. Apply oil as desired.

In the oven - Spread bread cubes in a single layer on a lined baking sheet. Stir with oil as desired. Place baking sheet in the oven as it preheats to 400 degrees F (200 degrees C). Check on croutons frequently as you bake them until golden and crispy, turning once. It should take 7-15 minutes. Transfer to a bowl to cool.

In a skillet - Heat the oil in a medium skillet over medium heat. When the oil is hot, add the bread cubes and spread them into a single layer. Turn bread cubes frequently until they are golden brown on all sides, 7-10 minutes. Reduce the heat if the oil starts to burn. Transfer to a bowl to cool.
Mix the Salad
Combine all the "Salad" ingredients with the croutons in a large bowl. Add the dressing 1 Tablespoon at a time as you stir the salad. Try a piece and add more dressing as needed. Toss to mix well.
Notes
The range in number of cups for the romaine and arugula is given as a guide. You can adjust amounts of these as you prefer. The rest of the ingredients are intended to accompany about 4-6 cups of greens.
You can use store-bought croutons but they won't be as good.