This Vegan Miso Ramen has a rich umami flavor and a hint of spiciness. It includes meaty king oyster mushroom "scallops", corn kernels, marinated bamboo shoots, and bean sprouts. This one takes a little bit of time but the techniques are easy and the result is really rewarding.
The Origin of This Vegan Miso Ramen
Following my first ramen recipe, for Tonkotsu Ramen and Broth, I wanted to share something equally satisfying but different. The tonkotsu broth was all about rich nutty creaminess, which is great for the cooler months, but a bit heavy for summer. Miso is an ingredient I always have on hand, due to its massive usefulness in plant-based cooking, so it was a natural next step to make miso-based ramen next.
Veganizing a Japanese Regional Specialty
Like my tonkotsu recipe, this miso ramen recipe is based on the ramen in a particular region of Japan. In the city of Sapporo, the ramen typically has a miso base and is served with corn, bean sprouts, marinated bamboo shoots (menma), pork, and egg. Look at this Google image search for Sapporo style ramen and you'll see a consistent pattern. Sapporo ramen can be spicy but doesn't have to be. The same goes for the Vegan Miso Ramen.
As I developed this recipe, the Miso Ramen Recipe from Just One Cookbook was a valuable resource as my baseline for tasty miso ramen. I highly recommend Just One Cookbook for anything Japanese-food related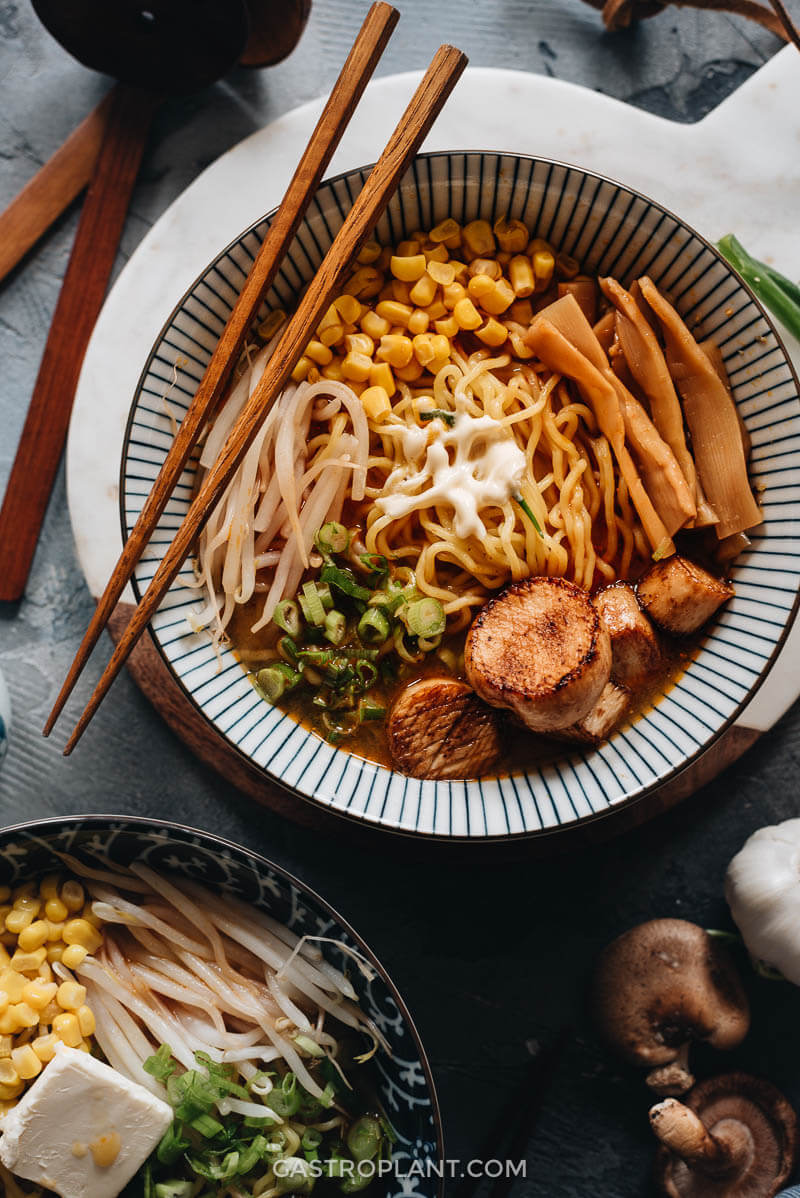 Replacing the Pork
The pork lends a few different things to the broth – richness due to fat content, umami flavor, and the "toothfeel" of the meat itself – and I approached this from all those angles.
To get richness, I used a generous amount of peanut oil to saute the aromatics for the broth. Some of this oil gets emulsified in the broth, making it nice and rich. I recommend Lion & Globe brand peanut oil because of the high quality and great fragrance. If you don't have peanut oil, you can use toasted sesame oil instead and the fragrance and richness will be just as good. Just be careful not to burn the oil, as its smoke point is lower.
For umami, I included minced fresh shiitake mushrooms and nutritional yeast. They both contribute to a fuller and rounder flavor in the broth. The mushrooms provide a bit of bite, too, as sort of a ground meat substitute here.
Instead of big slices of roasted pork, I included big slices of king oyster mushrooms, cooked to look like scallops. I'll talk more about the "scallops" below, but these mushrooms have a pleasant meaty feel under the tooth and make a great replacement for sliced meat.
The "Scallops"
I know that scallops aren't a typical ingredient in the traditional version of Sapporo ramen, but I had to improvise. Hokkaido, the island where Sapporo is located, is famous for its seafood, and seafood occasionally appears in ramen there, so I didn't think it was too much of a stretch.
I borrowed the method to make these "scallops" from a Wicked Healthy video. If you're not familiar with Wicked Healthy and the two great chefs behind it, definitely check them out. They do some really creative and brilliant things with mushrooms and other vegetables.
To make the "scallops" you basically cut king oyster mushrooms to look like scallops (more or less), boil them in a savory broth until tender, sear them in a hot cast iron skillet, then saute them briefly in a mixture of soy sauce and plant-based butter.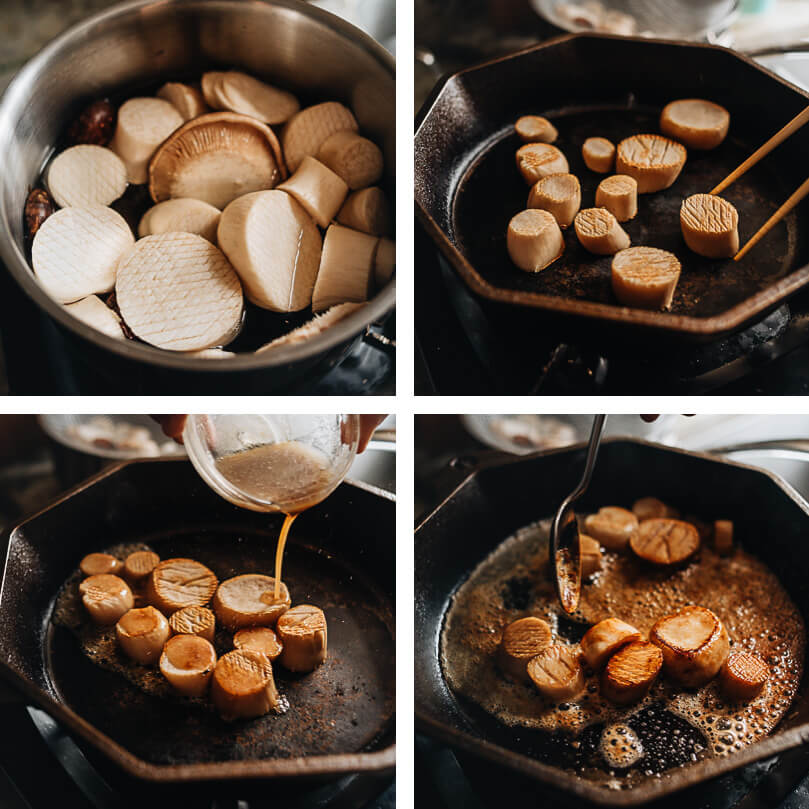 What it's Like to Cook the Vegan Miso Ramen
The cooking process for this dish is on the intensive side – most of the cooking time is active because there are a few different components to prepare. But if you have help (and more than one stove burner) you can do some of the tasks at the same time and have this ready in well under an hour.
Making the Broth
To make the broth, you start by sauteing the aromatics – garlic, ginger, onion, and fresh shiitake mushrooms – in peanut (or sesame) oil. Then add ground sesame seeds, miso, and doubanjiang (a spicy fermented bean paste, more about this below) and saute these for a minute. Then add vegetable broth, sake, and a touch of sweetener (I use maple syrup, even though it's not traditional). To further enhance the broth, I added a piece of kombu seaweed and some dried shiitake mushrooms.
Cooking the "scallops"
Once you've cut the mushrooms and put the slick cross-score pattern on them, we simmer them in water with a piece of kombu and some shiitake mushrooms. This does three things – cooks the "scallops", imparts them with the subtle flavors of the kombu and shiitake, and creates a useful and versatile dashi broth that you can use in any savory dish. I'm serious – save the boiling broth from the mushrooms.
After the "scallops" are tender, we heat them without oil in a cast iron skillet to get some beautiful caramelization on both of the scored sides. This caramelization also tastes really good. When the mushrooms are pretty much finished, we add the plant butter and soy sauce mixture onto them and stir in the hot skillet to brown the butter and caramelize the soy sauce. You'll need to remove them shortly after this because soy sauce burns easily.
Preparing the Noodles and Other Toppings
The rest of the ingredients are pretty straightforward. The noodles need boiling and you can use the same boiling water for the bean sprouts, which just need a minute or so. As for the rest – the corn, menma, plant-based butter, and green onion – you can just add them onto the bowls when you're ready to serve. These don't need any heating.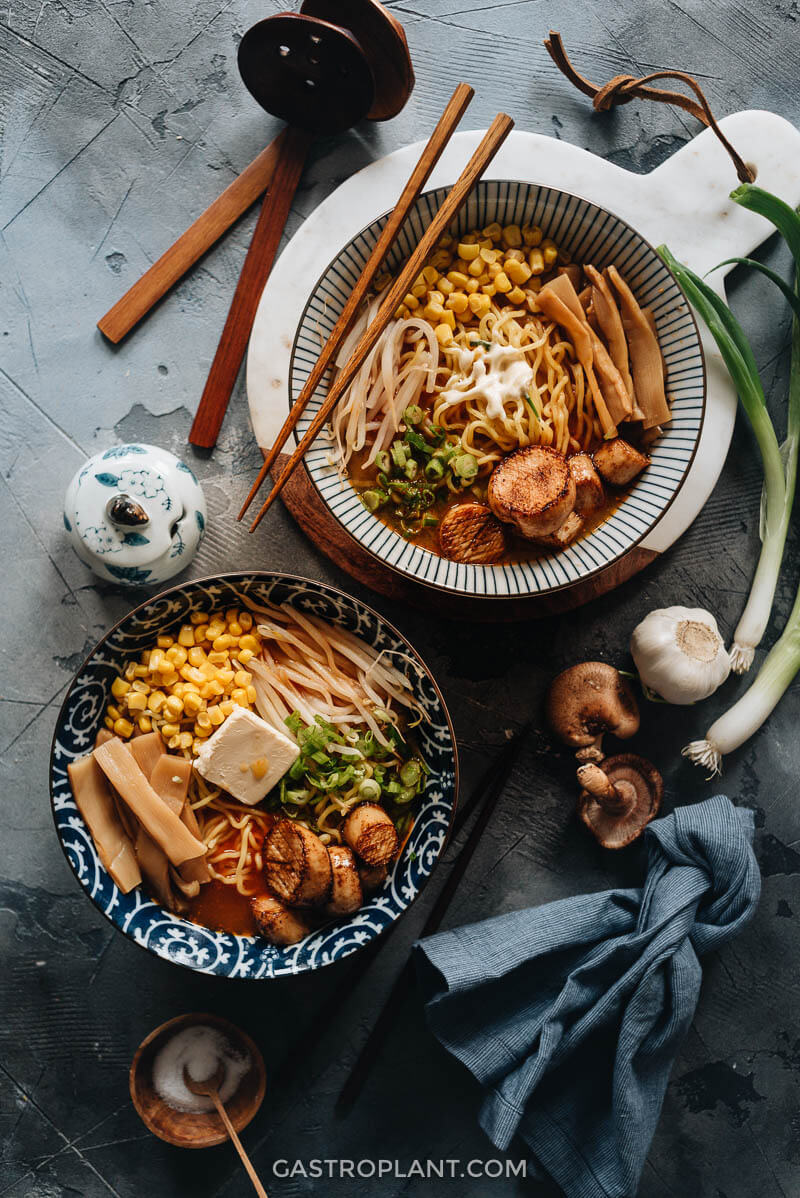 A Few Words About the Ingredients in Vegan Miso Ramen
There may be quite a few unusual ingredients in the recipe, so I wanted to provide a guide so you know what to expect. You should be able to get all of these at a Japanese grocery store. You'll probably also be able to get them at a Chinese or Korean grocery store. But here's a brief intro to the less common ones.
Pastes
Miso – it's common enough, but there are so many different kinds. For this dish I recommend either yellow (awase) or red (aka) miso, preferably from Japan. I have used US-made miso, and the quality is very high, but it's milder than the Japanese ones so you'll need to use more of it. This is the brand I used when developing this recipe. Do make sure that the miso doesn't contain any fish ingredients (it's not uncommon that they do).
Doubanjiang – a Chinese ingredient also used in Japanese cuisine, it's a spicy fermented bean paste. You can skip this and replace it with more miso if you don't want your ramen to be spicy. I used Youki brand doubanjiang in this recipe.
Dried Ingredients
Kombu and dried shiitake mushrooms are the core of a plant-based Japanese broth (dashi) are important for big flavor. I recommend keeping some of both on hand for any time you want to enhance a soup or broth. Since they're dried they'll keep for a long time in an airtight bag or container.
The Ramen Noodles
I know that "ramen" refers to the fried, dried instant noodles for a lot of people. Don't use instant noodles if you can help it. Fresh or frozen Japanese style ramen noodles are so much better in terms of texture and they don't cost much more than instant. Look for them in the refrigerated or frozen section of your Asian grocery store. If you can get fresh noodles from Sun Noodle, definitely do it.
Toppings
Corn and plant-based butter – these may not sound very Japanese, but the island of Hokkaido is known for both corn and dairy farming. So these toppings are representative of the local region. They also complement the other flavors really nicely.
Menma – these pickled bamboo shoots are addictively tasty. You can buy them pre-made in a jar or plastic package and put as much of them as you want onto your ramen bowl. If you can't buy menma, you can make your own or use other preserved bamboo shoots, such as these chili ones from Taiwan.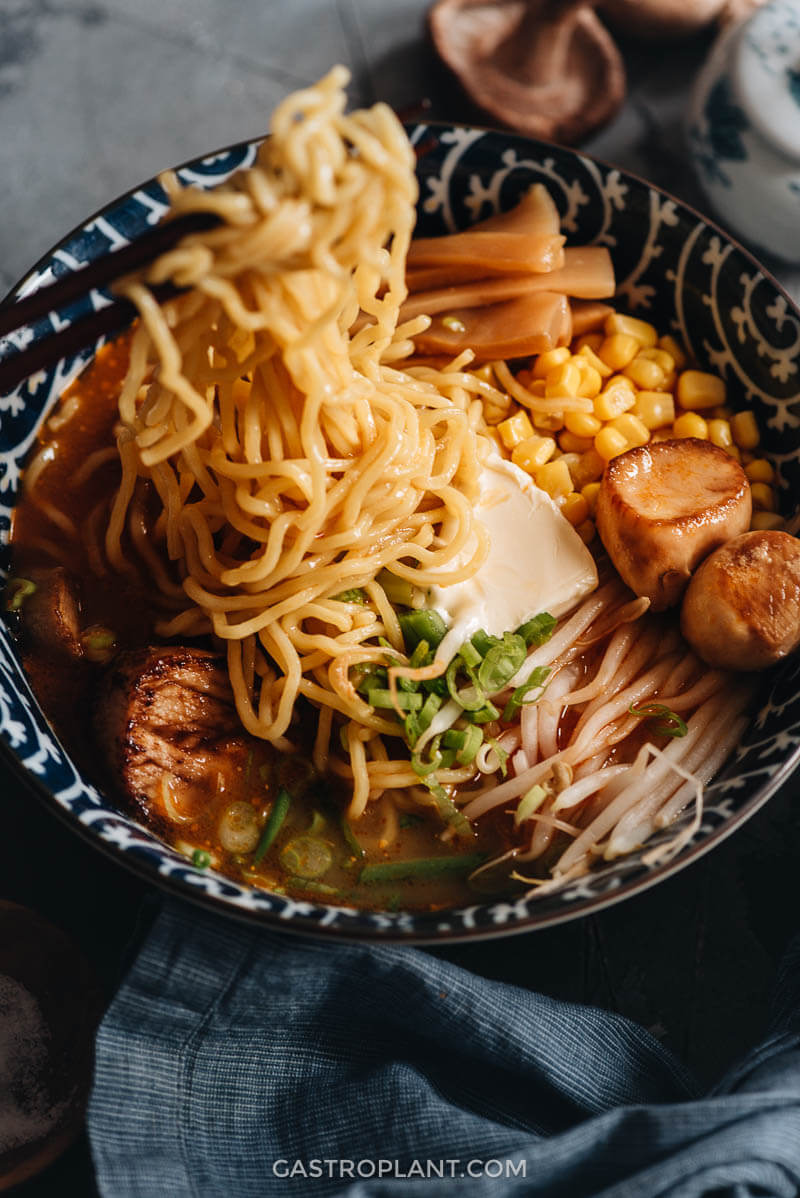 What About The Easy Version?
I developed this recipe to recreate the enjoyment of a restaurant ramen experience. The noodles and mushrooms get cooked separately so they can be as close to perfect as possible. And there are a lot of less common ingredients in the recipe. I admit it's not the quickest or easiest recipe and feel like I should offer an easy version.
I'm pretty sure it's possible to make a version of this dish that can be ready in 15-20 minutes and only use one pot. It wouldn't be as fancy or as nuanced but it would be tasty. Is that something you'd be interested in? Let me know in the comments! 🙂
More Plant-Based Japanese Goodness
As always, if you try this recipe out, let me know! Leave a comment, rate it (once you've tried it), and take a picture and tag it @gastroplant on Instagram! I'd love to see what you come up with.
A few more vegan ramen recipes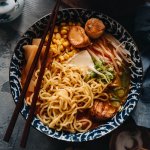 Print Recipe
Vegan Miso Ramen
It has a rich umami flavor and a hint of spiciness. It includes meaty king oyster mushroom "scallops", corn kernels, marinated bamboo shoots, and bean sprouts. This one takes a little bit of time but the techniques are easy and the result is really rewarding.
Ingredients
2

servings

fresh ramen noodles
Broth
2

Tablespoons

peanut oil

or toasted sesame oil

4

cloves

garlic

pressed or minced

1

teaspoon

ginger

grated or minced

1/2

medium onion

minced

4

fresh shiitake mushrooms

stems removed and discarded; caps minced

2

Tablespoons

sesame seeds

ground in spice mill, mortar and pestle, or food processor

3

Tablespoons

miso

1

Tablespoon

doubanjiang

4

cups

vegetable broth

1

piece

kombu

2x4 inches (5x10 centimeters)

2-4

dried shiitake mushrooms

see note

1/4

cup

nutritional yeast
King Oyster Mushroom "Scallops"
1/2

pound

king oyster mushrooms

(250 grams)

2-4

dried shiitake mushrooms

see note

1

piece

kombu

2x4 inches (5x10 centimeters)

3

cups

water

1

Tablespoon

plant-based butter

1

teaspoon

soy sauce
Toppings
1/4

cup

canned corn kernels

drained

2

green onions

just the green part; chopped finely

3

ounces

bean sprouts

4

ounces

menma

2

slices

plant-based butter
Instructions
Cook the broth
Heat the peanut (or sesame oil) in a heavy pot over medium heat. When hot, add the garlic, ginger, onion, and minced fresh shiitake mushroom caps. Stir until the onion becomes soft, about 5 minutes, taking care not to let the oil get too hot and caramelize the ingredients.

Add the sesame seeds, miso, and doubanjiang. Stir well to mix with the other ingredients and gently toast the pastes, about 1 minute.

Add the vegetable broth, kombu, and shiitake mushrooms. When the broth returns to a gentle boil, reduce to low heat and cover. Cook this way for at least 15 minutes while you prepare the other ingredients.

You'll want to stir the nutritional yeast into the broth right before serving.
Cook the "Scallops"
Heat the second batch of dried shiitake mushrooms and kombu with the three cups of water in a small saucepan over medium heat.

While the simmering liquid heats up, cut the king oyster mushrooms. Slice them into approximately scallop-shaped pieces, i.e. segments that are about as long as they are wide. Gently slice a cross-hatch pattern into the flat sides of each piece, as shown in the photos.

When the simmering liquid begins to boil, add the king oyster mushrooms. When the water boils again, reduce heat to low and cover. Cook until the mushrooms are tender, 15-20 minutes.

Remove the king oyster mushrooms from the broth. You can eat or discard the kombu and (now rehydrated) shiitake mushrooms. Save the broth for use in any savory soup.

Heat the plant-based butter in a small bowl in the microwave until melted, 10-20 seconds. Add the soy sauce into the same small bowl. Stir to mix well.

Heat a medium-sized heavy skillet, preferably cast iron or carbon steel, over medium-high heat. When hot, add the king oyster mushrooms. Cook until the flat sides of each mushroom piece are dark golden brown, 3-5 minutes, flipping as needed.

Add the plant-butter-soy-sauce mixture to the skillet. Use a spoon to baste the mushrooms with the butter. Use a spatula to quickly stir and scrape up the bits that get stuck to the skillet. Remove from heat and transfer the "scallops" to a plate or bowl.
Boil the noodles and bean sprouts
Bring a large pot of water to a boil over high heat. Cook the noodles according to the instructions on the package, or a bit less. For reference, the noodles I used prescribed a 2.5-minute boil time, but I only need about 1.5 minutes until they were al dente.

Remove the noodles from the water and drain them.

Add the bean sprouts into the same boiling water. Boil until soft, about 1 minute. Remove the sprouts from the water and drain them.
Assemble the Ramen Bowls
Right before serving, stir the nutritional yeast into the ramen broth and turn off the heat.

Divide the noodles evenly among the serving bowls. Add equal amounts of menma, corn, "scallops", green onion, and bean sprouts onto the noodles.

Pour equal amounts of broth into each bowl. You can strain the broth for a smoother texture, if you like.

Garnish each bowl with a small slice of plant-based butter. Serve immediately.
Notes
This recipe makes 4 small bowls or 2 meal-sized bowls of noodles.
Dried shiitake mushrooms come in different sizes. The ones I used were about 1 inch (2.5 centimeters) in diameter and I used 4 of them in the ramen broth and 4 in the simmering liquid for the "scallops". If your dried mushrooms are larger than this, you can use 2 or 3 of them in each of those cases.
The doubanjiang will make the soup slightly spicy. If you prefer a non-spicy broth, you can replace the doubanjiang with the same amount of miso.
If you do want your ramen spicy, especially spicy, you can garnish with Japanese chili oil (la yu).
The photos in the blog post show bowls with not much broth in them. Feel free to add much more broth than shown here.
If you don't finish the ramen, separate the noodles and other ingredients from the broth and store them in separate airtight containers in the fridge. This will help prevent the noodles from getting too soggy.