This vegan Caesar salad features a rich and tangy homemade dressing on crisp romaine lettuce and crunchy croutons. It takes just a few minutes to prepare this restaurant-quality salad.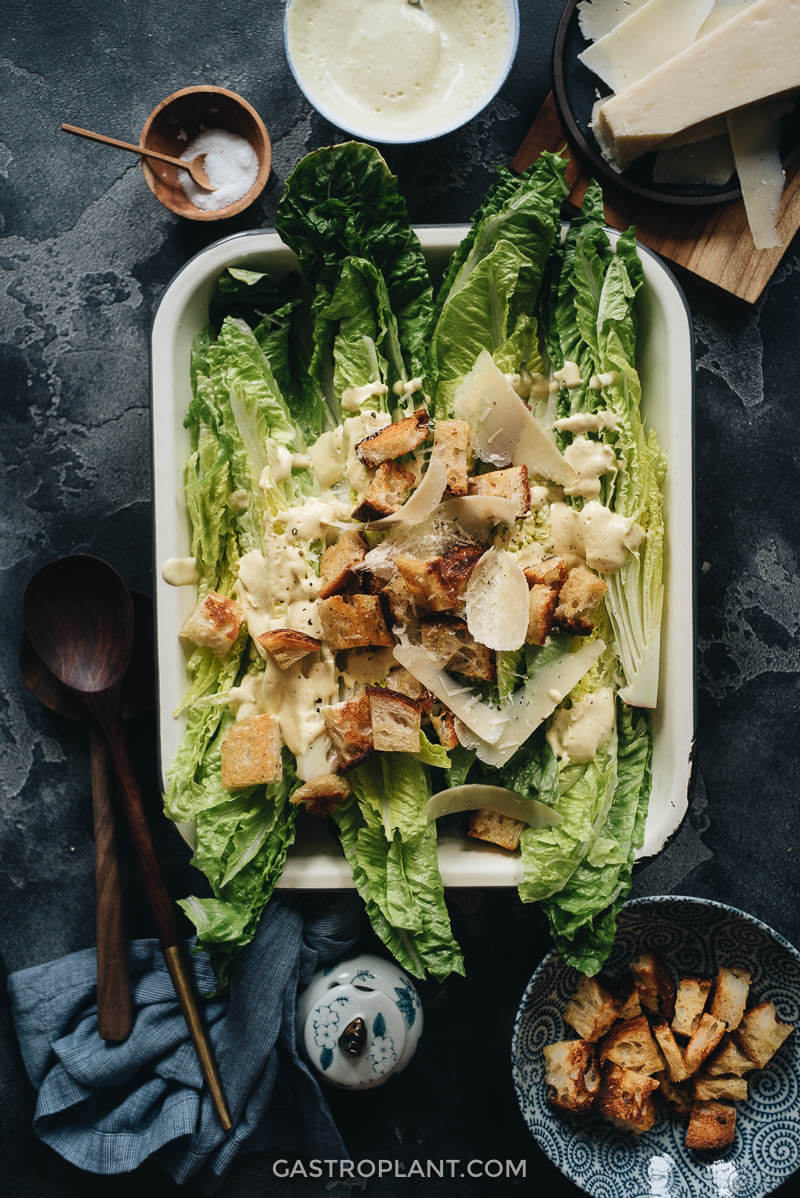 Why Vegan Caesar Salad?
Caesar salad was always my favorite and default salad choice when growing up, I think because of the intense garlic flavor in the dressing. There's definitely something comforting about the dressing, which is creamy but not heavy. And the textures in the dish are simple but satisfying – the cool, refreshing crunch of romaine lettuce and the rustic crunch of homemade croutons.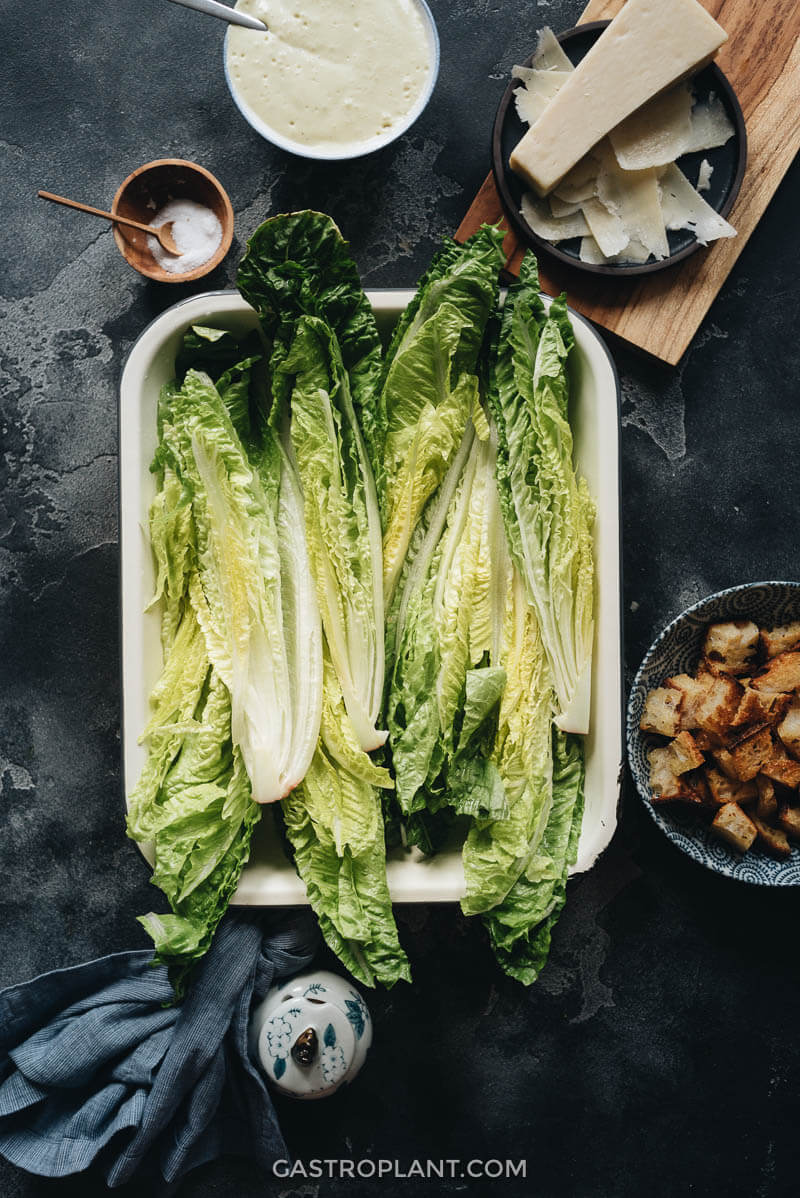 What Makes this Vegan Caesar Salad Better Than Others
It can either be mild or sharp in terms of garlic
Some Caesar dressings are really heavy on the raw garlic and some people like that. Other dressings are more mellow. This recipe allows you to go either way by including or excluding the raw garlic in the dressing.
The dressing has pop, but not just because of the garlic
When I developed this dressing, I wanted the flavor to be bright in a few different ways. I included dijon mustard, miso (an important replacement of anchovies in the original version), nutritional yeast, and lemon juice. These add a combination of tartness, pungency, cheesiness, and umami that Caesar dressing is known for.
No raw egg, no anchovies, no dairy
I can understand that some people may not want to use raw egg and anchovies in their food for different reasons. I won't get into any details around those preferences, but this recipe makes a really flavorful dressing without either of those.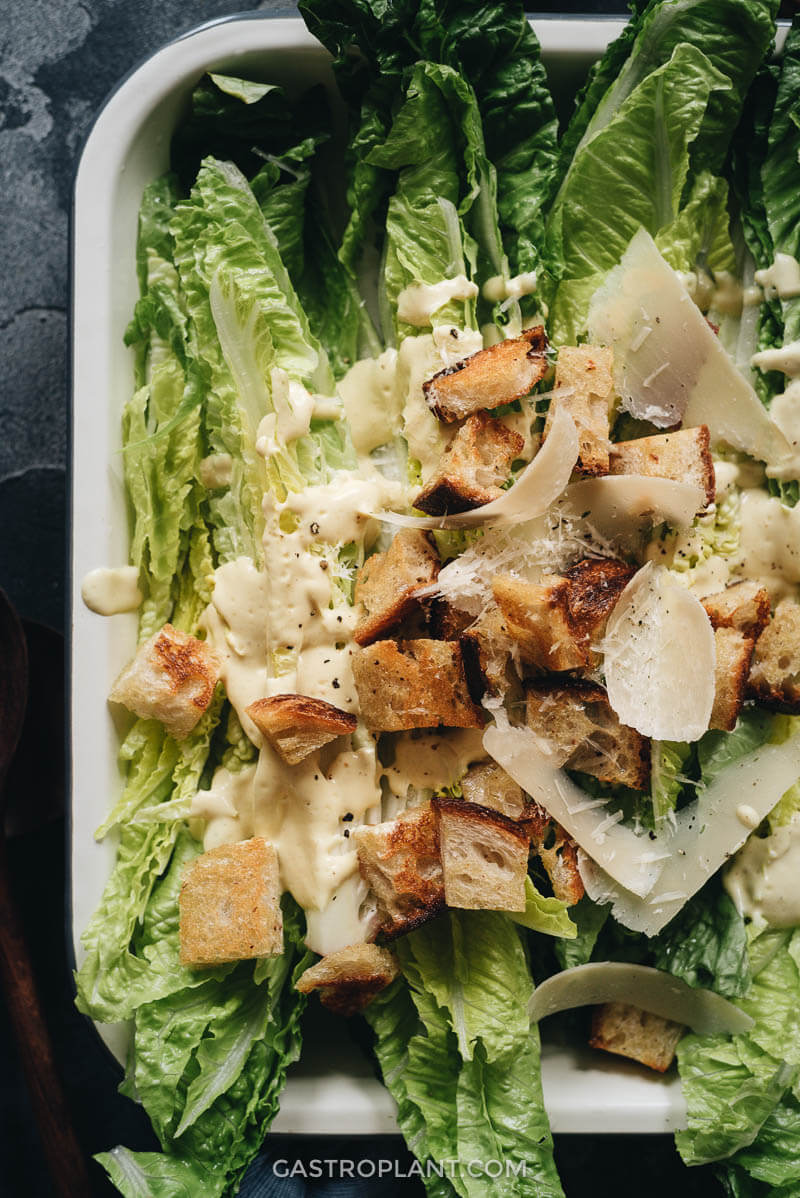 How to Make this Vegan Caesar Salad
The process of making the salad is quite straightforward:
Saute chopped garlic in olive oil to get a mellow garlic component
Toast bread cubes in a skillet to make croutons
Blend the sauteed garlic and oil with other ingredients to make the dressing (it can include a clove or two of raw garlic if you want that sharpness)
Combine the romaine, croutons, and dressing as you like
Cooking Notes
Do let the sauteed garlic and hot olive oil cool for 5-10 minutes before putting it in the blender. Transferring it to a wide, shallow dish will help speed this up. You can toast the croutons while the oil cools.
You can serve the romaine lettuce in wedges (as shown in the photos) or chop it into bite-size pieces and mix everything together. It's just a matter or how you'd like to present it.
If the dressing becomes too thick for your liking, you can always thin it out with a tablespoon of plant milk.
The plant-based parmesan is a nice touch, but you can skip it if you like because the dressing is plenty flavorful.
If you do use raw garlic in the dressing, be aware that the raw garlic flavor will become a bit more intense if the dressing is stored overnight in the fridge.
More Italian-Inspired Plant-Based Recipes
Pasta Primavera – pasta with a wide variety of green veggies in a light cream sauce with lemon
Fennel & Radicchio Salad – includes olives, oranges, and mushrooms for a refreshing blend of flavors and textures
Spaghetti alla Puttanesca – spaghetti in a deeply umami tomato sauce with olives, capers, and a hint of the sea
If you try this recipe out, let me know! Leave a comment, rate it (once you've tried it), and take a picture and tag it @gastroplanton Instagram! I'd love to see what you come up with.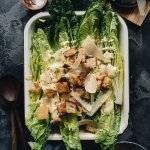 Print Recipe
Vegan Caesar Salad
Features a rich and tangy homemade dressing on crisp romaine lettuce and crunchy croutons. It takes just a few minutes to prepare this restaurant-quality salad.
Ingredients
2

Tablespoons

olive oil

for sauteing the garlic

2

cloves

garlic

chopped

1-2

cloves

garlic

whole - see note

4

slices

rustic bread

cut into cubes

2

Tablespoons

oil and/or plant-based butter

for toasting the croutons

8

ounces

romaine lettuce

(230 grams) chopped or sliced into quarters - see note

1/4

cup

nutritional yeast

2

teaspoons

Dijon mustard

3

Tablespoons

lemon juice

1.5

Tablespoons

miso

6

ounces

soft silken tofu

(170 grams)

1/2

cup

plant-based milk

unsweetened and unflavored

Plant-based parmesan cheese

for garnish

Black pepper

to taste; for garnish
Instructions
Heat the olive oil in a large skillet over medium heat. When the oil is hot add the chopped garlic. Stir until the garlic is cooked through 3-5 minutes, taking care not to burn the oil or the garlic. If you notice the garlic starting to brown quickly, remove the pan from the stove and reduce the heat. Transfer the garlic and oil to a glass or ceramic bowl on a coaster to cool.

While the garlic oil cools, make the croutons. Heat the oil and/or plant-based butter in the same skillet over medium heat. When the oil is hot, add the bread cubes. Stir until the croutons are crunchy and browned on most sides, 5-8 minutes. Remove the skillet from the heat.

Combine the (now cooled) garlic and oil with the nutritional yeast, dijon mustard, lemon juice, miso, tofu, and plant milk in a blender. Also add the raw garlic, if using. Blend on high until well-combined, about 1 minute.

Combine the dressing, romaine lettuce, and croutons in a large bowl. Toss to mix. Season with plant-based parmesan cheese and black pepper as desired. Serve immediately.
Notes
The raw garlic will make the dressing very aromatic and sharp-tasting. Some people like this while others do not. Adding 1 clove will make a medium-sharp dressing and 2 cloves will make a very sharp dressing. The dressing is flavorful without the raw garlic so it comes down to preference.
I used a combination of plant-based butter and olive oil to make the croutons. This combination makes an aromatic and flavorful result.
You can use store-bought croutons if you prefer.
It's also possible to make croutons without oil. It's easiest in the oven. Bake the bread cubes on a baking sheet at 400 F (200 C) until browned and crispy.
If you plan to serve the lettuce in wedges, as shown in the photos, be sure to purchase "romaine lettuce hearts" which refers to the interior portion of a head of romaine lettuce.
If you're making the salad ahead of time, store the croutons separately from the other ingredients to prevent them from getting soggy.