This Vegan Pasta Primavera has a wealth of fresh green veggies and a light plant-based cream sauce. It's both nourishing and refreshing. A touch of lemon and plenty of fresh herbs make it really pop.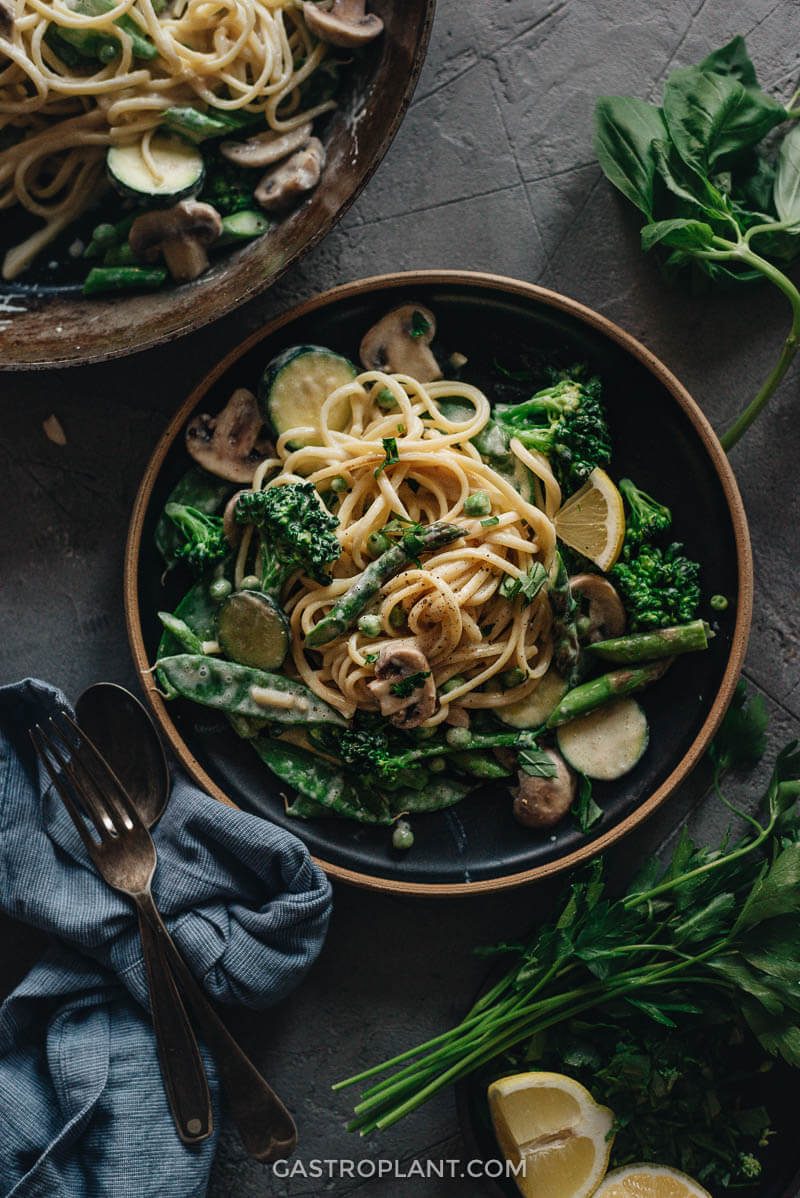 The Inspiration for this Vegan Pasta Primavera
I often have a story or moment of inspiration that leads me to develop a recipe, but not this time. Pasta is among the foods I most enjoy eating and I'm always eager to explore and share pasta recipes. In this spring-summer fringe season, I'm feeling the urge to take advantage of all the great fresh vegetables available. And pasta primavera might be the best pasta dish to accomplish that.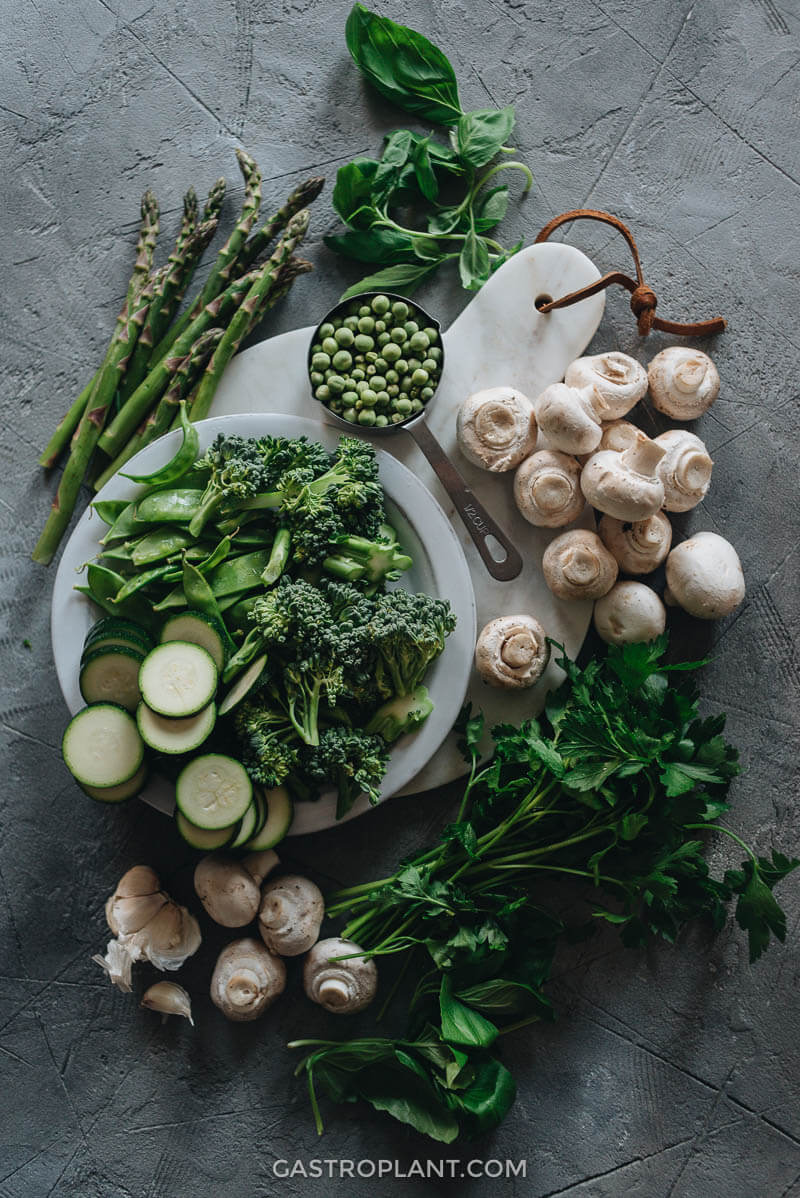 My Take on Vegan Pasta Primavera
Pasta Primavera has an Italian name, but the dish was created by an American chef somewhere between the US and Canada. Which makes sense. My impression is that Primavera is more complicated (in terms of number of ingredients) than the typical Italian pasta dish.
Sometimes we overcomplicate things, sure, but in this case, I really appreciate the variety of veggies this dish encourages. Different variations of the dish have different combinations of colorful spring and summer vegetables. I went for a (mostly) green color palette here, both for aesthetics and to really exhibit the freshness (and almost grassiness) of the green vegetables. I ended up including green peas, snow peas, broccolini, asparagus, zucchini, and white mushrooms.
The Light Vegan Pasta Primavera Cream Sauce
Continuing on the theme of nourishing and refreshing, I wanted to make a cream sauce that was creamy and umami but not at all heavy. I've used cashew cream sauce on pasta in the past, and it's delicious, but definitely on the heavy side. I took inspiration from the Vegan Carbonara by Serious Eats, which cleverly uses silken tofu and sauerkraut brine to create a light, velvety, slightly funky cream sauce. Miso and nutritional yeast are in there, as well.
I used a blender to blend the sauce, but it can probably be done with a whisk and a strong arm since all the sauce ingredients are fairly mixable.
Garnishes Make it Twice as Tasty
There are a few different garnishes I've included and it's important that you don't leave them out if you can help it. Fresh parsley and basil continue to build on the theme of freshness and they add a really pleasant aroma to the dish. Don't be shy when adding them.
I've heard from multiple world-class chefs that acid is the component most often missing from home cooks' meals. Lemon juice plays that role here and it plays very nicely with the other ingredients. It's ok to add a good strong squeeze of lemon.
Salt and nutritional yeast will help round the dish out. You may not need either or both, but taste the pasta before serving it out and judge for yourself. I intentionally went light on salt to keep the dish light and fresh, so add salt as you see fit. I use nutritional yeast like others might use grated parmesan – tap a couple shakes of it onto my plate of pasta and stir it in.
Black pepper adds a nice finishing touch.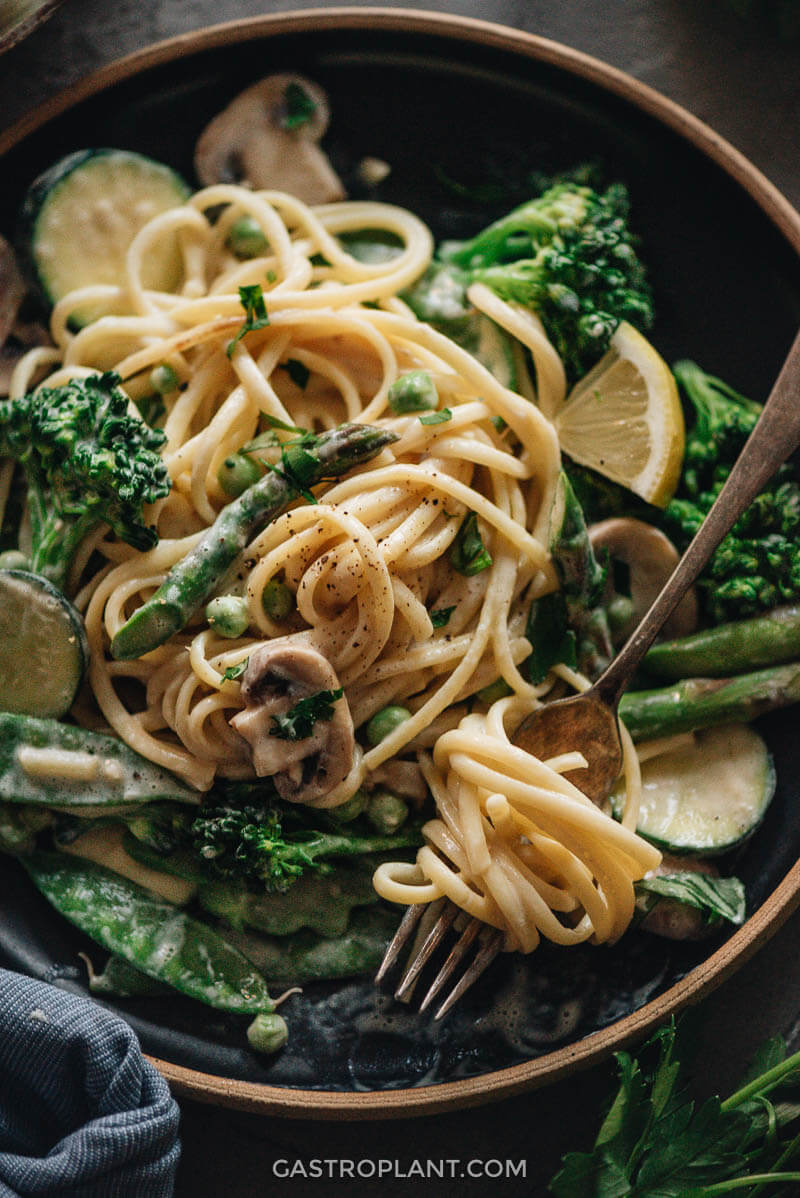 More Plant-Based Pasta Recipes
Some Other Ways to Enjoy Fresh Veggies
If you try this recipe out, let me know! Leave a comment, rate it (once you've tried it), and take a picture and tag it @gastroplanton Instagram! I'd love to see what you come up with.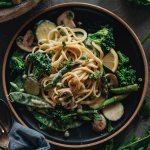 Print Recipe
Vegan Pasta Primavera
This Vegan Pasta Primavera has a wealth of fresh green veggies and a light plant-based cream sauce. It's both nourishing and refreshing. A touch of lemon and plenty of fresh herbs make it really pop.
Ingredients
8

ounces

pasta of your choice

(230 grams) - see note

2

Tablespoons

olive oil

3

cloves

garlic

minced

8

ounces

white mushrooms

sliced (230 grams)

8

ounces

zucchini

sliced (230 grams)

4

ounces

snow peas

(115 grams)
Vegetables to blanch
1/2

cup

fresh green peas

can use frozen - see note

4

ounces

broccolini

or broccoli, sliced (115 grams)

6

ounces

asparagus

trimmed and cut to bite-size (180 grams) - see note
Sauce
12

ounces

silken soft tofu

drained (340 grams)

1/4

cup

nutritional yeast

1/4

cup

unflavored unsweetened almond milk

or other neutral plant milk

1

Tablespoon

white miso

see note

1

Tablespoon

sauerkraut brine

(optional - see note)
Garnishes
Fresh parsley

chopped

Fresh basil

chopped

Fresh lemon wedges

Salt to taste

Black pepper to taste

Nutritional yeast to taste
Instructions
Blanch the vegetables
Bring a large pot of salted water to a vigorous boil over high heat. Add the green peas, broccolini, and asparagus. Blanch until 70% cooked, about 1.5 minutes. Use a slotted spoon or mesh strainer to remove the vegetables from the water, saving the water in the pot to boil the pasta. Rinse the vegetables in cool tap water to stop the cooking process.
Boil the pasta
Return the pot of water to a boil over high heat. Add the pasta and give it a stir. Cook for 1 minute less than the package instructs for al dente (for example, the linguine I cooked said 10 minutes for al dente, I boiled it for 9 minutes). Drain the pasta when finished, saving 1 cup of the boiling liquid for later.
Blend the sauce ingredients.
Combine all the ingredients for the sauce in a blender. Blend on high until smooth, about 30 seconds. Alternatively, you can whisk them together in a large bowl.
Saute the rest of the vegetables
Heat the olive oil in a large skillet over medium heat. When the oil is hot, add the garlic and stir for 1 minute. Add the mushrooms. Cook and stir the mushrooms until about half cooked, 3-4 minutes. Add the zucchini and snow peas, continuing to stir occasionally for the next 3 minutes.
Cook the sauce and combine everything
Pour the blended sauce mixture into the skillet and stir for 1 minute. Add the pasta and blanched vegetables and stir again. Bring to a gentle simmer, then reduce to medium-low heat. Try a piece of pasta - if it is cooked to your liking, the dish is ready to serve. If not, cover and cook for 2 minutes and try another piece. If the sauce becomes too thick, thin it out by stirring 1-2 tablespoons of the pasta boiling liquid into it.
Serve
Serve hot and garnish generously with chopped basil and parsley, lemon juice, and nutritional yeast as desired. Add salt and black pepper to taste.
Notes
I used linguine but any kind of long or short pasta will work.
If using frozen peas, you don't need to blanch them. You can just add them when you add the sauce mixture into the skillet.
You can approximate the measurements on the vegetables.
The weight of the asparagus is after trimming the tough ends off.
The miso I used was a relatively salty Japanese-made one. If you're using a milder US-made one, you can use 1.5 times the recommended amount.
You can substitute an extra half-tablespoon of miso if you don't have sauerkraut brine on hand.