Summer sesame noodles are served with a whole host of colorful refreshing veggies and salad greens and dressed with an irresistible nutty, spicy, savory sauce. It's a satisfying yet cooling and balanced meal for warm days. And the sauce can be made with whatever you've got on hand.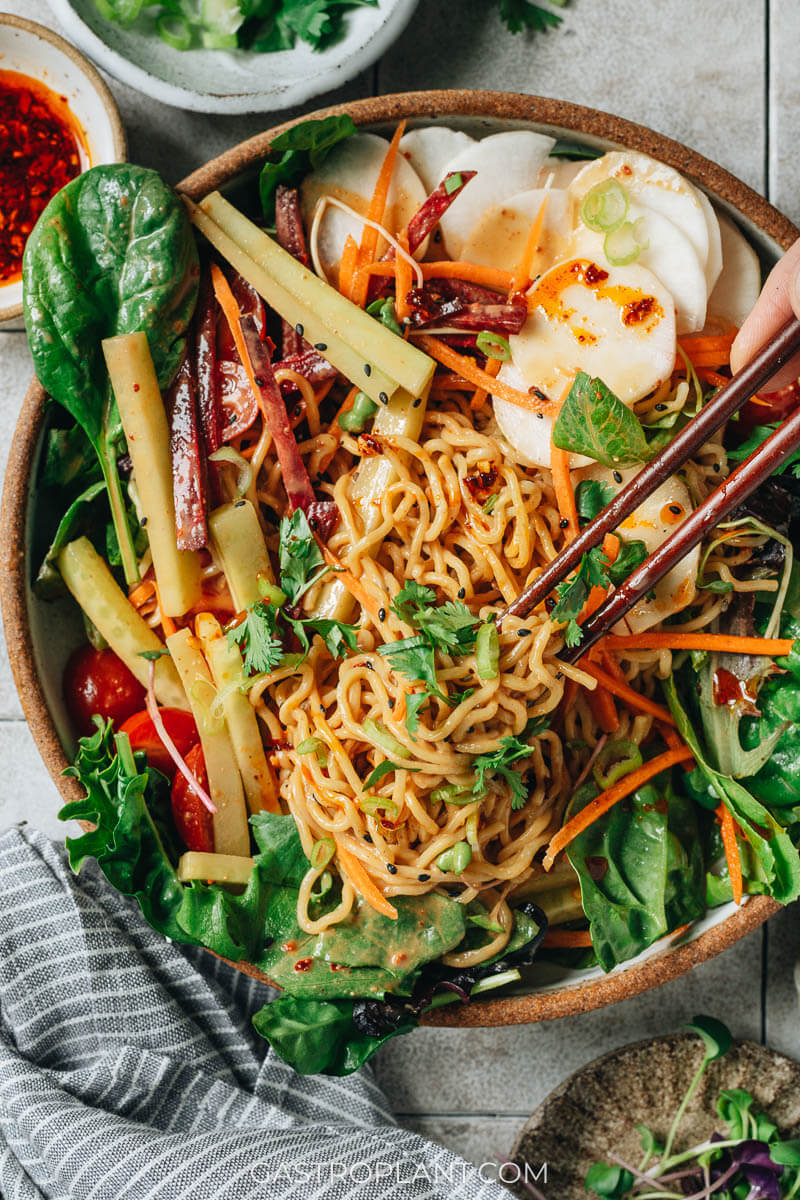 Why Make Summer Sesame Noodles?
I love these summer sesame noodles because of the variety of veggies they incorporate, the addictive tongue-hugging sauce, and the filling-yet-refreshing energy of the whole dish.
I prepared them with a combination of cucumber, radish, beet, carrot, tomato, and salad greens, but you can customize the veggie spread however you like.
The sauce is a Chinese-inspired combination of sesame paste, vinegar, soy sauce, and chili oil. While you'll get the tastiest result if you use the original Chinese ingredients, you can make a pretty nice sauce even without them.
With so many veggies, a serving or two of noodles, and a rich sauce, it's filling enough for a one-dish meal on its own.
They can be served hot, at room temperature, or chilled. For me, the serving temperature depends on how I feel and what the weather is like.
Served cold, they're a great dish to prepare in advance – just cook the noodles, chop the veggies and mix the sauce. Pull it out of the fridge and combine everything before serving.
What Kind of Noodles Should You Use for This?
You can honestly use any kind of noodle you feel like – instant ramen, pasta of any shape, dried Chinese or Japanese noodles and so on. But if you can get fresh noodles (they may come frozen) you can take the texture of the dish to the next level.
I tested the recipe with frozen fresh ramen noodles from Sun Noodle and every bite was pure toothy satisfaction.
But Chinese and Korean style fresh noodles will also be great and are probably closer to the ones used in proper sesame noodles. If you can get ahold of some fresh noodles for this dish you won't regret it. (I keep a stash of them in the freezer – they keep really well and cook up in minutes.)
Add Whatever Veggies Feel Right
I included a number of different vegetables in the recipe to give you a sense of what is possible. I wanted to get a variety of colors but keep them all on the refreshing side of the spectrum.
And these are all nice because they can be eaten raw, but you can add cooked veggies if you have them handy.
Feel free to pick and choose, add or remove as you like. The goal is to load it with several different things that fit your current mood, so it becomes an enjoyable and energizing meal.
Make a Sauce for Summer Sesame Noodles
There are four main parts to the sauce, and you can approach each of them a few different ways.
A nutty paste, either sesame or peanut butter
Vinegar for tanginess
Soy sauce for a burst of umami flavor
Chili oil or hot sauce to jazz it up
Chinese Sesame Paste is the Best but Uncommon
The dish that inspired this for me is the Chinese classic version of sesame noodles, which uses Chinese sesame paste. Chinese sesame paste is not the same as tahini as it is made from roasted sesame seeds. It is the nuttiest and stickiest thing I've eaten and I can't get enough of it – it's like peanut butter but even better.
I highly recommend Chinese sesame paste if you have an easy way to get some. (It comes at a pretty steep price on Amazon – it's much cheaper in stores.)
But you can still make a very tasty sauce by using peanut butter, preferably the natural kind containing just peanuts or peanuts and salt.
Chinkiang / Zhenjiang Vinegar Gives Sesame Noodles a Malty Tang
Again, my recommendation here is to get the real-deal Chinese ingredient if you can – this vinegar is known both as chinkiang and zhenjiang and it has a lovely malty umami on top of the acidity.
Gold Plum brand vinegar is reliably tasty and cheap if you buy it locally. Hengshun 6 Year vinegar is fantastic and complex if you feel like going a little fancy.
If You Don't Have Chinese Vinegar, Don't Worry
I've tried making sesame noodle sauce using natural peanut butter and a few different types of vinegar and was pretty happy with the results. You won't have the same flavor, but the acidity plus some other nuance is the most important thing.
Here are some vinegars that I have tried and enjoyed in this sauce:
Balsamic vinegar
Malt vinegar
White wine vinegar
I don't recommend "white vinegar" however – it has acidity but not much else.
Soy Sauce is Easy Umami
The short answer to the soy sauce question is to use whatever you've got.
But if you're looking for a great soy sauce to use in this dish and all kinds of Chinese cooking, I really like the Haday brand. If you're going all in, the tastiest Chinese soy sauce I've ever tried is Zhongba 360 – its brewing process takes a whole year and it really elevates whatever you put it in or on.
Chinese Chili Oil Makes Your Sesame Noodle Sauce Irresistible
The last ingredient I'll rave about here is chili oil. There are so many good ones on the market now that it's hard to go wrong.
For this dish and for general Chinese cooking though, I absolutely love Mom's Mala. It has a clean and very classic Sichuan spicy-numb (málà) flavor and I put it on everything. Trust me, this stuff will make your taste buds sing and dance.
No Chili Oil? Use Your Favorite Hot Sauce
Instead of chili oil, you can use whatever hot sauce you've got handy. You'll need to be careful with the amount, as some sauces are a lot hotter than others, and the amount I'll give for chili oil won't necessarily apply.
Try sriracha, gochujang, or even harissa. You might even try a Mexican or Louisiana style sauce, just taste it as you gradually add it and mix it and pay attention to the sourness, since these sauces can be a bit tart and you've already got vinegar in the sauce.
Use Water to Get the Sauce Just Right
No matter what kind of nutty paste you use, it's going to be too thick to easily cover the noodles unless you stir in a bit of water. Add water in small amounts at a time, mixing it well before adding more. You want it to be thin enough to get good coverage but don't want to dilute the flavor.
Final Thoughts
Sesame noodles are a favorite dish of mine during the summer and I hope this guide helps you make your own tasty version. If you try it, let me know in the comments. Thanks for reading!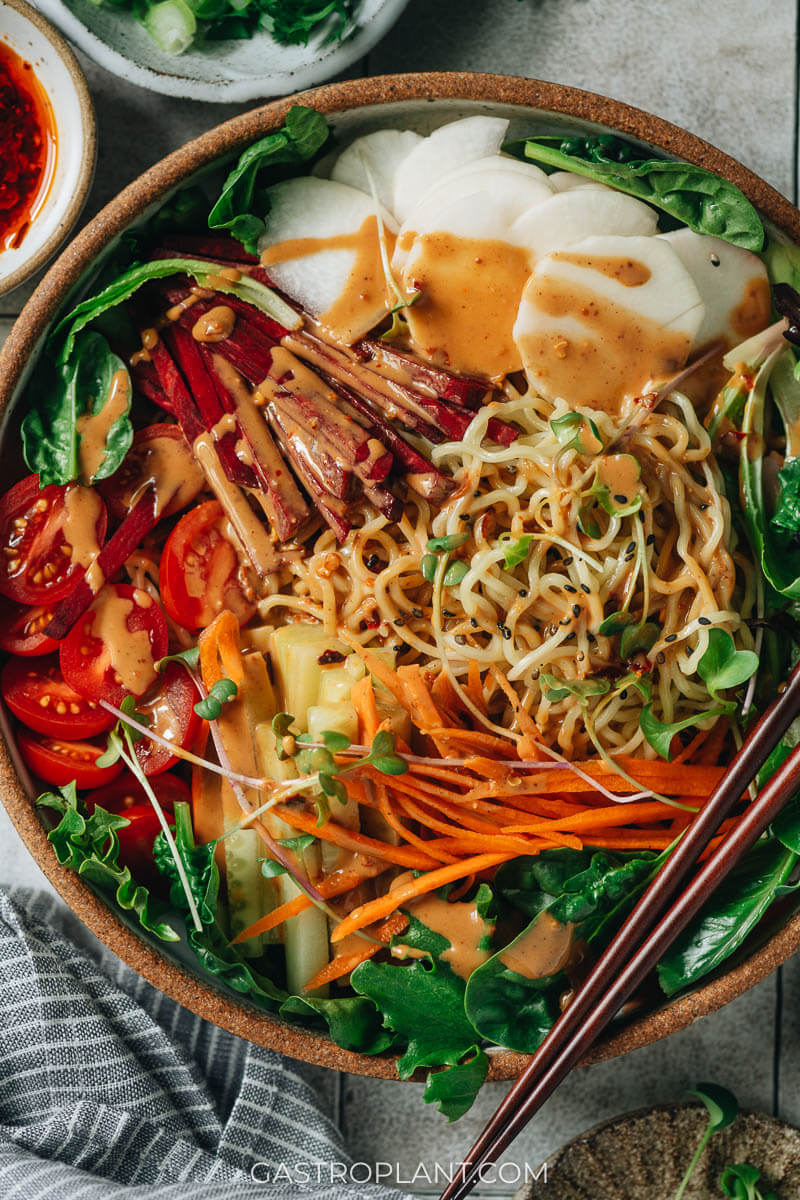 More Relaxing Summer Vegan Recipes
Summer Sesame Noodles
Summer sesame noodles are served with a whole host of colorful refreshing veggies and salad greens and dressed with an irresistible nutty, spicy, savory sauce.
Servings:
2
people (see note)
Ingredients
2

servings

fresh or dried noodles

1/2

Tablespoon

toasted sesame oil

(optional) to grease noodles
Veggies:
1/2

cup

Carrot

shredded or julienned

1/2

Cucumber

sliced or julienned

1/4

cup

Radish

sliced or julienned (see note)

1/4

cup

Beet, raw

shredded or julienned

1/2

cup

Cherry tomatoes

sliced
Sauce (see blog post above for alternatives)
3

Tablespoons

Chinese sesame paste

can sub peanut butter

1

Tablespoon

Chinkiang vinegar

aka zhenjiang vinegar, can sub other vinegars, see blog post

1

Tablespoon

Soy sauce

ideally Chinese

Chinese chili oil

ideally Mom's Mala or other hot sauce, to taste

3

Tablespoons

water

adjust amount gradually for the right consistency
Optional garnishes
Cilantro

chopped

Green onion

chopped

Microgreens

Black sesame seeds
Instructions
Cook the noodles according to the instructions, taking care to keep them a nice chewy al dente. Drain the noodles when done and rinse them under cold water to stop the cooking. You can toss the chilled noodles in sesame oil to keep them from sticking together.

While waiting for the water to boil you can prep veggies as described and combine all the ingredients for the sauce in a bowl. Mix everything together well, until the sauce is smooth, before adding any more water. Add only enough water to make the sauce so that you can easily drizzle it and coat the noodles.

If serving immediately, combine all the ingredients in a large bowl or smaller bowls as you like. Drizzle the sauce over everything, garnish as desired, and enjoy.

If serving later, store the noodles, chopped veggies, and sauce separately in sealed containers in the fridge until ready to serve.
Notes
This recipe serves two as a main or 4 (or more) as a side.
Early-season radishes tend to be milder and are great for this dish. The more peppery tasting late-season ones are good, too, though you may want to use less than recommended here.