Kale Stir Fry With Mushroom and Red Onion is seasoned with just balsamic vinegar and soy sauce. It's beautifully simple and easily satisfying, taking just 15 minutes (including prep) and using just 5 ingredients.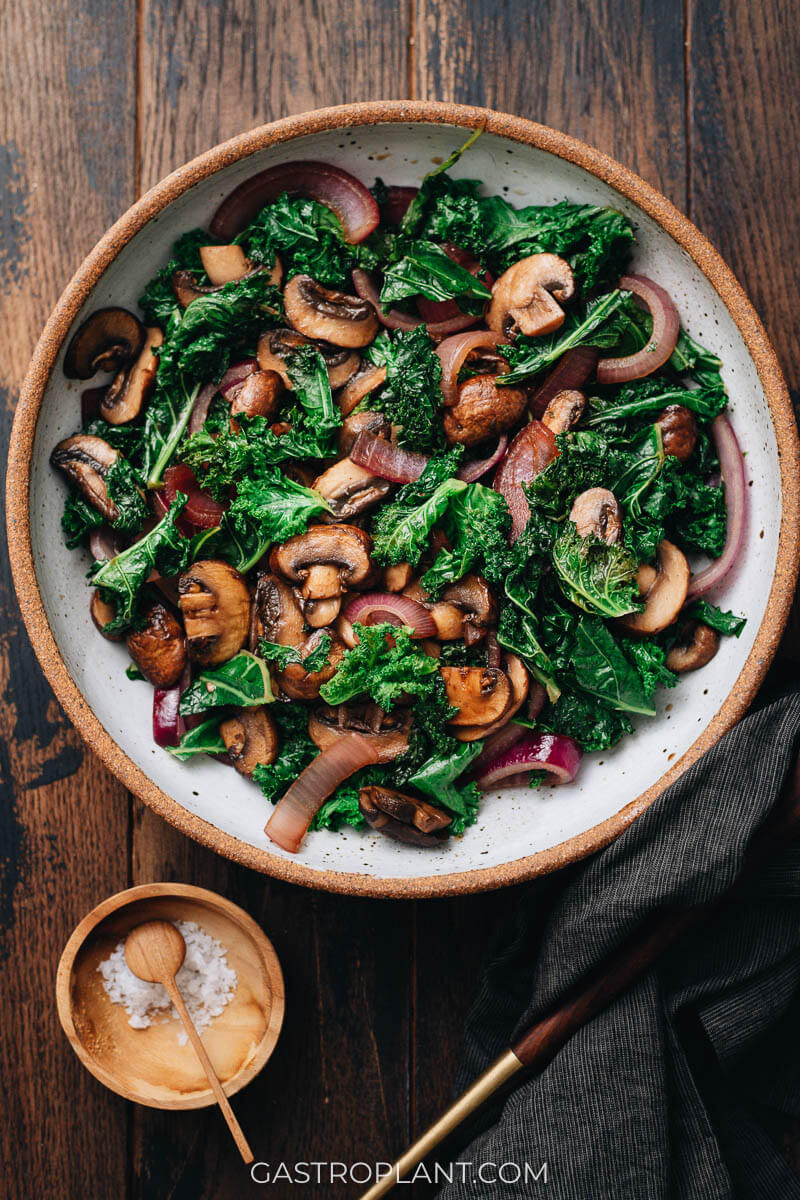 Kale Stir Fry With Mushroom and Red Onion: Quick, Tasty, Nutritious
This kale stir fry is one of my favorites and one that I cook all the time because it's tasty and quick and packs a lot of nutrition. The recipe is a simple one that focuses on (1) a method to get each ingredient perfectly cooked for the best texture and flavor and (2) a simple seasoning that works just right with the ingredients and adds a pop of flavor enhancement.
Stir Frying For Speed and Flavor Development
The method we'll use here is stir frying, which puts a nice caramelization on the mushroom and red onion. That helps develop the flavor of both of them and the red onion takes on a bit of sweetness. Stir frying helps us cook the kale quickly until it's just ready to eat – bright green, tender, and zero bitterness.
I call this dish a "stir fry" here, but this isn't a traditional wok stir fry. You can make it in a nonstick skillet and you don't need a wok. Though you will need to turn up the heat a bit to get it just right – you want to blister the mushrooms and red onions, so I recommend medium to medium-high heat at first.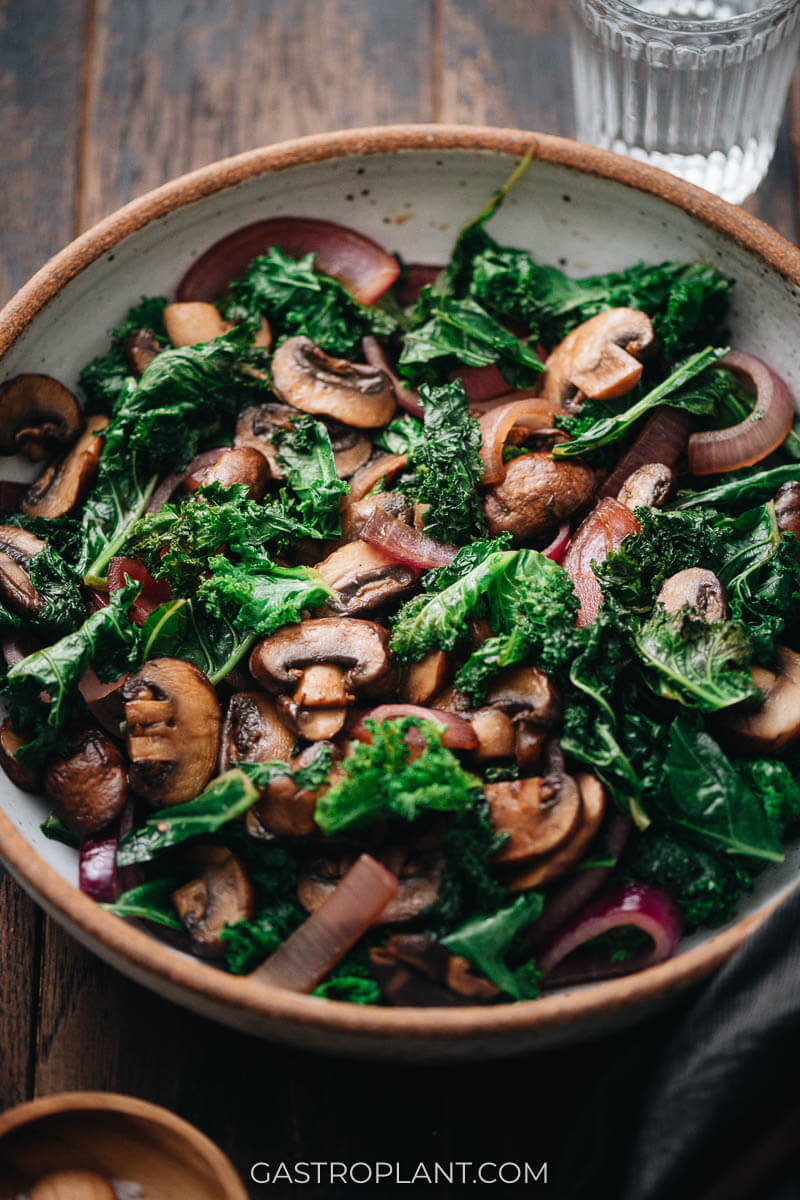 Soy Sauce and Balsamic Vinegar – Easy Seasoning for Greens
The seasoning here is really flavorful and consists of just two ingredients – soy sauce and balsamic vinegar. The rich umami of the soy sauce goes surprisingly well with the sweet-tart balsamic vinegar.
Never mind that they come from very different parts of the world – they go together so well! Try it and you'll see what I mean.
I use this combination on all kinds of stir fried and sauteed greens – kale, chard, mustard, collards, bok choy, even zucchini.
If You're Looking for a Lower Sodium Soy Sauce….
I really like the "Less Salt" soy sauce from Yamasa. It actually has less sodium than the more common Kikkoman Low Sodium one and it has a much nicer umami.
Tweaking the Kale Stir Fry with Mushroom and Red Onion
The idea with this recipe is that you can use the method to cook other vegetables, since the seasoning works with many different ones.
You can swap the kale out for others, if you want. Chard and collards are favorites of mine and they take about the same time to cook as kale. Spinach will work, though it will be much quicker. If you want to use something thicker, like cabbage, I'd add it with the mushroom and onion and increase the heat a bit so it all gets caramelized.
I would not replace the mushroom and red onion myself, as they are really important flavor-wise.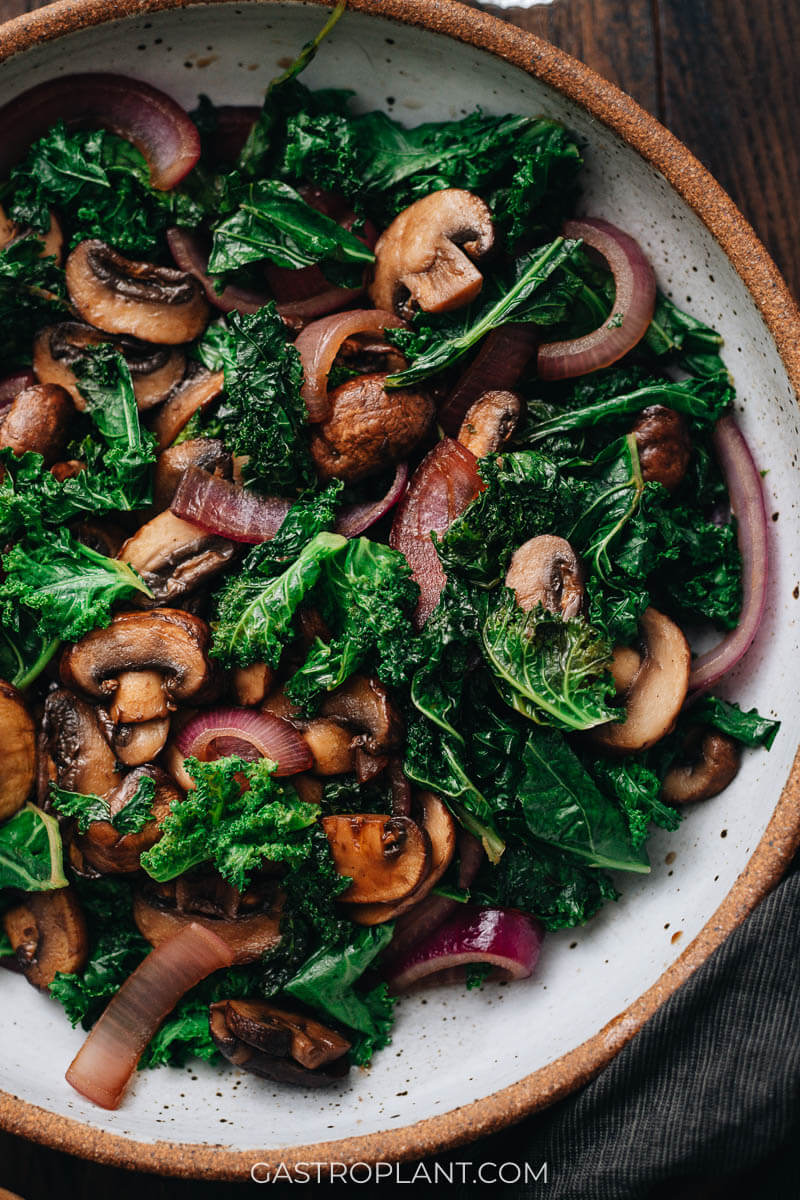 Final Thought
I've been enjoying this one a lot lately and thought it might come in handy for you. I can never have enough quick, flavorful recipes like this one up my sleeve so I hope you find it helpful too!
Let me know if you try it or if you have any questions in the comments.
More Quick Easy Vegetable Recipes
Print Recipe
Kale Stir Fry with Mushroom and Red Onion
Kale Stir Fry With Mushroom and Red Onion is seasoned with just balsamic vinegar and soy sauce. It's beautifully simple and needs just 15 minutes and 5 ingredients.
Ingredients
2

Tablespoons

oil

peanut, canola, avocado, or other neutral high-heat oil

150

grams

about 6-8 cups kale, leaves cut into bite size pieces (see note on stems)

250

grams

8 ounces brown or white mushrooms, trimmed and sliced

150 grams red onion, sliced

1/2 a large onion

1.5

Tb

balsamic vinegar

1.5

Tb

soy sauce

Salt and black pepper to taste

as needed
Instructions
Heat the oil over medium-high heat in a large skillet.

Add onion and mushrooms. Spread them out and let them sit for 2 minutes before stirring. Continue to cook and stir until onion is just translucent and mushroom is just tender, about 5 more minutes.

Add the kale leaves and stir well. Cook for another 2-3 minutes until the kale leaves are bright green and just tender enough to eat. Turn off the heat and stir in the balsamic vinegar and soy sauce. Stir well and allow the liquid to reduce for about 30 seconds.

Serve immediately.
Notes
For the kale stems/ribs, you can either remove and discard them or slice them really small so they are easier to eat. If you intend to cook the stems/ribs, you should add them with the onions and mushrooms.