Vegan Kimchi Ramen combines things I love about both Korean instant noodles and Japanese restaurant-style ramen. It has an addictive spicy-umami broth, mushrooms, fermented bamboo shoots, and seaweed, with a touch of vegan butter on top. It's just fun to eat, and it's not hard to make.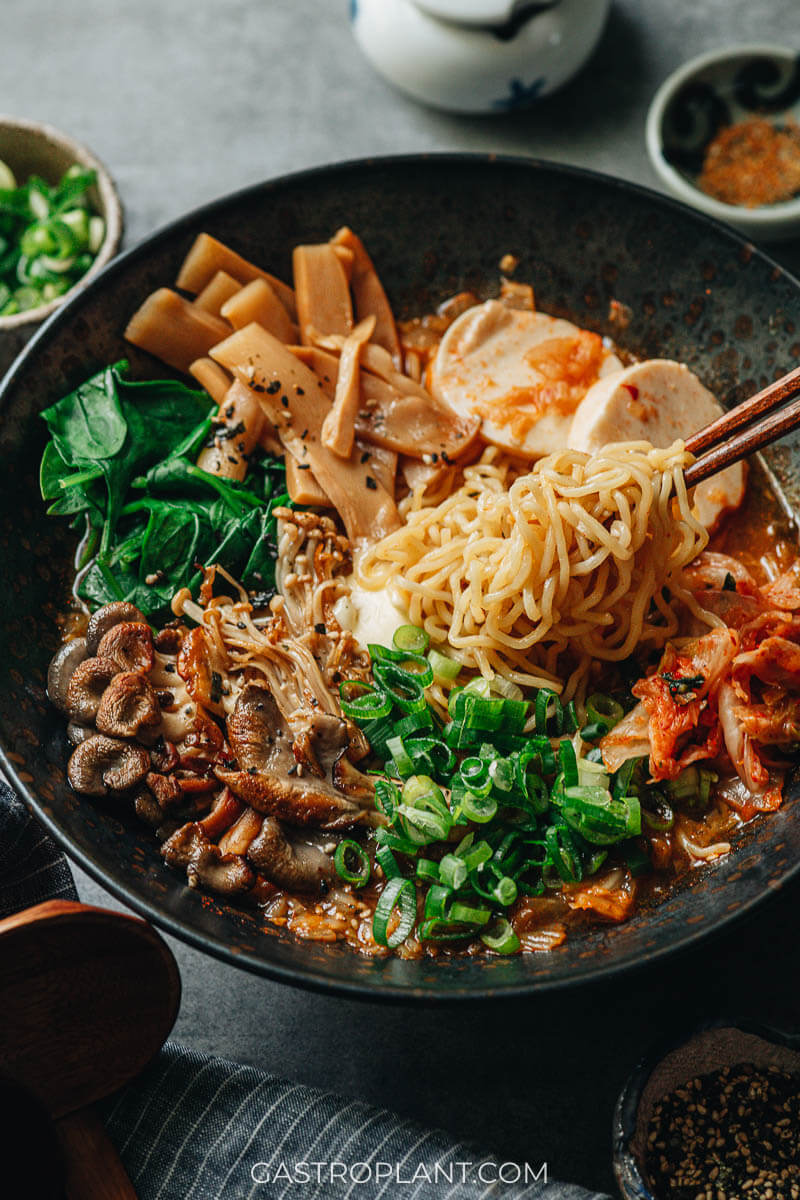 What is This Vegan Kimchi Ramen?
This vegan kimchi ramen was inspired by the tantalizing Korean Nongshim Kimchi Noodle Soup and Shin Ramyun instant noodles that I ate way too much of in my earlier years. As well as Japanese ramen, which is closer to made-from-scratch and has lots of nice toppings.
Speaking of toppings, I went with some that I just enjoy eating in a bowl of ramen (menma bamboo shoots, grilled mushrooms, green onion). And I added some Korean specialities that are not typically found on ramen but are too good to not include (soft tofu [aka "soondubu"] and raw kimchi).
Altogether, it's got the fun of a bowl of restaurant-style ramen, with some Korean pizzaz. The spiciness of the kimchi broth is balanced by the toppings and mellowed out by the pat of vegan butter on top.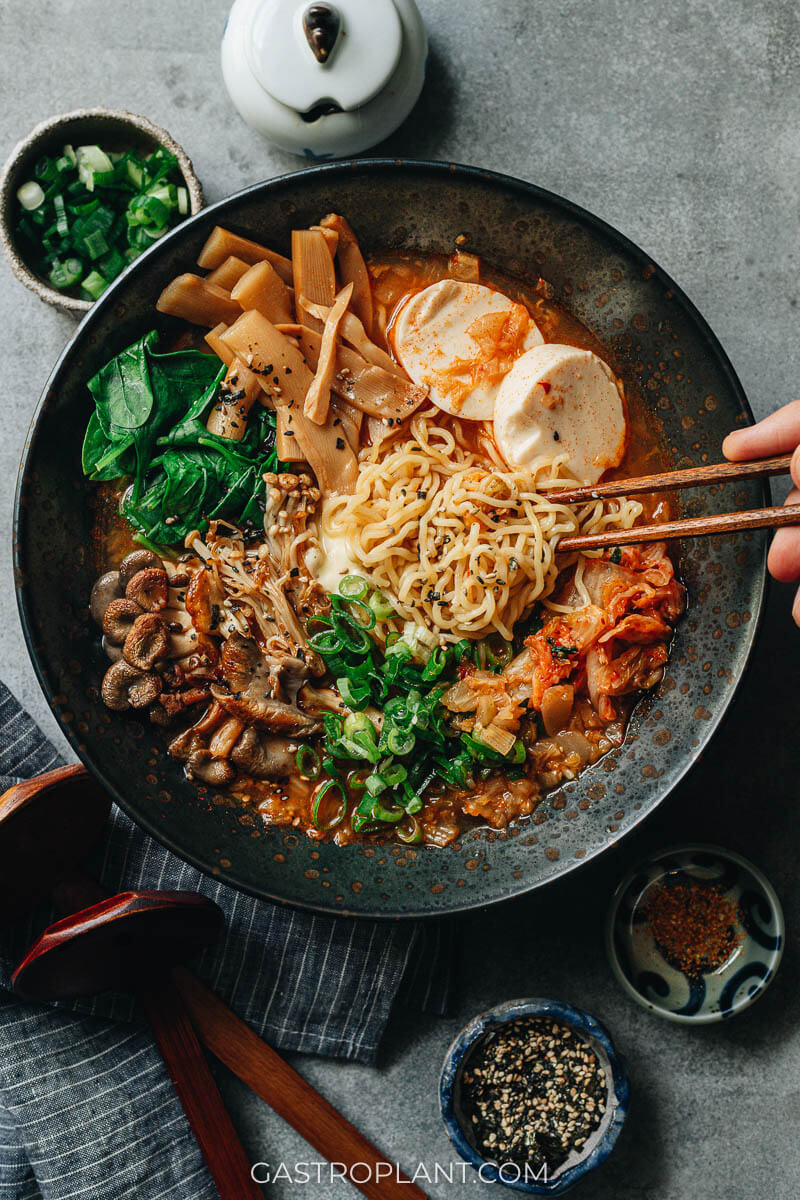 More About the Vegan Kimchi Ramen Broth
The broth is a cross between the instant noodles I mentioned above and traditional kimchi soup. This isn't a proper Korean broth recipe by any stretch (for that, I highly recommend visiting Maangchi and The Korean Vegan) but it was my deep love for Korean flavors that made me make it.
The broth has a healthy portion of kimchi and kimchi juice at its core, boosted by Korean chili powder (gochugaru), and red miso (doenjang also works), and white pepper for a certain… funky spice that isn't overpowering.
Enhancing the umami in the background are soy sauce, dried shiitake mushrooms and kombu seaweed, ginger, and green onion. There's a touch of maple (or other sweetener) to balance the sourness of the kimchi.
Overall it's a delightfully complex broth that isn't too hard to make and it all combines to make the flavor of the kimchi sing.
A Quick Note on Broth Volume
And I know the photos don't show a lot of broth in the bowl – I did this to show off the toppings. The recipe includes about 500 ml / 2 cups of broth per serving, so don't worry!
Toppings for Vegan Kimchi Ramen
Traditional ramen toppings often include meat and eggs, but you still have a lot of options when making it plant-based. And the kimchi broth is pretty versatile, so you can top this basically however you want.
I chose some toppings that work especially well with the flavor profile of the broth:
Kimchi: it's already in the broth but it has a different flavor and texture raw, and the cool temperature is nice against the hot broth.
Soft Korean Tofu: this one is known as soondubu in Korean and it has this awesome silky, custardy texture and a mildly beany flavor. As a texture contrast with the chewy noodles, it's a ton of fun. And it's right at home in the spicy broth.
Menma: this is a common Japanese ramen topping and for good reason. It has a lovely nutty umami flavor and a satisfying pickled crunchiness.
Grilled mushrooms: I used oyster and enoki mushrooms, since they're common in Korean and Japanese food and the meaty texture works great here. But any mushroom you've got is a good one.
Green Onion: adds a nice grassy texture and flavor that fit right in.
Blanched spinach: I wanted a little more something green, and spinach has a nice mild presence amid all the intensity.
Vegan butter: this may sound a little strange, but butter is common in Japanese miso ramen and the creaminess is perfect against the flavor of kimchi. Just trust me on this.
I know this is a ton of toppings! But I wanted to paint a picture of what's possible. Feel free to add or subtract as you like. See my other ramen recipes for more potential toppings.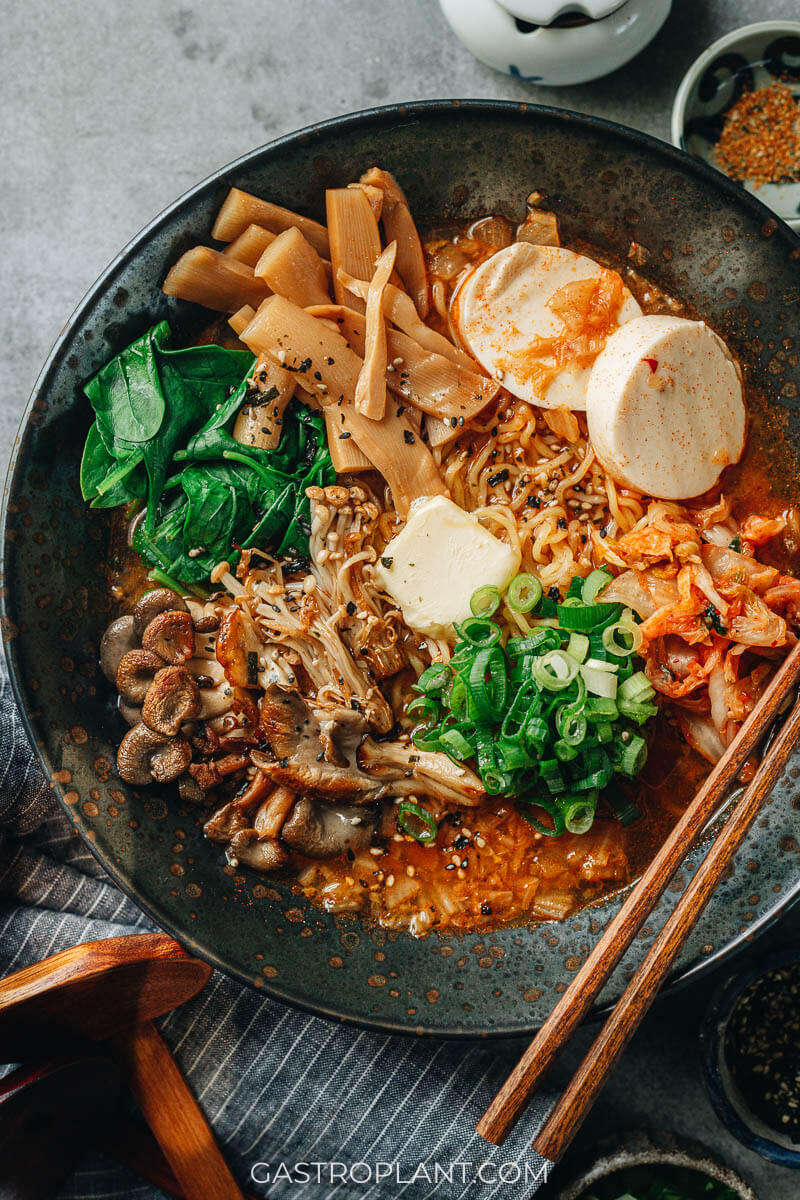 A Tip On Vegan Kimchi
Keep in mind that much of the kimchi sold in stores contains fish and/or anchovy, though vegan kimchi is widely available.
H Mart is a great place to shop to cook this recipe (and to shop for plant-based cooking in general), and they sell very tasty vegan kimchi that's labeled vegan.
At more typical grocery stores in the US, I've come across the Nasoya / Pulmone brand. Their kimchi is vegan and tastes great. I recommend the "spicy" kind over the "mild". It's not very spicy but has better flavor than the mild.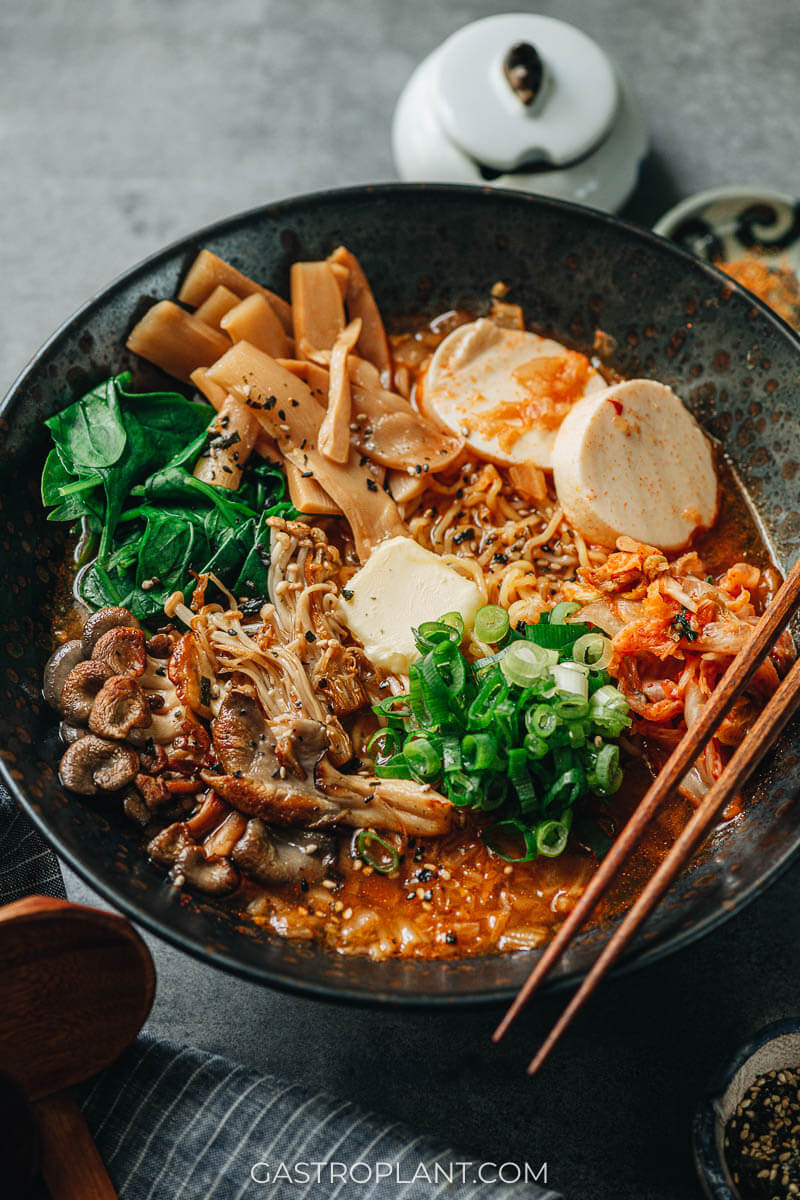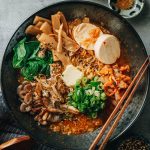 Print Recipe
Vegan Kimchi Ramen
Vegan Kimchi Ramen has an addictive spicy-umami broth, mushrooms, fermented bamboo shoots, and seaweed, with a touch of vegan butter on top.
Ingredients
To Saute
1

Tablespoon

oil

peanut, canola or other neutral

1 ½

cup

vegan kimchi

chopped finely (more for topping – see below)

2

green onions

sliced and white and green parts separated
Broth and Simmering Ingredients
1

liter

vegetable broth

¼

cup

kimchi juice

3

dried shiitake mushrooms

1

piece

kombu seaweed

(2×4 inches or 5×10 centimeters)

4

coin-sized ginger slices
Stir in Toward End
1

Tablespoon

red miso

or 2 teaspoons doenjang

2

teaspoons

maple syrup

or other sweetener

¼

teaspoon

ground white pepper

½

Tablespoon

soy sauce

1

Tablespoon

gochugaru

fine
Sauteed Enoki Mushrooms
150

grams

enoki mushrooms

(5.3 ounces) split into bite-size bunches but not cut

½

Tablespoon

oil

for cooking the mushrooms
Other Toppings
½

cup

raw kimchi

1

tube

Korean soft tofu

"soondubu"

50

grams

menma

2 ounces

2

cups

raw spinach

1

Tablespoon

vegan butter

or ½ Tablespoon toasted sesame oil

Nori flakes to garnish

can sub furikake
Instructions
Prepare the Broth
Heat the oil in a 2-quart (or larger) saucepan over medium heat. When hot, add the kimchi and white part of the green onion. Saute, stirring occasionally, until slightly caramelized, about 5 minutes.

Add the vegetable broth, kimchi juice, shiitake mushrooms, kombu, and ginger. Bring to a boil, then reduce the heat to low. Simmer until the broth is infused with the shiitake mushrooms, kombu, and ginger, about 25 minutes. You can start the water for the noodles while the broth is simmering.
Saute the Enoki Mushrooms
Heat the ½ Tablespoon oil in a small skillet over medium-high heat. When hot, add the enoki mushrooms. Cook until browned and nicely blistered, about 5 minutes. Set aside.
Boil the Noodles and Blanch the Spinach
Bring a pot of water to a boil. When nearly ready to serve,cook the noodles according to the package instructions. Remove the noodles as soon as the texture is al dente, if not 30 seconds or so sooner. Transfer the noodles to your ramen bowls.

Blanch the spinach in the boiling water until bright green, 20-30 seconds. Drain and divide the spinach into the ramen bowls.
Complete the Broth
Just before serving, remove and discard the shiitake mushrooms, kombu, and ginger slices. Stir the miso, maple syrup, white pepper, soy sauce, and gochugaru into the simmering ramen broth. Stir until fully incorporated.
Serve the Broth and Rest of the Toppings
Divide the broth into the ramen bowls with the noodles and divide all the toppings into the bowls. Serve and enjoy immediately.