This 3-ingredient sauteed summer squash is a quick and simple way to get the most flavor out of your squash in peak season. It works with yellow squash, gray squash (calabacitas), and zucchini (courgettes). Ready in 10 minutes.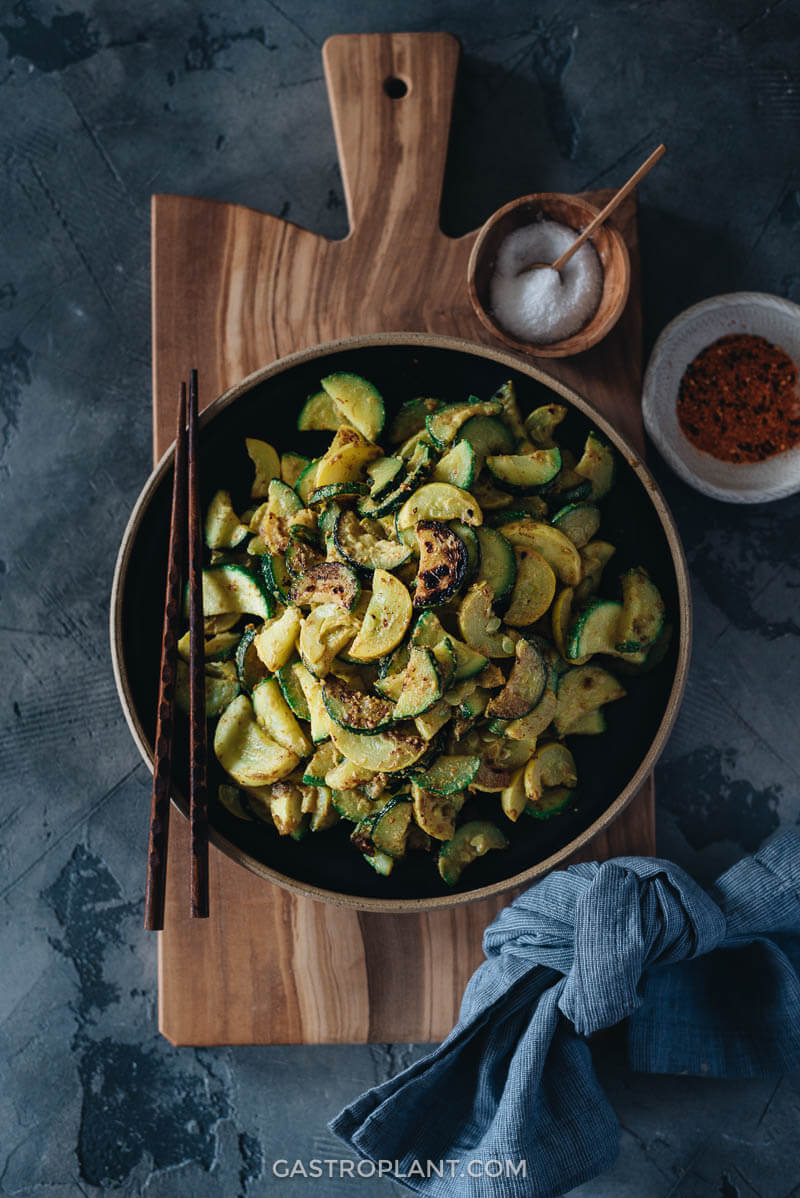 3-Ingredient sauteed summer squash – perfect summer food
Since summer squash is currently in peak season, I wanted to develop and share a quick and easy way to enjoy the delicate sweetness of these young gourds. The method is a simple saute and the seasoning – just nutritional yeast and a sprinkle of chile powder – is just there to elevate the squash.
A quick intro to summer squash
I tested this recipe with three kinds of squash – yellow summer squash, gray squash (known by some as calabacitas and Korean gray squash) zucchini (aka courgettes). They have similar textures, but subtle differences in flavor.
Generally, the greener the squash, the more grassy and bitter the flavor. That's not to say that zucchini are super bitter. But if you find the bitterness of zucchini to be off-putting, gray or yellow squash might be tastier. Yellow squash tends to be the sweetest of the bunch.
Fun fact – right now, avocados are so expensive in the US due to high demand, that some restaurants are using gray squash as a substitute for avocado. To quote, The scariest part is that it tastes almost exactly like your standard taquería guacamole: bright, spicy, rich and very satisfying"
That should tell you how delicate and creamy gray squash can taste!
There are other summer squashes that I didn't use when developing this recipe, including pattypan and golden zucchini. However, I have cooked with both of those, and if you cut them as I describe below, you should get great results. Both of those squashes are toward the sweeter end of the spectrum.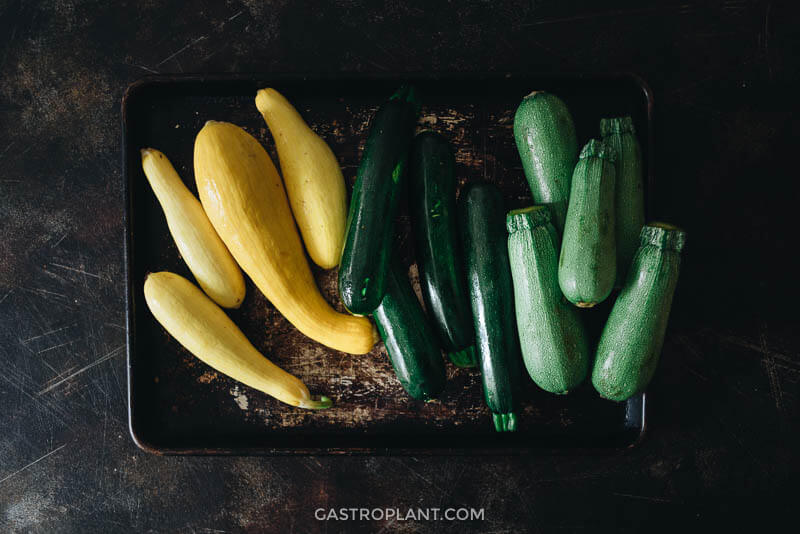 How to know what's in season
I've been trying to make an effort to take advantage of fruits and vegetables that are in peak season. It's hard to do nowadays, with grocery stores always wanting to create the illusion that everything is always in season.
Here are a few hints that something is in season:
Look at what's cheaper than it normally is – this means that product is in abundance right now.
If you see an unusually wide variety of different kinds of the same fruit or veggie – for example, there might be six kinds of peaches, when they normally only have one.
You can also ask the internet. This handy tool will tell you what's in season depending on where you live (sorry, US only).
How to make this dish
This is a really easy one. Wash and chop the squash. Heat a skillet with a little bit of oil. Saute the squash for a bit with some salt. Stir in nutritional yeast. Saute it a bit more. Season with chile powder (or your spicy ingredient of choice, optional). And you're done.
You can make a double batch if you have a big skillet, but for best results (i.e. best caramelization and flavor), a single batch is optimal.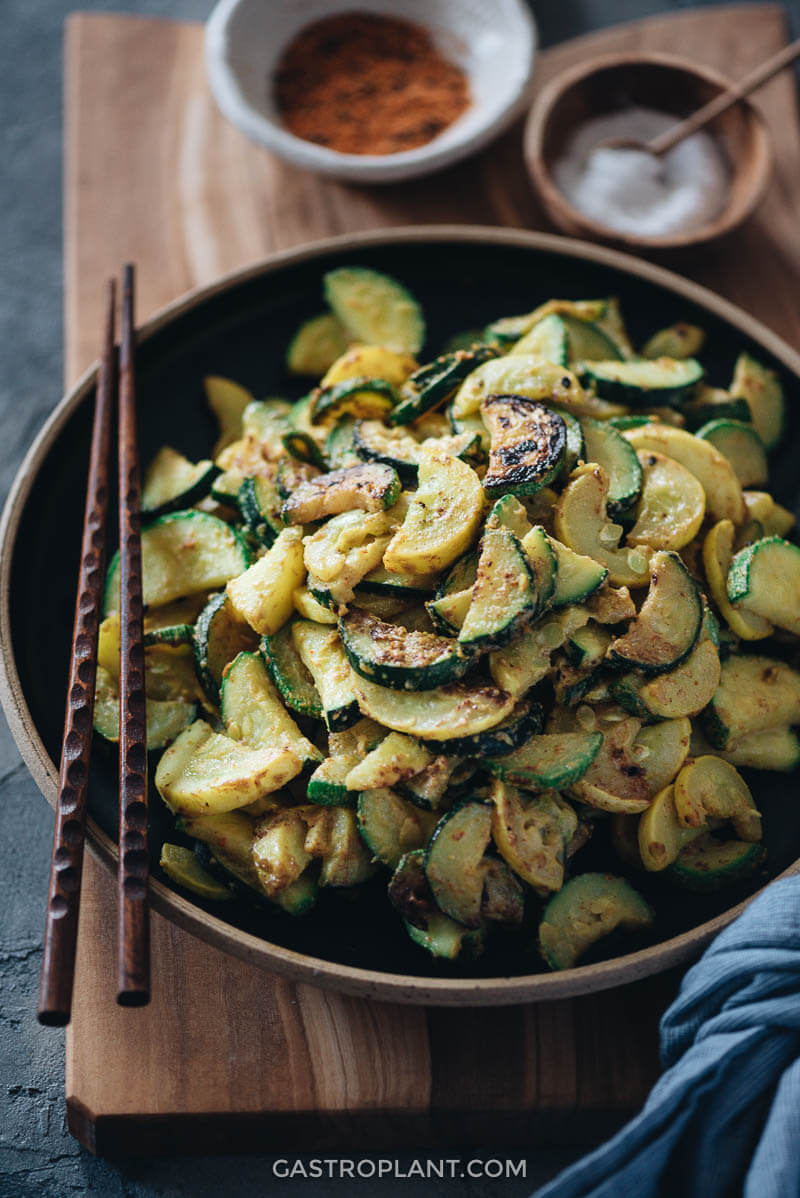 What to serve with the 3-ingredient summer squash
This dish makes a quick and easy side. Here are some potential pairings:
15-minute Chickpea Curry with Kale – Another quick and easy one, with lots of protein to complement.
Mediterranean Buddha Bowl – you can either include the squash in your meal prep, or cook some of the dishes from the meal prep to accompany the squash. Either way, the flavors will work great together.
More super simple, tasty, and quick veg recipes
* I'm told that oil, salt, and pepper don't count as ingredients according to some chefs
As always, if you try this recipe out, let me know! Leave a comment, rate it (once you've tried it), and take a picture and tag it @gastroplant on Instagram! I'd love to see what you come up with.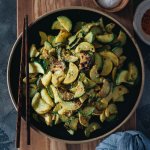 Print Recipe
3-Ingredient Sauteed Summer Squash
This 3-ingredient sauteed summer squash is a quick and simple way to get the most flavor out of your squash in peak season. It works with yellow squash, gray squash (calabacitas), and zucchini (courgettes). Ready in 10 minutes.
Ingredients
1

pound

summer squash

(500 grams) can be yellow, gray, Korean, calabacitas, zucchini, courgettes, pattypan, or golden zucchini

1

Tablespoon

olive oil

or neutral cooking oil

Salt to taste

2

Tablespoons

nutritional yeast

Chile powder

shichimi togarashi, or chile flakes to taste
Instructions
Slice the squash into bite-sized pieces about 1/4 inch (1/2 centimeter) thick.

Heat the oil in a large skillet over medium heat. When the oil is hot, add the squash in a single layer. Season the squash with salt. Don't touch the squash for the first 3-4 minutes or so, until the bottom side is light golden brown. If the squash hasn't browned at all after 5 minutes, increase the heat slightly.

Start to stir the squash periodically, until the pieces have some nice browning on both sides, another 3-4 minutes. (They don't all have to be perfectly browned on both sides, you don't have to be that particular.) Sprinkle the nutritional yeast over the squash and stir well. Cook and stir until the yeast is evenly distributed, 1-2 minutes.

Season with chile powder/flakes or shichimi togarashi (if using) and serve immediately.
Notes
If the squash becomes mushy toward the end of the cooking, season and remove it immediately. We want the squash to be tender but don't want to overcook it.
If you make a double batch, make sure you have a large skillet (12+ inches or 30+ centimeters). You may need to use a higher heat level as well.