These vegan Scandinavian cinnamon buns are accented with freshly toasted cardamom and are magical when paired with a cup of coffee. The twisting braided shape looks intricate, but they're a piece of cake to make, even for a newbie baker.
Scandinavian Cinnamon Buns – Understated, Fragrant, and Satisfying
You may have noticed that I don't share a lot of pastry or dessert recipes here. It's true that I don't cook a lot of those types of food but I do enjoy them from time to time, especially if I happen to be visiting a place famous for them.
I had the chance to visit a couple of Scandinavian countries before the pandemic and was impressed by the quality of pastries all over. The one that inspired this cinnamon buns recipe was the korvapuusti in Finland – it's shaped different from the buns in the photos, but the flavor profile is about the same – a mildly sweet bread filled with a slightly sweeter cinnamon-cardamom paste and dotted with coarse grains of sugar.
I was struck by how the bun was slightly crispy on the edges yet very tender inside. And by the aroma of the cardamom. The spice stood out so that it was noticeable but not overpowering, and it made a really nice pairing with a cup of hot, bitter coffee. The memory of that cinnamon bun stuck with me for a few years and I recently had the urge to recreate it so that I could share it with family and friends.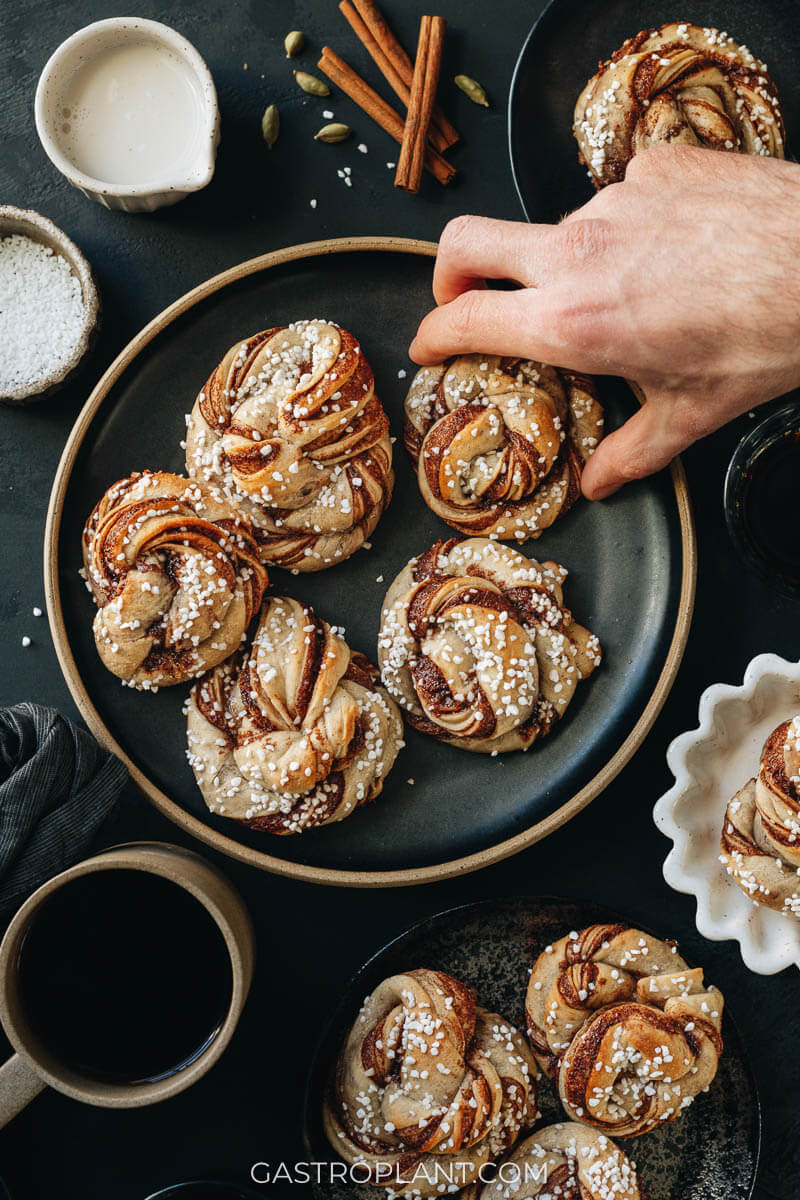 Why Make Scandinavian Cinnamon Buns?
A cinnamon bun is a really pleasant (if indulgent) way to start the day. Especially in the winter, it's an easy way to put yourself or someone else in a good mood first thing in the morning.
These buns have a familiar flavor profile overall, but the cardamom makes them stand out. They are less sweet than the typical cinnamon buns found in the US, but still satisfyingly sweet.
They keep for a week and reheat nicely, so you don't have to worry about eating them all within a day or two.
How to Make Scandinavian Cinnamon Buns
Toast Whole Cardamom for Intoxicating Fragrance
To start, you're going to break apart a bunch of cardamom pods (I used 40 of them) to get the seeds out, toast them in a skillet until amazingly fragrant, and then grind them finely.
This step is crucial to developing the aroma for the finished buns.
You can toast pre-ground cardamom if that's all you have (or just want to save time). The fragrance will still develop nicely, though it won't shine quite as bright.
Activate the Yeast In Warm Plant Milk
Next, you'll heat some plant milk until just warm enough to activate the yeast – 110F or 43C – and stir in the yeast and some sugar. The yeast will consume the sugar to become active.
Be careful not to heat the plant milk much higher than this, as higher temperatures can kill the yeast. If the yeast is frothing and bubbling, that's a good sign.
Mix and Knead the Dough
Once you have a nice bubbly cup of yeasty plant milk, you'll add it to your stand mixer (or mixing bowl) along with melted unsalted vegan butter (see note below if using salted), salt, flour, and ⅔ of the cardamom. Mix this all at low speed until you have a smooth and consistent dough.
First Rise
Move the dough ball to a greased bowl, cover it with plastic wrap or a damp towel to prevent drying out, and put it somewhere slightly warm (but not hot) to let the dough rise. Good places include near (but not on) your heater, on top of the fridge, or in front of a sunny window.
You want the dough to double in size and it can take an hour, more or less.
Mix the Filling
While the dough is rising, you'll mix up the sweet, cinnamony paste that will become the buns' filling. It consists of unsalted vegan butter (again, see the note if using salted), light brown sugar, cinnamon, vanilla extract, and the rest of the cardamom.
It can take some work to get this mixed to a nice consistency – I like to use a fork and work in a sunny spot to help the stubborn sugar and cold butter integrate.
Roll Out the Dough, Spread the Filling, and Make Scandinavian Cinnamon Buns
After the first rise is done, you've reached the fun part!
You'll form the buns like this:
Roll the dough out like a big rectangular pizza
Spread the filling paste onto it in an even layer
Fold the dough sheet onto itself in thirds
Cut the folded sheet into thin strips
Stretch each strip out very gently, taking care not to break the dough
Twist and roll each strip into a beautiful cinnamon bun
When forming the buns, do your best to keep the strand snug with itself, with not much air inside. This will help the bun stay intact and prevent too much drying out.
Keep in mind that I am a total novice at baking, so don't let this part discourage you! I promise it's easy.
Second Rise
Once you have a tray of buns formed, cover it again and let them rise until they double in size, 45 minutes to an hour.
While that's going on, preheat the oven to 375F (191C) and prepare your vegan "egg" wash of equal parts plant milk and aquafaba.
Wash and Sprinkle
Brush the wash onto the buns and sprinkle the pearled sugar generously onto them. Try to get both the wash and the sugar into the nooks and crannies.
Bake the Scandinavian Cinnamon Buns
Finally it's time to bake the buns. It takes about 18 minutes but might need more or less depending on the temperament of your oven.
If you're going to enjoy the buns the day you make them, you can bake them until they're a bit golden brown on top. On the other hand, if you want to enjoy them over time and plan to reheat them anyway, it's OK if they are very light brown on top (slightly "undercooked" but still very nice.
If you can wait, let the buns cool on a rack for 5-10 minutes before eating. But if you can't, get a cup of coffee or tea and tear into one. 🙂
Freeze Some Scandinavian Cinnamon Buns to Enjoy Later
If you're concerned about making more buns than you can eat in a couple of days, don't be! These buns freeze and reheat superbly. You can use either zipper bags or airtight containers to freeze them in.
I like to reheat mine at 400F (204C) to get them a little crispy around the edges. Use 300F (149C) to keep them on the softer side. Up to 15 minutes in either case, but watch them closely.
A Note on Vegan Butter and Salt
I used Miyoko's unsalted vegan butter for this recipe and it worked wonderfully. This is the only unsalted vegan butter that I've found so far and I recommend it for this recipe if you can get it. (It's also very tasty as a general purpose butter.)
If you only have access to salted vegan butter (or margarine) reduce the amount of salt in the dough to about ⅓ teaspoon. If you do this, the dough may rise a bit faster (salt slows the yeast down) but the flavor should be the same.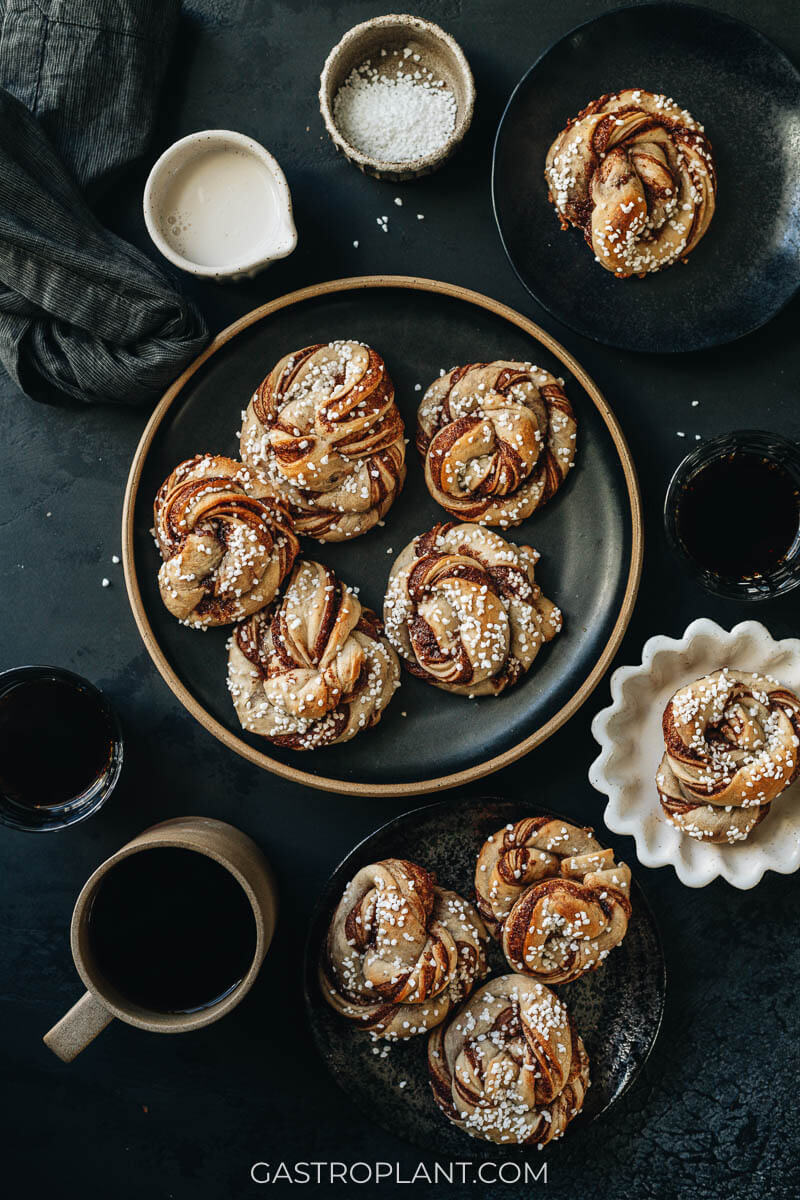 What is This Pearled Sugar?
The pearled sugar called for in the recipe is a Scandinavian variety of sugar that has pearl-shaped granules. (Note that there is also Belgian pearl sugar, which is used in Liege-style waffles but that is something different. What you want may be labeled "Swedish".)
Pearl sugar is available online if you want to go in the authentic direction. You can use other large granulated sugar instead, such as sparkling or demerara if you like. You will want to use some kind of sugar topping because the dough of these buns is not especially sweet and the sugar topping helps balance the cinnamon and cardamom.
Looking for an Easier Version? Make Finnish Korvapuusti
If the stretching and twisting looks too tricky or time consuming, you can use the same dough and filling to make the Finnish version of Scandinavian cinnamon buns, Korvapuusti.
To make them, starting from the point where you spread the cinnamon filling onto the large dough sheet, you roll that sheet up, cut alternating and slightly diagonal chunks from the roll, and then let them rise. Once they've risen again but before you apply the "egg" wash, press each bun gently to form the classic "earplug" shape. (See this link to get an idea of what it looks like.) Then wash, sugar, and bake them as prescribed in my recipe.
Final Thoughts
It's been a joy to recreate these buns and share them with family and friends over the past few months, since they're unlike any cinnamon buns or even pastries you can find in the US. If you're looking for something special and slightly sweet for breakfast or even dessert, I hope you give them a try.
Whether you make these buns or not, if you enjoy using cinnamon in your food, you might check out this short video. It's a lighthearted reminder not to take everyday ingredients like cinnamon for granted.
More Plant-Based Breakfast Goodies
More Stuff for Your Vegan Sweet Tooth
Print Recipe
Scandinavian Cinnamon Buns
These vegan Scandinavian cinnamon buns are accented with freshly toasted cardamom and are magical when paired with a cup of coffee. The twisting braided shape looks intricate, but they're a piece of cake to make.
Equipment
1 coffee grinder

or spice mill or mortar & pestle

1 small saucepan

1 probe thermometer

1 stand mixer

1 flat working surface

1 baking sheet
Ingredients
40

whole green cardamom pods

(see note)

1

cup

plant milk

unsweetened and unflavored

1

packet

active dry yeast

7 grams / 0.25 ounces / about 2.25 tsp

50

grams

sugar

white granulated, about ¼ cup 50 grams

55

grams

vegan butter

unsalted, about ¼ cup (see note)

¾

teaspoon

salt

see note

405

grams

all-purpose flour

about 2 ¾ cups
Filling Paste
115

grams

vegan butter

unsalted, about ½ cup

100

grams

light brown sugar

about ½ cup packed

2

Tablespoons

ground cinnamon

1

teaspoon

vanilla extract
Vegan "Egg Wash"
¼

cup

aquafaba

¼

cup

plant milk

unsweetened and unflavored
Topping
Swedish pearl sugar

or other coarse sugar
Instructions
Break, Toast, and Grind the Cardamom
Break apart the cardamom pods by pressing a couple at a time with a sturdy glass on a cutting board. Remove and discard the green outer layer and separate the interior seeds from each other.

Heat a small skillet over medium-low heat and add the cardamom seeds. Once the pan is hot, toast the seeds until very fragrant, 6-10 minutes. If you see smoke, remove the pan immediately, lower the heat, and resume.

Once done, transfer the cardamom seeds to a small bowl to cool for a couple of minutes. Then use a coffee grinder, spice grinder, or mortar and pestle to grind as finely as possible. You should have about 1 Tablespoon of ground, extremely fragrant cardamom. Separate the ground cardamom into a batch of ⅔ and ⅓ (2 teaspoons and 1 teaspoon, respectively).
Activate the Yeast
Heat the plant milk in a small saucepan over low heat until it reaches 110F (43C). Remove from heat, pour the white granulated sugar and yeast into the milk and stir to dissolve.

Let the yeast activate for 5-10 minutes until frothy.

Meanwhile, gently melt the first 55 grams (¼ cup) of vegan butter in the microwave, 10 seconds at a time, until barely liquid.
Make the Dough
Combine ⅔ of the ground cardamom and the salt and flour in the bowl of your stand mixer. Whisk by hand for a minute until the dry ingredients are well integrated. Then add the melted vegan butter and activated yeast mixture.

Mix on low speed for 8 minutes until the dough is smooth and consistent (see note if mixing by hand).

Transfer the dough to an oiled bowl and cover with plastic wrap or a damp towel to prevent drying out. Place the bowl in a slightly warm place and allow to rise until it doubles in size, about 1 hour.
Mix the Filling
While the dough is rising, combine the ingredients for the filling paste and the remainder of the ground cardamom in a cereal- or soup-sized bowl. Mash and mix well with a fork until it reaches an even consistency.
Roll the Dough and Form the Buns
Once the dough has doubled, transfer it to a large floured working surface and use a rolling pin to roll it into a large rectangle, about 15×20 inches (38×50 cm). It's OK if the edges and corners aren't perfectly straight/square.

Spread the filling onto the dough rectangle in an even layer using a spoon. Be gentle with the dough so that you don't tear it. If the filling is difficult to spread, put it in a warm place and or mash with a fork to soften it.

Grab one short side of the dough and fold it inward ⅓ of the way, then fold the other short side over the folded side, so that the dough is 3 layers thick, as shown in the photo above.

Gently roll the dough again to press out any bubbles, but try not to squeeze any filling out.

Use a knife to slice a 1.5 inch (4 cm) strip of dough, perpendicular to the fold.

Use your fingers to gently pinch and squeeze the strip to compress the layers and pull the strip so that it becomes longer, 22-24 inches (55-60 cm) long. Be careful not to tear the dough as you do this. If you do feel that the dough is going to tear, just go to the next step.

Twist the dough strip several times, then wrap the dough around itself as shown in the photos.

Place the completed bun on a parchment-lined baking sheet and repeat the process with the rest of the dough. Leave at least 2 inches (5 cm) between the buns on the baking sheet.
Second Rest
Cover the buns with plastic wrap and put them in a slightly warm place to rise until they double in size, 45 minutes to 1 hour.

Meanwhile, combine the ingredients for the vegan "egg" wash and mix well. Preheat the oven to 375F (191C) and place the rack in the middle position.
Wash, Sprinkle, and Bake
Once the buns have completed the second rise, use a basting brush to bush the "egg" wash onto the buns. Cover the buns' surface but try not to soak them with the wash. Do your best with the nooks and crannies.

Sprinkle the pearl sugar onto the buns very generously.

Bake the buns until cooked and slightly golden brown on top, up to 18 minutes (see note).

If you're not sure, you can use a probe thermometer to check that the buns are 190F (88C) on the inside – that's the minimum temp you want.
Allow to Cool (if you can wait) and Enjoy
It helps to let the buns rest and cool for 5-10 minutes on a wire rack, so they solidify a bit and are easier to handle. But you can totally dig into one fresh out of the oven if you want. Be careful!
Store and Reheat
You can store the buns in an airtight container or zipper bag at room temperature for a few days or in the freezer for a few months.

To reheat, heat them in the oven 400F (204C) to get them a little crispy around the edges. Use 300F (149C) to keep them on the softer side. Up to 10 minutes for thawed buns and up to 15 minutes for frozen ones. In either case, but watch them closely.
Notes
The recipe as written makes between 12 and 16 buns, depending on how large you make the buns.
You need 1 Tablespoon of whole fresh cardamom and I used about 40 pods to get this.
You can use 1 Tablespoon of ground cardamom instead, though the aroma won't be as rich.
If using salted vegan butter, reduce the salt to ⅓ teaspoon
If mixing by hand, after combining all the ingredients and mixing to integrate a bit, transfer the dough to a floured surface and knead until smooth, about 10 minutes.
It is OK if you remove the buns before they are golden brown if you like the texture a bit softer, after 14-15 minutes. This is also good if you intend to save and reheat the buns.