This Vegan Sheet Pan Dinner has brussels sprouts, mushrooms, and potatoes, all roasted together in a single sheet pan. It's flavorful, nutritious, and easy. Includes several sauce options.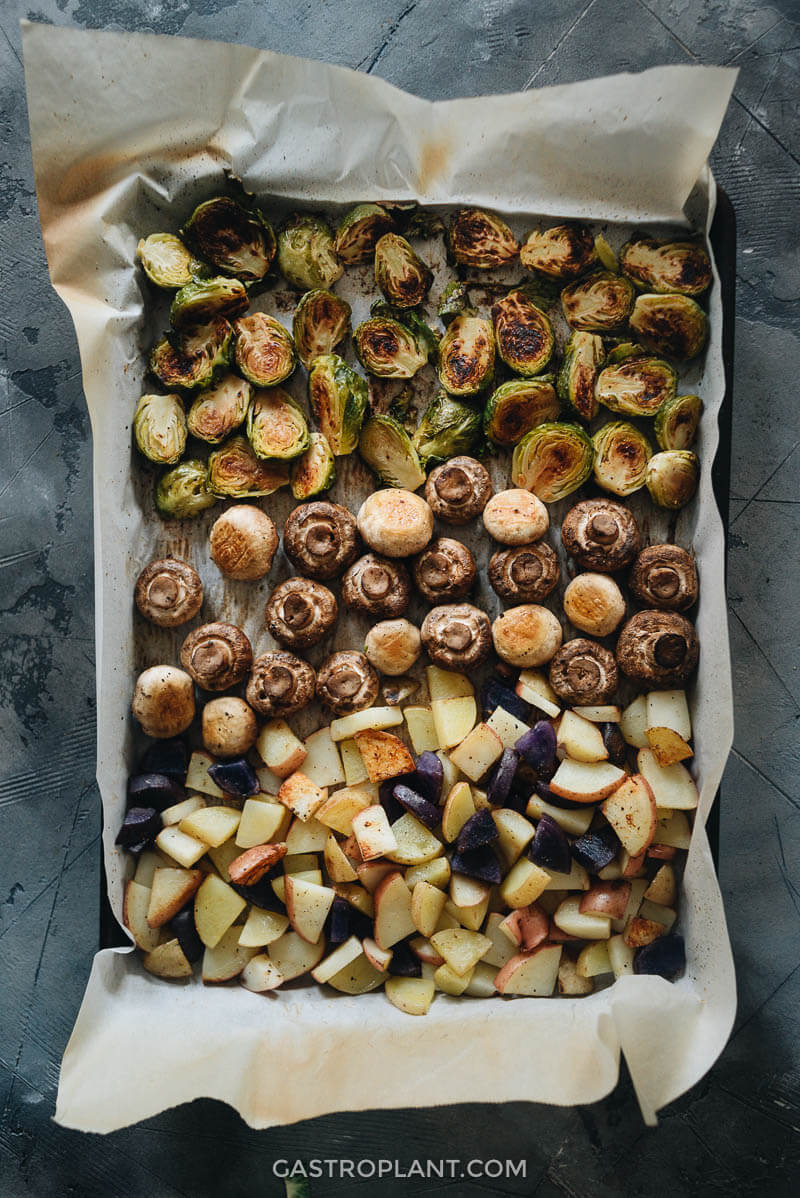 Intro to Vegan Sheet Pan Dinners
This recipe came about as the result of necessity. I wanted to make a simple dinner for two (or a side dish for more than two) that had a few different veggies, all roasted together, for the same amount of time, and for everything to be properly cooked.
I figured this kind of recipe would make it just a tiny bit easier to cook wholesome food at home rather than resort to processed or takeout options. It worked pretty nicely the times I tried it so I wanted to share it with you.
I'm planning to share more recipes in this same style in the future using different ingredients. Feel free to let me know in the comments if you have any special requests!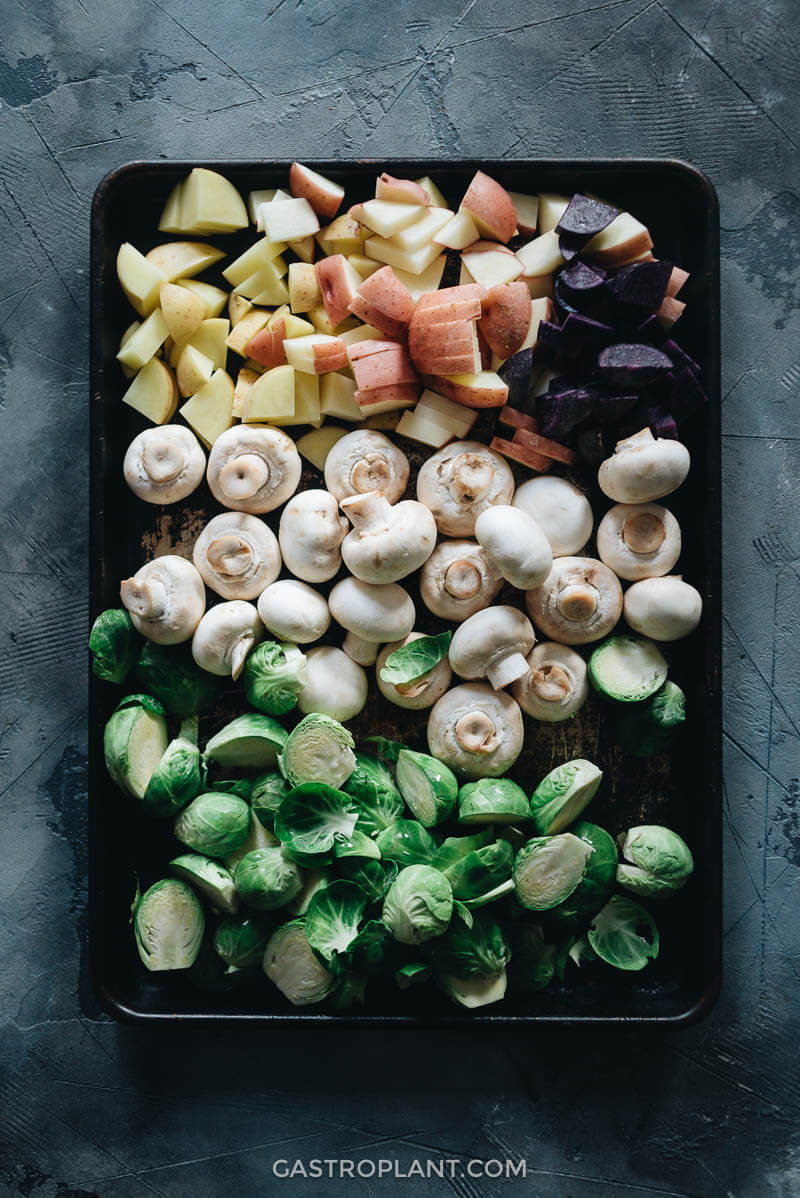 How to make the Vegan Sheet Pan Dinner with Brussels, Mushrooms, and Potatoes
The recipe is pretty simple. You've got whole white (or brown) mushrooms, brussels sprouts, and potatoes. You cut the sprouts in half and slice the potatoes. Then season them with oil spray, salt, and pepper and roast everything together in the oven for about 30 minutes.
There are two things to keep in mind as you make this:
Knifework is important – The three ingredients all cook at different rates. The mushrooms are the quickest so we leave them whole. The brussels sprouts slightly slower. And the potatoes the slowest. So we cut the sprouts in half and slice the potatoes 1/4 inch (1/2 centimeter) thick at the thickest.
Watch the brussels sprouts – The brussels sprouts are the most vulnerable of the three to overcooking. The sprouts should ideally be taken out when they're bright green with a nice crispy brown caramelization. If they start to turn a greenish muddy brown, scoop the sprouts off the tray.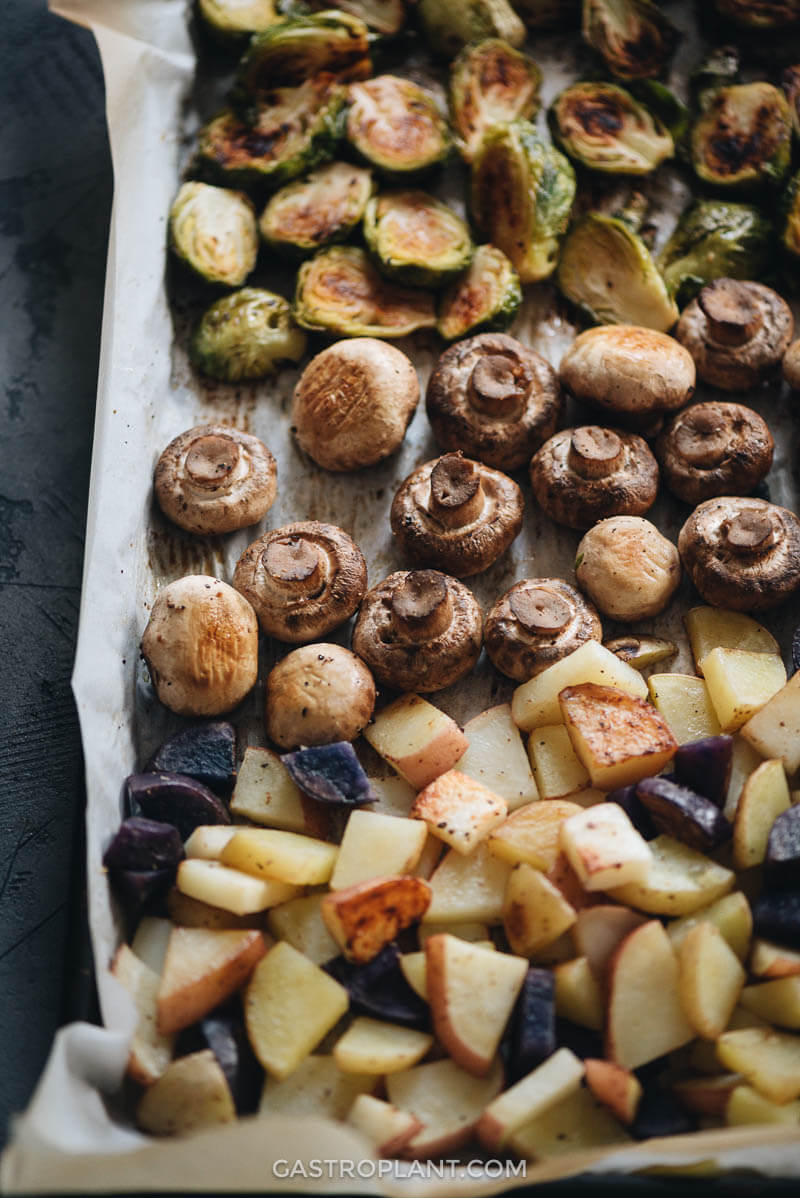 How to serve the Vegan Sheet Pan Dinner
The recipe as written made a good light dinner for my wife and me. Though I understand if you want to serve a dedicated protein dish as well. Since the sheet pan dinner is pretty hands-off, you can focus on preparing the other dish(es) when the sheet pan is in the oven.
I intentionally made the seasoning very neutral for this dish – just salt and pepper. This makes it easy to pair with anything, whether other dishes, seasonings, or sauces.
Sauce Options
If you're looking for a quick way to spice this dish up, here are some sauces that I found go well with these ingredients:
Curry ketchup or curry vegan mayo – two super lazy but delicious condiments. I mix 2 tablespoons of that condiment with 1 teaspoon of curry powder. You can add more or less as you like.
Sriracha mayo – another lazy and tasty dipping sauce I use all the time. I use a 1:4 ratio of sriracha to mayo.
Tahini – the earthiness of tahini goes well with the veggies
A squeeze of lemon juice – if you still want to keep it simple while adding another dimension of flavor.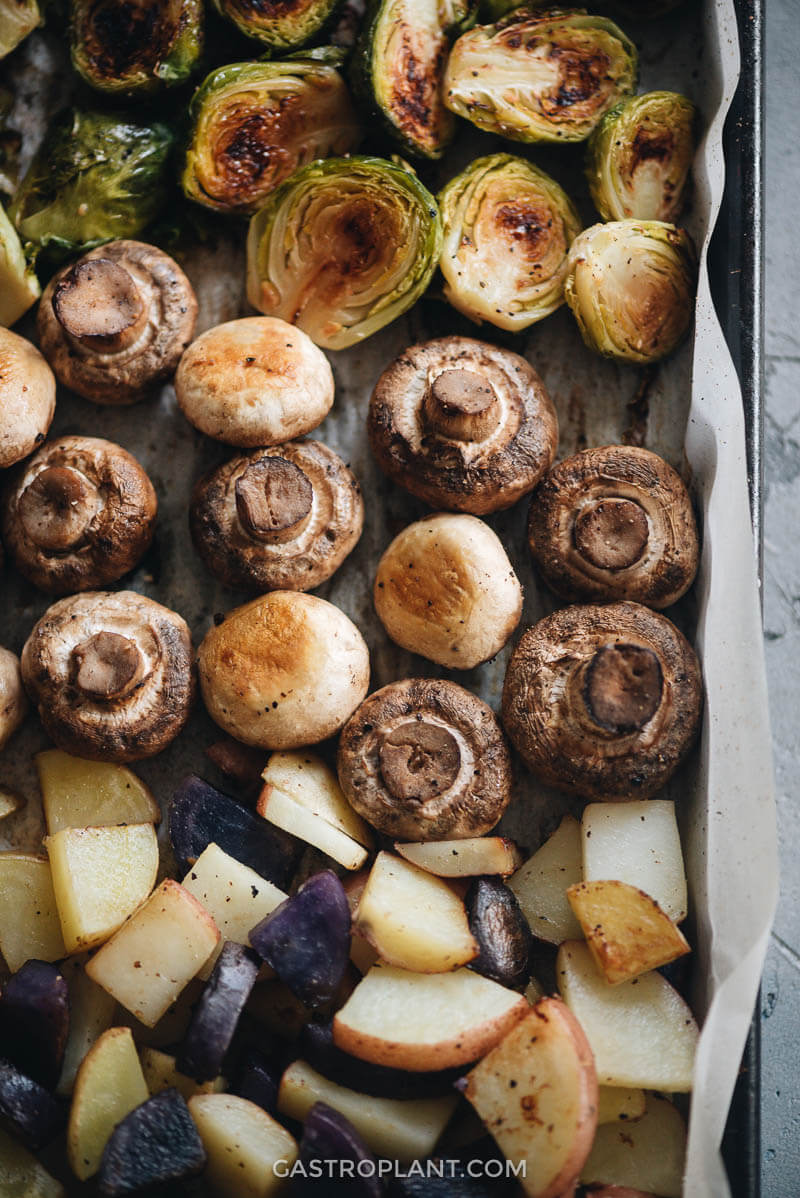 More Easy and Straightforward Veggie Dishes
As always, if you try this recipe out, let me know! Leave a comment, rate it (once you've tried it), and take a picture and tag it @gastroplant on Instagram! I'd love to see what you come up with.
Print Recipe
Vegan Sheet Pan Dinner #1: Brussels, Mushrooms, & Potatoes
This Vegan Sheet Pan Dinner has brussels sprouts, mushrooms, and potatoes, all roasted together in a single sheet pan. It's flavorful, nutritious, and easy. Includes several sauce options.
Ingredients
1

pound

brussels sprouts

(450 grams)

1

pound

mushrooms

(450 grams)

1.5

pounds

potatoes

(680 grams)

Oil spray

Salt and pepper
Instructions
Preheat oven to 450 degrees F (230 degrees C) and place a rack on the middle level. Prepare a large baking sheet (18x12 inches, 45x30 centimeters) or larger with a lining of aluminum foil or parchment. Spray a thin coat of oil onto the lining.

Slice the potatoes into bite-size pieces about 1/4 inch (1/2 centimeter) thick. Chop the brussels sprouts in half (or in quarters if the whole sprouts are larger than 2 inches or 5 centimeters in diameter). You can leave the mushrooms whole.

Spread the brussels sprouts, mushrooms, and potatoes across the tray as evenly and as close to a single layer as possible. Spray the ingredients with a coating of oil and season them with salt and pepper, stirring as you do so, to season all sides of them. Orient the mushrooms so they are all cap-side-down.

When the oven has preheated, place the tray on the middle rack. Bake for 25-30 minutes, stopping once around the 15-20 minute mark to flip the sprouts and potatoes. Leave the mushrooms cap-side-down so they'll stay juicy. When you flip the ingredients, also rotate the tray 180 degrees within the oven for more even cooking.

Remove the tray once the brussels sprouts are cooked. They should be charred and crispy on the edges but still bright green in color. If they turn a brownish-green color, remove them from the tray with a spatula immediately and transfer them to a plate.

Taste a piece of potato. If it's cooked through the dish is ready. If not, bake for another 5 minutes and check again. Continue until the potatoes are no longer crunchy.

Serve immediately.
Notes
White or brown mushrooms are recommended for their ease of cooking. You can use other kinds, but be sure to check on them so they don't overcook.
It's important to remove the brussels sprouts before they overcook. Of the three ingredients, they are the most vulnerable to this.
If you'd like to serve this dish with a simple sauce, there are some suggestions in the blog post text.