These Air Fryer Carrots are dusted in spices and air-fried until crispy and sweet. The flavors of the carrot develop nicely and pair perfectly with the cumin, chile, and garlic. It's a solid easy side dish that you can whip up on a moment's notice.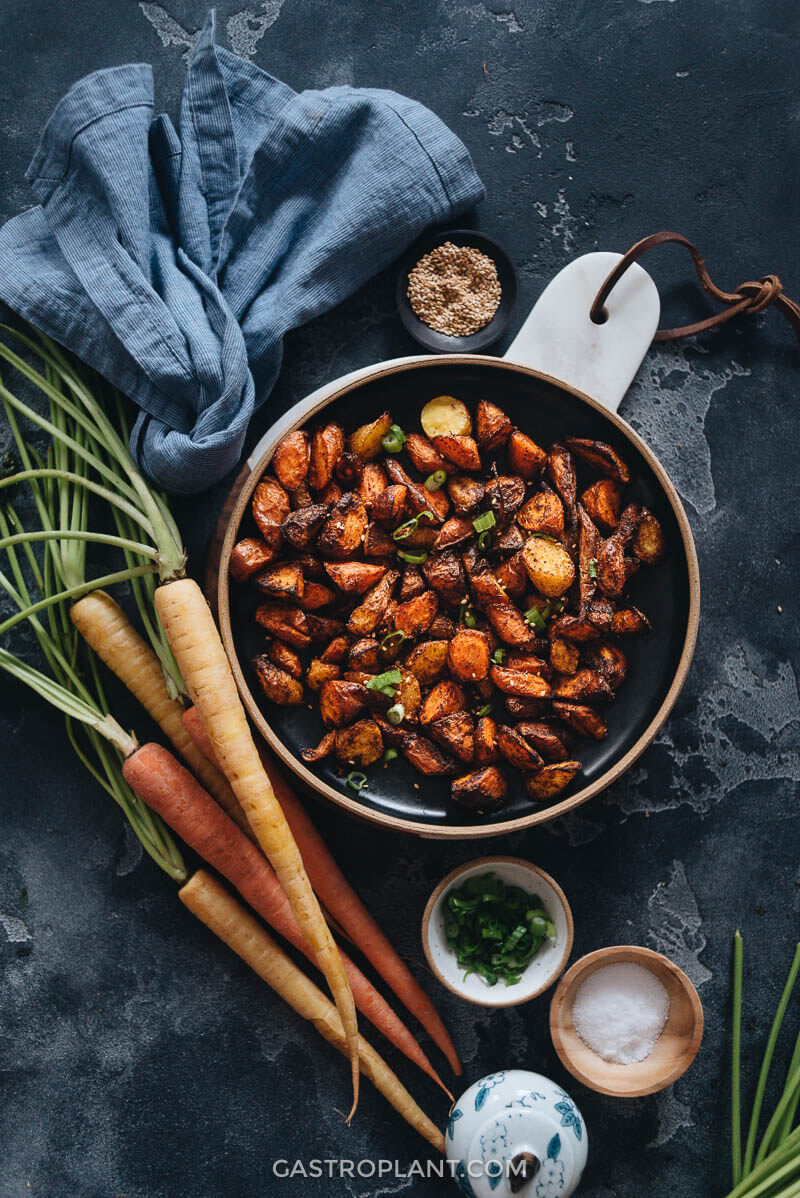 Simple dishes make for easier decisions
I've been cooking a lot lately and it can get exhausting. A lot of the dishes have on the complex side, many with 20 or more ingredients. It's fun to cook stuff like that, but not practical for a quick weeknight dinner. Lately, I've had to fight the impulse to order takeout and remind myself that cooking doesn't need to be so complicated all the time.
Dishes like these carrots make it a lot easier to fight that takeout urge. Just 15 minutes of air-frying, and you've got a tasty and nutritious side dish. Air-frying is quite a hands-off process, so you can focus on doing something else during that time.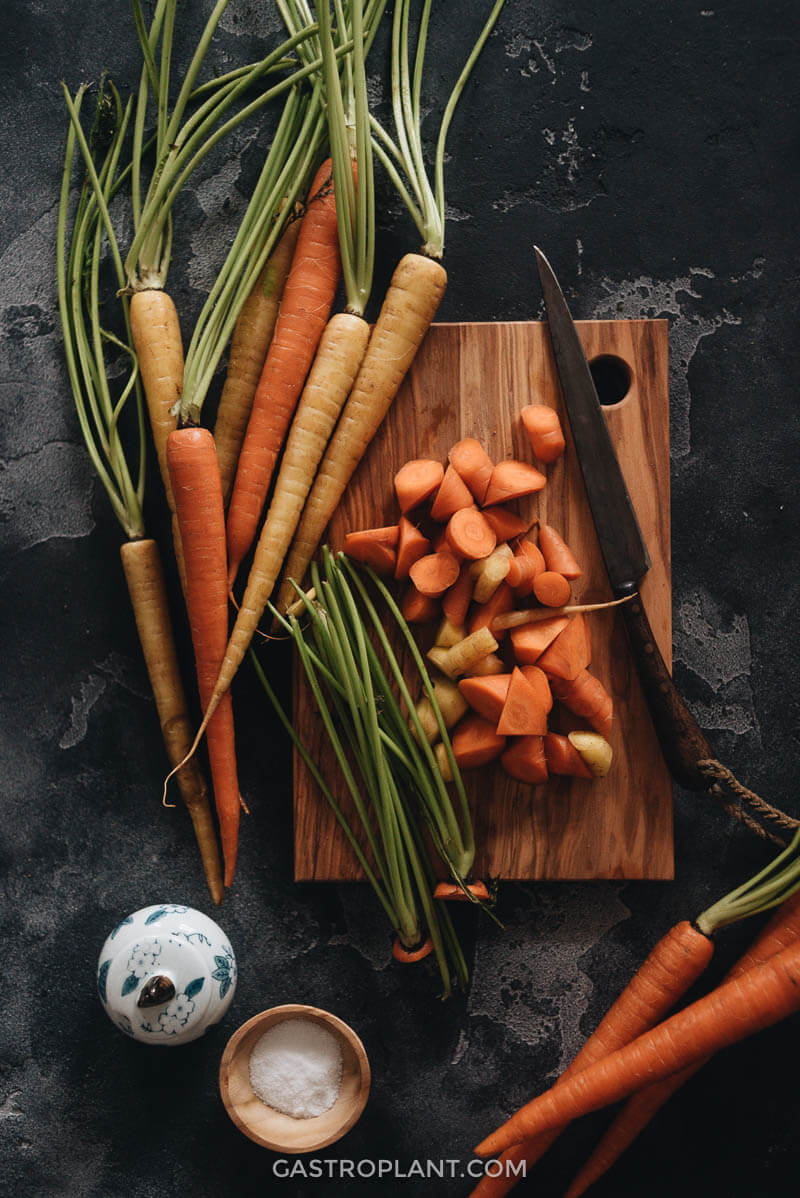 Inspiration for the air fryer carrots
There were a few things that influenced me to develop this recipe. Of course, there was my own need to have another quick side dish I could rely on. And I've been using the air fryer quite a bit since my stove-oven combo doesn't have gas at the moment.
But I also wanted the flavors to be intense enough that the dish is fun to eat. I was inspired by the flavor profile used in many dishes in Northwest China (Xinjiang for you geography nerds). It's cumin and chile powder and it is fantastic on practically anything roasted or grilled. The flavor profile is also consistent with dishes in many other cuisines, including Indian, Mediterranean, and Mexican.
The cooking process
Start by preheating the air fryer for 5 minutes. While that's going on, you can wash and chop the carrots. You can also peel them if you want. There are some who say you should always peel them for better texture and flavor. But there are also some who say you don't really need to. When I cooked this recipe, I did not peel the carrots and they still came out delicious.
After the air fryer has preheated, you put the carrots in (no seasoning yet) and cook them for 10 minutes. This will dehydrate the exterior a bit and help develop flavor in the interior.
After that's done, you quickly transfer the carrots to a bowl and toss them with spices and oil. I add the oil later because the cooking temperature we're using is above the smoke point of olive oil. And you don't want to burn your olive oil because burned oil tastes bad and will activate your smoke alarm. You also want to toast, but not burn, the spices.
Air fry the carrots five more minutes after seasoning and they're done. They'll be browned and crispy on the outside, tender and sweet on the inside, and popping with aromatic flavor. You can garnish them with sesame seeds if you like. They add a nice nuttiness that goes well with the seasonings.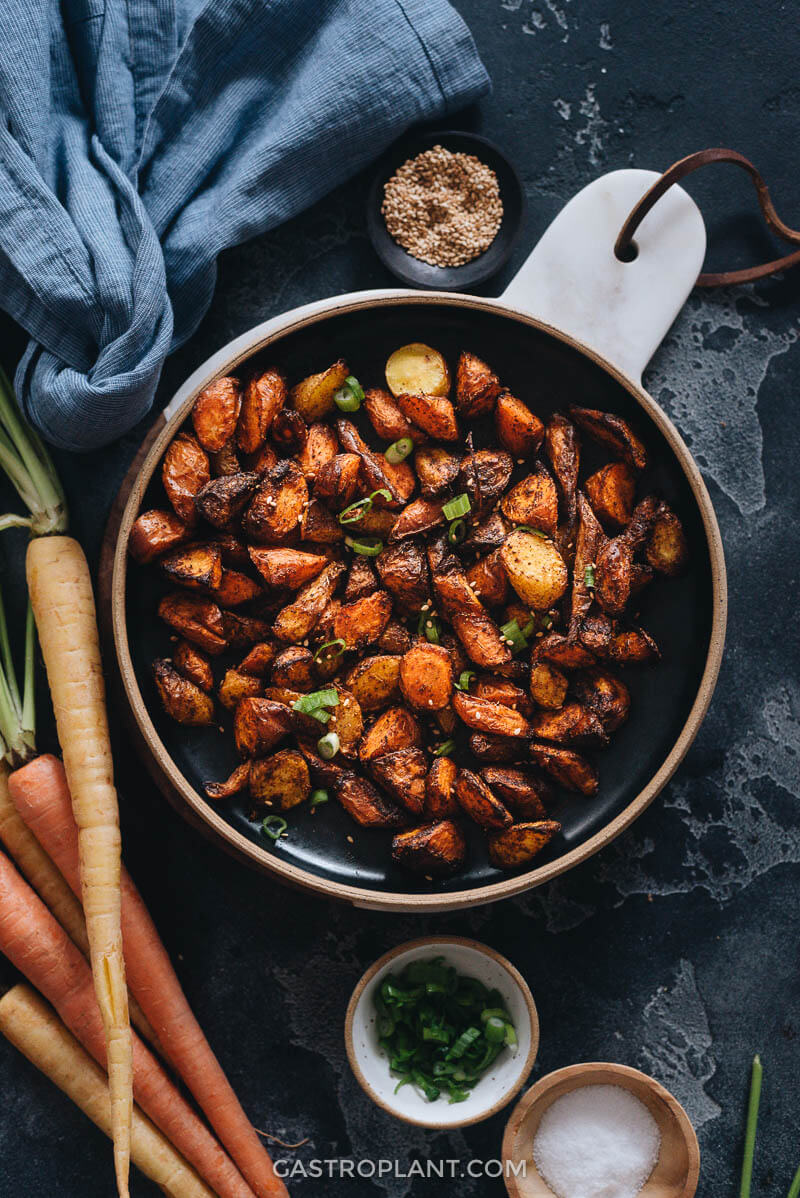 Cooking tips for air fryer carrots
When I tested the recipe, I used pretty thin carrots, as shown in the photos. They were all less than 1 inch (2.5 cm) in diameter and the cooking time is based on small pieces like this. If you make this dish using larger carrots, be sure to cut them so that the thickness is about half an inch (1.25 cm). This will ensure that the carrots are cooked through.
I used a technique to cut these carrots in a sort of irregular way that creates lots of corners to get crispy. To cut carrots as you see here, start by cutting at an angle like you're trying to create a sharp point on the end of the carrot. Then rotate the carrot 90 degrees and cut the same way. Continue doing this and you'll have pieces like mine.
Be careful around the spice level. I used a medium-spicy chile powder when I tested the recipe. If you're using a mild powder or paprika, you can double the amount. And if using cayenne, reduce the amount to a pinch.
If you're not into this spice blend, the method works with many others, including just olive oil, salt, and pepper. Feel free to experiment.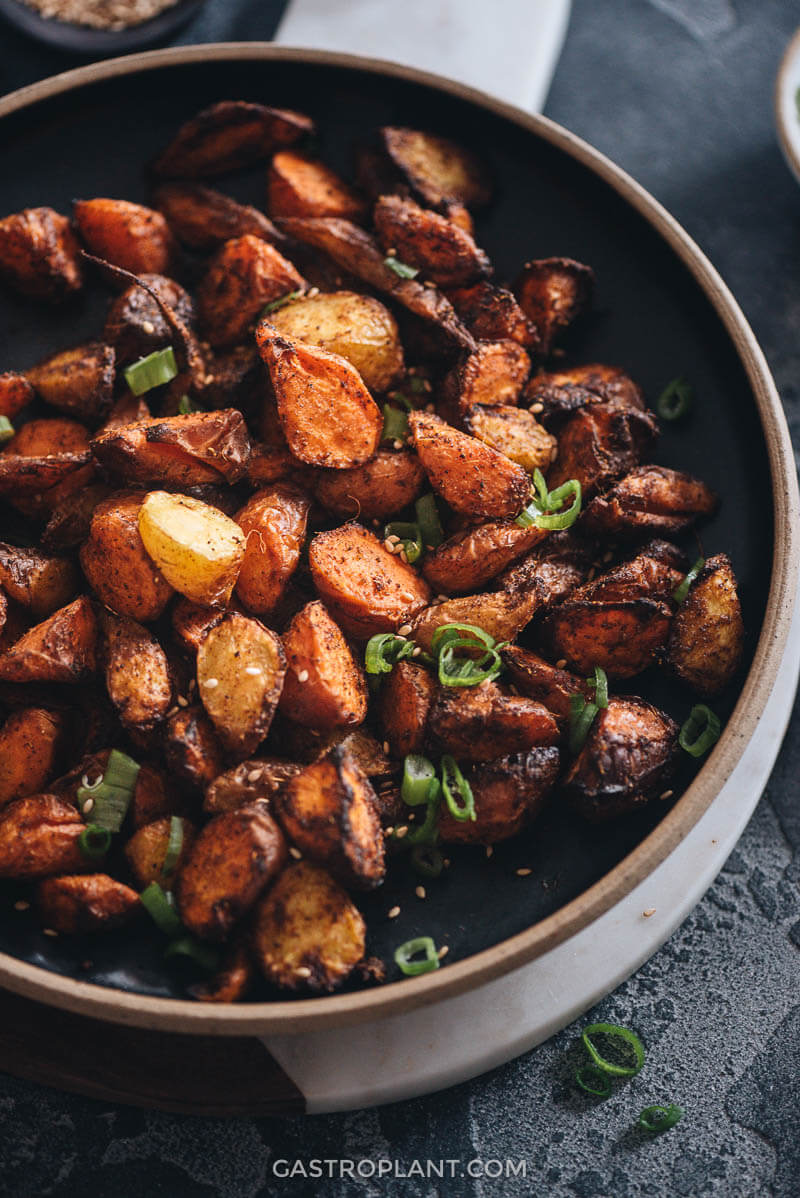 This dish will pair well with
If you try this recipe out, let me know! Leave a comment, rate it (once you've tried it), and take a picture and tag it @gastroplant on Instagram! I'd love to see what you come up with.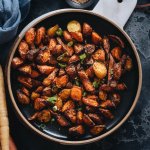 Print Recipe
Air Fryer Carrots
They're dusted in spices and air-fried until crispy and sweet. The flavors of the carrot develop nicely and pair perfectly with the cumin, chile, and garlic. It's a solid easy side dish that you can whip up on a moment's notice.
Ingredients
1/2

pound

carrots

1/2

Tablespoon

olive oil

1

teaspoon

ground cumin

1/4

teaspoon

chile powder

1/8

teaspoon

garlic powder

Pinch

salt

Toasted sesame seeds

(optional garnish)

Fresh cilantro

coriander leaves, chopped (optional garnish)
Instructions
Preheat the air fryer for 5 minutes at 390 F (200 C). Wash and chop the carrots while the air fryer preheats

Place the carrots in the air fryer basket. Air fry for 10 minutes at 390 F (200 C).

Transfer carrots to a medium-sized bowl. Combine olive oil, cumin, chile powder, garlic powder, and salt in the bowl with the carrots. Stir to coat the carrots well in seasoning and oil.

Return carrots to air fryer basket and air fry at 390 F (200 C) for 5 minutes until the carrots are well browned on the edges.

Remove carrots from the air fryer, garnish with sesame seeds and/or cilantro (if using) and serve immediately.
Notes
Cut the carrots so that they are not more than 1/2 inch (1.25 cm) thick on their thinnest dimension. They can be of any length you like.
I used a chile powder with a medium spice level. You can use more if your chile powder is mild. If using cayenne, reduce the amount to a pinch.