Vegan Zaru Soba makes a simple, soothing, and refreshing meal. Buckwheat noodles dipped in a chilled savory, smoky broth with shredded daikon radish, green onion, and fresh ginger are naturally relaxing yet filling. Takes 15 minutes to make.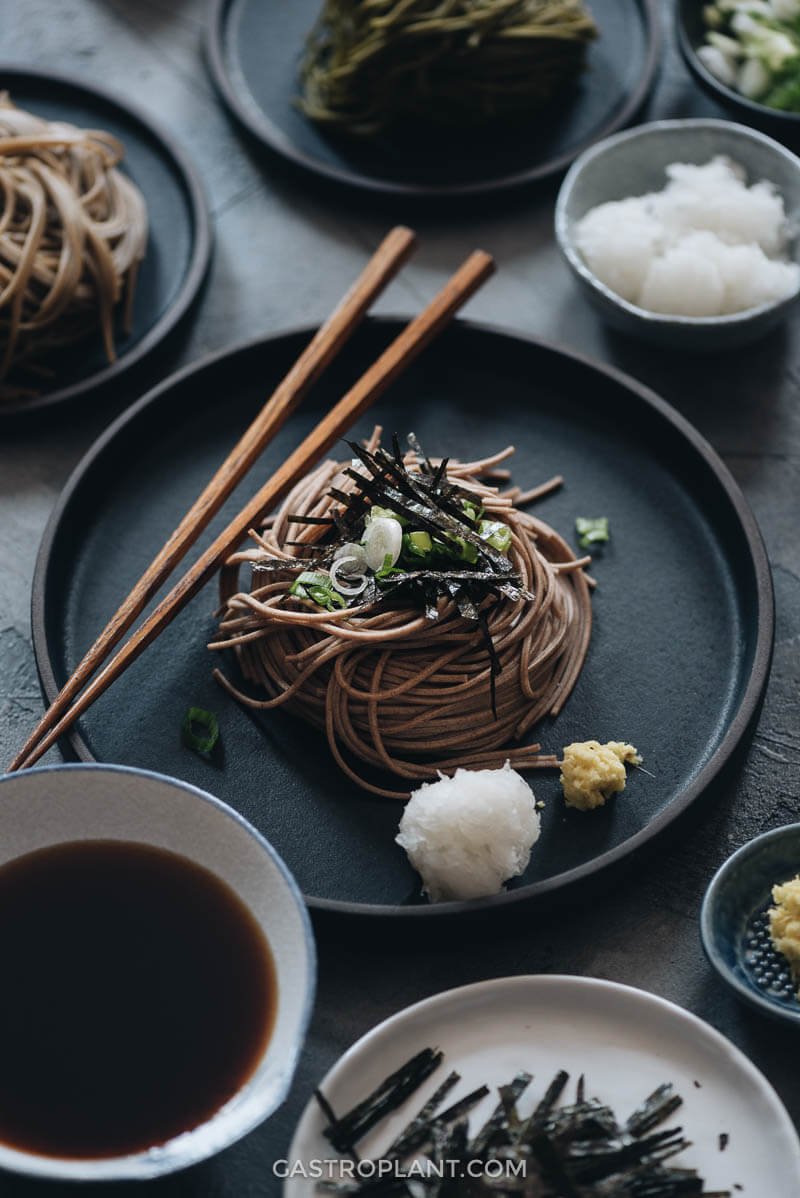 Cool and Cooling Food For Summer
This is my first summer in a long time where I've felt the need to maximize the number of cooling and refreshing foods I eat. Until a few months ago, I had been living in Texas, where it gets plenty hot, but there's also abundant air conditioning everywhere, so I was often isolated from the heat.
In New York, while we do have AC in the apartment, it can only do so much to cool the place when we have the gas-powered stove and oven running. Sometimes it gets pretty toasty. And getting from place to place in the city, it's hard to avoid getting warm in the humid summer weather.
If I had to guess, I'd say at least half of the recipes I've shared this summer were intended to be refreshing, relaxing, and cooling. For your benefit and for mine. I'm sharing this Zaru Soba recipe for the same reason.
Intro to Vegan Zaru Soba
This dish, while pretty simple, has been a couple of months in the making.
There's a Japanese broth called "tsuyu" that can either refer to the dipping sauce (as used in this recipe) or a soup broth served together with noodles and other ingredients. Tsuyu can also be served hot and with Udon noodles and as a dip for tempura.
I started experimenting with vegan tsuyu when I developed the Yaki Udon recipe. I also toyed with a hot udon tsuyu, which I'll eventually share with you here.
From top to bottom, green tea, hojicha (roasted green tea), and regular soba.
About Soba Noodles
Soba noodles are a particular kind of wheat noodles made from buckwheat (and often also regular wheat) flour. They have a slightly earthy taste and a certain graininess to their texture. To the tooth, they are plenty chewy, but the small buckwheat grains give them a rustic feel.
Compared to other dried noodles, they are higher in protein and fiber. They also contain all eight essential amino acids, which is extremely rare in noodles. One could say that generally, soba noodles are more nutritious than udon, somen, or other pure-wheat noodles.
Varieties of Soba
I used three different varieties when testing this recipe, one made from buckwheat and wheat flour, one with green tea, and one with roasted green tea (hōjicha). (It turns out that last one is not especially common.)
The noodles have slightly different textures and flavors. The ones containing tea have smoother textures and notes of the teas they contain, but less of the buckwheat-y graininess.
There is also a variety made from 100% buckwheat, called juwari soba. These are gluten-free because they don't contain any actual wheat. Their texture is more grainy and brittle and less chewy than the ones containing wheat flour. And the flavor is going to be earthier.
For more on Soba, check out Just One Cookbook's soba page. That site is my go-to resource for Japanese food and there is a ton of helpful and interesting info there.
About the Tsuyu
The tsuyu (dipping sauce/broth) is the other main component of this dish. It's made from dashi broth, soy sauce, and mirin. The most common type of dashi is made of kombu seaweed and fish flakes (katsuobushi), but to veganize it, I used dried shiitake mushrooms for umami, dried nori seaweed for a taste of the sea, a bit of liquid smoke for a hint of smokiness, and maple syrup for malty sweetness.
I also included sake because I like the way it extracts flavor from the dried ingredients.
It seems like a lot of different ingredients, but if you frequently make plant-based broths, these are all great things to keep on hand because of the big flavors they impart.
To make the tsuyu, you basically simmer all these ingredients together for 10-30 minutes. More time means more flavor extracted, but 10 minutes gives you a plenty flavorful broth. That broth will be very concentrated, so I recommend diluting it with 1/2 cup or more of water. You can use ice water if you want the broth to be nice and cool. Or you can just dilute it and put it in the fridge for a bit.
The Other Ingredients in Vegan Zaru Soba
I included a few other ingredients to add other flavor notes and make the dish more refreshing.
Wasabi is commonly used in zaru soba, but I opted instead for grated daikon radish. Raw daikon has a similar bite to wasabi, but it's much more subtle. The texture of grated daikon is watery and helps tie the tsuyu to the noodles as they're dipped. It's important to squeeze any excess liquid from the grated radish so it doesn't dilute your tsuyu too much.
Fresh grated ginger adds a bright and refreshing aroma to the broth. It's not enough to be spicy.
Green onion is another fresh but not overwhelming dimension of flavor and it also does a bit to help the broth cling to the noodles.
Shredded nori seaweed adds a bit of umami to the noodles. Also, the way that nori physically clings to the palate is somehow pleasing.
What to Pair with the Vegan Zaru Soba
More Cooling and Refreshing Recipes for Summer
As always, if you try this recipe out, let me know! Leave a comment, rate it (once you've tried it), and take a picture and tag it @gastroplant on Instagram! I'd love to see what you come up with.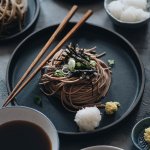 Print Recipe
Vegan Zaru Soba
Vegan Zaru Soba makes a simple, soothing, and refreshing meal. Buckwheat noodles dipped in a chilled savory, smoky broth with shredded daikon radish, green onion, and fresh ginger are naturally relaxing yet filling. Takes 15 minutes to make.
Ingredients
4

servings dry soba noodles

(3.5 ounces or 100 grams per serving) see note on portions

Chilled water

or ice water

Tsuyu

1/2

cup

sake

1/4

cup

mirin

1/2

cup

soy sauce

3

dried shiitake mushrooms

sliced (can use other dried mushrooms, see note)

1

piece

kombu

2x2 inch or 5x5 centimeter

1/2

sheet sushi nori

or 8 small (1x2 inch, 2.5x5 centimeter) pieces

1/8

teaspoon

liquid smoke

1

teaspoon

maple

Toppings

1/2

pound

daikon radish

grated and squeezed (see note)

1

Tablespoon

fresh ginger

grated

2

green onions

chopped finely

1

cup

shredded nori

loosely packed
Instructions
Cook the soba
Cook the noodles according to the instructions on the package. Monitor them closely and taste the noodles a minute or two before they supposed to be done. When the noodles are just cooked (they should be chewy and firm but not stick to your teeth), turn off the heat, drain the noodles, and rinse them thoroughly with cold tap water. Cover them with a damp paper towel and set them aside. You can keep them in the fridge if you'd like them chilled.
Simmer the tsuyu base
Bring the sake and mirin to a gentle simmer In a medium saucepan over medium heat. Add the remainder of the Tsuyu ingredients and stir everything together well. When the mixture returns to a simmer, cover and turn to low heat. Allow it to simmer for at least 10 minutes, up to 30 minutes, to develop the flavors. If you simmer toward the 30-minute side, monitor the pot to make sure that there is enough liquid to submerge the solid ingredients. If there is not, add water 1/4 cup at a time.
Strain and dilute the tsuyu
Carefully strain the broth into a bowl. Use a fork or pair of chopsticks to squeeze as much liquid out of the mushrooms as you can. This mushroom liquid will be very concentrated and improve the flavor of the tsuyu if you extract it.

Slowly add chilled or ice water to the bowl broth to bring it to roughly the strength/saltiness of a soup that you would drink. For a tsuyu that was boiled 10-15 minutes, I used 3/4 cup of chilled water. For one boiled for 30 minutes it was 1 cup or slightly more.
Serve
The noodles and broth can either be served chilled or at room temperature. Divide the noodles and diluted tsuyu into equal-sized servings. The toppings can either be put on the noodles or directly into the tsuyu bowl. The toppings should eventually make it into the tsuyu bowl and be eaten with the noodles in any case.
Notes
The 15-minute cooking time assumes you can cook the noodles and soup simultaneously. This is easier for 2 people but also possible for 1 person. The general strategy is to start boiling the water for the noodles at the same time you start simmering the sake and mirin. After you've added everything for the tsuyu and left it to simmer on its own, you can focus on cooking the soba and getting the texture just right.
If you're not making this for 4 people, you can cook only the soba noodles you need and make a full batch of broth. The broth can be saved and used for zaru soba later, or even used as a hot soup.
I tried using both shiitake and a combination of shiitake and assorted dried mushrooms (mostly white, brown, portobello). The shiitake mushrooms produce a nice strong flavor, while the assorted ones make the flavor a bit rounder and more balanced. You can substitute 1/2 cup of assorted mushrooms for each shiitake. My favorite combination was 2 shiitake plus 1/2 cup assorted.
It's important that you squeeze as much liquid out of the daikon radish as possible so that it adds a nice texture and doesn't dilute the tsuyu too much.
The broth (diluted or not) will stay good in the fridge for a week. The noodles will stay good for 2-3 days if they're in a sealed container, but they tend to have the best texture when cooked fresh.