This vegan poke bowl features super flavorful nori-marinated high-protein tofu, homemade red cabbage slaw, black rice, mango, avocado, and a creamy sesame sauce. It's nourishing, refreshing, and filling – perfect for a warm-weather lunch or dinner.
Intro to the vegan poke bowl
If you're not familiar with the poke bowl, the original idea is that it's a bowl of sushi rice with cubed raw fish tossed in a marinade of Asian and Hawaiian ingredients. It can be served over rice. It originated in Hawaii but is now becoming popular around the world.
I wanted to create a vegan version that mimics some of the things I really enjoy about the original. I developed a marinated tofu recipe with a deep umami to replace the fish, which I'll talk about later. Since it's become common for poke to include lots of different veggies and fruits, so I expanded on that part to get a good variety and make an interesting meal. Hence the colorful bowl you see here.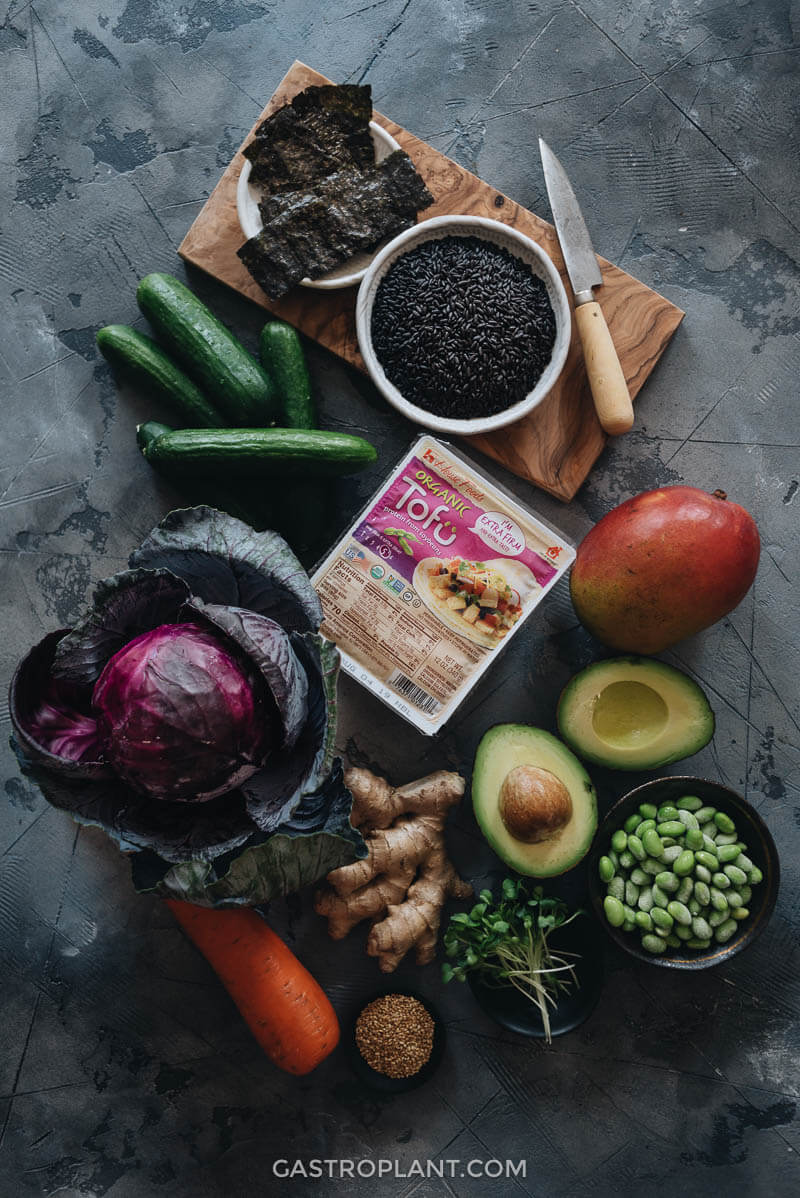 Why the vegan poke bowl is worth making
If the pictures don't convince you, here's what I really enjoy about this dish:
Big, fresh flavors
The tofu is the heart of this dish and it's really richly flavored – bright flavors of ginger contrast with the sea-like taste of the nori, backed by soy sauce. It tastes a lot like sushi. Also playing a part are the tangy mango, tart slaw, and slightly spicy sauce.
Fun textures
Extra firm tofu is meaty and springy and feels good to bite into. But you've also got the creamy avocado, crunchy carrot, and refreshing cucumbers. Black rice even has a nice toothiness to it.
Nutrition and fill factor
The spectrum of colors gives you a hint about the wealth of micronutrients going on here. But it's a macro nutritional powerhouse, too. You get substantial protein boosts from the tofu, edamame, and even the black rice. But also healthy carbs and fats from the mango and avocado. And black rice is high in antioxidants and has a low glycemic index, even among whole grains.
(Almost) No cooking needed
The rice does need to be cooked, and there are two things that need to be marinated: the tofu and the red cabbage. But that cooking and marinating can be done ahead of time. This makes for preparation and will keep your kitchen cool.
It's pretty
There's something about fresh colorful food. A lot of people have told me they feel better eating it. If you've experienced something similar, you might also like this colorful dish.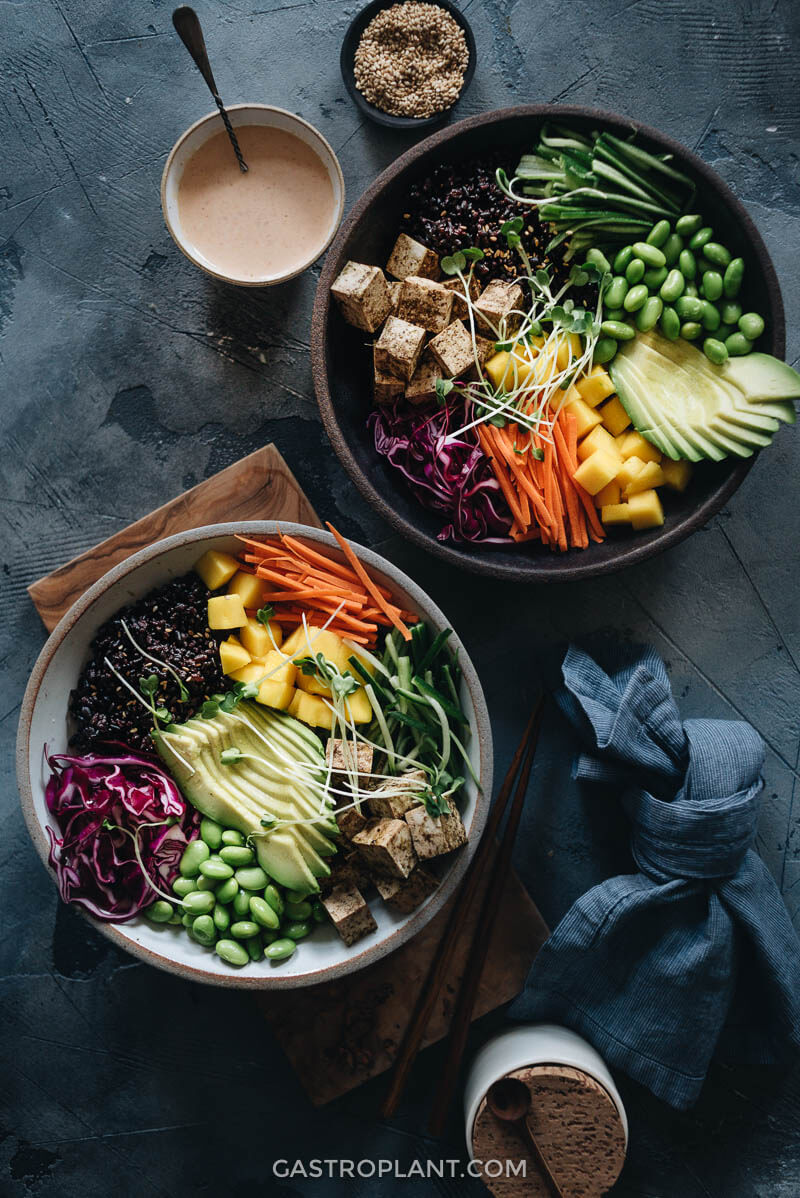 How to make the vegan poke bowl
There are three main parts to making this dish. Cooking the rice, marinating the tofu and cabbage, and chopping/assembly.
I used my rice cooker to make the black rice, which saves work, but still takes time. And black rice benefits from a bit of soaking, of which I gave it 40 minutes. While soaking the rice isn't required, it does make it a bit more tender, which releases more nutrients.
Marinating the tofu is a matter of making the marinade in the blender – soy sauce, fresh ginger, rice vinegar, maple syrup, mirin, water, nori seaweed, and wasabi. Then pouring the marinade over evenly-cut cubes of tofu. The cabbage is simpler – just shred it thinly, put it in a bowl, and add vinegar, salt, and maple. They both marinate in the fridge. At least 30 minutes, up to overnight.
Chopping and assembly is the easy part. I used a handy julienne peeler to cut the carrot and cucumber. The mango and avocado just need to be sliced or cubed. The sauce can be made in 30 seconds by mixing vegan mayo, sriracha, and sesame oil.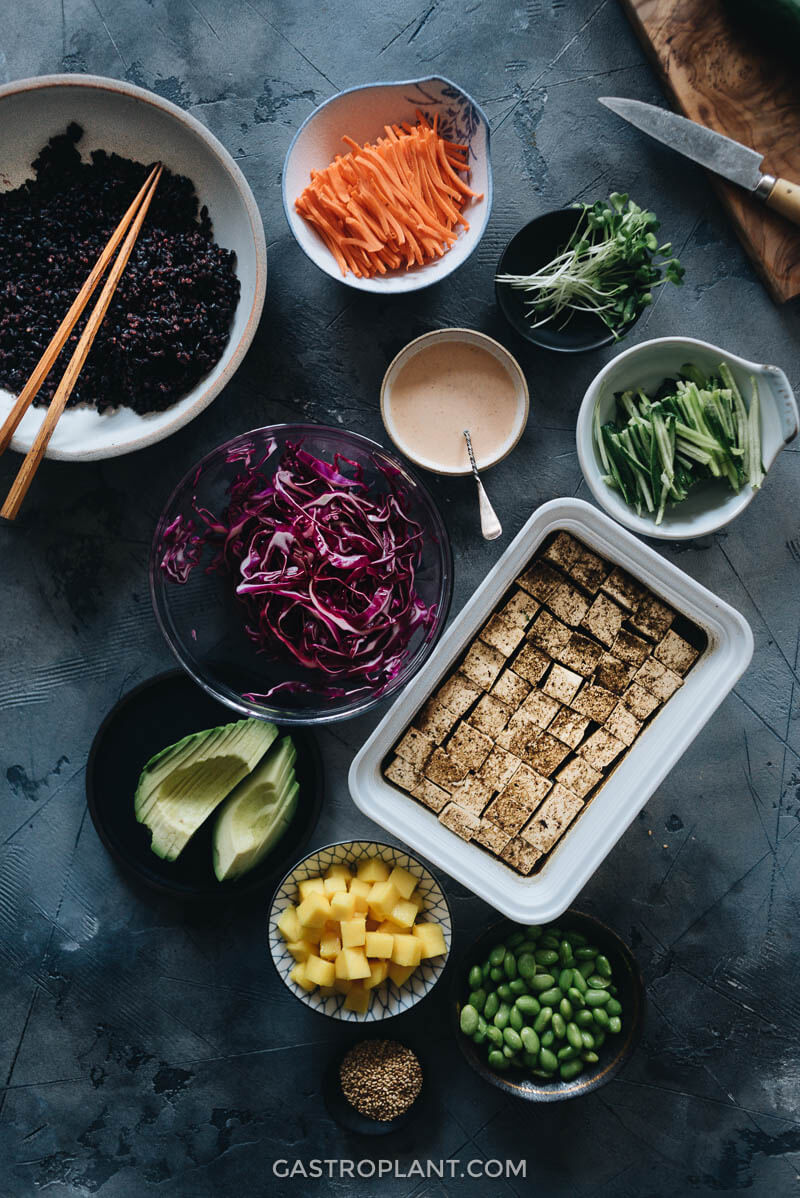 What kind of tofu to use in the vegan poke bowl
I have been really pleased with the organic Tofu from House Foods lately. And testing this recipe, I experimented with both the Organic Extra Firm Tofu and the Organic Super Firm Tofu. They both worked wonderfully, holding their shape as well as their flavor from the marinade. And firmer tofus typically have higher protein contents.
If neither of those is available to you, I recommend as firm a tofu as you can find. I have cooked extensively with House Food's Organic Firm tofu and I'm sure it would work well in this recipe.
Disclosure: This blog post is sponsored by House Foods America, though the opinions expressed here are my own.
Alternative Toppings
There are probably hundreds of different delicious plant-based ingredients you could add to this poke bowl (or replace something with) but here are a few ideas if you're thinking of customizing this:
Other rices or grains – brown rice, red rice, quinoa, barley
Summer squash – can be eaten raw and has a mild flavor
Asian pear, Western pear, apple, watermelon, peach, or plum instead of the mango
Shredded romaine lettuce or spinach to replace the red cabbage slaw
Roasted or raw beets – different but both good here
Basil, mint, or cilantro instead of the radish sprouts
Furikake (sesame + nori flakes) instead of sesame seeds
Turning this into Meal Prep
Since this dish is intended to be served cold, it's perfect for meal prep. Here are a couple of things to keep in mind if you do this:
If you're concerned about a browned avocado, don't cut the avocado until you're ready to eat.
Store the marinated ingredients (tofu, cabbage) separately from the others so they don't make the others to get soggy.
More Nourishing Asian-Inspired Dishes
As always, if you try this recipe out, let me know! Leave a comment, rate it (once you've tried it), and take a picture and tag it @gastroplant on Instagram! I'd love to see what you come up with.
Print Recipe
Vegan Poke Bowl
This vegan poke bowl features super flavorful nori-marinated high-protein tofu, homemade red cabbage slaw, black rice, mango, avocado, and a creamy sesame sauce. It's nourishing, refreshing, and filling - perfect for a warm-weather lunch or dinner.
Ingredients
1

cup

black

aka forbidden rice, or other rice or grain

1

pack extra firm tofu

(I used House Foods' organic one)
Tofu Marinade
1

Tablespoon

fresh ginger

3

Tablespoons

soy sauce

or tamari for gluten-free

1.5

Tablespoons

rice vinegar

unsalted

1/2

Tablespoon

maple syrup

1

Tablespoon

mirin

1/4

cup

water

1/2

Tablespoon

olive oil

1/8

teaspoon

wasabi
Red Cabbage Slaw
1/4

pound

red cabbage

shredded finely

3

Tablespoons

rice vinegar

unsalted

1/2

Tablespoon

maple syrup

Salt
Other Toppings
1

large ripe avocado

1

large ripe mango

1

cup

edamame

pre-cooked and shelled

2

Persian cucumbers

or 1 large (English) cucumber, cut into cubes or slices

1

medium carrot

shredded or cubed

1

Tablespoon

Sesame seeds

10

Radish sprouts
Sauce
1/4

cup

vegan mayo

2

teaspoons

sriracha

2

teaspoons

toasted sesame oil

2

teaspoons

water
Instructions
Soak and cook the rice
Put the rice in a medium-sized bowl and cover completely with water. Let it soak for 40 minutes to an hour.

Drain the rice and cook it according to the instructions.

When the rice is cooked, remove it from the heat and allow it to cool. You can refrigerate it once it reaches room temperature.
Cut and Press the tofu
Cut the tofu into 1/2-inch (1-centimeter) slices. Use several paper towels to wrap the tofu slices and gently press them to get the water out. Repeat this 2-3 times until you've removed most of the water from the tofu. Drying the tofu like this will help it absorb more flavor from the marinade.

After pressing the tofu, proceed to cut the slices into cubes, about 1/2 inch (1 centimeter) on each side.
Make the tofu marinade
Combine the ingredients for the tofu marinade in a blender. Blend at high speed until smooth, 45-60 seconds.
Marinate the tofu
Place the tofu cubes in a container or dish that is flat and shallow and just barely holds all the tofu. Try to leave at least a tiny gap between each of the cubes so the marinade can penetrate all sides. (I used a meal prep container.) Pour the marinade over the tofu. Cover and marinate at room temperature up to 1 hour or in the fridge up to overnight. If the marinade doesn't cover the tofu all the way, you should rotate the cubes or spoon some marinade on top of them periodically.
Make the red cabbage slaw
Combine the rice vinegar and maple syrup for the slaw in a bowl. Stir well to mix. Add the shredded cabbage and stir well. Season generously with salt. Stir again. Cover and marinate at room temperature for up to 1 hour or in the fridge up to overnight.
Mix the sauce
Combine all the ingredients for the sauce in a bowl. Stir well to mix.
Assemble the bowls
When the rice is cooked and the marinating is complete, you're ready to assemble and eat. Serve into each bowl: some rice, tofu, red cabbage slaw, carrot, cucumber, mango, avocado, and edamame. Top with radish sprouts. Drizzle with the sauce. Sprinkle with sesame seeds.

Serve cold or at room temperature.
Notes
If making this recipe for meal prep, see the blog post for a few extra tips.
Also, see the blog post for tips on substituting ingredients.
Makes 4 medium-sized servings or 2 meal-sized servings.