Air Fryer Peaches are caramelized like they had been grilled, tender like they were canned, and with the deep concentrated flavor of dehydrated fruit. Try them in a savory salad or sweet dessert. They're also great on their own.
Intro to Air Fryer Peaches
Having shared a few air fryer recipes already, I've been constantly impressed at the air fryer's ability to make a tasty single ingredient even better.  I've continued to experiment with seasonal ingredients this summer and these peaches came out particularly well. 
What happens when you air fry peaches
There are a few different things that happen when peaches get cooked in an air fryer:
The peaches cook and their fibers become more tender. Even if you cook a firm, fragrant almost-ripe peach, it will become soft and silky like a canned peach.

The water content decreases. This means the peach becomes less juicy per se, but that doesn't mean that it becomes dry. We're not completely dehydrating it, just making it so that the juice that remains is condensed and even more flavorful.

A smoky char forms on a surface of the peach once the outer layer is dehydrated. It's important to watch and control this char. A little bit of it is a lovely contrast to the sweetness of the fruit. But too much of it will make the fruit bitter.

Depending on how ripe your peaches are, sugars will be released to the top (cut) surface, where they'll become concentrated and eventually caramelize and harden. This concentrated almost-burnt sugar takes a bit of timing but is an added bonus if you can pull it off.
Should I even make this?
This is a question worth asking, for sure. I grew up in the US state of Georgia ("The Peach State", for those unfamiliar) and the only way I knew to eat peaches was raw and fresh, leaning over the kitchen sink.
We usually ate local peaches when they were perfectly ripe. Eating such a juicy peach anywhere other than at the sink would be irresponsibly messy. We would only cook or can peaches if we had so many that we literally could not eat them all before they spoiled.
Living in New York now, there are still decent peaches available, but nothing like in Georgia. It's less obvious what to do with peaches here.
I've found that cooking peaches, especially those that aren't super ripe and juicy, is a way to make them really enjoyable in a different way. I've tried air frying and oven roasting peaches, and I was happy with both methods.
Potential Scenarios for Air Fryer Peaches
Here are some scenarios where you should consider air-frying your peaches:
Your peaches are kinda ripe, but not at that perfect stage yet, but you want to eat them now. I air-fried peaches that were still a bit firm but had some fragrance and it made them much juicier and more flavorful. 

Another way to look at it: if you eat one peach raw and whole, and

don't

hear yourself slurping up the peach juice as you do so, it can get better. You might think about cooking those peaches. The air fryer will make them tenderer and sweeter.

If you have a lot of ripe peaches but not enough time to eat them all. Air-frying your peaches will preserve them for a few days longer.

If you want great peach flavor in a dish but don't want the peaches to get other ingredients soggy. For example, you could slice the air-fried peach and add it to a sandwich. It would be like sundried tomatoes, just with a rich peachy flavor.
How to air fry peaches
There are two main parts to the recipe, preparing the peaches and cooking them. 
To prepare them, you cut around the pit in a vertical circle (the stem end should point upward). Hold the peach in both hands and gently wrap your palms around the fruit and twist. This should release one half from the pit. Then use a knife to either carefully pry or surgically slice the pit out.
To cook the peaches, place them cut-side-up in the air fryer basket after pre-heating the air fryer. Orienting them cut-side up will help retain the concentrated juices and sugars. Air fry them until the peaches are cooked through, withered, and slightly browned on top. It took between 20 and 28 minutes for different kinds of peaches at different stages of ripeness.
Monitor the peaches during the final phase
After the first 15 minutes of cooking, it will be important to check on the peaches every 2-3 minutes to make sure they aren't getting too charred. It's especially the case if the peaches are especially ripe and lots of sugar has risen to the top of the fruit and started to caramelize.
Serving ideas
While these peaches are really enjoyable by themselves, I have a few suggestions on how you might use them to make a meal or dessert.
Use them in a savory salad. I'm especially interested to see how they pair with fresh greens,

vegan feta

(or avocado), and some toasted walnuts or sesame seeds. I'm planning to try this before the summer is over.

Serve them with plant-based vanilla ice cream and roasted pecans. I have developed a recipe for this and am planning to share it shortly. It includes a simple homemade granola topping. (The ice cream is store-bought.)

Add them to your meal prep. I could see them pairing quite well with either Asian or Mediterranean flavors. See my

Japanese

and

Mediterranean

Buddha Bowl recipes for ideas.
More Beautifully Simple Single-Ingredient Recipes
As always, if you try this recipe out, let me know! Leave a comment, rate it (once you've tried it), and take a picture and tag it @gastroplant on Instagram! I'd love to see what you come up with.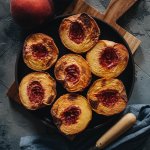 Print Recipe
Air Fryer Peaches
Air Fryer Peaches are caramelized like they had been grilled, tender like they were canned, and with the deep concentrated flavor of dehydrated fruit. Try them in a savory salad or a sweet dessert. They're also great on their own.
Ingredients
2

fresh peaches

ripe at least to the point of having a fragrance; can substitute nectarines
Instructions
Preheat the air fryer to 330 degrees F (165 degrees C) for 5 minutes.

While the air fryer preheats, cut the peaches. Starting at the point where the stem attaches, use a knife to cut a vertical circle into the peach, cutting all the way down to the pit. This should form two equal-sized halves. Hold the peach gently in both palms, with one half in each hand and trying not to squeeze the fruit, twist the halves in opposite directions, like you're unscrewing the halves apart from each other.

When the air fryer has finished preheating, place the peaches cut-side-up in the air fryer basket. Air fry at 330 F (165 C) for 20-28 minutes, until the peaches are cooked through, withered, and slightly browned on top. A good point to stop is when the first peach reaches a 30-50% dark brown char on top. You should start to monitor the peaches every 2-3 minutes starting around minute 18.

Serve or store immediately.
Notes
The peaches will be tastiest if served when still hot or recently cooled.
They will keep in an airtight container in the fridge for 2-3 days.
If the peaches are especially ripe, juices may rise to the surface of the peaches and start to concentrate and caramelize. This makes for great flavor, but if you notice this happening, be careful not to burn the sugar too much. If you see bubbling liquid that becomes very dark brown, you should stop the cooking because the peaches are ready.
If the peaches are less than completely ripe and you see brown spots on the surface that don't look liquidy, this is fine. It's just the dehydrated surface of the peach charring.