This Vegan Lentil & Sweet Potato Chili is an easy and straightforward dish that packs all of the warming comfort and spice you'd expect from chili, but with way less hassle. Make this when you need a nourishing pick-me-up on a cold day.
A Simple Chili for Cold, Exhausting Days
This winter has been colder and snowier than most I can remember. Combined with the isolation of the pandemic, it's been a time that I'm almost constantly craving comfort food.
I wanted to cook a pot of chili that would be filling, comforting, and relaxing, but also not take too much time to make, so I could spend more time just relaxing.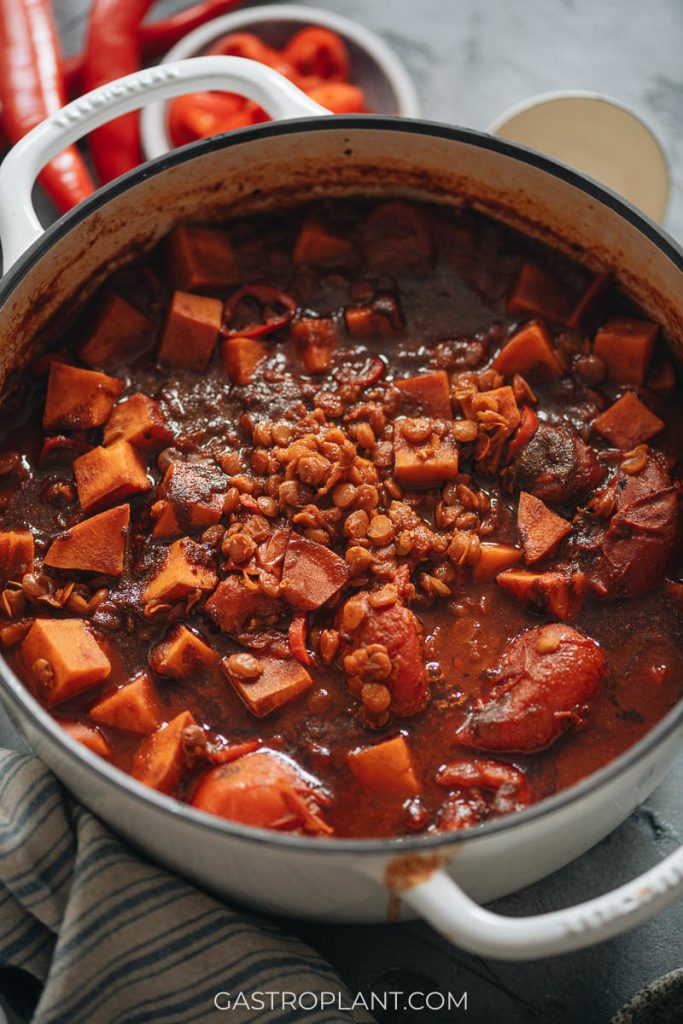 Why This Vegan Lentil and Sweet Potato Chili is Great
I've been cooking this chili because it hits the sweet spot in terms of being easy to make, full of nourishment, and rich with the comforting spices of chili.
This chili gets its substance (and lots of nutrition) from lentils and sweet potatoes, two of my favorite foods. And their earthy essences go perfectly with the pungent warmth of the seasoning.
The seasoning is very simple but highly functional. I use cumin and garlic to accent the chili powder, as I love the warmth and sharpness they bring. Toasting the seasonings helps them pop even more.
For roundness and umami, we use canned tomatoes and soy sauce. Olive oil helps us saute the garlic and lends its buttery mouthfeel.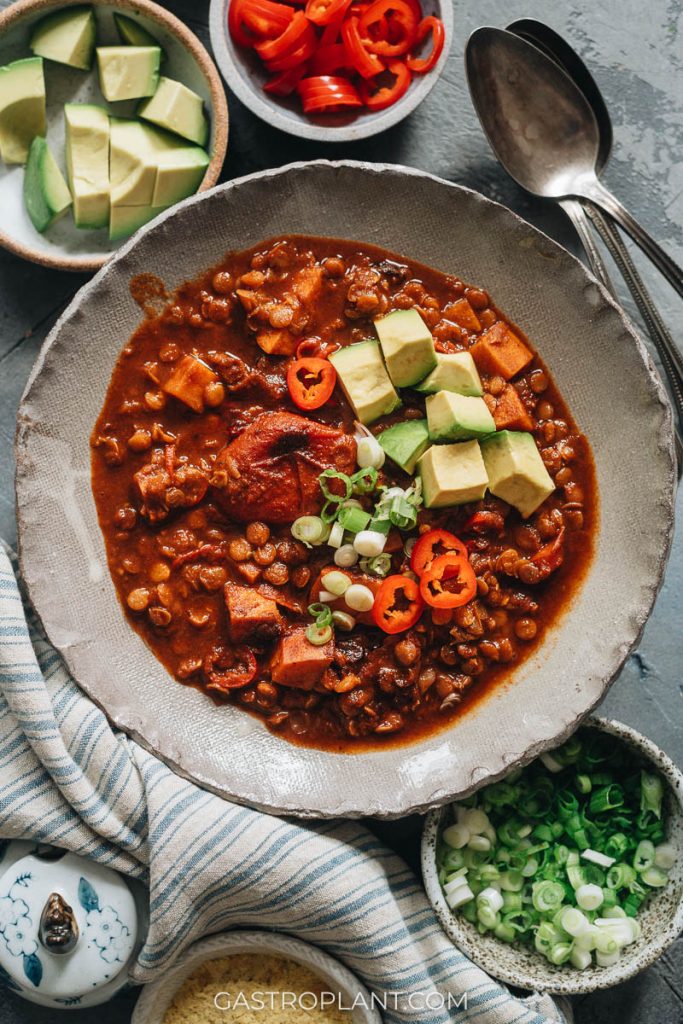 A Note on "Chili Powder"
I generally try to minimize use of spice blends in my recipes, since they can vary a lot from brand to brand, which makes it hard to prescribe an amount that's suitable across brands.
In this case, I used chili powder because of the convenience factor. You'll certainly get better flavor if you select and grind the spices yourself, but that's a recipe for another day.
I've found that it's still possible to get great tasting food using spice blends, as long as you use the spice blend as the foundation. On top of that foundation you can build the notes that you really want to stand out (in this case, cumin and garlic).
I have tested this recipe with store-brand chili powder from two different supermarkets and the chili consistently came out tasty. Let me know in the comments if you have any questions on the powder.
More Hearty Vegan Stews
Looking for an even tastier (slightly more complicated) vegan chili? Check this recipe out!
Comforting Plant-Based Sides to go With the Sweet Potato Chili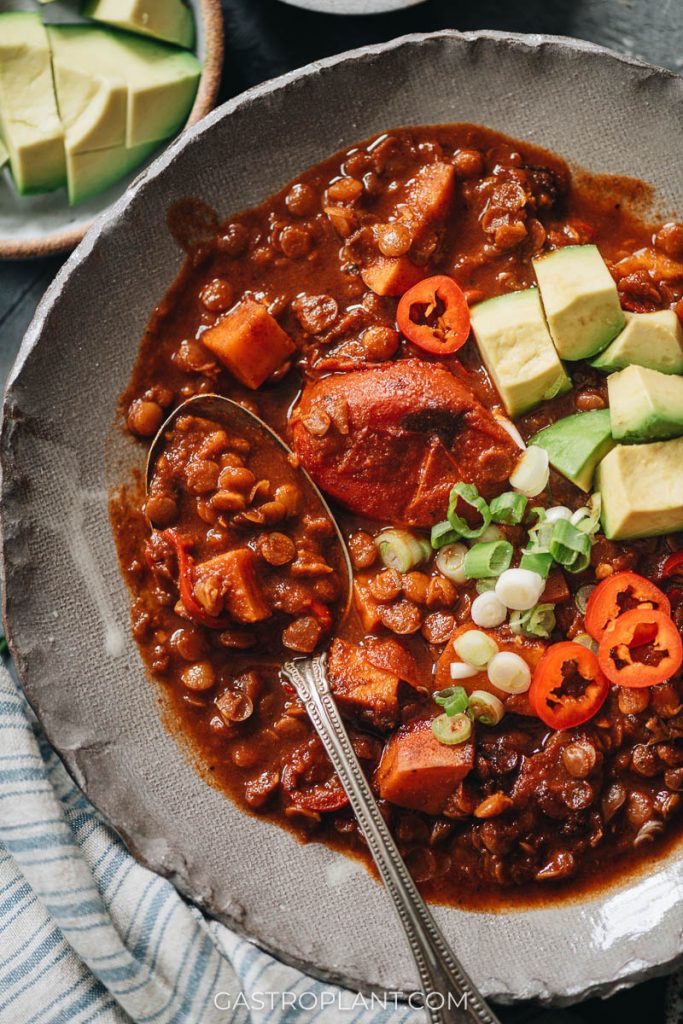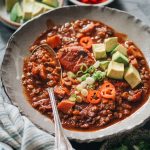 Print Recipe
Easy Lentil & Sweet Potato Chili
This Lentil & Sweet Potato Chili is an easy and straightforward dish that packs all of the warming comfort and spice you'd expect from chili, but with way less hassle.
Ingredients
½

pound

dry lentils

(225 g) rinsed and drained

1

pound

sweet potatoes

(450 g) scrubbed and cut into 1cm cubes

1

large can tomatoes

(28 ounces / 800 grams)

6

cloves

garlic

minced

2

long medium-spicy red chile peppers

seeds removed and sliced

2

Tablespoons

olive oil

2

Tablespoons

cumin

preferably whole

5

Tablespoons

chili powder

2-3

Tablespoons

soy sauce

Cubed avocado

for garnish

Hot sauce of your choice

for optional garnish
Instructions
Heat a large heavy pot over medium heat. When hot, add the cumin and chili powder, spreading it out into a thin layer. Stir as the spices become toasted and develop a wonderful aroma, for 2-3 minutes. Transfer the toasted spices to a bowl and set aside.

Add the olive oil, chili peppers, and garlic into the skillet and saute until the garlic is tender, 2-3 minutes.

Add the canned tomatoes including all the juices, the lentils, and 2 cups of water. Turn the heat up to high, bring to a boil, then reduce to medium-low and simmer for 5 minutes.

Add the sweet potatoes, 2 more cups of water, and the toasted spices. Once the pot has returned to a boil again, reduce the heat to low, cover the pot, and simmer for at least 25 minutes, stirring occasionally. The chili is finished cooking when both the lentils and the sweet potatoes are tender to your liking.

Add 2 Tablespoons of soy sauce, stir well, and taste the chili. If you'd like it saltier, add another tablespoon.

Garnish with avocado and hot sauce as desired and serve.
As always, if you try this recipe out, let me know! Leave a comment, rate it (once you've tried it), and take a picture and tag it @gastroplant on Instagram! I'd love to see what you come up with.
Let me know in the comments if you have questions and happy cooking!