Vegan Kimchi Jjigae is a simple Korean-style stew made from kimchi, mushrooms, tofu, and assorted veggies. It has a comforting balance between sweet, sour, spicy, and savory and is one of my favorite cold-weather meals.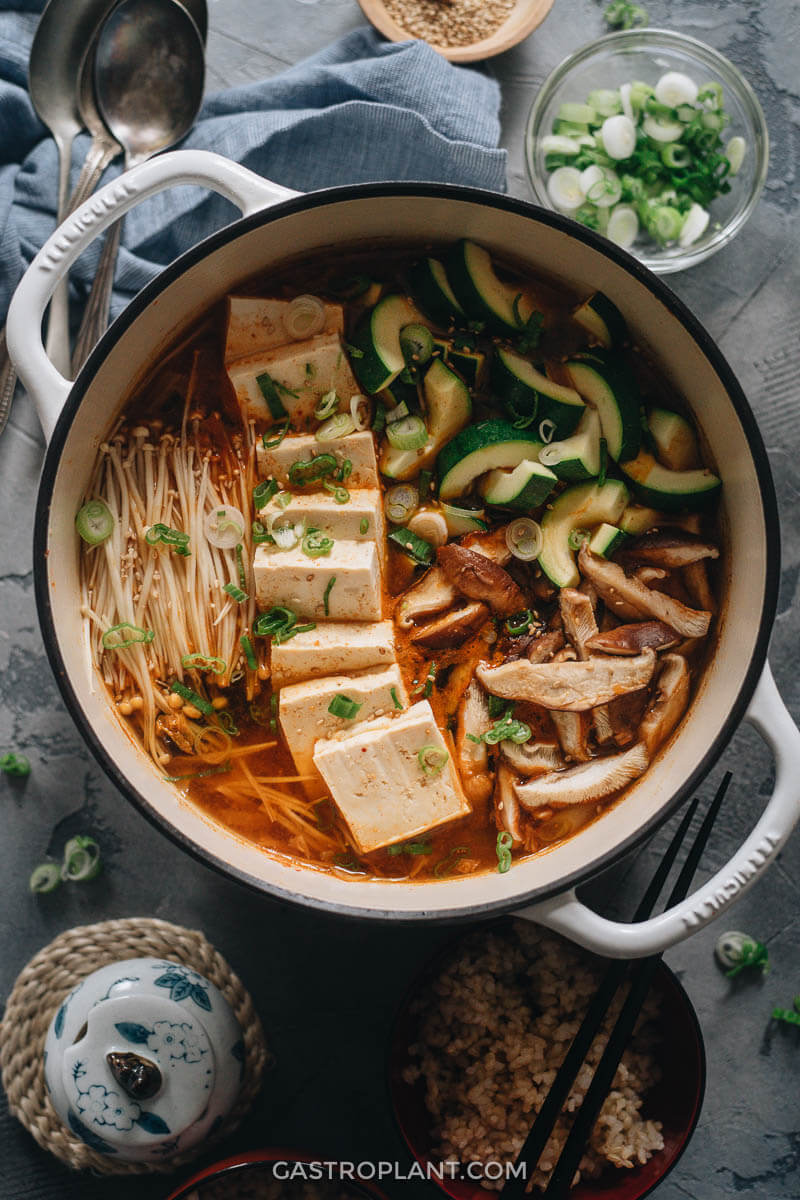 Intro to Vegan Kimchi Jjigae
The days are getting colder and I can't help but reach for my trusty kimchi stew (aka jjigae in Korean) recipe. It's based on the flavor profile of kimchi – garlicky, savory, slightly spicy, sour, and a little bit sweet. It contains a wealth of veggies and mushrooms and tofu. It's a really warming meal and is just packed with nutrition.
This is a dish I've been making, in one form or another, for the past 7 or 8 years. I got hooked on kimchi stew when I was living in Beijing – it turns out Korean food is pretty popular there. Beijing winters can be harsh, and the conditions there practically demanded that I eat lots of soups and stews. I eventually wanted to be able to make the dish myself, so I started experimenting and came up with a solid yet flexible formula.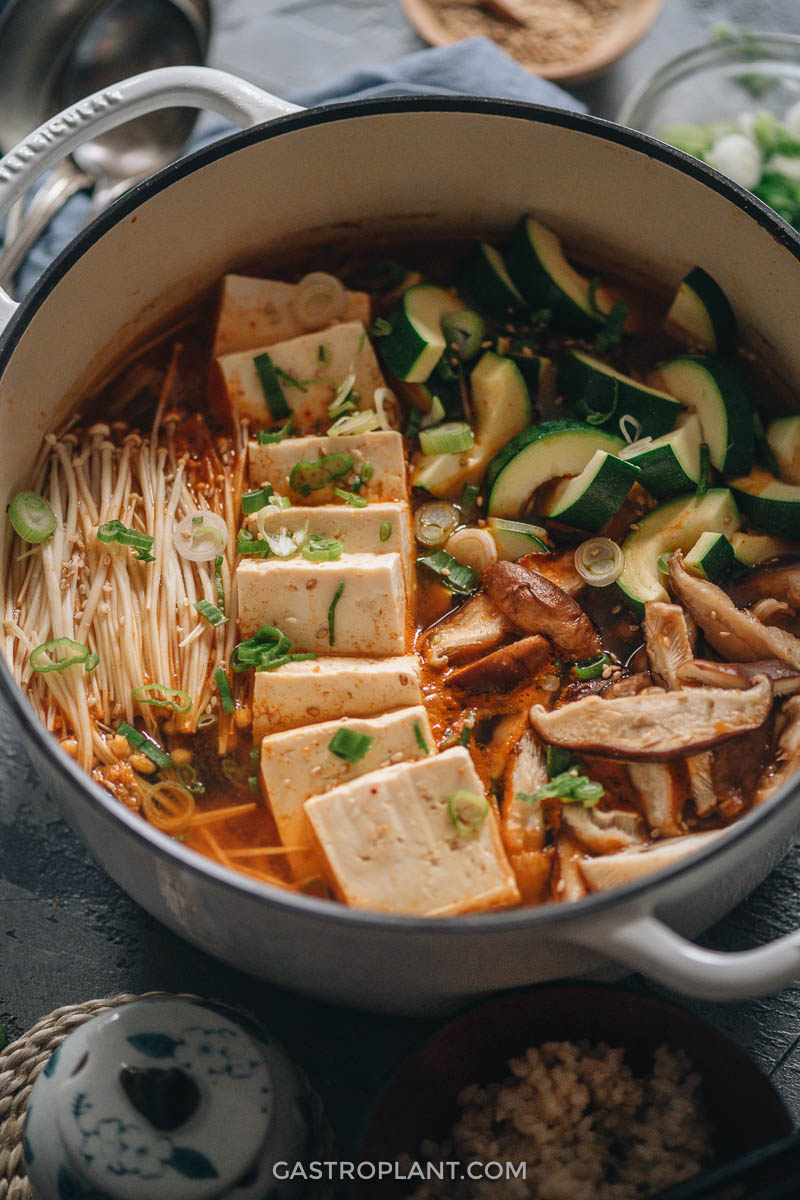 The Vegan Kimchi Jjigae Formula
The formula for making a delicious kimchi stew is simple:
Cook lots of kimchi, boost the kimchi with fermented sauces, then add whatever ingredients you feel like, along with some broth.
Boosting the Flavor
The kimchi has great flavor on its own, but it needs a bit of a boost to help it flavor a whole pot of stew. So we add two fermented sauces (actually, pastes) to elevate the kimchi:
Gochujang is a fermented paste of chile pepper and rice. It's sweet and spicy and lends a nice red flavor. It can range from mild to quite spicy.
Doenjang is a fermented soybean paste. It's similar to miso but more intense and funky. It intensifies the garlic notes of the kimchi and adds umami to the whole pot.
We also use a bit of Korean red chile flakes/powder (gochugaru) to add a bit of spice and some red color to the dish.
The Vegetable Ingredients
I've included some vegetables, mushrooms, and tofu in the stew as examples of what you can put in the stew. But you can really put all kinds of different things in kimchi stew, depending on what you feel like and what's available.
Here are some more ideas:
Greens: green cabbage, napa cabbage, (baby) bok choy, kale, chard
Mushrooms: shiitake, enoki, white, brown, portobello, oyster, king oyster, wood ear, beech
Assorted tofu/soy products: tofu skin, fried tofu, tempeh, mock meat
Root vegetables: carrots, sweet potatoes, daikon radish, potatoes
Grain products: Korean rice cakes, noodles, dumplings
Do note that root vegetables will require a longer simmering time, so you should add them at the same time you add the broth.
Adding Broth and Balancing the Flavor
The broth used in this stew is pretty simple. I used packaged vegetable stock and add some dried shiitake mushrooms and kombu seaweed to create some depth of flavor.
Once you've added the broth and let it simmer for 10-15 minutes, you should taste the broth and make any adjustments to the flavor. These adjustments include:
Adding more sweetener if the soup is too sour
A splash of soy sauce if it isn't salty enough for your liking
Sprinkling a bit of chile powder if you'd like it spicier
A Note on Kimchi and Vegan-ness
To keep the dish vegan, you'll need to use vegan kimchi. You'd think, as fermented cabbage, that all kimchi would be vegan, but no. A lot of commercially produced kimchi contains shrimp and/or fish ingredients. I have found that many of my local stores (including H-Mart and Whole Foods) do offer vegan kimchi, though. I like the 28 oz (800 g) jar from H-Mart.
You also have the option to make your own kimchi. I haven't made my own kimchi yet, but when I do, I'll use the one from Maangchi, my go-to authority on Korean food.
Also, there is kimchi made from many, many different veggies. The one you'll want to use for this recipe the napa cabbage (or just "cabbage").
What to Serve with the Vegan Kimchi Jjigae
The most common accompaniment to kimchi stew is steamed rice. I like to use brown rice or mixed grains for extra nutrients. If you include potato or sweet potato in the stew, you may not even need grains on the side.
If you'd like some variety though, here are some plant-based side dishes you could pair with the stew:
Even More Cold Weather Comfort Foods
As always, if you try this recipe out, let me know! Leave a comment, rate it (once you've tried it), and take a picture and tag it @gastroplant on Instagram! I'd love to see what you come up with.
Print Recipe
Vegan Kimchi Jjigae
Vegan Kimchi Jjigae is a simple Korean-style stew made from kimchi, mushrooms, tofu, and assorted veggies. It has a comforting balance between sweet, sour, spicy, and savory and is one of my favorite cold-weather meals.
Ingredients
Saute
2

teaspoons

toasted sesame oil

1

pound

vegan cabbage kimchi

drained and cut into bite-sized pieces (about 3 cups)

1

cup

white onion

chopped

3

green onions

sliced diagonally

1

Tablespoon

gochujang

1/2

Tablespoon

doenjang

1

teaspoon

gochugaru
Simmer
1/4

cup

kimchi brine

3

cups

vegetable stock

2

teaspoons

maple syrup

2

dried shiitake mushroom caps

1

piece

dried kombu seaweed

1

cup

zucchini

sliced with seeds removed (see note)

1/2

pound

mushrooms

sliced (see note)

1/2

pack medium-firm tofu

sliced 1/2-inch thick bite-sized pieces
Garnish
1

green onion

chopped finely

Freshly toasted sesame seeds

(optional)
Instructions
Heat the sesame oil in a large, heavy pot over medium heat. Add the kimchi, onion, and green onion. Stir and cook until the onion turns translucent, about 5 minutes. Add the gochujang, doenjang, and gochugaru. Stir until the pastes are well mixed with the onion and kimchi, about 2 minutes.

Add the kimchi brine, vegetable stock, maple syrup, dried shiitake mushrooms, and kombu. Give it a stir. When the mixture comes to a boil, reduce to low heat and cover. Allow to simmer for up to 20 minutes.

10 minutes before serving, add the zucchini, mushrooms, and tofu. Cover and allow to simmer until the mushrooms and zucchini are cooked through, about 10 minutes.

Garnish with green onion and sesame seeds (if using) and serve immediately with brown or mixed rice.
Notes
Serve 2 as a meal, 4 as an appetizer or a side.
You can use any combination of mushrooms you prefer. I used a mix of enoki and shiitake, but regular white and brown mushrooms are also very delicious in this stew.
I suggested zucchini in this recipe as an example, but there are many kinds of veggies that you can use instead of or in addition to the zucchini, including cabbage (round or napa), daikon radish, carrot, (baby) bok choy, and kale.