Green Pea Pasta Sauce brings bright spring flavor to any kind of pasta. The clean grassy and nutty essence of the peas is accented with lemon and parsley and it makes for a refreshing and satisfying combination. (Vegan)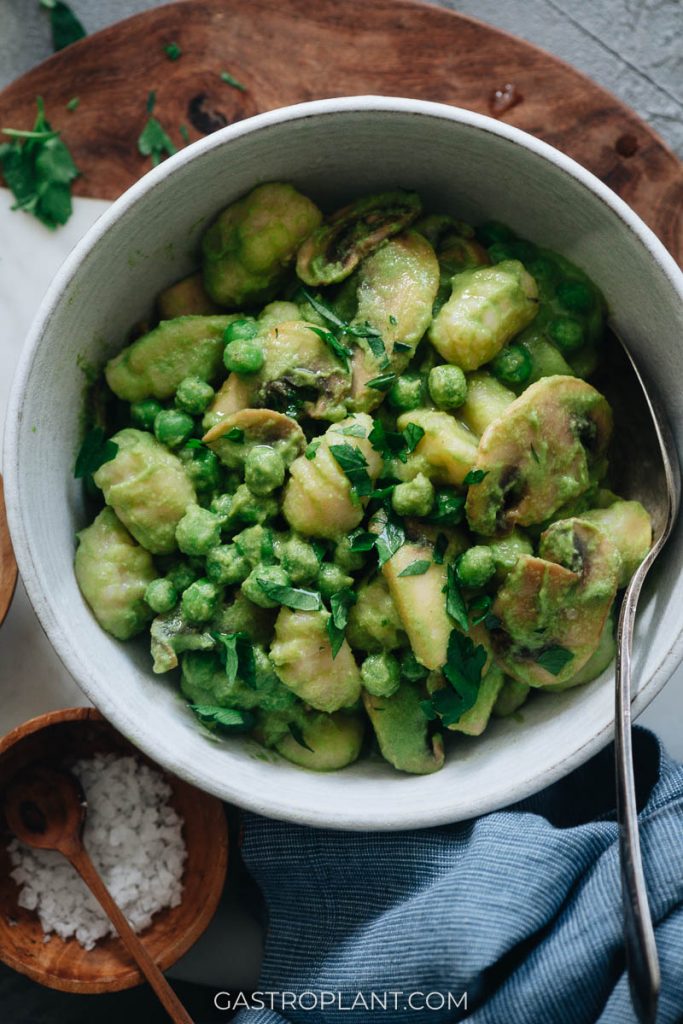 Green Pea Pasta: A Dish for Springtime
Every year around the middle of February I start to feel spring before it actually arrives. Maybe it's the occasional warm day that I interpret as the arrival of the season, maybe it's optimism that winter is nearly over.
Whatever it is, around this turning point, I also start to crave springtime foods. After a winter of loading up on heavier foods – mashed potatoes, hearty stews, and pizza –I want something refreshing to celebrate spring.
Last year spring cravings led me to develop recipes for soba noodle soup full of spring veggies (Sansai Soba) and Pasta Primavera.
I've been on a gnocchi kick recently so I decided to find a way to amplify the natural sweet, nutty essence of green peas in a sauce for gnocchi.
What Makes Green Pea Pasta Tasty
The sauce is all about helping the peas shine, building up the flavor profile with parsley, white wine, and lemon.
I use miso and a touch of garlic in the background to boost the bright flavors.
Sauteed white mushrooms add a subtle layer of earthiness and some pleasant meaty texture.
The result is a sauce that is bright green in color, fruity and grassy in flavor, yet creamy and substantial enough thanks to a good dash of olive oil.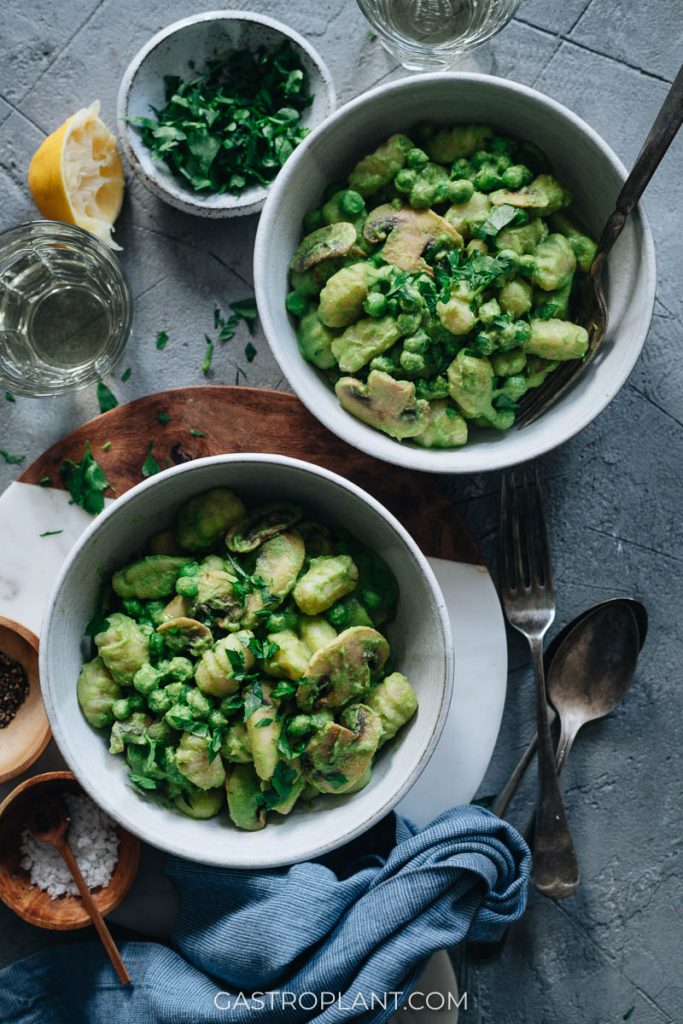 How to Make the Green Pea Pasta Sauce
The process is straightforward but I do take a few steps to balance the flavors:
Saute the garlic very gently in olive oil, so the flavor is mild
Blanch the peas (they can be fresh or frozen) in boiling water until just tender and the brightest green. You don't want them mushy or bitter
Blend some of the peas with the garlic and oil, parsley, lemon juice, white wine, and miso to get a beautiful bright green puree
Saute sliced white mushrooms in olive oil, then add the whole peas, cooked pasta, and sauce
Garnish with more parsley and lemon for bright pops of flavor
Some Final Tips
Try this vegan potato gnocchi recipe if you've got some extra time. It's a ton of fun to make, and the texture of these gnocchi is unbeatable.
If you use dried pasta, be sure to boil the pasta until just al dente for the best mouthfeel.
You can boil the pasta in the same water you use to blanch the peas. Saves time.
If you're looking for a wine to use in the recipe, try a pinot grigio or grüner veltliner. And whatever wine you use will pair wonderfully with the dish.
Lastly, in the spirit of transparency, this dish is tastiest and most vibrant when it's freshly made. It will be less impressive when reheated.
More Plant-Based Pasta Inspiration
More Fresh Veggies for Springtime
As always, if you try this recipe out, let me know! Leave a comment, rate it (once you've tried it), and take a picture and tag it @gastroplant on Instagram! I'd love to see what you come up with.
Let me know in the comments if you have questions and happy cooking!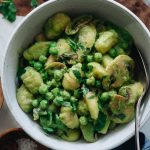 Print Recipe
Green Pea Pasta Sauce (Vegan)
Green Pea Pasta sauce brings bright spring flavor to any kind of pasta. The clean grassy and nutty essence of the peas is accented with lemon and parsley and it makes for a refreshing and satisfying combination. (Vegan)
Ingredients
10

ounces

fresh or frozen green peas

280 grams

8

ounces

white mushrooms, sliced

225 grams

4

servings

gnocchi

or other pasta (1 pound/450 grams if using packaged gnocchi or 8 ounces/225 grams if using dried pasta)

3

cloves

garlic

sliced

6

tablespoons

olive oil

divided

¼

cup

parsley leaves

packed, plus more for garnish

1

Tablespoon

lemon juice

plus more for garnish as desired

2

teaspoons

white miso

½

cup

dry white wine

or vegetable broth

Salt to taste
Instructions
Bring a large pot of water to a boil over high heat.

Meanwhile, heat 3 Tablespoons of the olive oil in a large skillet over low heat. When the oil is hot, add the garlic. Cook until the garlic is tender, about 5 minutes. You will know the garlic is ready if you taste it and it is mildly flavored. Be careful not to brown the garlic. Transfer the garlic and oil to a glass bowl.

Add the parsley, lemon juice, white miso, and white wine into your blender, but don't blend it just yet.

When the water is boiling, add the peas. Cook for 60-90 seconds (this applies to both frozen and fresh peas) until the peas are just (thawed and) tender. Drain the peas immediately, saving the water if you need it to boil the pasta, and rinse the peas in a colander under cold water to stop the cooking. When the peas are cool, transfer 1 ½ cups of the peas to the blender and set the rest of the peas aside.

When the garlic and oil are cool, transfer them into the blender as well. Blend on high until smooth (see note).

You can boil the pasta now, if you haven't done so already, per the instructions on the package or recipe you're following, draining it when it becomes al dente.

Heat the remaining 3 Tablespoons of oil over medium heat. When hot, add the mushrooms. Cook and stir until tender and just cooked through, about 5 minutes. Add the pasta, blended sauce, and reserved peas into the skillet. Stir until evenly coated and heated through. Stir a bit of white wine (or vegetable stock) into the sauce if it becomes too thick during this process. Add salt to taste.

Garnish with parsley and lemon juice, as desired, and serve immediately.
Notes
The recipe makes around 2 cups of sauce.
I used a Vitamix blender and it took less than 30 seconds to get smooth. Time and smoothness will vary depending on your blender.