Vegan Pasta e Fagioli is a classic Neapolitan-style soup/stew with a creamy bean broth, chewy pasta, and comforting tomato flavor. Simple, filling, nourishing, and very easy to make.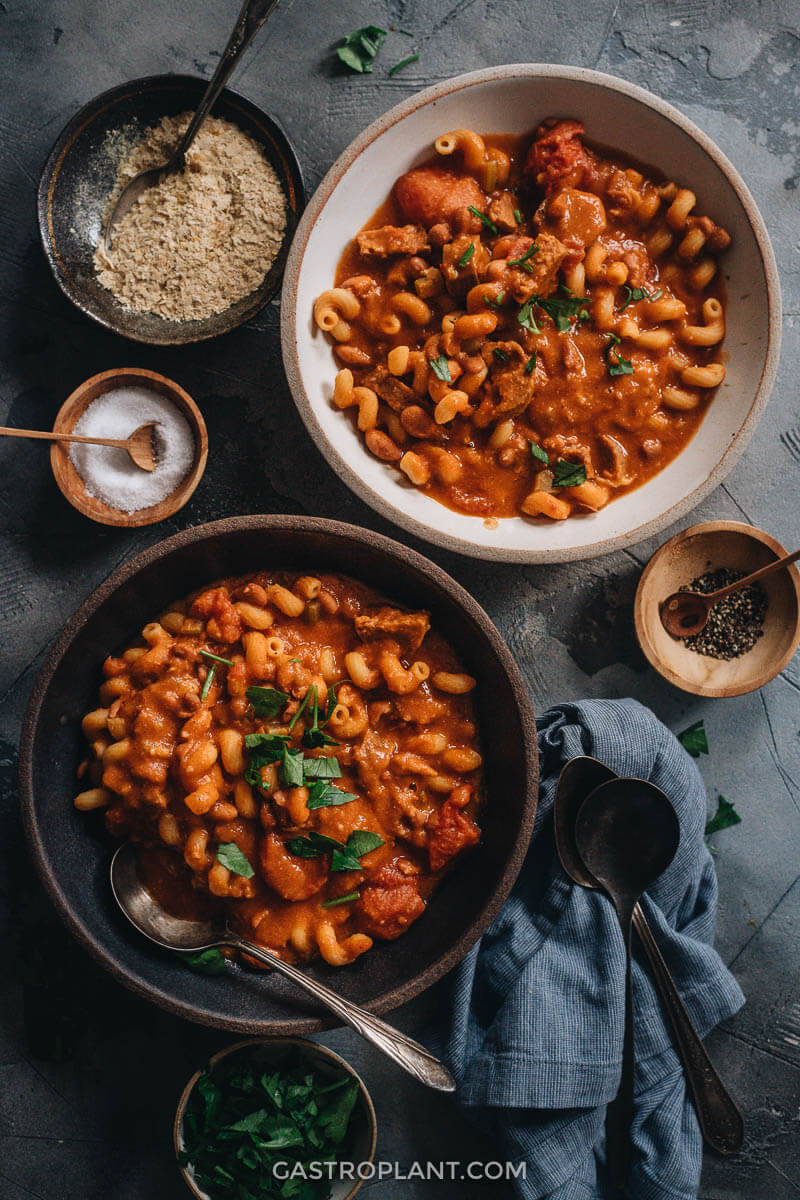 Intro to Vegan Pasta e Fagioli
I have vague childhood memories of eating something called "pasta fazool" at the Olive Garden with my Italian-American grandmother. That might sound funny, since that particular restaurant chain isn't exactly known for its authenticity, but she seemed to like the place a lot. It may have had more to do with abundance and ambiance.
In any case, I'd later learn that "pasta fazool" is the Neapolitan way of saying pasta e fagioli (her mother was from Naples). In an effort to reconnect with my family history, I wanted to develop my own version of the dish.
Pasta e fagioli, at a bare minimum, is a soup that contains beans and pasta. The beans can be mashed or even blended to create a really creamy consistency. Often there are vegetables such as celery, carrot, and tomato in it.
Some people include salami, sausage, or parmesan rind for flavor – I included an option for vegan sausage.
Figuring Out this Recipe
While I would have loved to adapt a family recipe for this, I wasn't able to get ahold of one. Instead, I set out exploring the Italian internet to see how Italians cook it.
This recipe makes it look like a pasta dish, showing the tube pasta in a creamy bean sauce.
This one is similarly thick, though more tomato heavy (and calls for pork skin).
Finally, this version is substantially soupier.
Clearly, there's no consensus on what Neapolitan-style pasta e fagioli should be. Though the common denominators seem to be: pasta, beans, bay leaf, olive oil, and simplicity.
Why Try This Vegan Pasta e Fagioli
Simplicity
The cooking process is straightforward and all happens in one pot. Saute some garlic and celery. Add tomatoes, bay leaf, canned beans, bay leaf, and stock (or water). Bring it to a simmer. Add the pasta. Season and serve.
Comfort
The flavor profile is familiar but not boring. The main essence comes from the garlic, olive oil, tomato, and bay leaf, with very mild beany undertones.
A couple vegan food hacks (miso and nutritional yeast) help create a full, round flavor.
Fulfillment
With pasta and beans, it works really well as a meal on its own. By cooking the pasta directly in the soup, we hang onto all the pasta starch and it helps thicken the soup even more.
You can also add plant-based sausage, as I did, for a bit more protein. My favorite plant-based sausages are from Beyond and Tofurky – and they both make tasty Italian-inspired versions.
More Plant-Based Soups and Stews
More Italian Classics Made Vegan
As always, if you try this recipe out, let me know! Leave a comment, rate it (once you've tried it), and take a picture and tag it @gastroplant on Instagram! I'd love to see what you come up with.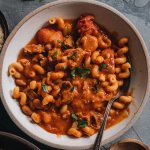 Print Recipe
Vegan Pasta e Fagioli
Vegan Pasta e Fagioli is a classic Neapolitan-style soup/stew with a creamy bean broth, chewy pasta, and comforting tomato flavor. Simple, filling, nourishing, and very easy to make.
Ingredients
6

ounces

macaroni or other pasta

see note (170 grams)

28

ounces

canned whole peeled tomatoes

including juices (800 grams)

2

cans pinto beans

drained, see notes (28 ounces / 800 grams total)

4

cloves

garlic

pressed or minced

2

ribs celery

diced

2

vegan sausage links

diced (optional)

3

Tablespoons

olive oil

1

bay leaf

4

cups

vegetable stock

divided (can substitute water)

2

Tablespoons

tomato paste

(optional - see note)

1

Tablespoon

miso

Salt and pepper to taste
Garnish
Fresh parsley or basil

chopped

Nutritional yeast to taste
Instructions
Heat the olive oil in a medium pot over medium heat. When hot, add the garlic and celery. Saute and stir until the celery is slightly translucent, about 3 minutes. Add the tomatoes and break them into rough chunks with a spatula.

When the tomatoes are heated through, use the spatula to move all the ingredients to one side of the pot. Add the vegan sausage and allow it to brown, stirring occasionally, about 3 minutes.

Add the beans, bay leaf, 2 cups of the vegetable stock, and the tomato paste. Turn to high heat and stir until it reaches a gentle boil. Stir in the pasta and try to get each piece submerged in liquid. Add more vegetable stock at any time, as needed, to keep them submerged.

Once the soup returns to a simmer, reduce to medium low heat, cover, and cook until the pasta is just cooked. Stir in the miso, using a fork to make sure it breaks apart. You can use the remainder of the vegetable stock to thin the soup out, if you like.

Add salt and pepper to taste.

Garnish with parsley or basil and a sprinkling of nutritional yeast and serve immediately.
Notes
You can use any kind of pasta, or even mix types of pasta. Though tubular varieties are best for this dish.
Many Italian recipes call for borlotti (aka cranberry) beans. They are speckled and similar to pinto, though not easy to find. Kidney beans, white beans (cannellini, great northern) will work just as well.
You can use dry beans as well, but you'll need to soak and cook them in advance. The equivalent amount of dry beans is about 1.5 cups.
If you use water instead of vegetable stock, the soup may not be as flavorful. You can increase the amount of miso slightly to give it more flavor.
The tomato paste gives the soup a nice boost but it's not critical.
The pasta will continue to soften the longer it is in the soup. For the best pasta texture, serve the soup right when the pasta is perfect.