This easy Asian vegetable broth is versatile and flavorful. It includes leek, mushroom, carrot, ginger, garlic, kombu, and daikon radish. Adds rich veggie flavor to any savory dish.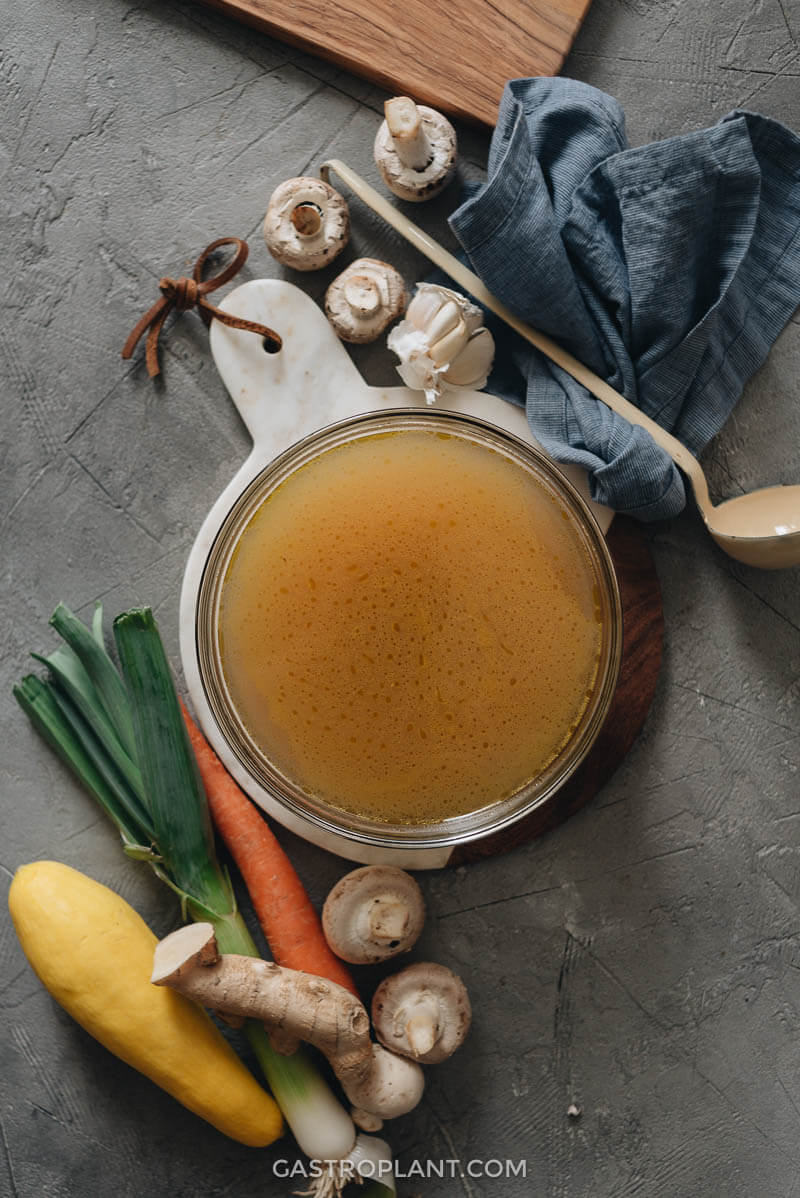 Intro to the Easy Asian Vegetable Broth
Over the past few months, I've cooked quite a few recipes that use vegetable broth. These include ramen soups, pasta sauces, and other soups. Most of the time I use a prepackaged carton of broth.
But now that I'm experimenting with more clear-soup styles of Japanese ramen, I wanted to develop my own method for making a flavorful vegetable soup base from scratch.
Developing the Easy Asian Vegetable Broth
I used the Light Vegetable Stock recipe from Cameron Stauch's Vegetarian Vietnam cookbook as a starting point. (If you're not familiar with that book, I highly recommend it. It's full of authentic Southeast Asian flavors and the recipes are very accessible to home cooks.)
With a few minor modifications to Cameron's stock, I developed the recipe I'm sharing with you today. It is more of an all-purpose broth than a light stock. The mushrooms, kombu, ginger, and garlic give it a bit more body and roundness.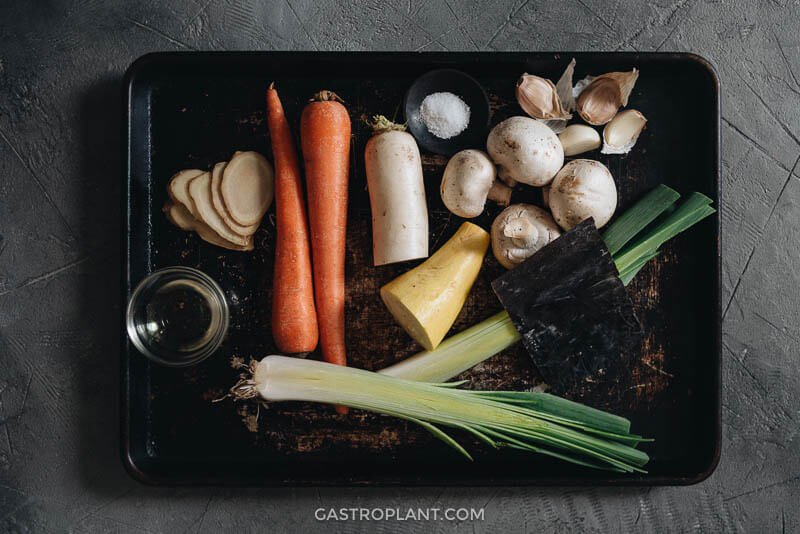 How to make the broth
The process is extremely simple. Slice all the vegetables, mushrooms, and herbs thinly. Saute them in a heavy pot with salt, then add water. Bring it to a boil, then cover and simmer it for an hour. Strain it and you're good to go.
What to do with the boiled veggies
After straining the broth, you'll have a bunch of boiled-to-death veggies. While they've lost a bit of flavor at this point, they still retain a good bit of their nutrition.
I like to heat these veggies in a saucepan with some water and miso. It makes a simple soup that you can eat as a side or a simple meal.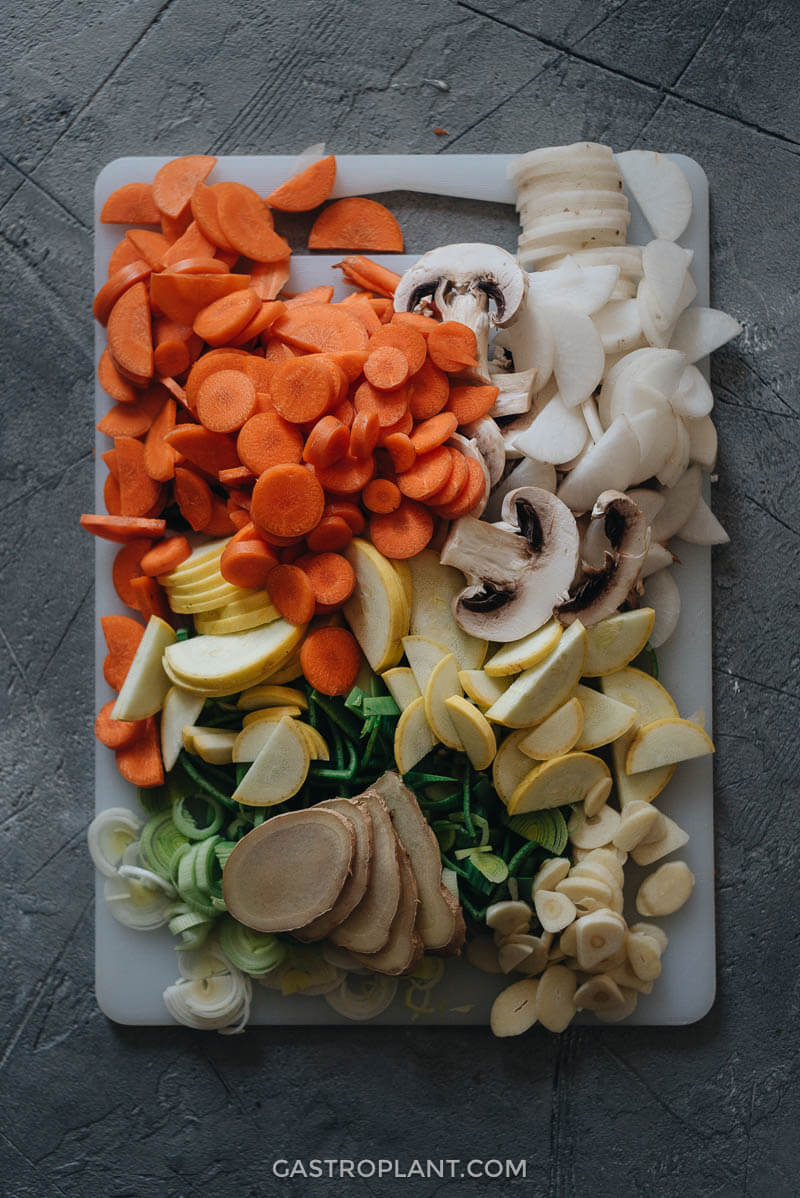 Possible modifications to the easy Asian vegetable broth
While this broth works in any recipe that calls for broth (or stock), there are some tweaks you can make to it, depending on your goals:
Skip the mushrooms if you want to keep the color light
Include dried shiitake mushrooms if you want to give it a super earthy boost (and don't mind it becoming even darker than shown in the photos)
Double the ginger and garlic if you want it to be extra aromatic
Substitute other radishes or celery for the daikon
Examples of ways to use the broth
I developed this recipe for my shio ramen recipe but here are some other recipes you could use this broth for:
As always, if you try this recipe out, let me know! Leave a comment, rate it (once you've tried it), and take a picture and tag it @gastroplant on Instagram! I'd love to see what you come up with.
Easy Asian Vegetable Broth
This easy Asian vegetable broth is versatile and flavorful. It includes leek, mushroom, carrot, ginger, garlic, kombu, and daikon radish. Adds rich veggie flavor to any savory dish.
Ingredients
1

Tablespoon

vegetable oil

1/2

pound

carrots

(230 grams)

1/4

pound

daikon radish

or other radish or celery (115 grams)

1/4

pound

leek

or white or yellow onion (115 grams)

1/4

pound

yellow squash

(115 grams)

1/4

pound

white mushrooms

(115 grams)

1

thumb ginger

(25 grams or 0.8 ounces)

4

cloves

garlic

3/4

teaspoon

salt

1

piece

kombu

(3x4 inches or 7.5x10 centimeters)

50

fluid ounces

water

1.5 liters
Instructions
Wash all of the ingredients thoroughly (except the kombu and salt). Peel the ginger. Slice the carrots, daikon, mushrooms, squash, leek, ginger, and garlic thinly.

Heat the oil in a large heavy saucepan over medium-high heat. When the saucepan is hot, add all the ingredients, including the salt, but excluding the kombu. Stir for the next 10 minutes, distributing the salt evenly and preventing any ingredients from becoming too browned (a little bit of browning is OK). Reduce the heat if you notice any burning or if any ingredient is browning quickly.

Add the water and kombu and stir well. Bring the water to a boil, reduce to low heat, and cover the saucepan. Simmer covered for 1 hour.

Use a large mesh strainer to strain the broth. Set the cooked vegetables aside.

Use the broth as prescribed in another recipe or transfer to an airtight container and put it in the fridge for later use.
Notes
This recipe produces a medium-dark colored broth. For a lighter broth, skip the mushrooms. For a darker broth, you can include 2-3 dried shiitake mushrooms.
If you'd like the broth to be extra fragrant, double the amount of ginger and garlic.
The broth will stay good for a week in an airtight container in the fridge.
See the blog post content for a suggestion on how to make a soup from the boiled vegetables.