This vegan shio ramen features a light, flavorful homemade vegetable broth boosted by truffle salt. It's topped with meaty king oyster mushrooms, seaweed, and menma.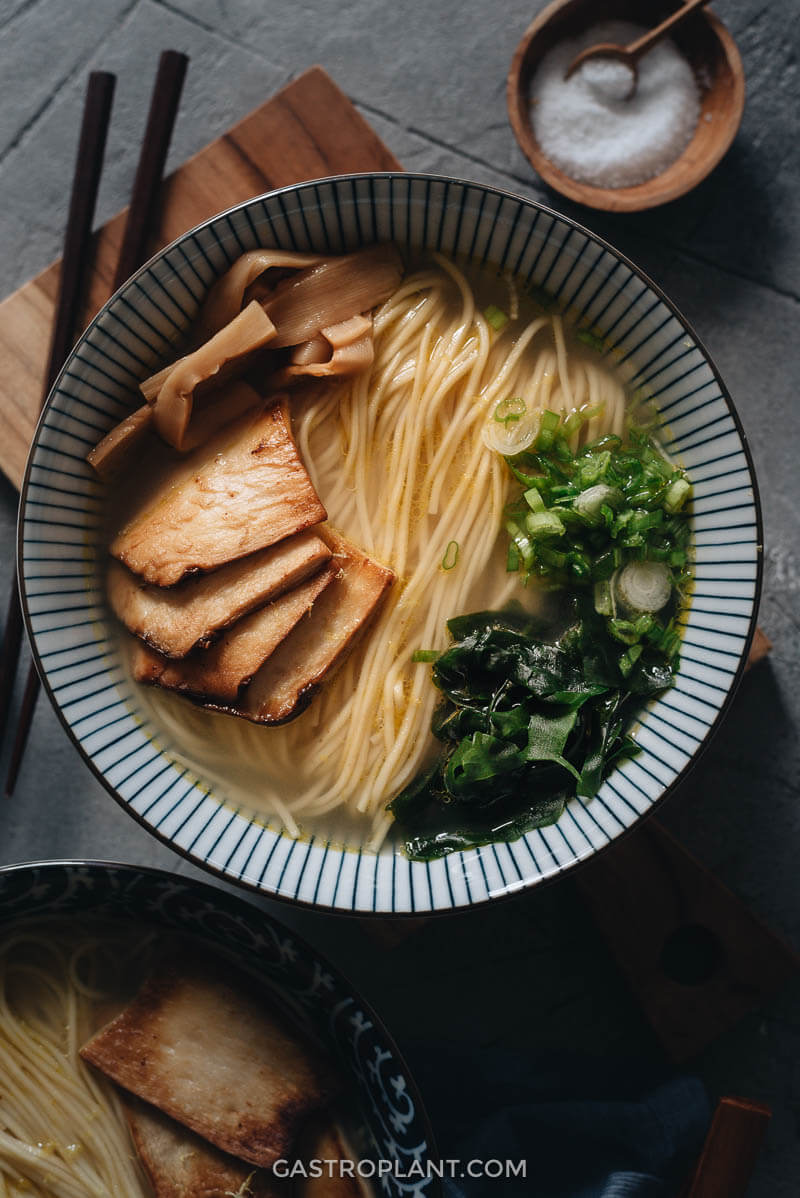 Intro to Vegan Shio Ramen
After sharing several different ramen recipes with you, most of them aiming either for intense creaminess, deep miso umami, or bright spiciness, I wanted to develop one on the lighter side.
Compared to the others, this ramen is on the minimalist side. I wanted to share how well a simple broth with simple toppings and high-quality noodles can still be really satisfying.
The name "shio" literally means salt. It's not an interesting name, I know, but I felt like this style of ramen may be underappreciated in the West and wanted to introduce it in plant-based form.
What goes in the Vegan Shio Ramen?
The most important component is, of course, the broth. Several veggies – carrot, leek, daikon, yellow squash, garlic, kombu, and ginger form the base of it. I added truffle salt, not as a fancy accent, but used a subtle amount to give the soup a fuller, more earthy base.
The noodles are also quite important. I usually recommend fresh or frozen noodles, but I discovered recently that dried ramen (not instant noodles, though) can actually have a really nice texture.
Last but not least are the toppings. You can put whatever you like on your ramen, but as examples, I've included pan-seared king oyster mushroom, menma, wakame seaweed, and green onion. A sprinkling of lemon zest lends some occasional citrusy notes.
How to make Vegan Shio Ramen
The process is longer than for some of my ramen recipes, but also simpler.
You chop and boil all the different veggies in water to make the broth.
While that's going on (it needs an hour), boil the noodles, rehydrate the wakame, and sear the king oyster mushrooms.
Strain the broth and season it with truffle salt and regular sea salt if needed.
Assemble the bowls and slurp away!
Some cooking notes before you begin
Just to be clear about the truffle salt, it shouldn't make the broth super truffle-y. And truffle salt is easy to overdo. Be careful when adding this and taste the broth. Once you've got it so the truffle is just barely noticeable, add sea salt if you'd like the broth saltier.
If you use dried ramen noodles, you should undercook them by 1 minute. They may seem tough at this point, but they absorb liquid quickly (more so than fresh noodles) and will be perfect once you leave them in the hot soup for a couple of minutes.
Feel free to cook more king oyster mushrooms than prescribed. For being so simple, it's a really tasty topping.
What to serve with this ramen
More delicious plant-based ramen recipes
As always, if you try this recipe out, let me know! Leave a comment, rate it (once you've tried it), and take a picture and tag it @gastroplant on Instagram! I'd love to see what you come up with.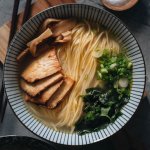 Print Recipe
Vegan Shio Ramen
This vegan shio ramen features a light, flavorful homemade vegetable broth boosted by truffle salt. It's topped with meaty king oyster mushrooms, seaweed, and menma.
Ingredients
Vegetable broth
1

Tablespoon

vegetable oil

1/2

pound

carrots

(230 grams)

1/4

pound

daikon radish

or other radish or celery (115 grams)

1/4

pound

leek

or white or yellow onion (115 grams)

1/4

pound

yellow squash

(115 grams)

1

thumb ginger

(25 grams or 0.8 ounces)

4

cloves

garlic

3/4

teaspoon

salt

1

piece

kombu

(3x4 inches or 7.5x10 centimeters)

50

fluid ounces

water

1.5 liters
Broth seasonings
1/2

teaspoon

truffle salt

Sea salt to taste
Noodles and toppings
2

servings ramen noodles

fresh, frozen, or dried (preferably not instant)

1

tablespoon

dried fueru wakame

2

tablespoons

plant-based butter

or neutral cooking oil

1/2

pound

king oyster mushrooms

or more as desired

2

green onions

chopped finely

1

teaspoon

lemon zest

grated
Instructions
Cook the soup base
Wash all of the vegetable broth ingredients thoroughly (except the kombu and salt). Peel the ginger. Slice the carrots, daikon, squash, leek, ginger, and garlic thinly.

Heat the oil in a large heavy saucepan over medium-high heat. When the saucepan is hot, add all the ingredients, including the salt, but excluding the kombu. Stir for the next 10 minutes, distributing the salt evenly and preventing any ingredients from becoming too browned (a little bit of browning is OK). Reduce the heat if you notice any burning or if any ingredient is browning quickly.

Add the water and kombu and stir well. Bring the water to a boil, reduce to low heat, and cover the saucepan. Simmer covered for 1 hour. (You can prepare the noodles and toppings while it simmers.)

Use a large mesh strainer to strain the broth. Set the cooked vegetables aside. (See note for how to use them later.)
Boil the noodles
Follow the instructions on the package to boil the noodles. If using dried ramen, cook the noodles for 1 minute less than prescribed. Drain the noodles in a colander and rinse them in cold water to stop the cooking process. Set them aside.
Sear the king oyster mushrooms
Cut the king oyster mushrooms into thin slabs about 1/4 inch (1/2 centimeter) thick as shown in the photos. If your mushrooms are on the smaller side, cut them so they at least have one flat surface so they can receive a good searing.

Heat the plant-based butter (or neutral oil) in a large nonstick skillet over medium-high heat. When the oil is hot, add the mushrooms. Flip occasionally for the next 8-10 minutes, until the mushrooms are cooked through and well-browned on both sides. Transfer the mushrooms to a plate.
Rehydrate the fueru wakame
Place the dried fueru wakame in a small bowl. Add plenty of water to cover it. Once it is rehydrated, after 5-7 minutes, drain the liquid from the bowl. Set it aside.
Reheat and Season the broth
Once you've strained the broth, reheat it in the saucepan if needed (it should be quite hot, but not boiling when you serve it).

Add the truffle salt, stir it, and taste the broth. The truffle should be barely (or not even) noticeable. You can add more if you like, but be very careful. Stir sea salt into the broth as needed for extra saltiness.
Assemble and serve
Divide the noodles and toppings (including green onion and lemon zest) equally among two bowls. Pour equal amounts of hot broth into each bowl
Notes
This recipe makes two meal-sized portions.
You may have some broth left after serving. The broth is quite versatile and will stay good for a week in the fridge.
The mushrooms were especially tasty, and my wife and I both wanted more than the half-pound allotted in the recipe. So feel free to cook more and enjoy them.
You can eat the boiled vegetables later if you like. I put them in a saucepan with some water and miso and it made an easy veggie miso soup.