This Easy Vegan Soy Milk Ramen is flavorful, lightly creamy, and can be ready in 20 minutes. The broth has miso and lots of aromatics and it's topped with avocado, zucchini, and tomato. Homemade chili oil takes it to the next level.
Intro to the Easy Vegan Soy Milk Ramen
I've made a couple of different variations of ramen on the blog so far. Each time, I find new ways to develop and enhance the flavors and create a new culinary experience. I'm experimenting so I can help you make tastier food with less effort.
Ramen is one of those dishes that can take a long time to make, and traditionally it does. But as a home cook myself, I understand that most people don't have several hours to dedicate to making dinner. This ramen recipe is meant to be a quicker version, yet it still has many of the things that make restaurant ramen really enjoyable.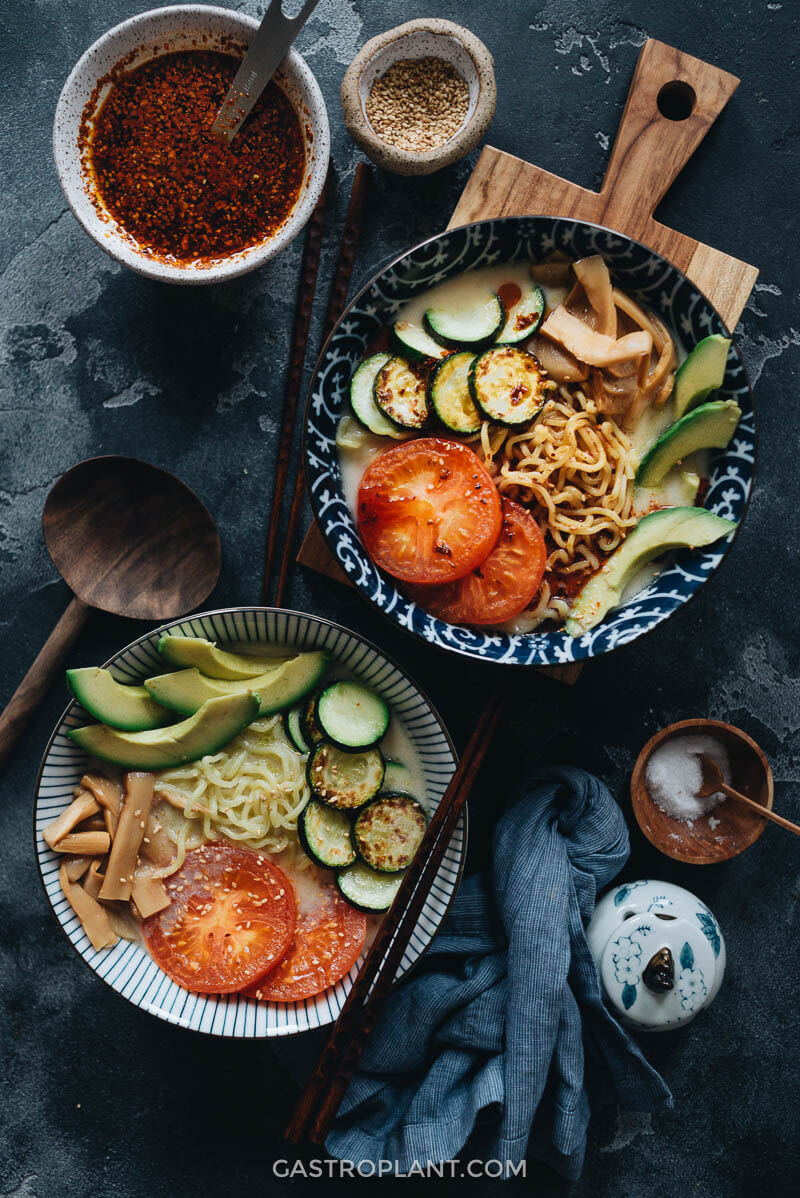 The Components of the Easy Vegan Soy Milk Ramen
I modeled this ramen after one that I tried at Mr. Taka, a ramen shop in the city.
The Soy Milk Broth
The broth is creamy from soy milk, but it's not rich and heavy like a tonkotsu. It's infused with garlic, ginger, and kombu (seaweed) so it's quite fragrant. Sake, miso, and nutritional yeast are included as natural flavor enhancers.
The Toppings
I was particularly impressed by the toppings on the vegan ramen at Mr. Taka. In a departure from tradition, they included blistered tomatoes and zucchini and raw avocado slices. Flavor-wise they are mild but deeply satisfying and pair perfectly with the light creamy broth.
Menma, fermented bamboo shoots flavored with soy sauce and sesame oil, is also included. It's got such a nice chewy-crunchy texture and the flavors fit seamlessly with the other ingredients.
The Homemade Chili Oil
While the creamy broth, unusual toppings, and toothy noodles are great together, if you appreciate a bit of spice in your food, you have to try this with homemade chili oil.
I developed a chili oil recipe to use in a few different dishes and it's really handy, not to mention super flavorful. It's made of chili flakes, chipotle powder, Chinese five-spice, Sichuan peppercorns, and sesame oil. It's spicy, nutty, smoky, and aromatic.
If you already have some bottled chili oil on hand, you can use that instead, but it won't be as tasty as homemade.
Tips on Purchasing
There are a few items that may be unfamiliar to you. Here are some pointers on shopping for them:
Kombu – it's a dried seaweed most often used to make broth. The recipe calls for it to be simmered in the broth to add umami flavor. You can use it in any soup or broth so it's great to have on hand.
Miso – this is among my most-used ingredients. It's made of fermented beans and grains. There are many, many different varieties, but I usually go for a lighter-colored one, known as "shiro" (white) or "awase" (yellow). For this recipe make sure your miso doesn't contain bonito or other fish ingredients.
Nutritional Yeast – another of my most used ingredients. You add it to the broth right before serving for an extra bit of creaminess (and a vitamin B12 boost!).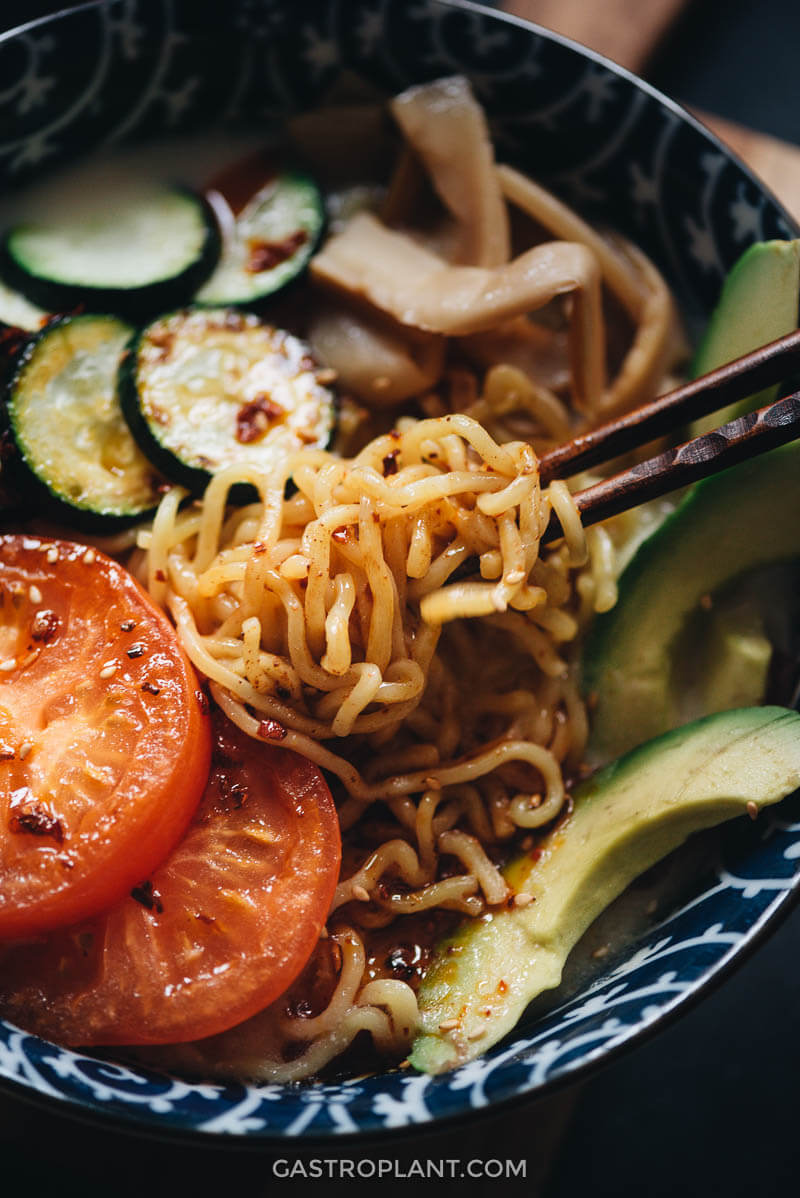 More Plant-Based Ramen Recipes
Some Plant-Based Japanese-Inspired Appetizers
As always, if you try this recipe out, let me know! Leave a comment, rate it (once you've tried it), and take a picture and tag it @gastroplant on Instagram! I'd love to see what you come up with.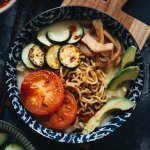 Print Recipe
Easy Vegan Soy Milk Ramen
This Vegan Easy Soy Milk Ramen is flavorful, lightly creamy, and can be ready in 20 minutes. The broth has miso and lots of aromatics and it's topped with avocado, zucchini, and tomato. Homemade chili oil takes it to the next level.
Ingredients
2

Tablespoons

peanut oil

or a neutral oil

2

Tablespoons

fresh garlic

pressed or minced

2

teaspoons

fresh ginger

minced or grated

1

piece

kombu

2*4 inches (5*10 centimeters)

2

Tablespoons

miso

1/4

cup

sake

or vegetable stock or water

3

cups

soy milk

or other plant milk, unsweetened and unflavored

1

cup

vegetable broth

or water

2

Tablespoons

nutritional yeast

Salt to taste

2

portions ramen noodles

preferably fresh or frozen, can be dried

1

Tablespoon

neutral oil

1

medium tomato

halved and sliced into 1/2-inch (1-centimeter) thick slices

1

zucchini

sliced into 1/4-inch (1/2-centimeter) thick slices

1/2

hass avocado

sliced

4

ounces

menma

(110 grams)

homemade chili oil to taste

or bottled (optional)
Instructions
Heat the oil in a large heavy saucepan over medium heat. Add the garlic and ginger. Cook and stir until the garlic becomes translucent, 3-4 minutes.

Add the miso and kombu. Stir until the miso is well integrated with the ginger and garlic.

Add the sake and stir to scrape up any brown bits stuck on the bottom of the saucepan. Once the sake begins to boil, let it cook for 2 minutes as you stir.

Add the soy milk and vegetable broth. Give it a stir. When it returns to a boil, reduce heat to low. Cover the saucepan and let it simmer for at least 10 minutes to develop the flavor.

While the broth is simmering, cook the ramen noodles according to the instructions on the package. Drain the noodles and set them aside.

Heat the oil in a large skillet over medium heat. Add the sliced tomato and zucchini. Cook the tomato and zucchini, turning occasionally until blistered on both sides. This should take 2-4 minutes. Remove the skillet from the heat.

Just before serving, remove and discard the kombu from the broth. Then stir the nutritional yeast into the broth. Taste some of it and add salt, if needed.

Prepare a bowl for each serving of ramen. Divide evenly among the bowls the ramen noodles, broth, tomato, zucchini, avocado, menma, and chili oil. Serve immediately.
Notes
If you prefer a smooth broth, you can pour it through a mesh strainer as you serve it into the bowls.