This vegan cornbread is tender, crumbly, and cakey with crispy edges. It pairs perfectly with a chili or stew. It's not sweet by default but can be sweetened to taste. (Gluten-free)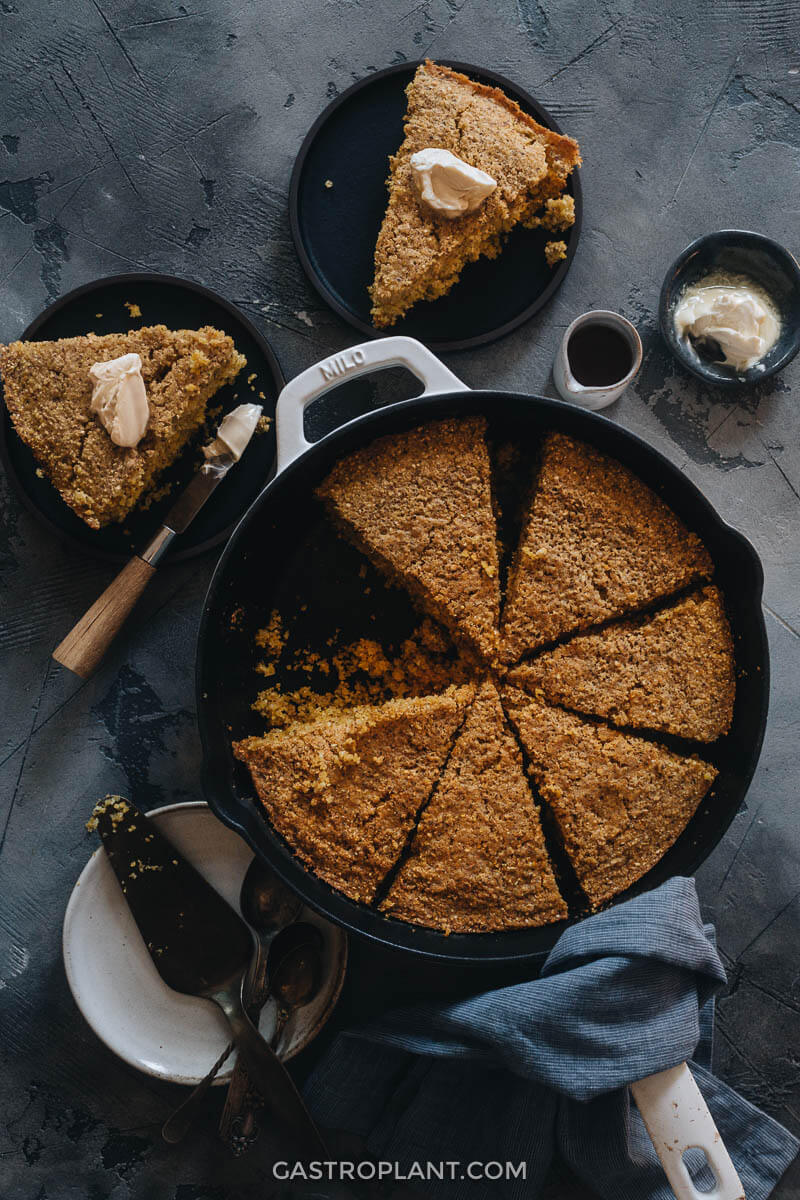 Intro to Vegan Cornbread
In these colder months, it seems like I'm making a pot of soup or stew every other day. Growing up in Georgia, whenever my parents would make chili, black-eyed peas, or something similar, freshly made cornbread would always accompany it. So I wanted to develop my own cornbread recipe.
Non-Sweet Cornbread?
I grew up eating cornbread that was not noticeably sweet. I had assumed that all cornbread was this way until one time, several years ago, I was at lunch with a coworker from China, at a country-style restaurant in the US.
There's a not-uncommon belief outside the US, that the US doesn't have its own food culture. I was trying to point out foods that I thought were part of US food culture, and cornbread seemed like a good example.
My coworker countered that cornbread isn't just American, that they eat it in China, too. "Well, what's it called in Chinese, then?" I asked. He said the word for cake.
It was that moment that I noticed how sweet and cake-like cornbread can be.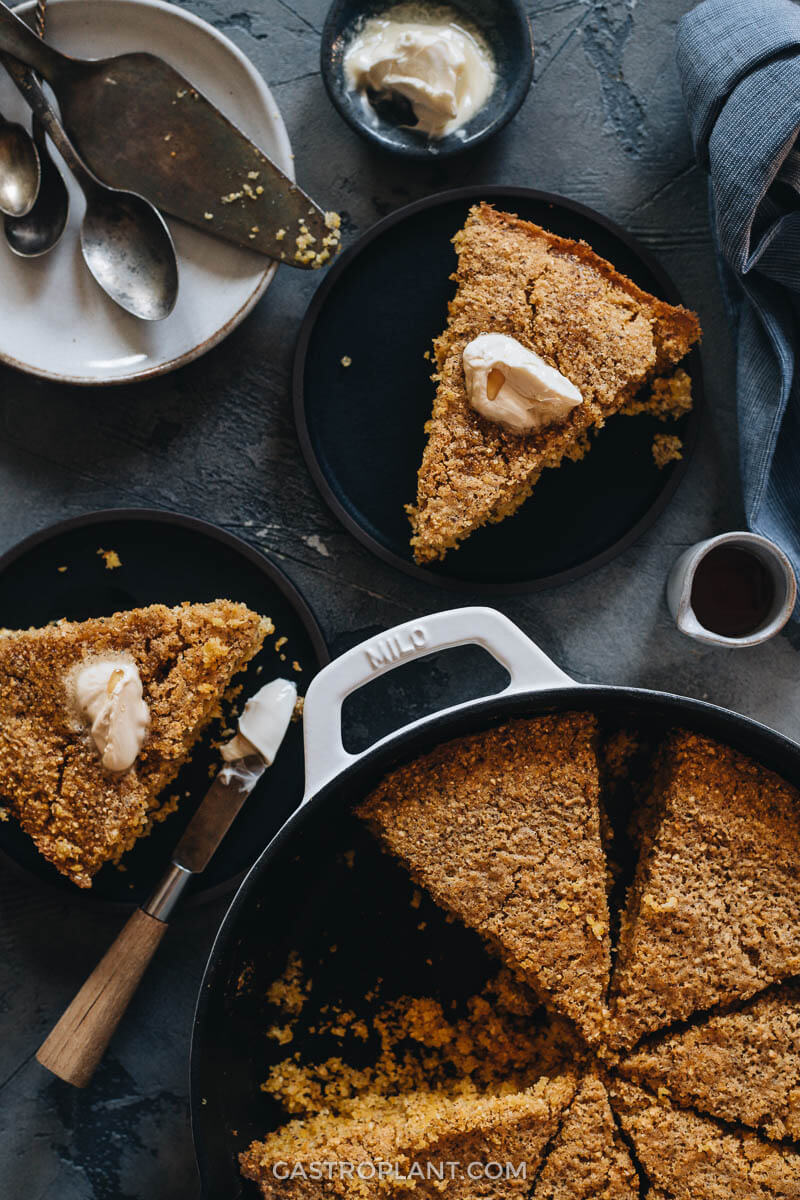 Developing Vegan Cornbread
Knowing that I didn't want a dessert-sweet cornbread, I started with a simple but solid recipe from Serious Eats for Southern Style Cornbread. I would just need to replace the buttermilk, eggs, and butter.
For the buttermilk, I subbed a combination of unsweetened, unflavored plant milk and lemon juice. It creates a very similar creamy tartness.
For the eggs, I went with "flax eggs" – for each egg, you use a tablespoon of ground flaxseed and 2.5 tablespoons of water. This makes a decent "glue" that helps hold the grains together
I used vegan butter in place of the butter, though all vegan butter seems to contain salt, so I reduced the actual amount of salt used to compensate.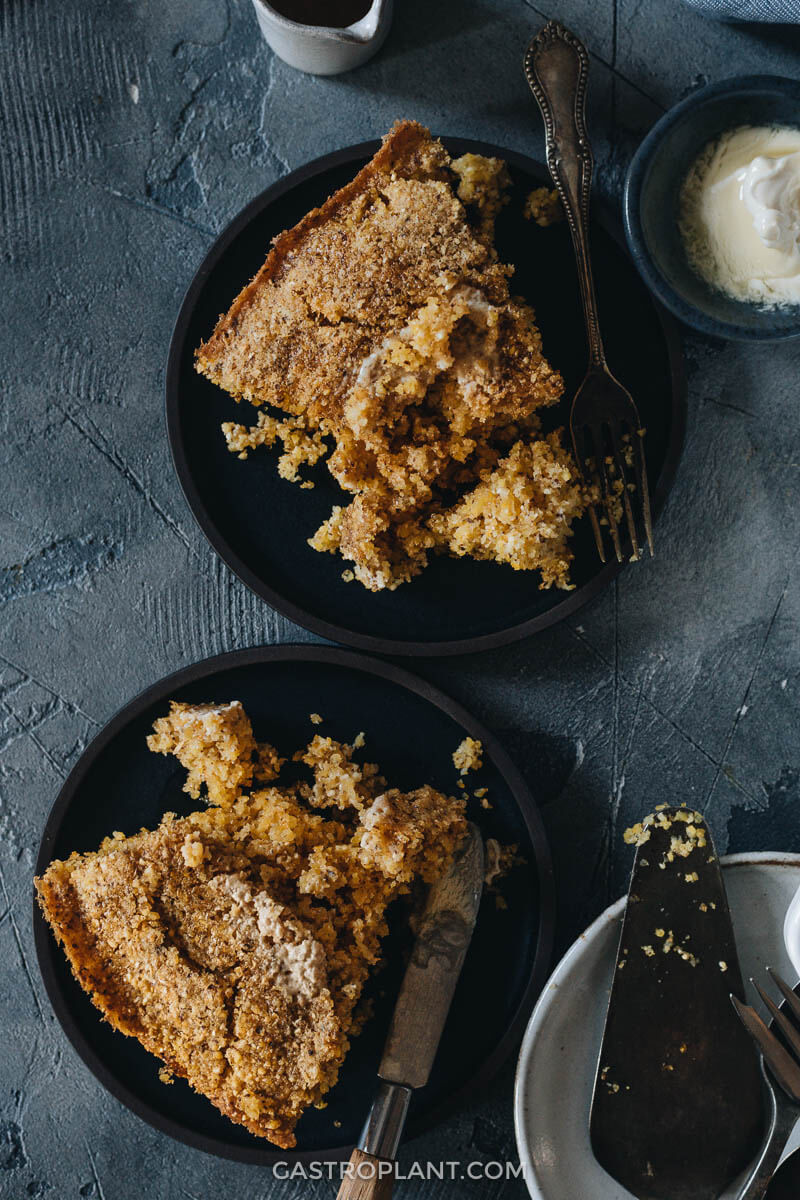 How to make the Vegan Cornbread
It's a pretty simple process. Mix the dry ingredients together in one bowl. Mix the liquid ingredients together in another. Combine the two. Pour the mixture into a preheated cast iron skillet and put it in your preheated oven. Bake until good.
Some Notes Before you Start
To keep the recipe simple (and gluten-free) I used just cornmeal – no other flours. This means this cornbread may be more crumbly than others. (It still holds together just fine.)
In the spirit of transparency, this (and most) cornbread contains a considerable amount of sodium due to the baking soda and baking powder. It's something to keep in mind.
I used a cast iron pan to cook this. You don't need cast iron, but it helps a lot with developing a crust and it ensures even cooking. You may need to cook for slightly longer if your baking pan is made of something else.
To make a sweeter cornbread, you can either add more sugar to the recipe (see the note in the recipe) or drizzle maple syrup on the cornbread as you eat.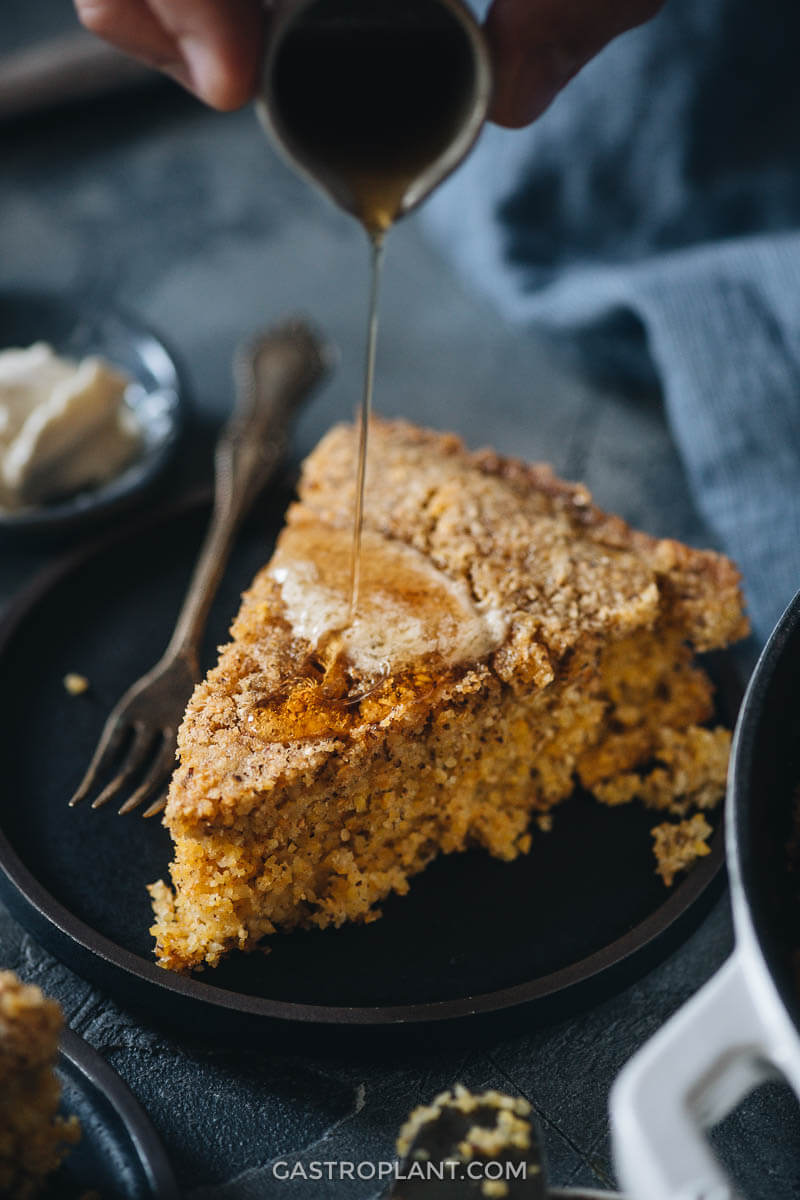 Soups and Stews to Serve with the Cornbread
More Plant-Based Comfort Foods
As always, if you try this recipe out, let me know! Leave a comment, rate it (once you've tried it), and take a picture and tag it @gastroplant on Instagram! I'd love to see what you come up with.
Print Recipe
Vegan Cornbread
This vegan cornbread is tender, crumbly, and cakey with crispy edges. It pairs perfectly with a chili or stew. It's not sweet by default but can be sweetened to taste. (Gluten-free)
Equipment
Cast Iron Skillet (or other baking pan)
Ingredients
3

cups

stone-ground coarse cornmeal

about 15 ounces or 425 grams

1/2

teaspoon

salt

2

teaspoons

baking powder

3/4

teaspoon

baking soda

1

Tablespoon

sugar

see note

1 1/2

sticks

plant-based butter

melted (6 ounces, 170 grams, or 3/4 cup)
Vegan "Buttermilk"
2.5

Tablespoons

lemon juice

2 1/4

cups

unsweetened unflavored plant milk

plus 1 1/2 Tablespoons
Vegan "Eggs"
3

Tablespoons

ground flaxseed

7 1/2

Tablespoons

water
Instructions
Preheat your oven to 375 degrees F (190 degrees C). Place the baking pan you will use for the cornbread in the oven (I used a 10-inch cast-iron skillet).

Whisk the cornmeal, salt, baking powder, baking soda, and sugar together in a large bowl until well mixed.

Combine the ingredients for the vegan buttermilk, those for the vegan eggs, and all but 1 Tablespoon of the melted butter in another bowl. Stir until well combined.

Combine the mixtures in the dry and liquid bowls. Mix until just combined; do not over-stir.

Carefully remove the baking dish (or skillet) from the oven - it's hot. Use the remaining 1 Tablespoon of butter to grease the bottom and sides of the pan.

Pour the cornbread mixture into the pan. Use a spatula or scraper to smooth the surface of the mixture.

Bake until a toothpick inserted into the center of the pan comes out clean, about 45 minutes. Let the cornbread rest in the pan for 15 minutes before serving.
Notes
This is not a sweet cornbread recipe. If you'd like your cornbread sweeter, you can add up to 1/2 cup of sugar. Alternatively, you can serve the cornbread with maple syrup and sweeten to taste as you eat.
The cornbread will stay good for a month in the freezer (in an airtight container). You can reheat it in the same pan you cooked it in, in a 350F (175C) oven until heated through, 10-15 minutes.