This Vegan Cream of Mushroom Soup is just like it sounds – rich, silky, and creamy with an intensely mushroomy flavor. The recipe uses a couple of vegan food hacks to take it to the next level.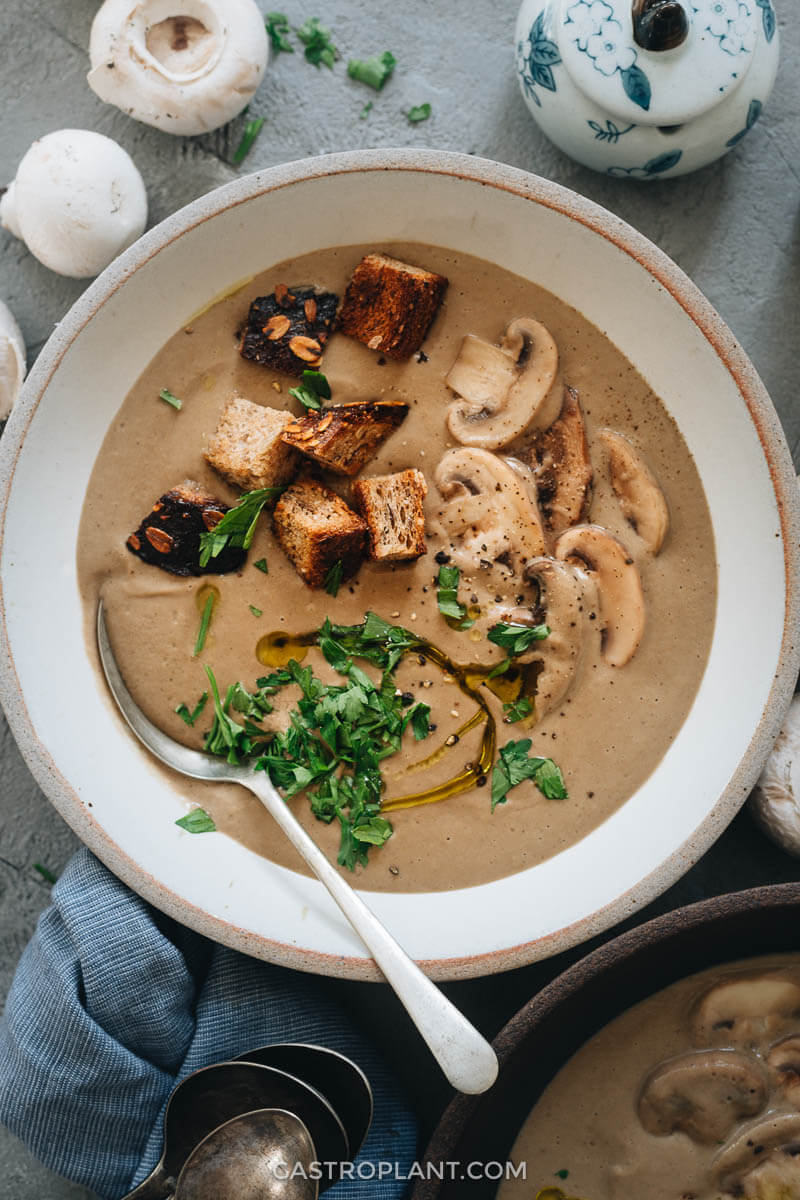 Intro to the Vegan Cream of Mushroom Soup
I ate canned cream of mushroom soup all the time growing up and mushroom soup is very much a comfort food for me. I wanted to develop a plant-based version that uses everyday ingredients with no additives.
This soup uses lots of mushrooms – both fresh and dried – some garlic and onion, plant milk, and cashew butter to form a well-rounded base with huge mushroom flavor and a thick, velvety texture.
What Makes This Soup Great?
Two things:
Huge mushroom flavor. Blending dried mushrooms gives it a lot of earthy, mushroomy goodness. Sauteing fresh mushrooms with garlic and onion helps develop the flavor as well. The bay leaf and soy sauce act as natural flavor enhancers to help the mushrooms sing.
Irresistible creaminess. This comes from the flour, cashew butter, and plant milk. The flour gets toasted and a little nutty and helps the soup cling together and clot slightly. The cashew butter adds a silky, buttery mouthfeel. And the plant milk thins it out just a little, while still keeping everything creamy.
How to make Vegan Cream of Mushroom Soup
First, you rehydrate the dried mushrooms to make them easier to blend.
While the dried shrooms are rehydrating, you saute some fresh ones in vegan butter with garlic and onion. Stir in some flour and get it a little toasty and nutty, then stir in a bit of dry sherry (or veggie stock).
When the rehydrating is done, transfer your sauteed ingredients to the blender (you're going to need a blender, by the way) and add the rehydrated mushrooms, along with some cashew butter, vegetable stock, and plant milk. Blend it up nice and smooth.
Now, it goes back into the pot to thicken a little and infuse with bay leaf, which adds a certain "brothiness" to it. A dash of soy sauce to further enhance the flavors. Add salt to taste. Use truffle salt if you have it (but don't overdo it).
Garnish the soup if you want – I like to use parsley, homemade croutons, and a drizzle of olive oil – and it's ready to serve!
Some Cooking Notes Before You Jump In
Mushroom pieces can add a nice bit of texture to the soup. If you want, set some of the sauteed mushrooms aside (don't blend them) and then add them to simmer with the soup after you've transferred it to the pot.
Lumps. Some people like lumps in their cream of mushroom soup. Some people can't stand lumpy soup. This soup can get slightly lumpy and if you don't like that, keep a whisk or fork handy to whip the lumps into submission.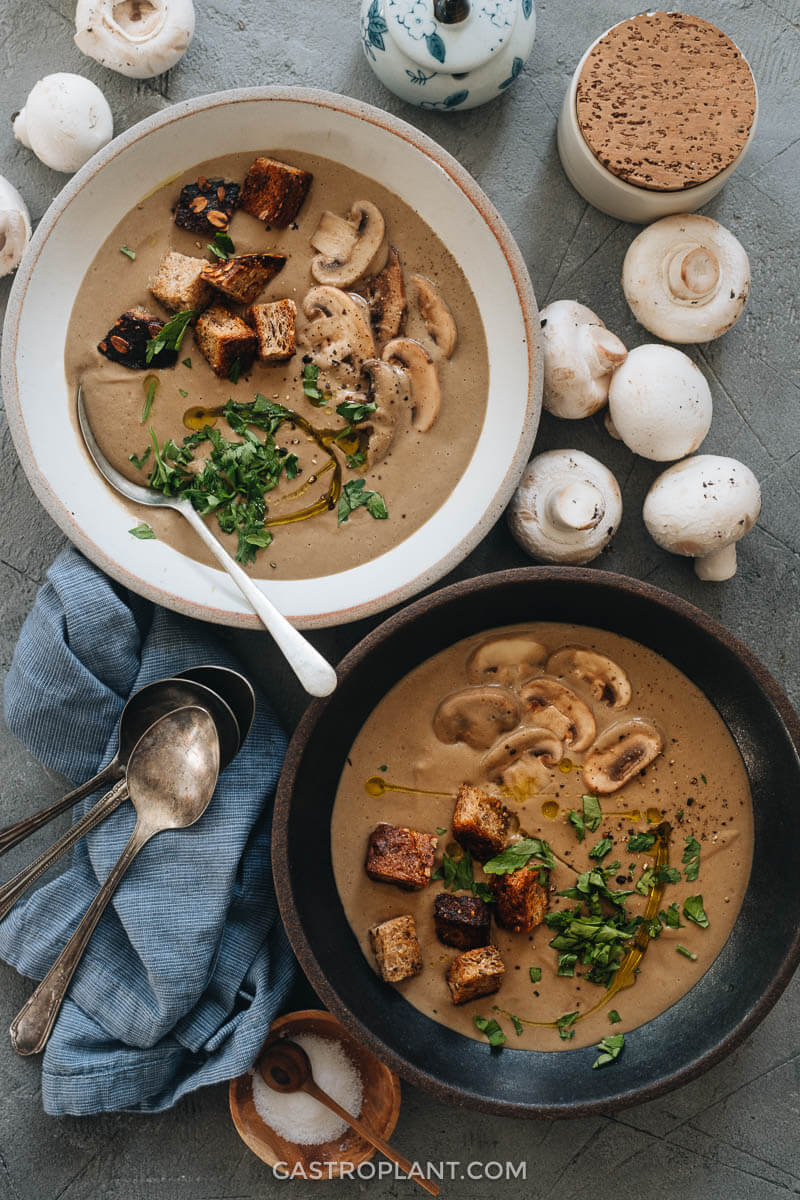 More Flavorful Plant-Based Soups for Nourishing Comfort
A Few More Plant-Based Comfort Foods
As always, if you try this recipe out, let me know! Leave a comment, rate it (once you've tried it), and take a picture and tag it @gastroplant on Instagram! I'd love to see what you come up with.
Print Recipe
Vegan Cream of Mushroom Soup
This Vegan Cream of Mushroom Soup is just like it sounds - rich, silky, and creamy with an intensely mushroomy flavor. The recipe uses a couple of vegan food hacks to take it to the next level.
Ingredients
Saute
1

pound

white and/or brown mushrooms

sliced (450 grams)

1

cup

onion

coarsely diced

2

cloves

garlic

chopped

2

Tablespoons

vegan butter

Salt and pepper

1

Tablespoon

all-purpose flour

1/2

cup

dry sherry

or vegetable stock
Blend
1

cup

vegetable stock

1

cup

plant milk of your choice

unflavored and unsweetened

2

Tablespoons

cashew butter
Simmer
1

bay leaf

1/2

Tablespoon

soy sauce
Season and Garnish
Sea salt

or truffle salt to taste

Toasted croutons or bread

Olive oil

Chopped parsley
Instructions
Combine the dried mushrooms and 1 cup of hot (but not boiling) water in a bowl. Place something weighty on top of the mushrooms to keep them submerged.

Heat the vegan butter in a heavy pot over medium heat. When melted, add mushrooms. Saute until tender, 5-6 minutes. Add onion and garlic. Saute until onion is translucent, 2-3 minutes. Season generously with salt and pepper. Sprinkle in the flour and stir well until the ingredients are coated with flour and the flour is slightly toasted, 1-2 minutes. Add sherry (or the 1/2 cup of vegetable stock) and scrape loose any stuck bits.

Once the mushrooms have rehydrated for at least 20 minutes, combine the mushrooms, the mushroom soaking water, cashew butter, 1 cup vegetable stock, the plant milk, and the sauteed mushroom-onion-garlic mixture (see note on keeping whole mushrooms) in a high-speed blender. Blend on high until smooth, 2-3 minutes, depending on your blender.

Wipe any solid bits out of the pot you were using and transfer the blended mixture and any reserved mushroom pieces into it. Add the bay leaf and soy sauce and turn the heat to low. Cover and simmer for at least 10 minutes (see note), stirring occasionally, to infuse the bay leaf flavor.

Before serving, stir in (truffle) salt until the soup is sufficiently salty. Garnish to taste with croutons, parsley, and a drizzle of olive oil and serve immediately.
Notes
If you'd like the finished dish to have intact mushroom pieces in it, you can set them aside before blending everything together.
You can simmer for longer than 10 minutes but don't do more than 30. You may need to add a splash of vegetable stock or plant milk if the soup becomes too thick during simmering.
If the soup gets lumpy, you may prefer to whisk the lumps out, or just enjoy the slightly different texture they provide.