This Vegan Mushroom Gravy is velvety smooth and oozing with umami. It's easy to make and goes with all kinds of comfort foods. Slather it on your mashed potatoes, shower it onto a veggie burger patty, or even spoon it over some noodles.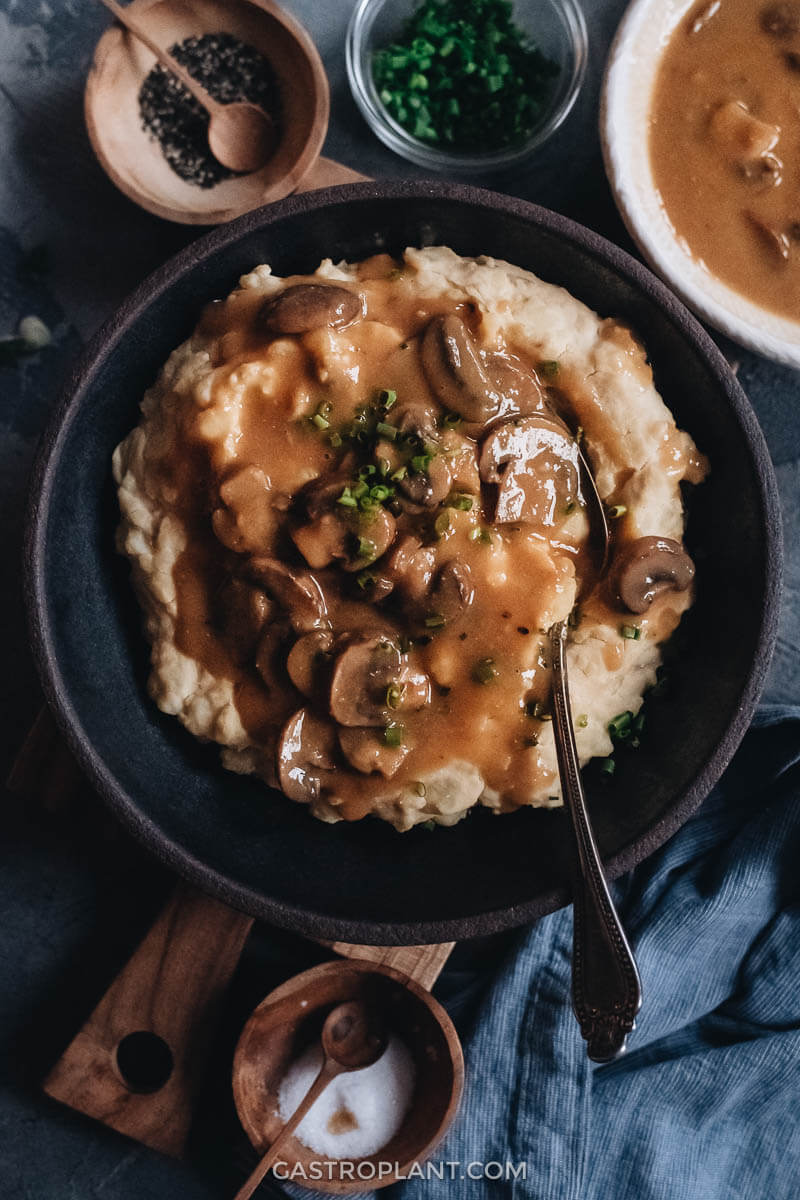 Intro to Vegan Mushroom Gravy
I recently wrote a guide to making vegan mashed potatoes that shine. If you haven't read that, I highly recommend checking it out for the useful vegan food hacks it contains.
As a follow-up to that post, I wanted to share a great gravy recipe, since there's no more appropriate companion to mashed potatoes.
This gravy recipe is about two things – a pleasant silky mouthfeel and a resounding umami flavor centered around mushrooms. I'll explain below how we create both of these.
How the Vegan Mushroom Gravy Recipe Works
This gravy recipe follows a pretty common approach for making gravy, a roux, and includes some other tricks that help develop the flavor.
A roux?
This means we'll saute flour and fat together to toast the flour a bit and create a smooth texture. The dispersed flour will cause the gravy to thicken evenly and the toasting creates a satisfying bready-nutty taste.
Roux'd shrooms
To work the mushrooms in, we're actually going to saute the mushrooms first, then mix the flour with the fat and mushrooms. This flour-on-mushroom cooking helps infuse the mushroom flavor into the roux.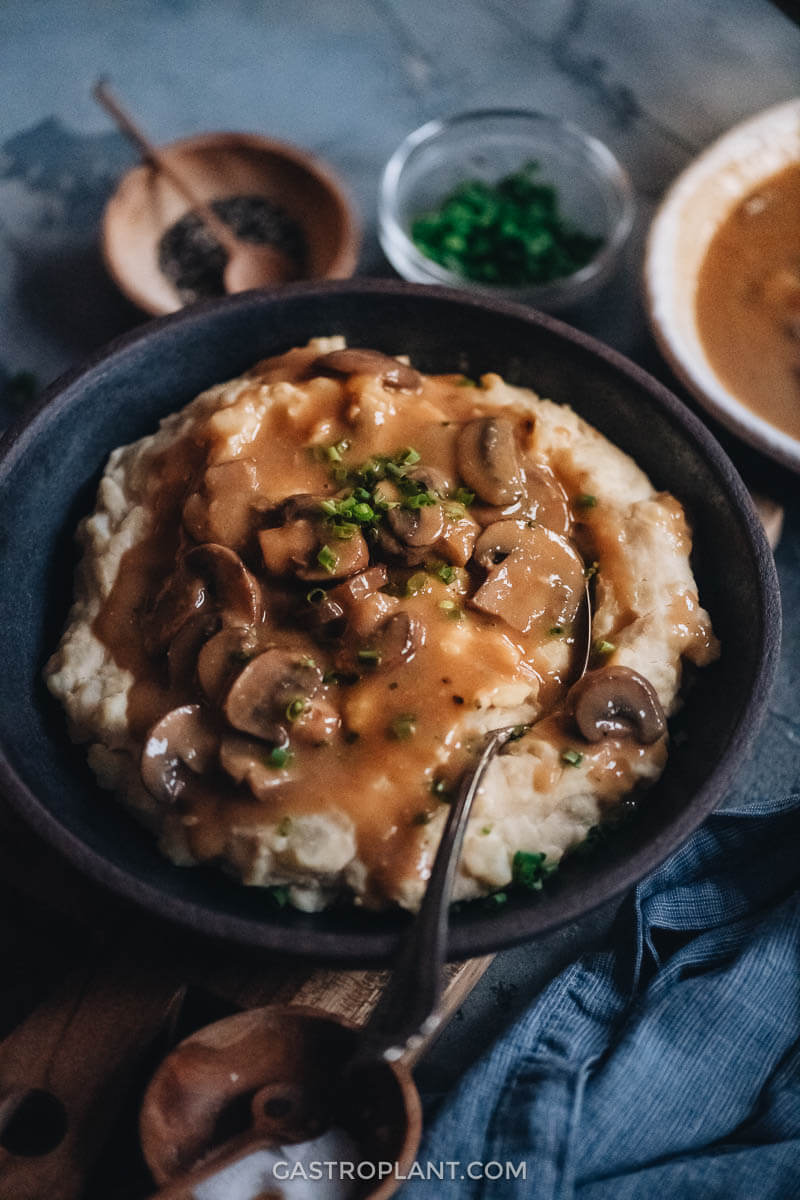 Deglaze
Once we've got the mushrooms cooked, mixed well with flour, and toasted how we like them, we'll add liquid. I use a mixture of vegetable stock and dry sherry. Vegetable stock adds some round flavor, which is nice, but it's sherry that brings the magic.
We'll also want to scrape up any stuck bits from the bottom or sides at this point. They'll be the toastiest, which means they contain the most flavor. Try not to leave any bits behind! Use a silicone spatula if you have one.
A side note about dry sherry
The combination of dry sherry and mushrooms is absolute gold. Dry sherry tastes like toasted almonds, with notes of raisin and wood. Somehow, it elevates the earthy mushrooms like nothing else can.
Boosting the flavor and simmering
In the last stage, we'll use a few of my favorite vegan food hacks to really solidify the earthy-creamy-nutty base we've built with the mushrooms, roux, and sherry.
Miso is my go-to flavor bomb and it fits perfectly here. Be sure to dissolve it completely so it enhances evenly.
Soy sauce adds a touch more umami but also a touch of malty sweetness.
A dried shiitake mushroom, steeped in the gravy as you simmer it, gives a smoky, earthy lift to the whole gravy. It doesn't steep long, so the effect is subtle.
With our gravy now triple-reinforced, we'll simmer it until it's just the right texture.
Serving Ideas Beyond Mashed Potatoes
Here are some possibilities of what you can create with this gravy:
Sailisbury "steak" – use a vegan burger patty, whether a veggie patty or an imitation meat one, for a kinder, tastier school-cafeteria specialty
Creamy mushroom polenta – follow my vegan cheese grits recipe (skip the cheese if you like) and top with mushroom gravy for a bowl of pure comfort.
Vegan S.O.S. – slather it onto toast for a simple and satisfying
Stroganoff – put it on noodles for a stroganoff-type effect.
Golden mushroom soup – thin it out with a bit more broth, maybe add a touch more miso to fill out the flavor, and you have a pretty fancy version of a Campbell's classic.
Easy veggies to add to your homestyle comfort meal
Here are the vegan mashed potatoes, if you're looking for them.
Into saucy food? Check these out
As always, if you try this recipe out, let me know! Leave a comment, rate it (once you've tried it), and take a picture and tag it @gastroplant on Instagram! I'd love to see what you come up with.
Print Recipe
Vegan Mushroom Gravy
This Vegan Mushroom Gravy is velvety smooth and oozing with umami. It's easy to make and goes with all kinds of comfort foods. Slather it on your mashed potatoes, shower it onto a veggie burger patty, or even spoon it over some noodles.
Ingredients
8

ounces

brown mushrooms

sliced (225 grams)

4

Tablespoons

plant-based butter

3

Tablespoons

all-purpose flour

2

cups

vegetable stock

2

Tablespoons

dry sherry

1

dried shiitake mushroom

cut into quarters (optional)

1/2

Tablespoon

soy sauce

1/2

Tablespoon

miso
Instructions
Heat the plant-based butter in a large skillet or medium-sized pot over medium heat. Once the butter has been bubbling for a minute, add the mushrooms. Cook until the mushrooms are browned and tender, 7-10 minutes, stirring occasionally to ensure even cooking. Turn down the heat if the butter begins to smoke at any point.

Sprinkle the flour onto the mushrooms and stir well to form as even a distribution of the flour as possible.

Continue to cook, stirring occasionally, until the flour becomes a golden brown color (see note), about 3 minutes.

Slowly add the stock, stirring constantly in a circular motion as you do. Add the sherry and stir again.

Add the dried shiitake mushroom, if using.

Once you've reached a pretty even consistency, transfer a few tablespoons of the mixture to a small bowl. Add the soy sauce and miso to that bowl. Use a fork to mix them together, making sure the miso is evenly mixed and no chunks remain. Pour that mixture back into the gravy pan and stir well.

Reduce to low heat and simmer until the gravy reaches your desired consistency (see note), stirring periodically and taking care to scrape any lumps that form around the edges or bottom of the pot. Remove the shiitake mushroom pieces before serving.
Notes
You can control the nuttiness of the gravy by the degree to which you toast the flour. For a creamy white gravy you can stir the flour less than a minute. For a toasty, nutty flavor, you may toast it for as long as 5 minutes. Be sure to stir to prevent burning, if toasting for longer.
I simmered the gravy for about 7 minutes, for a moderately thick gravy. If you end up thickening the gravy too much, you can always stir in some water or stock.
I didn't experience any separation with this gravy, but a good trick to recombine hot, separated gravy is to stir in a single ice cube.