My Vegan Mac and Cheese features giant, toothy rigatoni in a silky, creamy, savory, slightly tangy, cheesy sauce. It's an elevated take on one of the most comforting dishes of all time. For extra points, hit it with breadcrumbs and bake it for some extra textural fun.
Intro to the Vegan Mac and Cheese
When I was growing up, homemade mac and cheese was a special treat. My mom would make the baked version from The Joy of Cooking, as her father used to make for her.
What I loved about that mac and cheese was the full round flavor of the cheese sauce, the nuttiness of the breadcrumbs, and the concentration of flavor that you get from baking.
I wanted to preserve the spirit of that baked mac, which has a creamy roux at the base of the sauce, as well as some clever old-school spice enhancements, as I made this plant-based version.
Why this Vegan Mac and Cheese Kicks Ass
Rich, round umami flavor
I'll be the first to admit that plant-based shredded cheeses don't typically pack as much kick as dairy ones (for now). So I've included plant-based cheese but boosted it from a few different angles.
Nutritional yeast adds some nutty umami to the flavor profile, as well as a blast of vitamin B12.
Ground mustard seed (aka dry mustard) adds a certain sharpness. If you don't have any on hand, Dijon mustard will do the trick, too.
Miso is one of my favorite ingredients because of its cheesy umami flavor. In a dish like this it's almost like adding parmesan.
Garlic powder adds another slightly different pungent note.
Super creamy cheese sauce
The base of this sauce is a roux (plant-based butter and flour sauteed together), which gives the sauce an extra creamy mouthfeel.
Baking and breadcrumbs add another layer of texture
While adding breadcrumbs and baking the mac and cheese is optional, it takes the dish to the next level.
The breadcrumbs are crunchy and nutty and the noodles get slightly crispy on some of the edges. And baking helps concentrate the flavor of the sauce and make it thicker and creamier.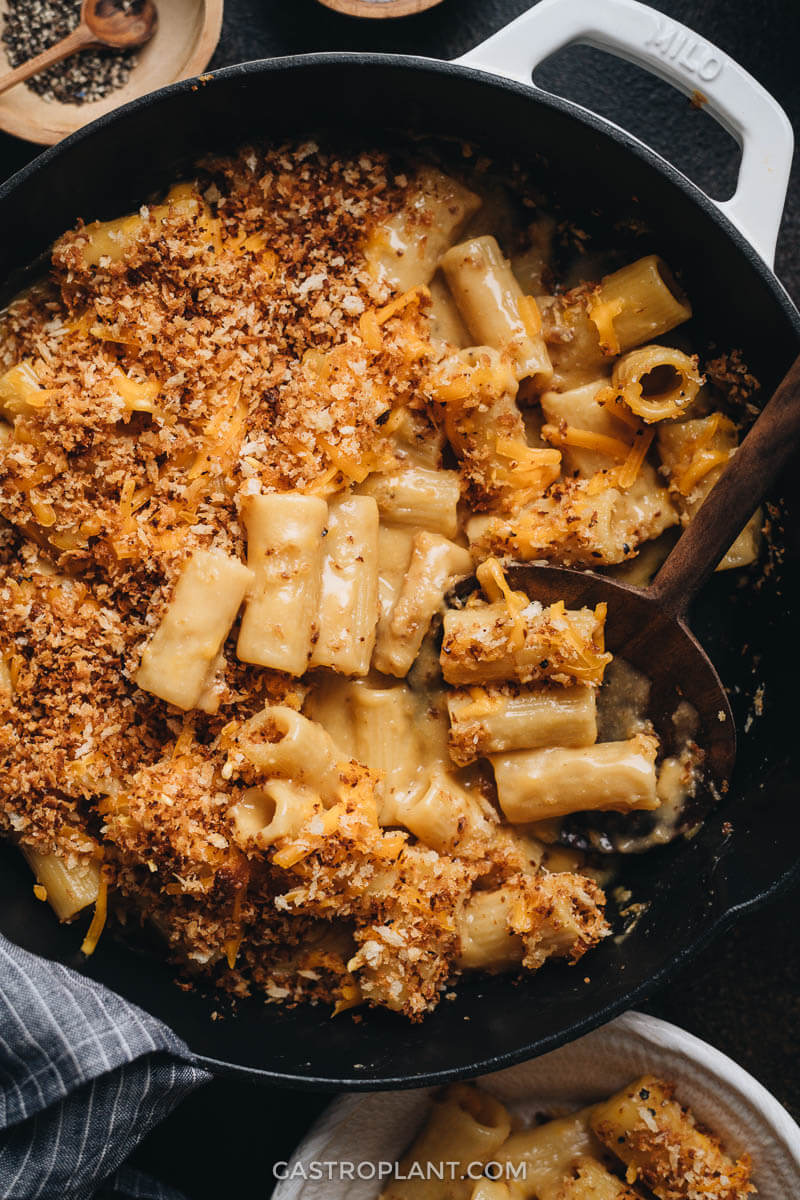 How to Make the Vegan Mac and Cheese
Boil the noodles
Most recipes just tell you to "cook the pasta". But there are a couple things I wanted to mention:
The type of pasta matters, for texture and sauce containment. I went with rigatoni because they are just satisfying to bite into (they're thick) and hold sauce easily.
You want to undercook the pasta by a minute or two (if you like a toothy pasta, anyway). The noodles will continue to cook and soak up liquid as the dish bakes, so maybe don't boil them quite as long as you usually would.
Get a roux goin'
Do this while you're waiting for your pasta water to boil. To make the roux, you just need to melt the plant-based butter in a hot skillet, stir in the flour, and toast it. The more you toast the flour at this stage, the nuttier the sauce will be.
Spice it up
Once the roux is smooth and toasted, you'll stir in some plant milk and add the seasonings. This includes the ground mustard, garlic powder, and a bay leaf.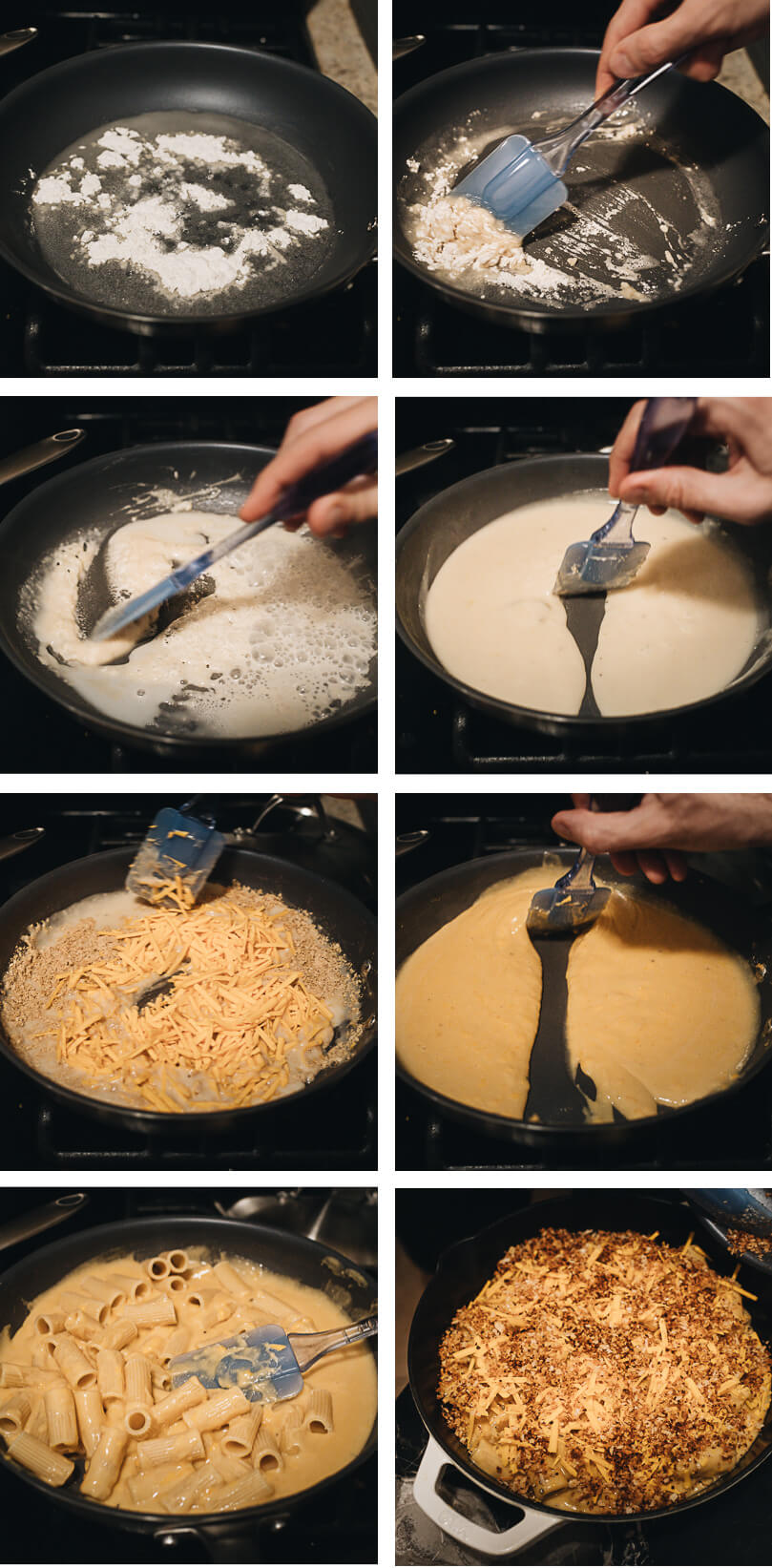 Simmer down
You'll simmer and stir the sauce now, for about 10 minutes. This does two things:
Gets us a thicker, more concentrated texture
Infuses the sauce with the flavors of the spices
Put it all together and bake it
You'll add the nutritional yeast, cheese, and miso and stir until the cheese is melted and the sauce is as smooth as you want it. Stir in the pasta (which should be cooked and drained by now) and transfer everything into a greased baking dish (I used a cast-iron skillet).
Sprinkle on some toasted breadcrumbs and then bake it!
A couple of cooking notes
I had trouble getting plant-based shredded cheeses from both Violife and Follow Your Heart to melt completely into the sauce. You might try a food processor or blender if you want your sauce to be 100% lump-free (just remove the bay leaf first).
If you don't want to bake the macaroni and cheese, you can serve it as soon as you've stirred in the pasta and heated it through. It'll still be really tasty this way.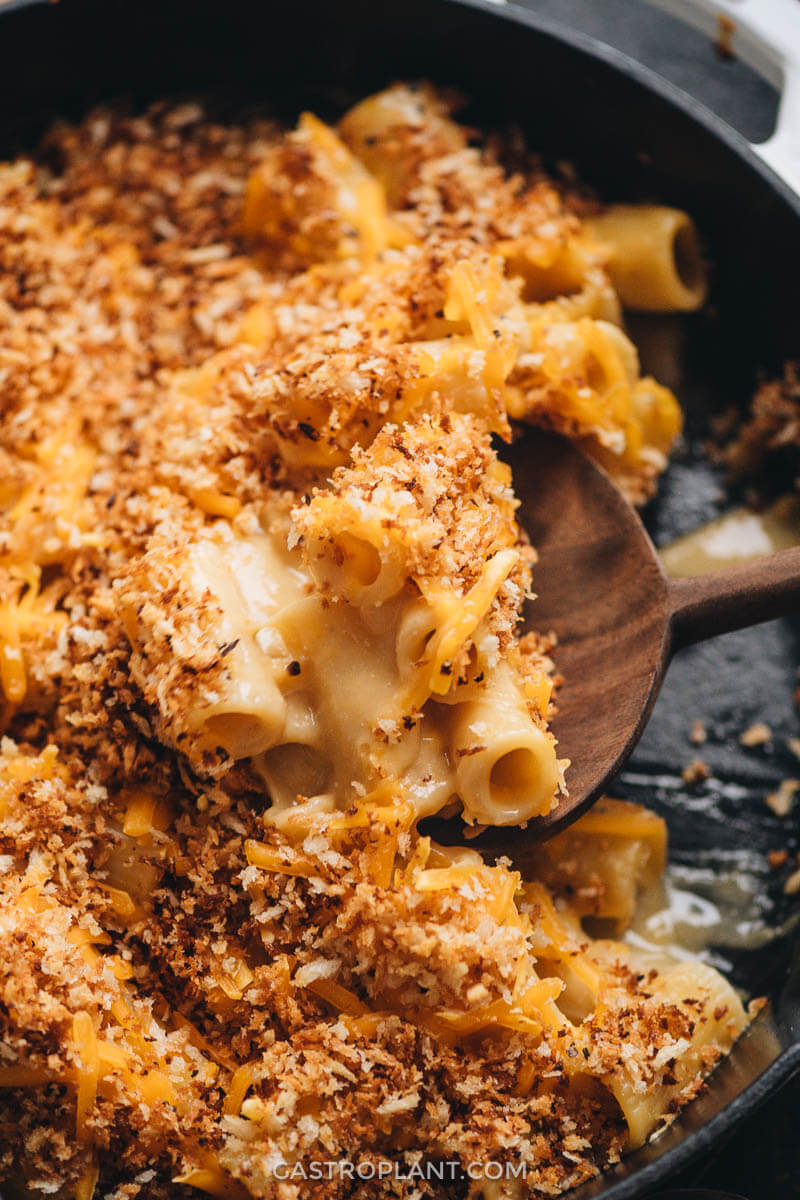 What to serve with Vegan Mac and Cheese
Some more "cheesy" plant-based comfort dishes
As always, if you try this recipe out, let me know! Leave a comment, rate it (once you've tried it), and take a picture and tag it @gastroplant on Instagram! I'd love to see what you come up with.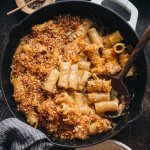 Print Recipe
Vegan Mac and Cheese
My Vegan Mac and Cheese features giant, toothy rigatoni in a silky, creamy, savory, slightly tangy, cheesy sauce. It's an elevated take on one of the most comforting dishes of all time. For extra points, hit it with breadcrumbs and bake it for some extra textural fun.
Ingredients
8

ounces

uncooked rigatoni

or macaroni or other pasta (225 grams) (see note)

2

Tablespoons

plant-based butter

2

Tablespoons

all-purpose flour

2

cups

unsweetened unflavored plant milk

1

bay leaf

1/2

teaspoon

ground mustard seed

(also called "dry mustard")

1/4

teaspoon

garlic powder

1/4

cup

nutritional yeast

2

cups

shredded plant-based cheese

8 ounces / 225 grams

1/2

Tablespoon

miso

see note

Salt and pepper to taste
Topping
1

Tablespoon

plant-based butter

1/2

cup

breadcrumbs
Instructions
Preheat the oven to 375 degrees F (190 C) and prepare a baking dish with a coating of oil or plant-based butter (I used plant-based butter in a cast-iron skillet).
Boil the pasta
Cook the pasta in salted water according to the instructions, but for 1-2 minutes less than prescribed (see note). The pasta should be just a bit chewier than you would like it in the end. Drain the pasta when cooked to this point.
Make the sauce
While the water for the pasta is boiling, heat the 2 Tablespoons of plant-based butter in a large skillet over medium heat. Once the butter has been bubbling for a minute, add the flour and stir with a silicone scraper. Combine the butter and flour until it's an even mixture.

Continue to toast the flour until it is light golden brown, 3-4 minutes, still stirring.

Add the plant milk, bay leaf, ground mustard, and garlic powder. Stir well until the mixture is as even as you can get it. If the liquid begins to boil rapidly, reduce to low heat to keep the mixture at a simmer.

Simmer for about 10 minutes to reduce the volume, stirring occasionally and making sure to stir in any lumps you see.

Add the nutritional yeast, shredded plant-based cheese, and miso. Stir well to combine and integrate until the cheese is mostly melted and the mixture is again as even as you can get it. Taste the sauce and add salt and pepper to taste. Remove and discard the bay leaf.
Toast the breadcrumbs (optional)
Heat the other 1 Tablespoon of plant-based butter in a small skillet over medium heat. When the butter is melted, add the breadcrumbs. Toast the breadcrumbs until golden, stirring very often to prevent burning, 2-3 minutes.
Combine and bake
Add the boiled noodles to the skillet with the cheese sauce. Stir well to coat the noodles. Pour the noodles into the greased baking dish. Top with a layer of breadcrumbs.

Bake until the sauce is bubbling and edges are lightly browned and crispy, 15-20 minutes.

You can serve immediately or let the dish rest for 20 minutes or so to re-solidify before serving.
Store
This will stay good for 4-5 days in the fridge or a month in the freezer. You can reheat in the microwave or in the oven at 375 F (190 C). Reheat until heated through and the sauce is bubbling.
Notes
You can use as much as 12 ounces (340 grams) of pasta, though the dish won't be as saucy as shown here.
I'd recommend white or yellow miso, though red will still work. Make sure your miso doesn't contain bonito or any other fish ingredients.
The pasta will be fully and properly cooked once mixed with the sauce and baked.
If the recommended cooking time for the pasta is over 10 minutes, reduce the boiling time by 2 minutes; if less than 10 minutes, reduce by 1 minute.
Plant-based cheese can be difficult to fully melt. If you must get rid of all the lumps, you might try a hand blender or food processor.