This Mulled Apple Cider has an instantly heartwarming combination of cinnamon, ginger, clove, black pepper, and orange. Great on its own, it makes a perfect wintertime cocktail, as well.
Intro to Mulled Apple Cider
We were recently on a trip to Cincinnati during one of this year's early cold spells. It was below freezing and pretty windy as we explored the town on foot. A stylish and historic bar called Japp's was serving apple cider with bourbon and it was one of the best drinks I had this year.
It was another reminder that seasonality is the best guide. Not just for the freshness of the cider, but also the weather appropriateness. I can't imagine any cold drink, even something really fancy, tasting better than this cider.
I wanted to recreate this cider at home, since it'll be my first cold winter in several years. If you're feeling cold, literally or otherwise, this winter, give this cider a try. Better yet, share it with someone who could also use a cup.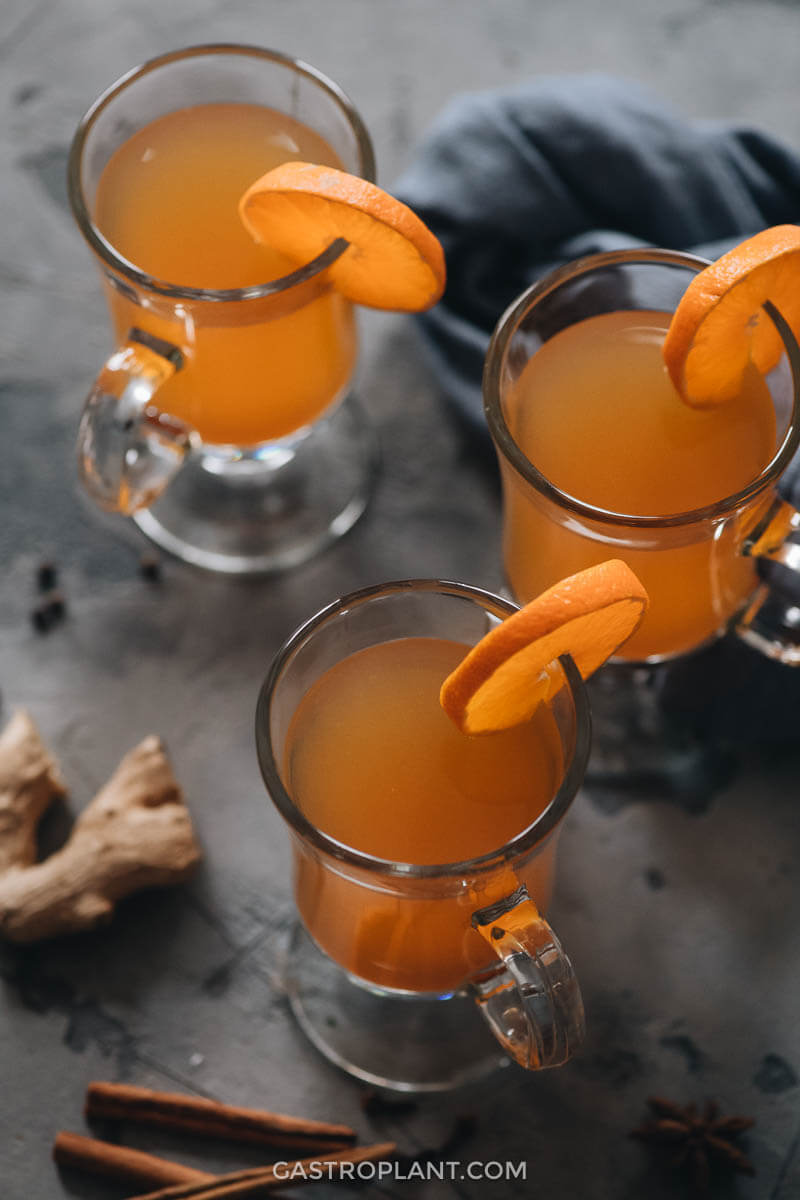 What Makes the Mulled Apple Cider Tasty
The Spice Mélange
I went beyond the usual cinnamon-clove-orange combo on this one. I wanted some more dimension and nuance to the flavor, so I added fresh ginger, star anise, and black peppercorns. The peppercorns add almost a chai vibe.
The blend works out so you feel the warmth of the spice as you sip the drink.
Sweet Sour Cider
Apple cider in the fall-winter season has a great sweet-sour balance that I really enjoy.
If your cider is especially sour, you might sweeten it a touch. I didn't sweeten my test batches.
Spike it if you Like
The bourbon I mentioned in the intro went just perfectly with the cider and spice mix. It was like I didn't notice any of the ingredients, that I was drinking "warmth" as a concept.
But I totally get it if bourbon isn't your thing. The cider also works well with rum (especially spiced ones, like Myers') and is probably even good with vodka.
Of course, it's also great on it's own. Don't feel like you need to add booze to this!
A Note About "Cider"
I realized after writing this recipe that "cider" means something quite different outside North America, especially in the UK. The "cider" in the US and Canada is an unfiltered, unpasteurized apple juice. In the UK and elsewhere, "cider" only refers to a fizzy fermented apple beverage.
I'm happy to report that a friend of mine in the UK tried this recipe using proper English cider (dry perry cider, to be specific) and the feedback was really positive. I'm hoping to try this with English cider soon, and will update this post if/when I do.
If you do use the sparkling alcoholic cider, you may not need to add any additional alcohol to the drink.
Warming Soups for Chilly Days
You can find an index of all my soups here.
Some More Winter Warmers
As always, if you try this recipe out, let me know! Leave a comment, rate it (once you've tried it), and take a picture and tag it @gastroplant on Instagram! I'd love to see what you come up with.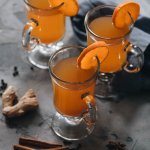 Print Recipe
Mulled Apple Cider
This Mulled Apple Cider has an instantly heartwarming combination of cinnamon, ginger, clove, black pepper, and orange. Great on its own, it makes a perfect wintertime cocktail, as well.
Ingredients
4

cups

apple cider

2

small oranges

peeled and sliced but including the peel

2

cinnamon sticks

4

cloves

1

star anise pod

4

slices

ginger

each slice the size of a large coin

1

green cardamom pod

optional

4

black peppercorns

whole

Sugar to taste

Bourbon

rum, or other spirit to spike, (optional)
Instructions
Combine all ingredients except for the sugar and alcohol, as applicable, in a pot. Bring to a simmer over medium heat. Reduce to low heat and simmer for at least 20 minutes. If the cider is boiling at any point, reduce the heat to keep it at a simmer.

Before serving, remove the solid ingredients from the cider. Add sugar to taste. You can either add the alcohol to the entire pot, or to each serving glass individually.

Serve hot.
Notes
The orange peel can add a substantial amount of bitterness. Taste the cider as you simmer it, taking note of the bitterness level. You may want to remove the orange peel before the simmering time is finished.