This vegan spinach artichoke dip is creamy, tangy, and cheesy thanks to the magic of nutritional yeast, miso, and homemade cashew cream. Bake it until gooey and bubbling and you'll have a party snack that'll be loved by eaters of all types.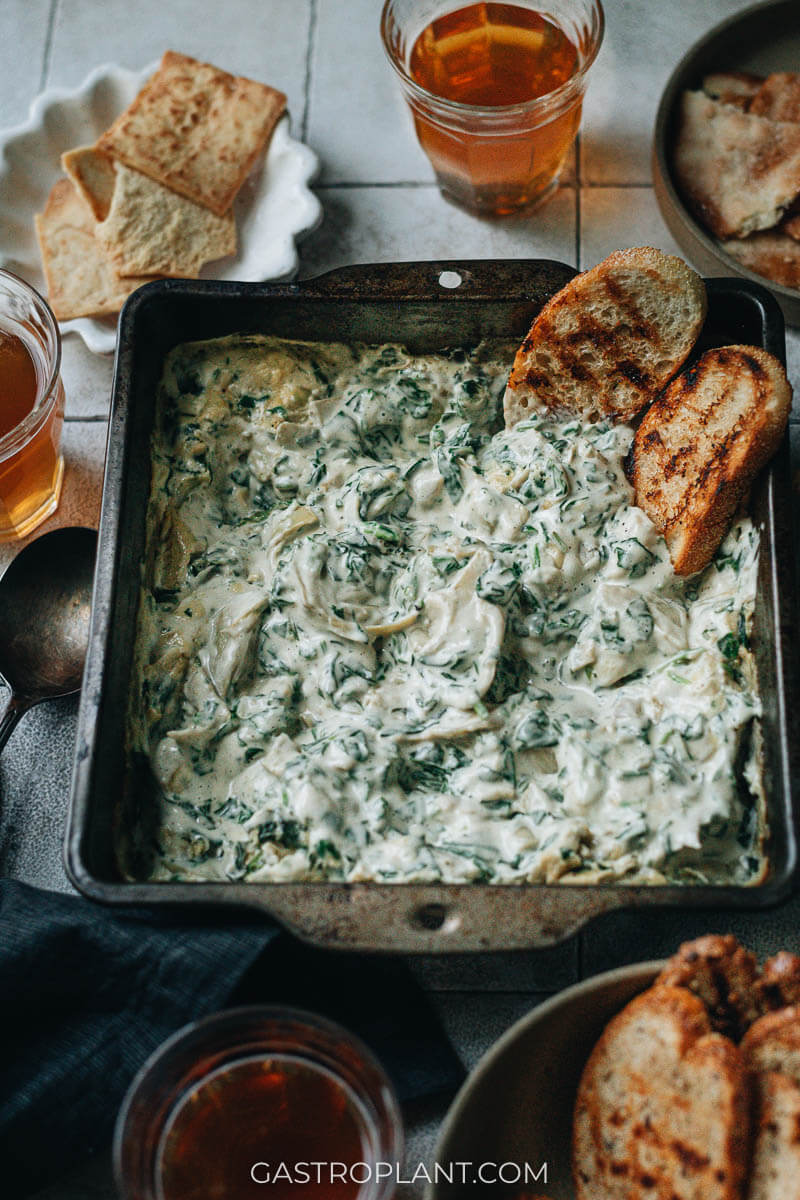 Vegan Spinach Artichoke Dip – Full-Flavor Plant-Based Party Food
I've been a fan of spinach artichoke dip for as long as I can remember eating party appetizers – it's a lovely satisfying combination of the vegetal spinach and artichoke and the surrounding creaminess. It's an addicting creamy-umami-sour combination and I always ended up eating more than my "allotment" when it's served at parties, if you know what I mean.
This rendition of the classic hors d'oeuvre uses all vegan ingredients to achieve the same satisfaction, but without needing a block of cheese or half a jar of mayo (some recipes do that!).
Ever since we tried the artichoke dip a few years ago at Zest, a vegan restaurant in downtown Salt Lake City, my wife has been nudging me to recreate the recipe to share with you (and with her!). Incidentally, Zest does not currently have artichoke dip on their menu but I HIGHLY recommend a visit to them regardless if you find yourself in SLC and need some plant-based goodies.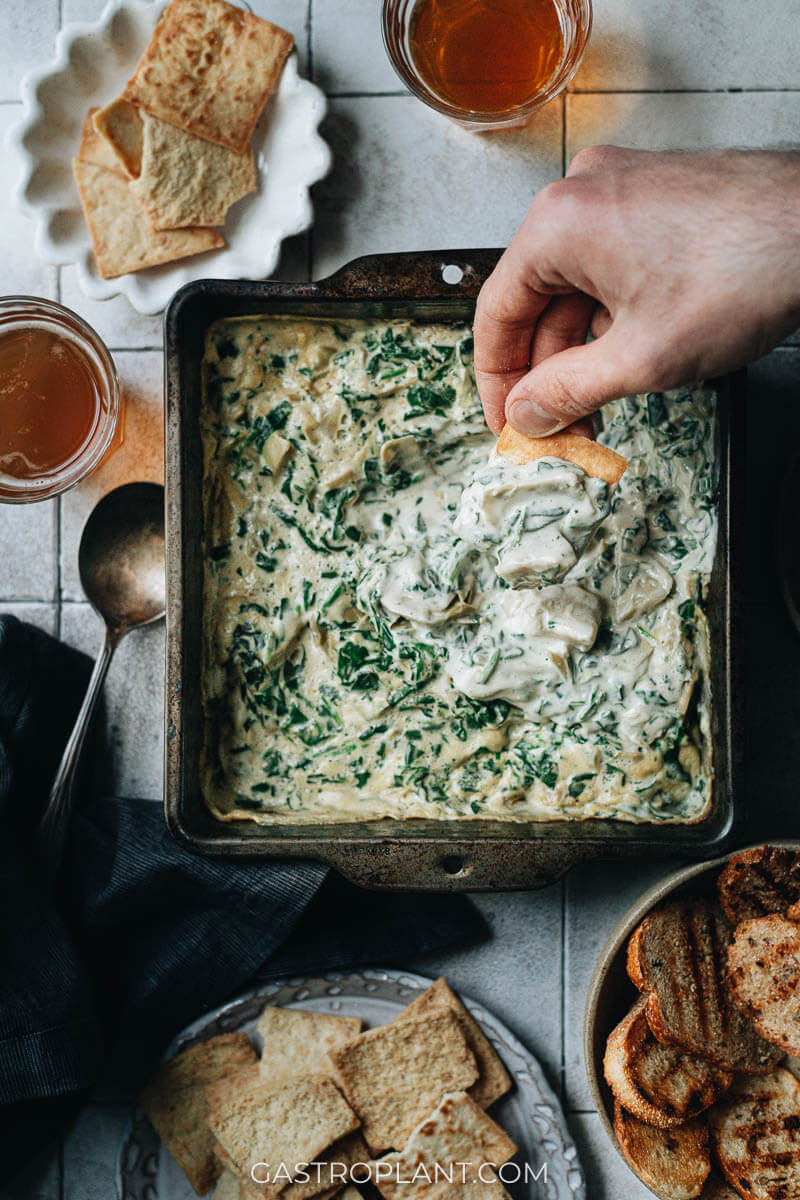 Why Make this Vegan Spinach Artichoke Dip
If you're looking for a dip that has the tangy, creamy fulfillment of the original, made with all plant-based (and largely wholesome) ingredients, this recipe is for you.
I'm happy to tell you that this version is pretty true to the original in terms of flavor and texture – The spinach and artichoke are at the center of the palate and they're accented (but not overpowered) by the creamy, umami, nutty cashew cream.
I added in a little bit of grated lemon zest for some background pop – you probably won't notice it unless you look for it, but it's a pleasant subtle tanginess. Feel free to skip the zest if you want.
Since we're not using dairy cheese, the dip gets its cheesy, nutty "funk" from the white miso, nutritional yeast, and garlic powder. If you're new to the world of mimicking cheesy tastes with ingredients like these, don't hesitate – you'll be surprised!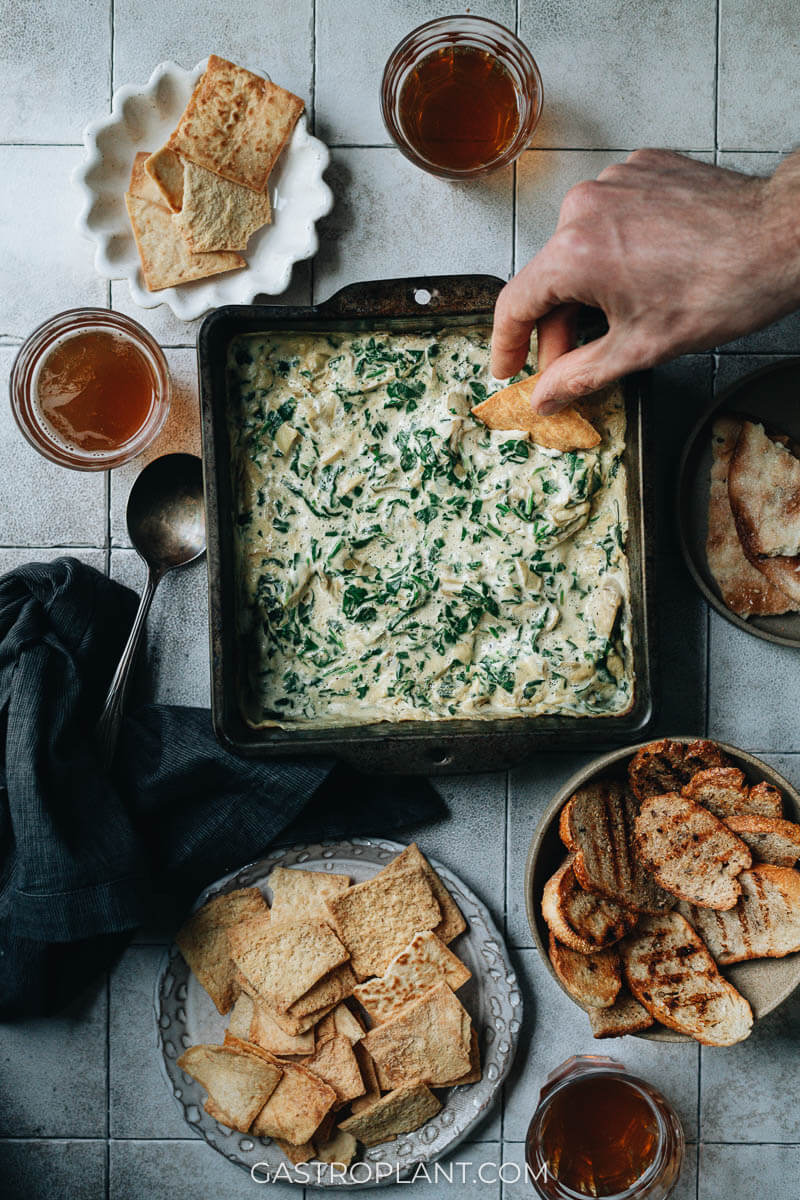 How to Make Vegan Spinach Artichoke Dip
Microwave and soak the cashews
While the cashews are soaking, blanch the spinach and chop the artichoke hearts
Blend the cashews and other ingredients to make the cream
Combine everything and bake it (or use the microwave again if you're in a hurry)
A Possible Simplification
I added one semi-processed ingredient – vegan mayonnaise – as an enhancement. The mayo gives the dip a bit of a richer, creamier mouthfeel.
If you want to simplify the recipe, or if you want to avoid this slightly processed ingredient, feel free to skip it – you'll still have a really tasty dip!
A Word on Blending
I used a Vitamix blender to test this recipe. I highly recommend Vitamix blenders in general for their durability and ability to create exceptionally smooth textures for whatever I blend. (They can also make hot soup from cold ingredients!)
If you have a small drink-size blending bowl, I recommend using it, since the liquid volume isn't huge here. Your large blender bowl will also work, but you may need to do some scraping to keep the cream near the blades and get a good texture.
Depending on your blender, your results may differ slightly from what's shown in the photos.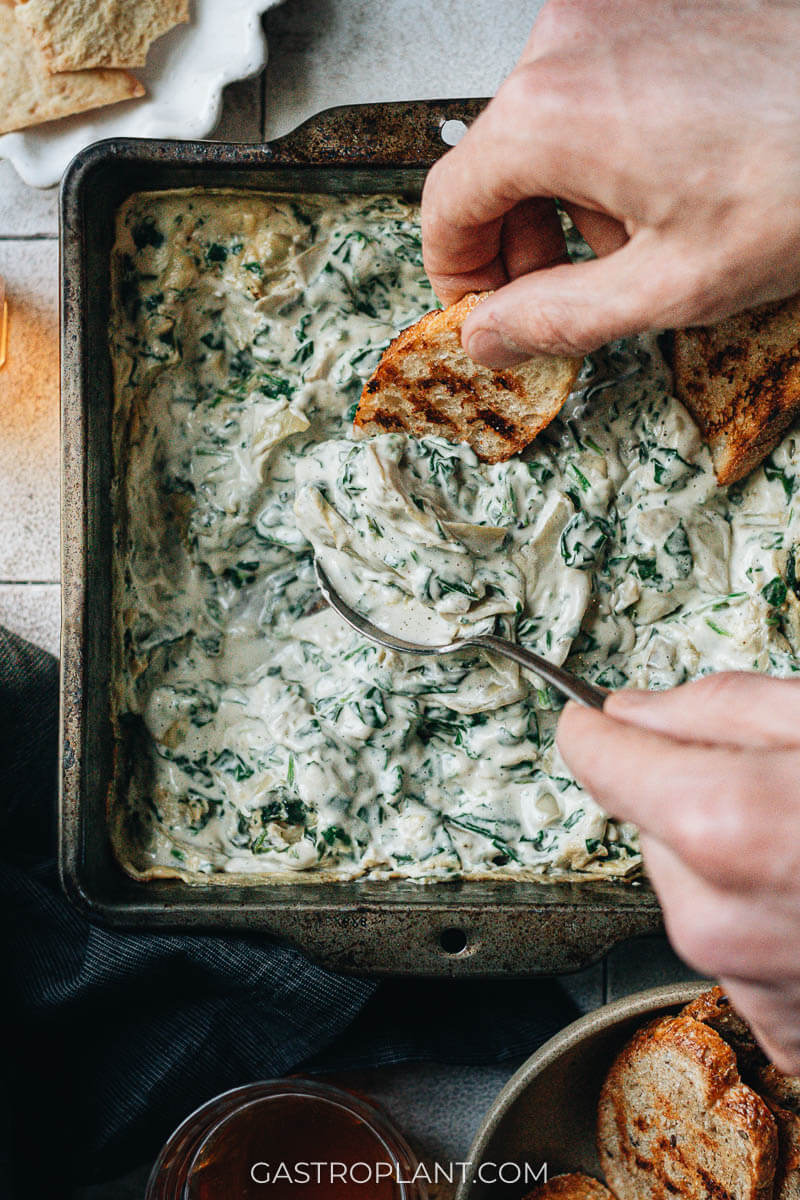 Final Notes
While this is primarily a special-occasion dish, one I would serve if hosting a party or attending a potluck, I think it's tasty and easy enough to make simply because you have a craving for a savory appetizer or snack.
If you prepare it in advance and bake it right before serving, it can make a pretty convenient and popular dish for your next gathering.
Every time I've made it, it has received positive feedback from some discerning non-vegans and I hope you enjoy it as well.
More Plant-Based Party Snacks
Vegan Spinach Artichoke Dip
This vegan spinach artichoke dip is creamy, tangy, and cheesy thanks to the magic of nutritional yeast, miso, and homemade cashew cream. Bake it until gooey and bubbling and you'll have a party snack that'll be loved by eaters of all types.
Ingredients
1/2

cup

raw cashews

1

cup

plant milk

unsweetened and unflavored (I have tested both almond and soy)

2

teaspoons

white miso

2

Tablespoons

nutritional yeast

1

teaspoon

garlic powder

see note

1/2

teaspoon

lemon zest

4

cups

fresh spinach leaves

or 1 cup frozen spinach, thawed

2

cups

marinated artichoke hearts

cut into small bite-size pieces

1/4

cup

vegan mayonnaise

(optional)

Salt and pepper to taste
Instructions
Preheat oven to 425 degrees F, 220 degrees C.
Cook and Soak the Cashews
Place the raw cashews in a small bowl and add water to cover by 1 centimeter. Microwave on high for 2 minutes, then let the cashews soak for 20 minutes in the hot water.
Blanch the Spinach
Bring a medium pot, 1/3 full of water, to a boil over high heat. Add the spinach and stir and make sure all the leaves get submerged. Blanch for a total of about 30 seconds, until the leaves are bright green.

Remove the spinach leaves from the water and drain them. Rinse them with cold water to cool them enough to handle. Use your hands (and some paper towels if you like) to squeeze out as much water as you can. The leaves don't need to be completely dry, but you don't want them to carry water into your dip.

Chop the spinach leaves into small pieces. You should get about 1 cup of chopped leaves from this.
Make the Cashew Cream
Once the soaking time has elapsed, drain the cashews (the soaking water is said to contain helpful enzymes, so you may as well drink it; it tastes nice) and combine them with the plant milk, white miso, nutritional yeast, garlic powder, and lemon zest in the bowl of your blender. Blend until smooth.
Combine and Bake
In a small, fairly deep baking dish, combine the spinach, artichokes, cashew cream, and vegan mayonnaise. Stir well to combine. Add salt and pepper to taste.

Bake on the middle rack until bubbling nicely around the edges, 10-15 minutes. Give it a good strir, make sure it's heated to your liking. If you prefer a thicker dip, you can bake for another 10 or so minutes.

Serve hot with pita chips or tiny toasts.
Notes
The garlic powder is portioned to make a pretty robustly flavored cream. If you prefer less garlicky food, you can cut the amount in half.
The spinach should make just over 1 cup after blanched and drained and dried