This Easy Fennel Arugula Salad combines these two underrated veggies with sundried tomatoes and artichoke hearts to create a simple and satisfying salad with huge flavor and refreshing textures.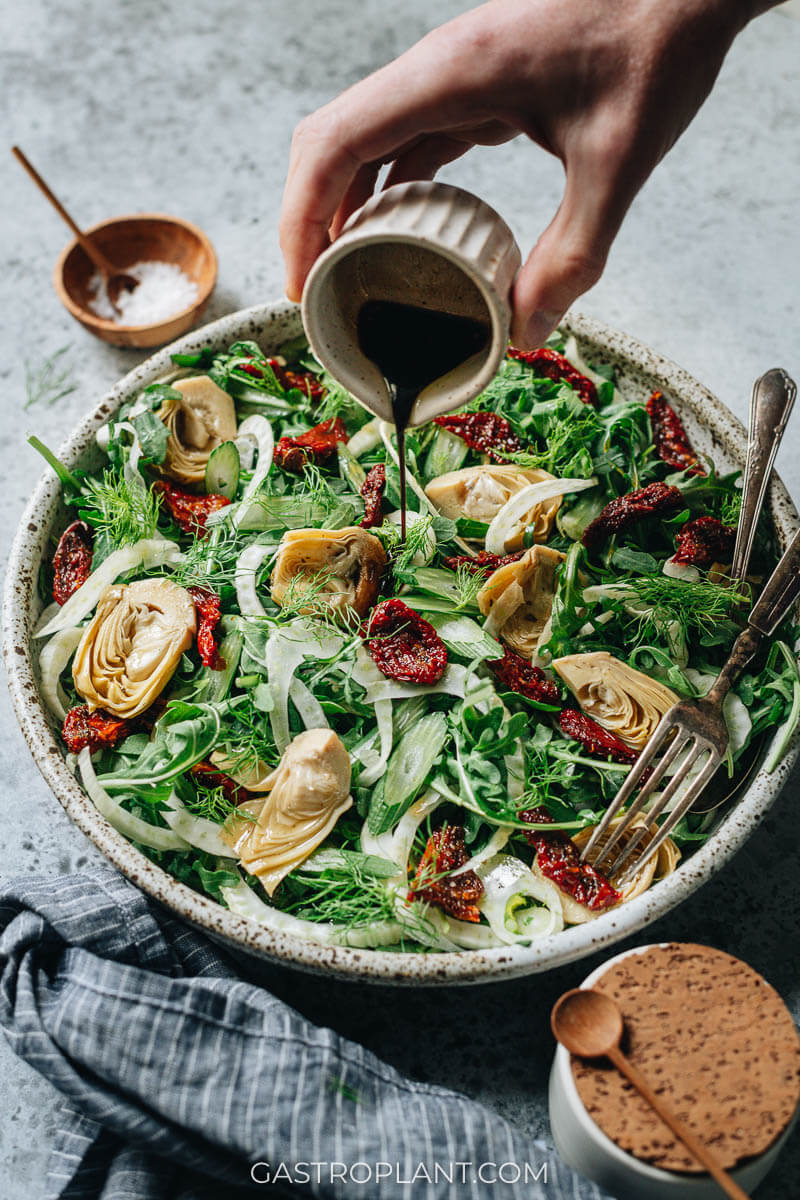 Fennel and Arugula Salad: An Easy Way to Get into Fennel
This salad is a simple, quick way to use fresh fennel in a way that really makes the fennel shine. Fennel works brilliantly with arugula and the tomatoes and artichokes add some nice accompanying variety that make this salad substantial enough to be a meal itself.
My sense is that fennel is generally underused in home kitchens, even though it's fairly widely available in the US. So I hope this recipe gives you an easy way to make fennel tasty and helps you use fennel more in everyday cooking.
Fennel is Way More Versatile than You Think
I've really been into fresh fennel lately, getting a bulb of it almost every week to eat, both raw and cooked. It might seem like a niche ingredient that you can only use in very particular dishes but I'm finding the opposite!
This occurred to me when a woman asked me in the grocery store how you actually eat fresh fennel. I told her because of the texture and flavor, it has a lot in common with both onion and celery, so you could use it in any situation you'd use either or both of those.
The Flavor and Texture of Fennel
When roasted or sauteed, it has a lovely fragrance, mildly sweet flavor, and tender texture. It's a bit like caramelized onion but without the oniony sharpness.
Raw, the bulb and stalk have a refreshing and slightly watery crunch, like celery. But on the flavor side, it is even milder than celery, with just the slightest fennel-anise aroma.
How to Use Fennel in Many Kinds of Dishes
Since fennel can be used nearly anywhere you would also use onion and/or celery, here are just a few ways you can use it:
In savory soups or stews
Raw in a salad
Grilled with mushrooms and other veggies
Roasted or sauteed in olive oil
In a green smoothie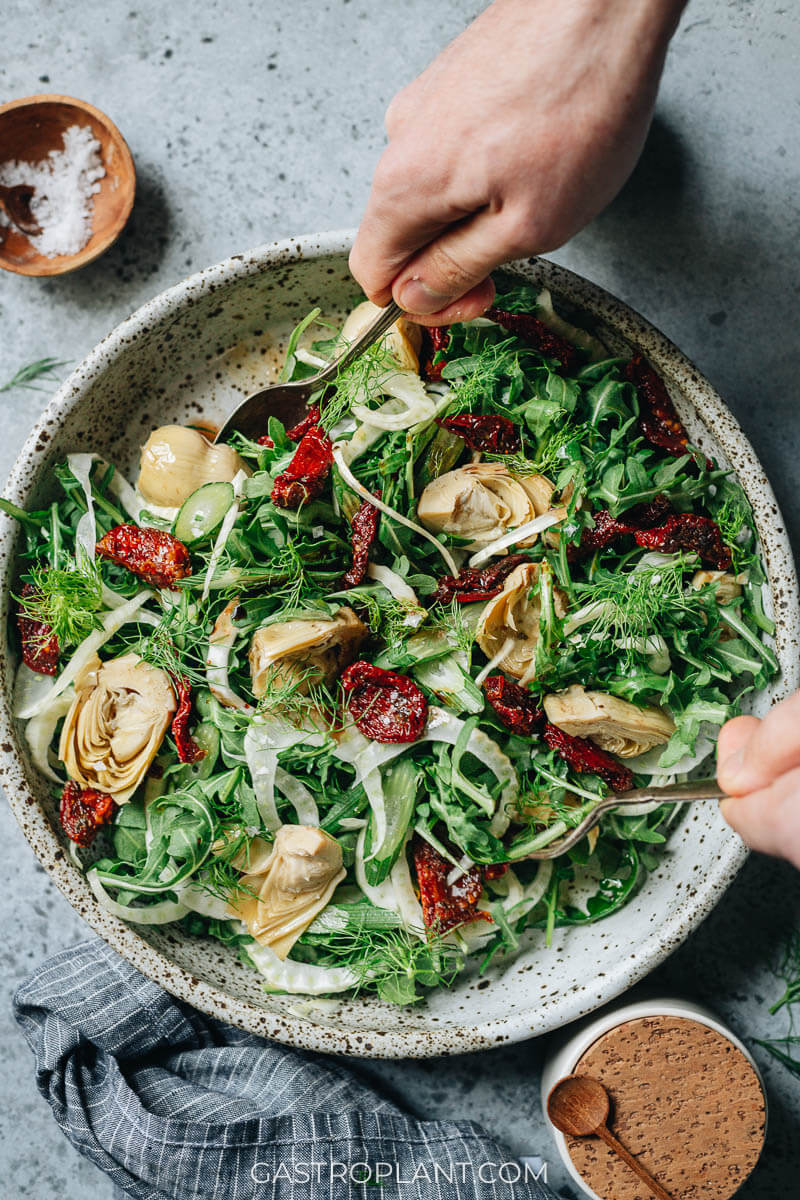 VERY IMPORTANT: How to Cut Fennel
In my mind, the biggest risk with fresh fennel is that you don't cut it properly.
When in doubt, slice the base and stalks as thinly as you can, and perpendicular to the grain, which runs vertically from the root end up to the fronds at the top.
So, if you imagine the bulb upright, you want to make horizontal cuts, again as thinly as you can manage. If using half a bulb, like in this recipe, you can cut the bulb in half vertically, then make those horizontal thin slices.
Arugula is Amazing With Fennel
The peppery, meaty flavor of the arugula is super satisfying against the crisp, refreshing fennel. And the spirit of this dish is the interplay between these two ingredients.
Other Greens You Can Add to Fennel Arugula Salad
If arugula is a bit strong for your taste, you can add in some milder greens such as mixed spring greens or spinach. You could even use romaine if you want the salad to be very mild and even more refreshing.
If you're looking to take your flavor complexity even to the next level, you can add just a small amount of finely sliced radicchio. The bitterness will contrast nicely with the meaty arugula and refreshing fennel.
Mix Up the Preserved Veggies if You Like
I added the sundried tomatoes and artichoke hearts because they're ingredients I tend to keep on hand at home and they fit right in with the flavor profile.
They pack some nice savory flavor on their own, but if you don't have these or prefer other preserved or marinated vegetables you can use, for example: hearts of palm, roasted red peppers, marinated mushrooms, mild pickled peppers, or large white beans.
You can also use olives, but if they're really briny and salty olives, I'd suggest rinsing or soaking so they don't overpower the salad.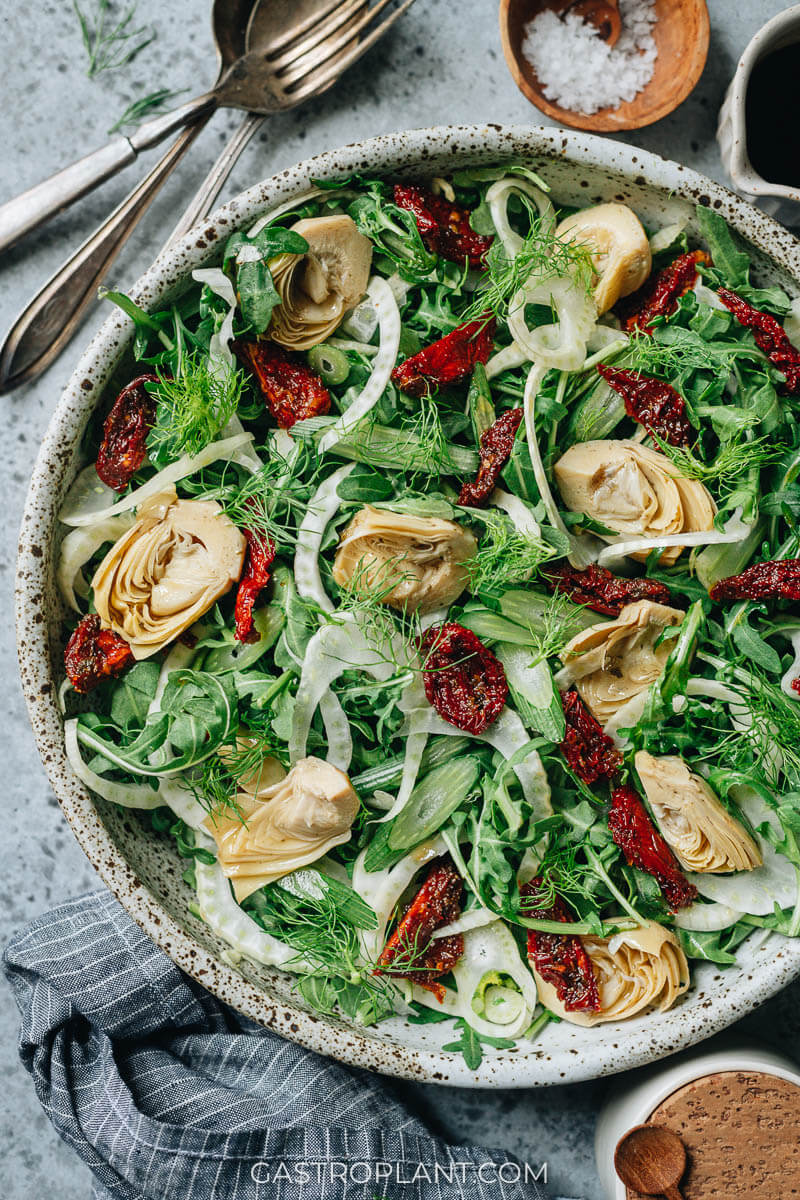 How Can I Make This a Meal? Dishes to Pair
Since this fennel arugula salad has a vaguely Mediterranean flavor profile, you can use a wide variety of dishes ranging from Italian (pasta?) to Lebanese (hot pita bread and meze), for example.
Gastroplant Recipes I'd Pair With Fennel Arugula Salad
More Salads for You to Try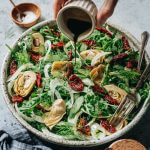 Print Recipe
Easy Fennel Arugula Salad
This Easy Fennel Arugula Salad combines these two underrated veggies with sundried tomatoes and artichoke hearts to create a simple and satisfying salad with huge flavor and refreshing textures.
Ingredients
5

ounces

arugula

(140 grams)

½

fresh fennel bulb

including some fronds

½

cup

sundried tomatoes

½

cup

canned marinated artichoke hearts

chopped
Dressing
1

Tablespoon

olive oil

2

Tablespoons

balsamic vinegar

or white wine vinegar

Salt & pepper to taste
Instructions
Slice the base and stalk of the fennel bulb as thinly as possible. Make your slices of the bulb horizontal so the pieces come out semicircular. Cut the fronds into bite-size or smaller.

Combine all the solid ingredients in a bowl, including the fennel.

Combine the dressing ingredients in a small bowl and stir briefly. Spoon the dressing over the solid ingredients. Toss to combine. Serve immediately.