Vegan Butternut Squash Risotto is creamy and vibrant with comforting flavors. It has the natural sweetness of the squash plus sage and nutmeg, which make it warm-tasting. As quintessential slow food, the simple act of cooking this dish can be therapeutic.
We Need Nourishing Winter Meals
Around the end of the year, I felt myself being pulled into a chain of less-healthy meals. With holiday parties and the usual year-end sluggishness, I'd opt for pure comfort dishes – those with more fat and refined starches than normal. And cookies. So many cookies.
I wanted to turn this trend around and find some balance. Winter squash is one of those ingredients I feel like I don't use enough. So, taking inspiration from a recipe in the Q4 issue of my favorite magazine, Forks Over Knives, I set out to make some butternut squash risotto.
Why Vegan Butternut Squash Risotto is Great
All Kinds of Warmth
The flavors in the risotto all work together to make the dish look, smell, taste, and feel warm.
The roasted butternut squash is lightly caramelized, creamy, and a little sweet. The bright orange-yellow color is pretty to look at and creates the whole look of the dish.
The seasonings all work to highlight the squash and create different warming sensations.
You might think nutmeg belongs in sweet foods, but I noticed that it's widely used in savory (often creamy) dishes in northern Italy. It goes perfectly with the squash and takes the dish to the next level.
Sage also pairs beautifully with butternut squash. The flavor is also warming, but in a different way from nutmeg. It's somehow both earthy and grassy and just a bit of it adds another layer of warm complexity.
Slow Food Therapy
I normally like to emphasize how quick a dish is, but here, I want to talk about the opposite.
Sometimes I find it helpful to slow things down.
Risotto is a slower dish that requires frequent attention. I might say that making risotto is like washing the dishes. It seems like a chore (or worse) to someone with not much time, but can be relaxing, even therapeutic, to someone who wants to unwind.
As you make the dish, pay attention to the colors, smells, and sounds. Notice how it feels as you stir. And observe how each of these elements change as the cooking progresses.
How to make the Vegan Butternut Squash Risotto
There are three main things you'll do to make this:
In the oven, roast the squash, along with some onions, until tender and caramelized
On the stove, toast the dry rice and then gradually stir hot vegetable stock into it until it becomes creamy
Combine the roasted squash and risotto, garnish, and serve
The first and third steps are pretty straightforward.
For the second step, you'll want to set up two pots – one medium-sized one to keep the veggie stock at a simmer and a large one (preferably an enamel dutch oven) to hold the rice and eventually the squash as well.
You'll use a ladle to spoon hot stock from the first pot into the second, one or two scoops at a time. Each time, stir the rice to keep it from sticking and make sure it combines evenly with the stock.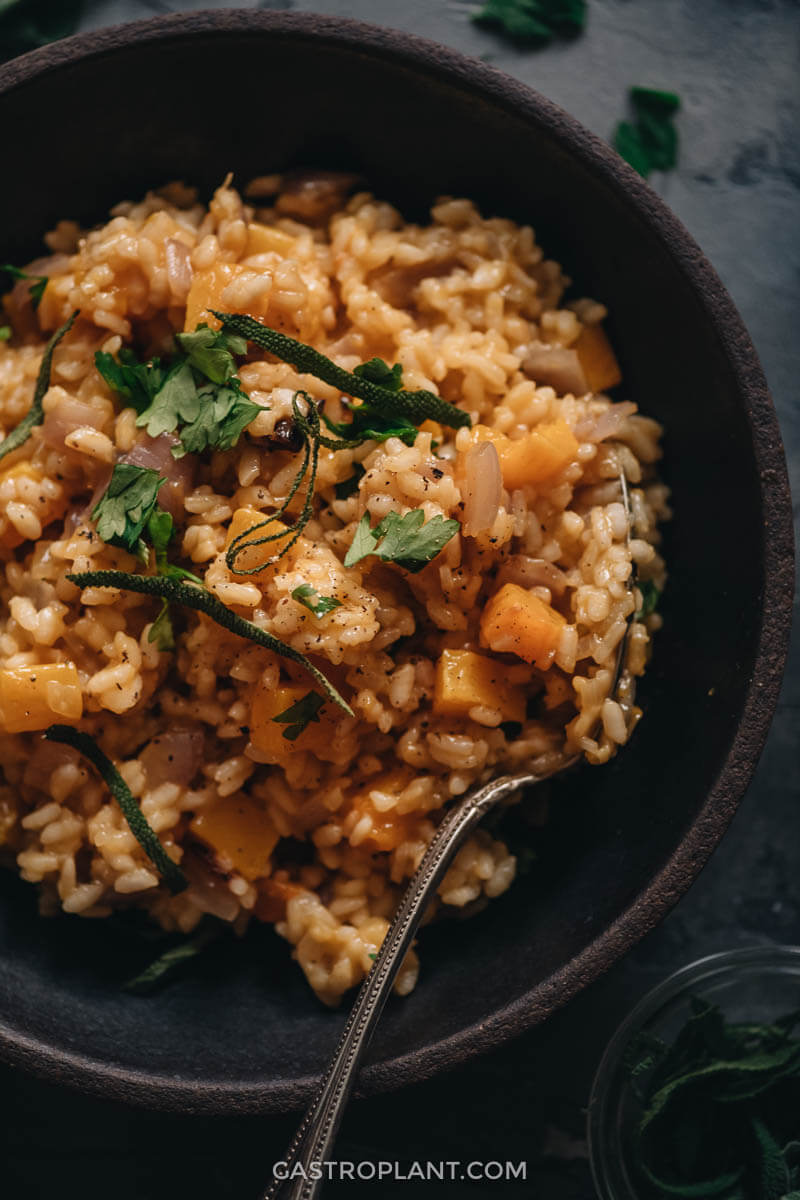 Some Cooking Notes
The original recipe was oil-free, but I've added a bit of olive oil for flavor and better caramelization. There are tips on going oil-free in the recipe below.
I used white arborio rice for this, but you can use brown arborio rice if you like. The cooking time will be longer and you may need more stock (up to 25% more) to get the rice tender. But the recipe is otherwise the same.
More Plant-Based Winter Favorites
Easy Veggie Sides to Pair with the Risotto
As always, if you try this recipe out, let me know! Leave a comment, rate it (once you've tried it), and take a picture and tag it @gastroplant on Instagram! I'd love to see what you come up with.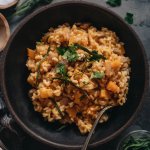 Print Recipe
Vegan Butternut Squash Risotto
Vegan Butternut Squash Risotto is creamy and vibrant with comforting flavors. It has the natural sweetness of the squash plus sage and nutmeg, which make it warm-tasting. As quintessential slow food, the simple act of cooking this dish can be therapeutic.
Ingredients
Roast
20

ounces

butternut squash

peeled and cut into cubes (4.5 cups, 600 grams, or half a medium squash)

8

ounces

red onion

coarsely chopped, (2 cups or 240 grams)

1

Tablespoon

olive oil

see note for oil free
Saute
1

Tablespoon

olive oil

see note for oil free

4

cups

vegetable stock

1/2

cup

shallot

minced (about 2-3 large shallots)

6

cloves

garlic

minced or pressed

2

cups

dry arborio rice

(can substitute brown arborio or other short-grain rice, see note)
Garnish and Season
Salt and pepper to taste

1/8

teaspoon

ground nutmeg

plus more to taste

Parsley

chopped

Sage

chopped

Balsamic vinegar

or other dark, sweet vinegar
Instructions
Roast the squash and onion
Preheat the oven to 400 F (200 C). Prepare a large baking pan with foil. Place the squash and onion onto the pan. Drizzle with the 1 Tablespoon of olive oil and stir it to coat the ingredients as evenly as possible. Spread them into an even layer in the pan. Roast until the squash is tender and caramelized on the bottom, about 20 minutes.
Make the risotto
While the squash is baking, prepare a medium-sized pot and a larger heavy pot (at least 4 quarts). Pour the vegetable stock into the medium-sized pot and bring it to a simmer over medium-high heat, then reduce to low to keep it at a simmer.

Heat the other Tablespoon of olive oil in the larger heavy pot over medium-low heat. When hot, add the shallot and garlic. Stir until the shallot is translucent and tender. If either ingredient starts to brown or toast, reduce the heat.

Add the rice and stir it together with the onion and garlic. Allow it to toast for about 2 minutes, stirring every 30 seconds. Use a ladle to spoon about half a cup of hot stock into the pot with the rice, scraping up any rice stuck to the bottom and stirring to keep the mixture even.

Continue to spoon stock into the rice, roughly half a cup at a time, stirring. The rice will continue to absorb the liquid, so you'll need to add liquid and stir frequently. You may end up not using all of the stock. This process takes 20-30 minutes for white rice and around 40 minutes for brown rice.
Combine and Garnish
When the rice is cooked to your preferred doneness (taste it and see) stir in the roasted squash, and onion and the nutmeg. Season with salt and pepper and add a splash of the vinegar. Stir it again. Taste it and add salt, pepper, nutmeg, and vinegar as desired.

Garnish with sage and parsley and serve hot.
Notes
Short grain Italian rices are all great for this. I've read that it's even possible to use sushi rice for risotto.
If using brown rice, you will need more liquid and more cooking time. You may need up to 25% more cooking liquid and cooking time, though you will be the judge of when the dish is ready.
To go oil-free, use parchment or silicone instead of foil for the roasting step. Sprinkle the squash and onion with water and stir it before roasting. You may need to sprinkle a bit more water onto it if it looks dry as you cook it. And use a small amount (1-2 Tablespoons) of the hot broth instead of the oil to "saute" the shallot and garlic.