This smoky chili oil is complex, nutty, and spicy. It's very easy to make and tastes better than anything that comes in a jar. Use it to enhance practically any savory dish.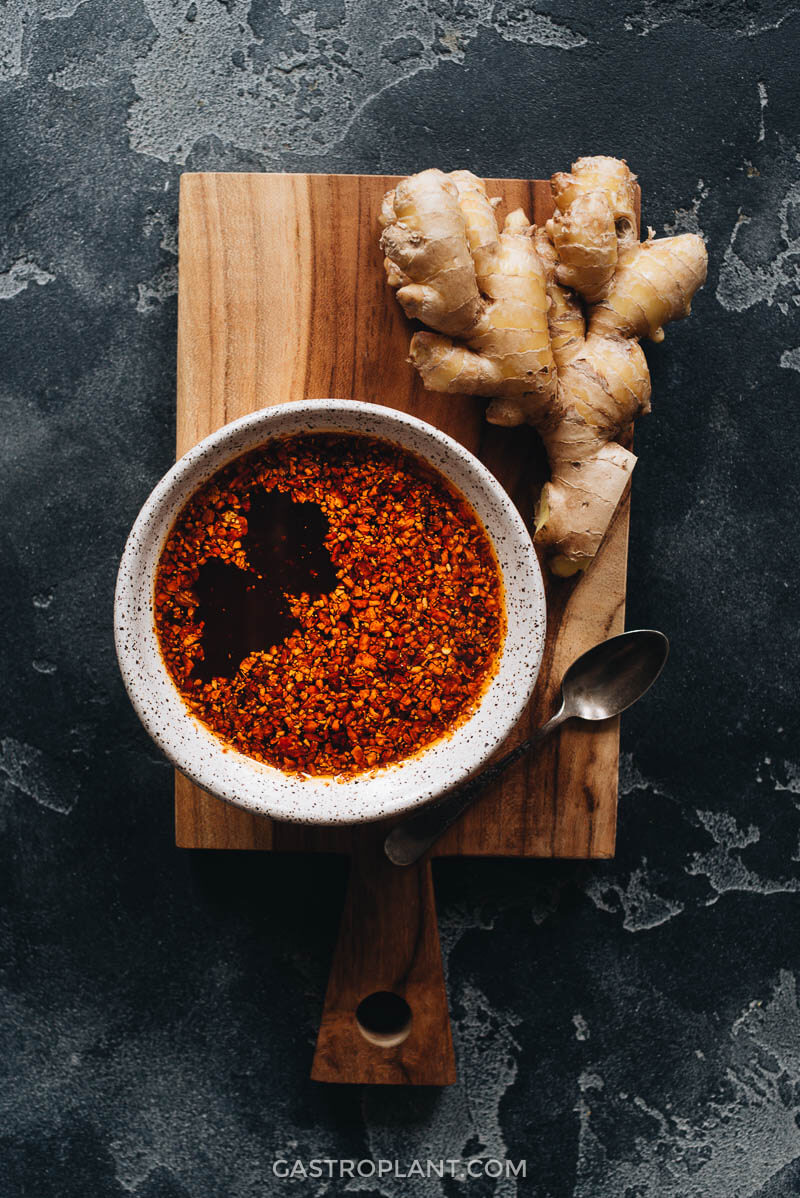 An Introduction to Smoky Chili Oil
I've encountered chili oil in different forms a lot lately. It's commonly served with Chinese dumplings as a condiment or part of dipping sauce. It's also used in some Japanese ramen to turn a mild bowl spicy. And it is a key ingredient in various Asian cold dishes with ingredients such as cucumber, celery, and tofu. After coming across so many uses for this oil, I wanted to develop my own recipe for it.
Different Styles of Chili Oil
There are some subtle differences between types of chili oil that I've noticed.
Chinese chili oil includes whole sesame seeds, five-spice powder, and other aromatics. It frequently has the solid ingredients (chili flakes and others) still in the oil, rather than strained.  With Chinese chili oil you can either scoop pure oil or some oil and solid ingredients. The solids will give your dish a more potent flavor. This recipe from Omnivore's Cookbook is a great example.
Japanese chili oil is frequently made with sesame oil instead of sesame seeds, so the nuttiness is still there, but no solids. And the chili flakes are often strained out and discarded, so there is only oil. This gives a more consistent flavor and texture but doesn't allow you to add that "extra bit" of spice if you want it. The Japanese version has a more straightforward flavor profile, without the five-spice. Just One Cookbook has a prime example of this variety.
My Hybrid Chili Oil
In developing this chili oil, I wanted to include elements of the Japanese and Chinese versions without overcomplicating the cooking process. I had also tried a "Texas Edition" chili oil at a Japanese-Texan fusion restaurant in Austin, which was irresistibly smoky. This oil includes elements of all three cuisines and can be used in a wide variety of situations.
Chinese elements include the five-spice powder and chili flakes left in the oil; Sichuan peppercorn adds a hint of its characteristic numbing flavor
Japanese elements include the garlic infusion and use of sesame oil instead of seeds
The Texan (or Tex-Mex) element is the chipotle chili powder, which lends its signature smokiness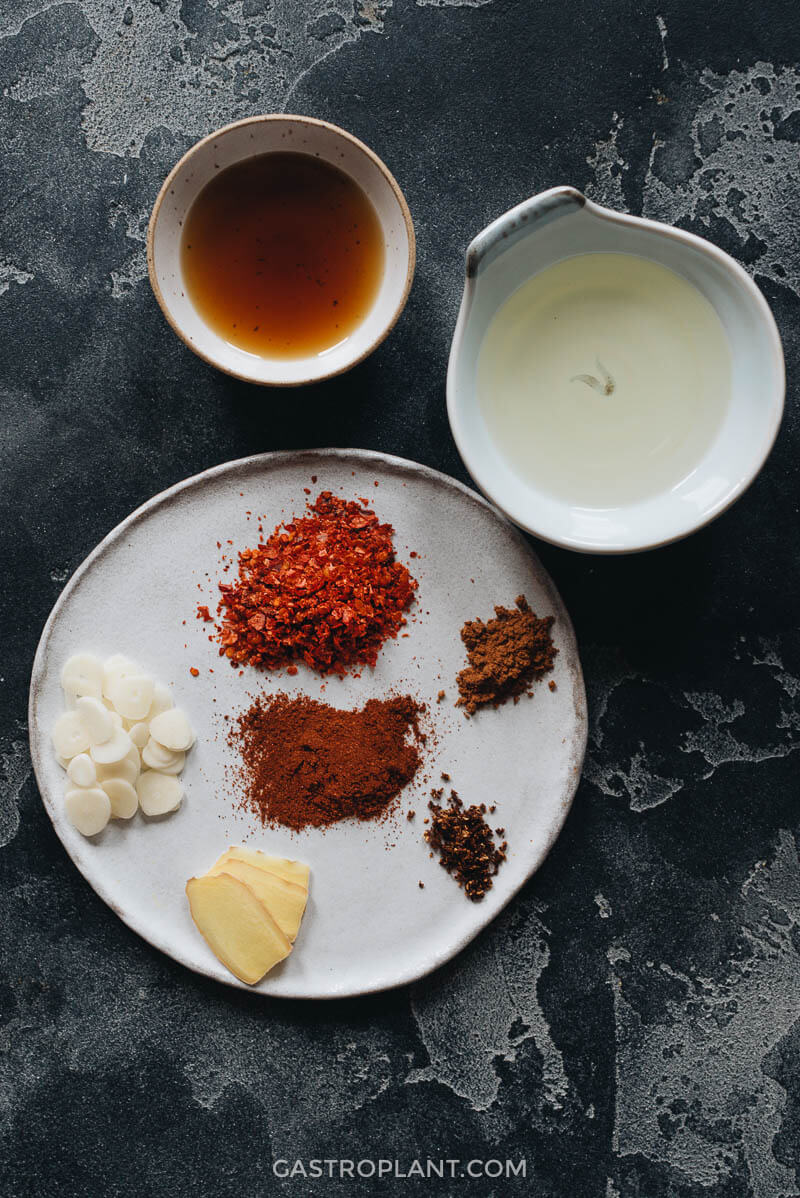 How to Make the Smoky Chili Oil
The process is very straightforward:
Heat peanut (or other neutral) oil in a skillet. Fry fresh garlic and ginger in it to infuse their flavors, then discard them.
Pour the hot oil into a bowl containing chili flakes, chipotle powder, five-spice powder, Sichuan peppercorns. Give it a stir as it sizzles. The hot oil will toast the spices.
When the oil has cooled slightly, add toasted sesame oil to it.
Some Cooking Tips
Here are some things to keep in mind as you make the smoky chili oil:
Be careful with the hot oil: use a glass or ceramic bowl to hold the hot oil and spices and place a coaster or trivet under the bowl. Use a wooden utensil (e.g. a chopstick) to stir the oil.
If you prefer a milder chili oil, you can always dilute the end product with more toasted sesame oil. This will make it less spicy and nuttier.
For a consistent flavor and texture, you can strain the solids out with a mesh strainer.
To make a simplified bare-bones version of the oil, you can omit the Sichuan peppercorn, five-spice, and/or chipotle powder. This won't be as complex but you'll still get the core spicy-nutty essence of the oil.
What Should I use This On?
I developed this recipe to be used with a cucumber salad and a soy milk ramen recipe (both coming soon) but there are others that this will go great with as well. Some examples include:
As always, if you try this recipe out, let me know! Leave a comment, rate it (once you've tried it), and take a picture and tag it @gastroplant on Instagram! I'd love to see what you come up with.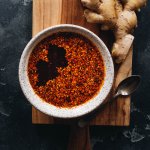 Print Recipe
Smoky Chili Oil
Complex, nutty, and spicy, it's very easy to make and tastes better than anything that comes in a jar. Use it to enhance practically any savory dish.
Ingredients
1/4

cup

peanut oil

or neutral cooking oil

2

cloves

garlic

sliced

3

slices

ginger

sliced as thinly as possible

1

Tablespoon

chili flakes

1

teaspoon

chipotle powder

optional

1/2

teaspoon

Chinese five-spice powder

optional

1/4

teaspoon

ground Sichuan peppercorns

optional

2

Tablespoons

toasted sesame oil

plus more as desired
Instructions
Combine the chili flakes, chipotle powder, five-spice powder, and Sichuan peppercorns in a glass or ceramic bowl. Place the bowl on a coaster or trivet. Place a chopstick or other bare wooden utensil near the bowl for stirring.

Heat the oil in a small skillet over medium heat until shimmering. Add the ginger and garlic. Fry until the garlic and ginger are crispy and medium-brown, 4-5 minutes. If anything in the skillet starts to smoke, remove the skillet from the heat, reduce heat, and continue. Remove and discard the garlic and ginger slices.

Gradually increase the heat on the oil until it just barely starts to smoke.

Carefully pour the oil from the skillet into the bowl of spices. The mixture will sizzle passionately. Give the mixture a stir with the wooden utensil. Be careful not to touch the bowl until it cools.

Allow the mixture to cool for 5 minutes, then stir in the sesame oil. Taste the oil. If you prefer it less spicy, gradually stir sesame oil into the mixture until it's sufficiently diluted.
Notes
The chili oil will stay good in an airtight container in the fridge for 2-3 weeks.
You can strain out the solids using a mesh strainer if you prefer.
The chipotle powder, five-spice, and Sichuan peppercorns are technically optional, but the flavor will be less complex without them.