This Vegan Carbonara Spaghetti has a silky, umami sauce and smoky, chewy "bacon" made from king oyster mushrooms. It tastes like it's loaded with egg and cheese but contains neither. Takes just 20 minutes to cook.
An Intro to Vegan Carbonara
A few weeks ago I developed and shared a recipe for Primavera Pasta. It has a light and tangy cream sauce made from silken tofu and miso. My wife and I both enjoyed that one a lot so I wanted to continue experimenting with tofu-based pasta sauces.
I actually used a carbonara recipe as my starting point for that recipe, so I went ahead and developed this recipe from it as well.
Why Make this Vegan Carbonara?
I made some tweaks to the recipe to emphasize the things I really like about carbonara pasta – the richness of the sauce and the smokiness of the "pork".
The sauce is really rich and almost eggy-tasting due to the addition of "black salt" (aka kala namak) which is actually light pink in color. The original carbonara relies heavily on egg yolks so I used black salt to bring the dish closer in line with the original.
For the cream-and-cheese part of the sauce, I was inspired by Daniel Gritzer's recipe on Serious Eats, which cleverly imitates the tangy essence of sheep's milk cheese with sauerkraut brine. It also includes nutritional yeast and miso, two of my favorite vegan sauce ingredients.
Traditional carbonara recipes use some type of cured pork product (guanciale, pancetta, bacon). It adds an oily mouthfeel, some umami, sometimes smokiness, and a fatty-chewy texture to the dish. I adapted my shiitake bacon recipe to be made with king oyster mushrooms and used here.
The king oyster bacon is smoky, slightly sweet, umami, and closely mimics the fatty-chewy texture of cured pork.
The Cooking Process
There are four basic components to this recipe:
Boiling the pasta
Make the king oyster bacon: this involves cutting and marinating the mushrooms, then frying them in a skillet on the stove
Blending the sauce ingredients together
Combining everything, mixing it, and heating it through before serving
The easiest and quickest way to make this dish is to start heating the pasta-boiling pot, then prep and marinate the mushrooms. While the water is heating and the mushrooms marinating, blend the sauce ingredients together. You can boil the pasta and fry the "bacon" (once it's done marinating) at the same time.
Multitasking like this allows you to really speed this recipe up.
Cooking King Oyster Mushroom "Bacon"
A Few Notes Before You Start
If you're not familiar with black salt (aka kala namak), it's available in Indian grocery stores and on Amazon. It adds a subtle sulfurous "eggy" taste to dishes. It goes nicely in tofu breakfast scrambles for this reason.
On the topic of black salt, don't freak out when you blend the sauce ingredients together and the sauce smells super eggy. This is normal and not representative of the actual flavor of the sauce. The sauce will be much, much milder.
In this dish, it's best to use a fairly thick, long pasta, such as this artisanal spaghetti from Italy. For affordable quality, you can't go wrong with the thick spaghetti from Barilla which is available at most grocery stores. And for a lower-carb protein boost, I really like black bean pasta, even if the texture is a bit different.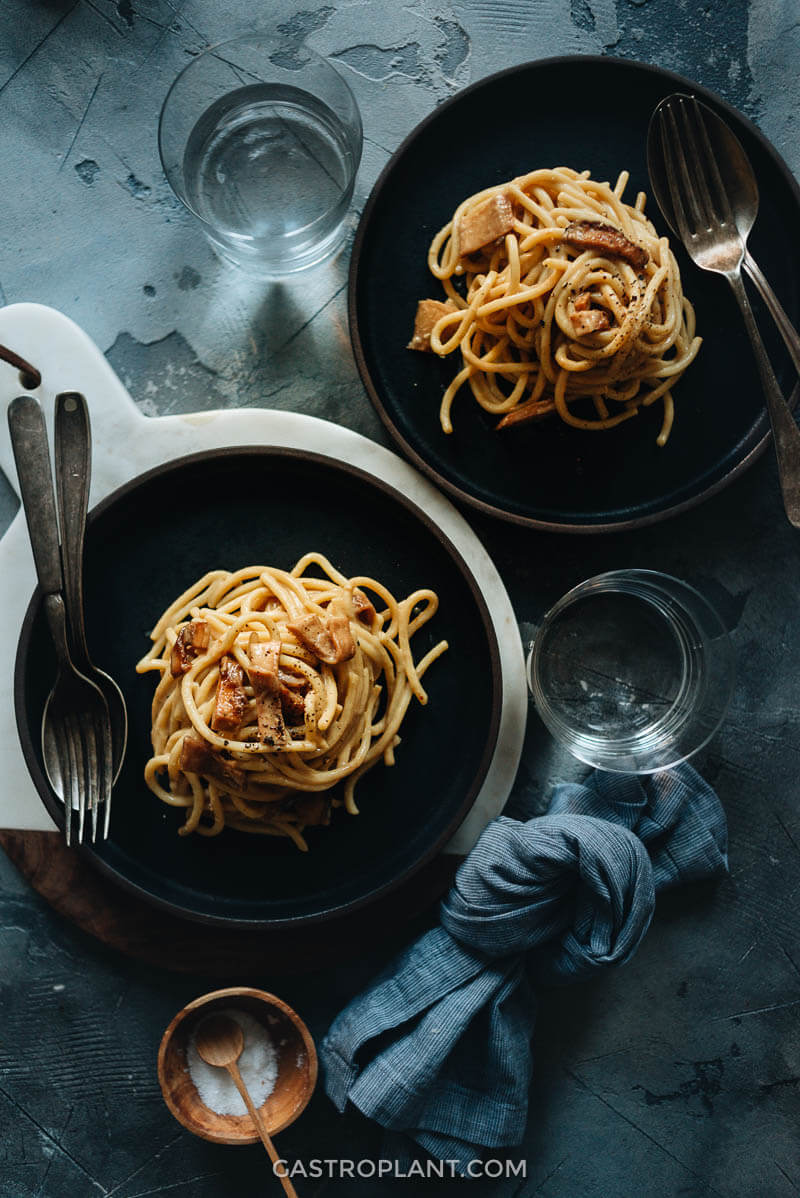 More Tasty Plant-Based Italian-Inspired Pasta Recipes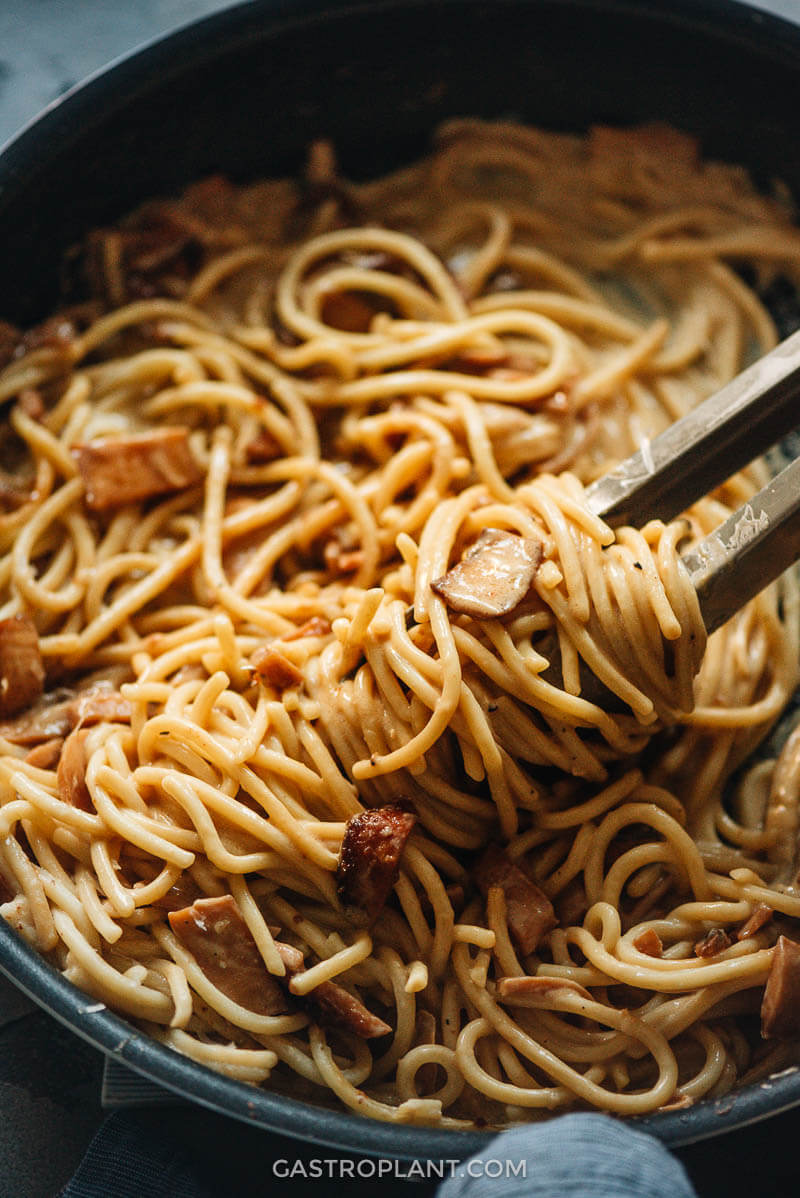 If you try this recipe out, let me know! Leave a comment, rate it (once you've tried it), and take a picture and tag it @gastroplant on Instagram! I'd love to see what you come up with.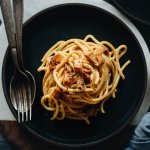 Print Recipe
Vegan Carbonara with King Oyster Mushroom Bacon
This Vegan Carbonara Spaghetti has a silky, umami sauce and smoky, chewy "bacon" made from king oyster mushrooms. It tastes like it's loaded with egg and cheese but contains neither. Takes just 20 minutes to cook.
Ingredients
8-12

ounces

long pasta

thick spaghetti or similar (230-340 grams)
King Oyster Mushroom Bacon
8

ounces

king oyster mushroom

2

Tablespoons

liquid smoke

2

Tablespoons

soy sauce

2

Tablespoons

natural unsalted peanut butter

4

Tablespoons

maple syrup

2

Tablespoons

olive oil
Sauce
8

ounces

soft silken tofu

(230 grams)

1/4

cup

nutritional yeast

1/2

cup

sauerkraut brine

2

teaspoons

black salt

aka kala namak

1

Tablespoon

white miso

1/4

cup

olive oil
Garnish/topping
2

Tablespoons

fresh lemon juice

Black pepper to taste

Vegan parmesan cheese
Instructions
Set the pasta water to boil
Cook the pasta according to the instructions but for 1 minute less than advised for al dente. You can work on the other steps while waiting for the water to boil. Drain and rinse the pasta with cold water when finished. Reserve 1 cup of the boiling water for later.
Prepare and marinate the mushrooms
Slice the king oyster into bite-sized pieces about 1/8 inch (3 millimeters) thick. Combine the liquid smoke, soy sauce, peanut butter, and maple syrup in a medium-sized bowl. Stir until well-combined. Add the sliced mushroom. Stir well to coat. Use a spoon to scoop marinade over the mushroom pieces periodically as they marinate for the next 10 minutes.
Blend the sauce
Combine all the ingredients for the sauce in a blender. Blend on medium until well-combined, 30 seconds or so. Don't be alarmed if the sauce has a strong eggy aroma when you remove the lid. You can also use an immersion blender and glass for this step.
Cook the mushrooms
When the mushrooms have finished marinating, heat the olive oil in a large skillet over medium heat. When hot, add the mushrooms and all the marinade. Spread the mushrooms into a single layer.

Cook until all the liquid has evaporated and the mushrooms are browned, crispy, and cooked through, about 10 minutes. As you saute the mushrooms, use a pair of tongs or chopsticks to "wipe up" the crispy bits as if the mushrooms are tiny sponges. The goal is to coat the mushrooms in the crispy dried marinade.
Combine everything
Add the pasta and sauce to the skillet with the mushrooms. Stir to coat well. Cook until the pasta is heated through and al dente, 1-2 minutes. Add a few spoonfuls of the boiling water if the sauce becomes too thick.
Serve
Dish the pasta onto plates, taking care to distribute the mushrooms evenly among them. Garnish with a splash of lemon juice, a few grinds of black pepper, and shredded vegan parmesan. Enjoy immediately.
Notes
The amount of pasta you use depends on personal preference. Less pasta means a saucier dish.