This vegan Vietnamese jackfruit salad has huge flavors and is seriously refreshing. Tender young jackfruit, meaty oyster mushrooms, fragrant fresh herbs, lime, and chile make for the perfect summer salad.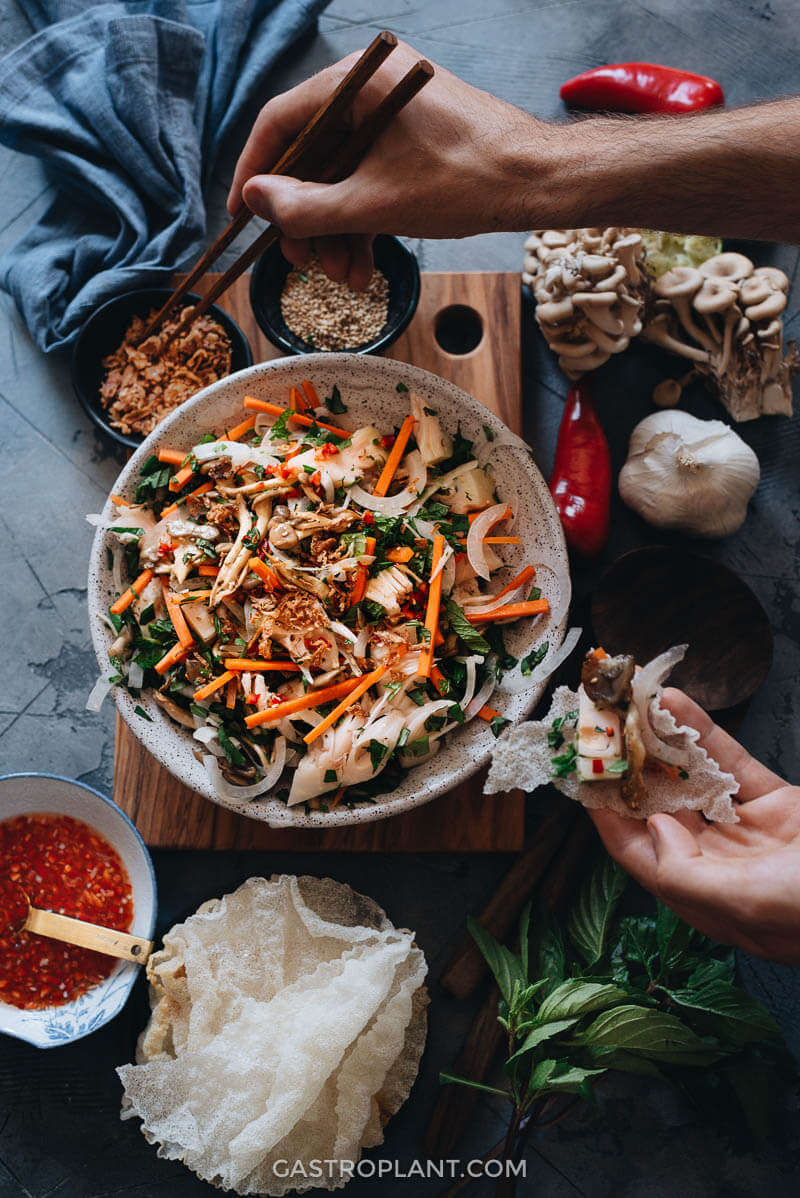 The Origin of this Jackfruit Salad
I recently picked up a copy of Vegetarian Viet Nam after meeting the author, Cameron Stauch, at a conference. Cameron spent several years in Vietnam exploring and researching the local cuisines and it really shows. The book is full of recipes for soups, salads, noodles, rolls, dumplings, drinks, and more. It also has a lot of useful info on Vietnamese ingredients.
The recipes feature big flavors from fresh herbs, tropical fruits, and a wide variety of veggies and mushrooms. There is even a section on Vietnamese meat alternatives (for example tofu sausage and homemade seitan), of which there are many, given the country's deep Buddhist traditions.
There were immediately 10 or 12 recipes that I wanted to try from the book, but I started with this jackfruit salad because I wanted to share a refreshing salad, and this one has so many good things happening in it.

What's in this Jackfruit Salad?
This salad is centered around young green jackfruit, which has a savory and slightly sour flavor. It's actually not too different from an artichoke in terms of texture and flavor.
To accompany, there are oyster mushrooms, which add a rich umami flavor, even a little bit of funkiness that reminded me of fish sauce, only much milder.
Carrots lend a bit of crunch and color to the dish and a trio of fresh herbs (I used mint, cilantro, and basil) make it an irresistibly fragrant.
The dressing is a simple yet on-point combination of red chile pepper, garlic, lime, soy sauce, and sweetness. For just a bit more textural contrast, we sprinkle fried shallots and sesame seeds on top.
The Jackfruit Salad is Super Easy to Make
It's possible to make this salad and only have to cook one item. Everything else can be eaten raw, canned, or prepackaged.
The oyster mushrooms need a saute in a skillet with some oil, salt, and pepper.
Fresh ingredients – carrot, onion, and herbs – just need to be washed, peeled, and chopped.
The jackfruit is canned, and you can use store-bought chips, toasted sesame seeds, and fried shallots.
To make the dressing, combine minced chile pepper, garlic, lime juice, vinegar, water, soy sauce, and sugar (or the sweetener of your choice).
Eat this Salad with Chips
The original recipe calls for the salad to be spooned onto toasted sesame rice crackers and eaten together like chips and dip. I wasn't able to find the correct sesame rice crackers, so I asked Cameron about it and he suggested a few helpful options:
Tortilla chips – this is probably the easiest option for most people in Western countries. It might not be "authentic" but it's true to the spirit of the dish, which demands interesting textures.
Japanese rice crackers – these bite-size rice crackers are sold in packages like cookies and are coated with sesame seeds. These may be the closest substitute in terms of texture and flavor and many grocery stores sell them.
Fried rice paper summer roll wrappers – This is what I ended up using. When pan-fried in oil, this rice paper puffs up really nicely and have a crispy, airy texture. You do need to be careful because these are more fragile than the other "chips".
Plain papadums – A common crispy Indian flatbread made from bean flour. Nutritionally it may be the best option. Papadums frequently come in flavors of herbs and/or spices, so be sure to get the plain kind or be aware of the extra flavors.
Frying rice paper to make chips
A Note About Canned Jackfruit
Be sure to use canned young green jackfruit in this recipe. It is quite different from the ripe kind, which has a completely different flavor profile. If you're not sure, check that the fruit is packed in either brine or water. Don't buy any jackfruit packed in syrup. Also, young green jackfruit is white or light brown in color, while the ripe kind is bright yellow.
More Refreshing Summer Recipes
More Plant-Based Southeast Asian Goodness
As always, if you try this recipe out, let me know! Leave a comment, rate it (once you've tried it), and take a picture and tag it @gastroplant on Instagram! I'd love to see what you come up with.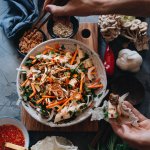 Print Recipe
Vegan Vietnamese Jackfruit Salad
This vegan Vietnamese jackfruit salad has huge flavors and is seriously refreshing. Tender young jackfruit, meaty oyster mushrooms, fragrant fresh herbs, lime, and chile make for the perfect summer salad.
Ingredients
1

can

young green jackfruit

17-ounce/482-gram

1

Tablespoon

vegetable oil

1/4

pound

oyster mushrooms

cut into bite-size pieces

1/2

medium carrot

cut into matchsticks, shredded, or julienned

1/2

small white onion

sliced very thinly

1/4

cup

fresh cilantro

chopped

1/4

cup

fresh mint

chopped

1/4

cup

fresh basil

chopped

Salt and pepper
Dressing
2

Tablespoons

sugar

or other sweetener (I used maple syrup)

1/4

cup

water

2

Tablespoons

rice vinegar

1

teaspoon

soy sauce

4

teaspoons

fresh lime juice

1/4

teaspoon

salt

1

fresh Fresno chile pepper

seeds removed and chopped very finely (or 1 fresh bird's eye chile or 1/2 fresh long red chile pepper)

1

clove

garlic

chopped finely
Garnish/To Serve
1

Tablespoon

toasted sesame seeds

2

Tablespoons

fried shallots
Choose one of the following "chips"
1-2

Vietnamese sesame rice crackers

1

pack

Japanese sesame rice crackers

1

bag

tortilla chips

8

plain papadums

2-8

Vietnamese rice paper

summer roll wrappers, quantity depends on the size
Instructions
Prepare the chips (as applicable)
If using toasted sesame Vietnamese rice crackers: Preheat the oven to 400 F (200 C). When heated, place the crackers on the baking rack in the middle of the oven and bake until it puffs up and curls a bit, 30 seconds to 1 1/2 minutes. Use tongs to turn the crackers over. Continue baking until the crackers are crisp and lightly browned.

If using Vietnamese rice paper (summer roll wrappers): Heat 2 Tablespoons of oil in a skillet large enough to hold one piece of rice paper over medium-high heat. When the oil is barely smoking, add a piece of rice paper. It should puff up almost immediately. If it doesn't, the oil isn't hot enough. Use a pair of tongs or chopsticks to press down on the rice paper so that every part of it crisps up. Cook until lightly browned on both sides, flipping as needed, about 20-30 seconds each. Transfer the rice paper to a paper-towel-lined plate to cool. Cook the rest of the rice paper in the same way. Add more oil if the skillet becomes dry at any point. If the oil starts to smoke, remove the skillet from the heat, reduce heat slightly before returning the skillet.

If using any of the other chips: No preparation is needed.
Prepare the jackfruit
Drain and rinse the jackfruit and gently squeeze out any excess water. Cut or tear it apart into bite-size pieces, removing and discarding any tough parts.
Saute the mushrooms
Heat the oil in a large skillet over medium-high heat. Add the mushrooms and season them generously with salt and pepper. Wait 2-3 minutes before moving the mushrooms at all, to get a nice brown blister on the bottom. Flip the pieces and cook for an additional 2-3 minutes until the other side is browned as well. Transfer the mushrooms to a large salad bowl to cool.
Make the dressing
Combine all the dressing ingredients in a small bowl. Stir well until the sugar is dissolved (if using) and the ingredients are well integrated.
Assemble the salad
Add the jackfruit, carrot, onion, cilantro, mint, and basil to the bowl with the mushrooms. Add half of the dressing, stir well, and taste the salad. Add more dressing as needed. Garnish with toasted sesame seeds and fried shallots.
Eat
Take a chip (or piece of the chip alternative you're using) and spoon some of the salad onto it. Eat the salad and chip together in a single bite.