Mul Naengmyeon is a deeply refreshing Korean-inspired dish of chilled toothy noodles, cooling fruits and veggies, kimchi, and tofu in a sweet, tangy, spicy broth. It makes a soothing and invigorating meal on a hot day. (Vegan)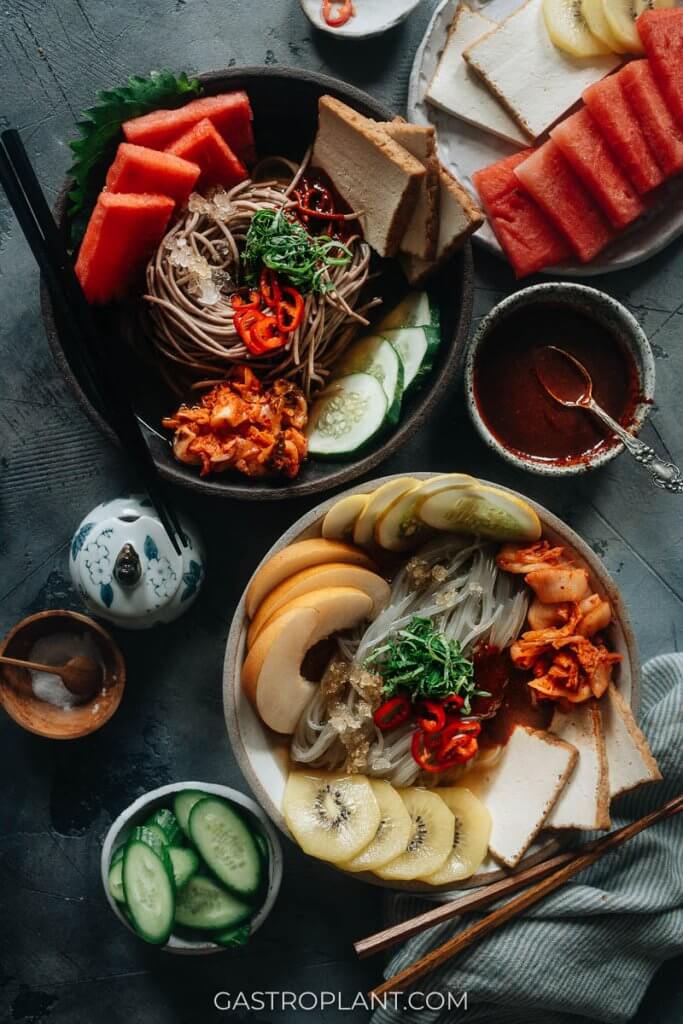 The Inspiration for Vegan Mul Naengmyeon
This may sound strange, but I got hooked on Korean food during the three years I spent living in China. There's a sizable Korean population in Beijing and Korean food is fairly popular there. There was a tiny restaurant I'd go to with coworkers near my office there, where I could spend a few dollars and get a really tasty bowl of bibimbap, fried rice, or naengmyeon.
On hot days there, naengmyeon was the only way to go – the chewy sweet potato noodles were fun to eat and filling, the chilled broth was hydrating and cooling, and the toppings – cucumber and kimchi – just made it that much more refreshing.
It's been a pretty hot summer in New York – the heat, humidity, and concrete jungle make it feel a lot like Beijing did. I constantly find myself craving cool, refreshing, sometimes sour foods. After thinking about this dish for a couple of weeks I wanted to recreate it and share it with you.
What's in Mul Naengmyeon?
Fruity, Earthy Broth
Naengmyeon, according to Korean Bapsang (a fantastic source for Korean homestyle recipes), typically uses a combination of two broths – beef broth and dongchimi broth, a light and fruity broth of radish, Asian pear, and aromatic herbs. I used vegan dashi to replace the beef broth, as it has a lovely earthy umami and makes a great counterbalance to the dongchimi-style broth.
To make the dashi, you can either simply soak dried mushrooms and seaweed in water overnight and strain as per my Vegan Dashi recipe, or make a hot and concentrated dashi and then cool it and dilute it with ice cubes as per my recipe below.
The dongchimi-style broth is pretty easy as far as homemade broths go, and it only needs to cook for 30 to 40 minutes to an hour. You can make it a day ahead, since it will need to cool, but you can also just make a very concentrated broth and add ice just like with the dashi.
You'll have leftover boiled veggies and fruits after making the broth – they'll be really tender but infused with the fruity and tangy aromas of the broth, so feel free to snack on them.
Toothy Noodles
Traditionally, the dish is made with buckwheat noodles, and the dish works nicely with widely available soba noodles. I've had it with other types of noodles, though, including those made from sweet potato starch, and I really like the bouncy chewy texture. I bet shirataki noodles would work well too.
This comes down to a matter of preference and availability. But whatever you do, take care to cook the noodles until just al dente – still quite chewy – and then either submerge them in an ice bath or rinse them with cold tap water. It's important to get the texture right because soggy noodles just won't be refreshing.
Toppings to Maximize Cooling Power of Mul Naengmyeon
The traditional version of this dish has cucumber and Asian pear, along with beef and boiled egg. I wanted to double down (or even triple down) on the refreshingness of the whole dish so I went with several of my favorite hot-day fruits and veggies in addition to the cucumber and Asian pear (which are a wonderful start):
Watermelon – rehydrating to the core
Kiwi – irresistibly sweet-sour in a way that plays nicely off the broth
Daikon radish – while not included in the recipe, thin sliced daikon has a great crunch and a subtle sharp flavor
Yellow Korean melon – also not in the recipe below but fantastic in this dish – it's crunchier than a cucumber and sweeter than a cantaloupe
Kimchi – cool, crunchy and overflowing with flavor
Smoked tofu – this packaged product has a nice meaty bite but is not heavy or filling; I also like the "Tofu Cutlet" from House Foods; no cooking is needed for either – just slice and eat it
Shiso – these leaves have the essence of both basil and cinnamon and they are beautiful with the rest of the flavors. Please don't skip the shiso
Spicy, Tangy, Seasoning Paste to Tie it Together
The broth has both mild-fruity and umami-earthy components to it, and it's a solid broth on its own. But the seasoning paste – gochujang and soy sauce – takes the broth to the next level.
It gives a little bit of chili heat, some sweetness, and some savory notes. It also gives a bright red hue to the broth which is pretty.
If you really don't like chili spice, you can skip the paste, but I highly recommend adding at least a little bit for depth of flavor. The fruit and cold temperature really help offset the spiciness.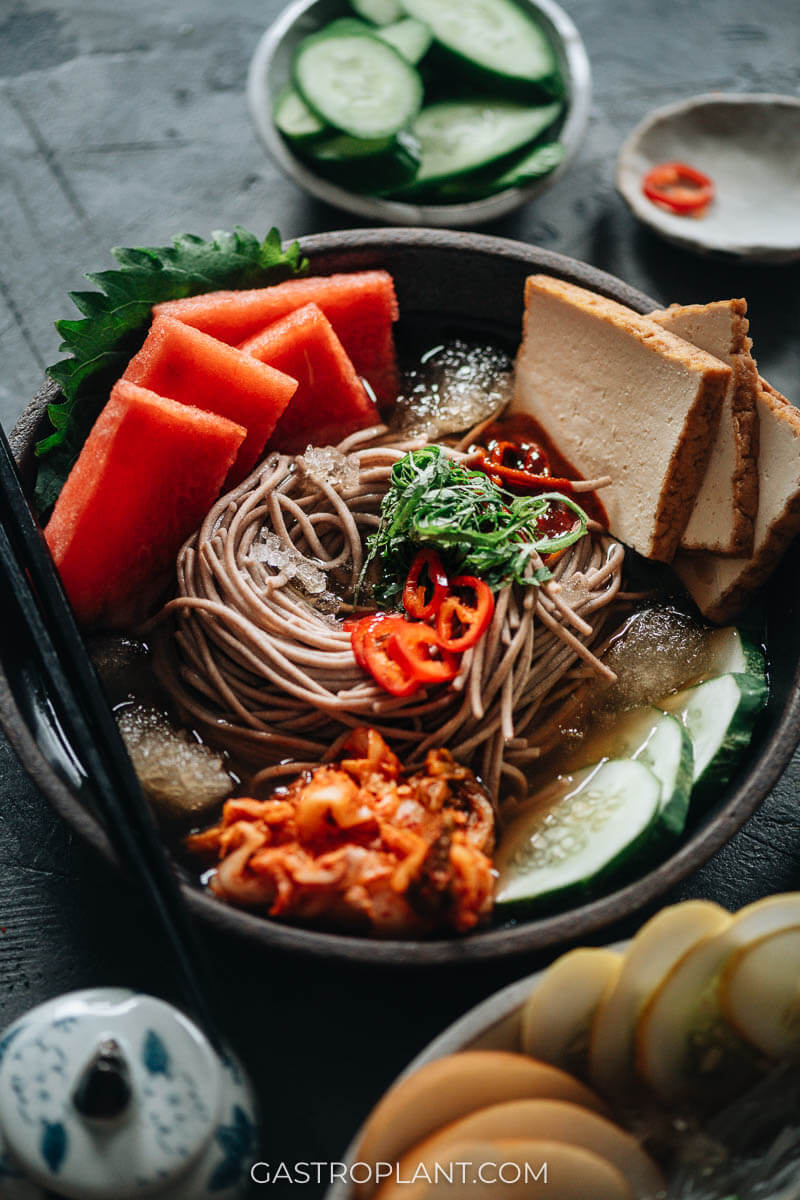 Notes on Ice, Chilling, and Broth Volume
This dish is at its best when the broth is so chilly that it's got bits of ice floating in it. You can achieve the icy broth a couple of different ways:
Cook the broths, allow the broths to cool, chill them in the fridge and/or freezer
Cook the broths and immediately transfer them to measuring cups and add ice
In the second case you're going to dilute the flavor with the ice, but this is OK if you've boiled the broth down quite a bit. Leaving the pot uncovered and keeping the broth at a medium boil (higher than a simmer but not a rolling boil) is a good way to get concentrated broth and reduce the volume so that ice doesn't ruin it.
The second way is also faster, so I've included it in the recipe below.
In the end, you'll need 400-500 mL of broth per serving of noodles and you want to optimize between rich flavor and coolness.
When in doubt, measure your broth volume and taste it to see how concentrated it is. If it's plenty strong and/or low on volume, add ice. If it's not strong enough and/or has too much volume, you can boil it a bit longer.
When combining the broths, keep in mind that the dashi is much more potent and fragrant than the dongchimi-style broth. So you'll likely want to add less dashi and more dongchimi.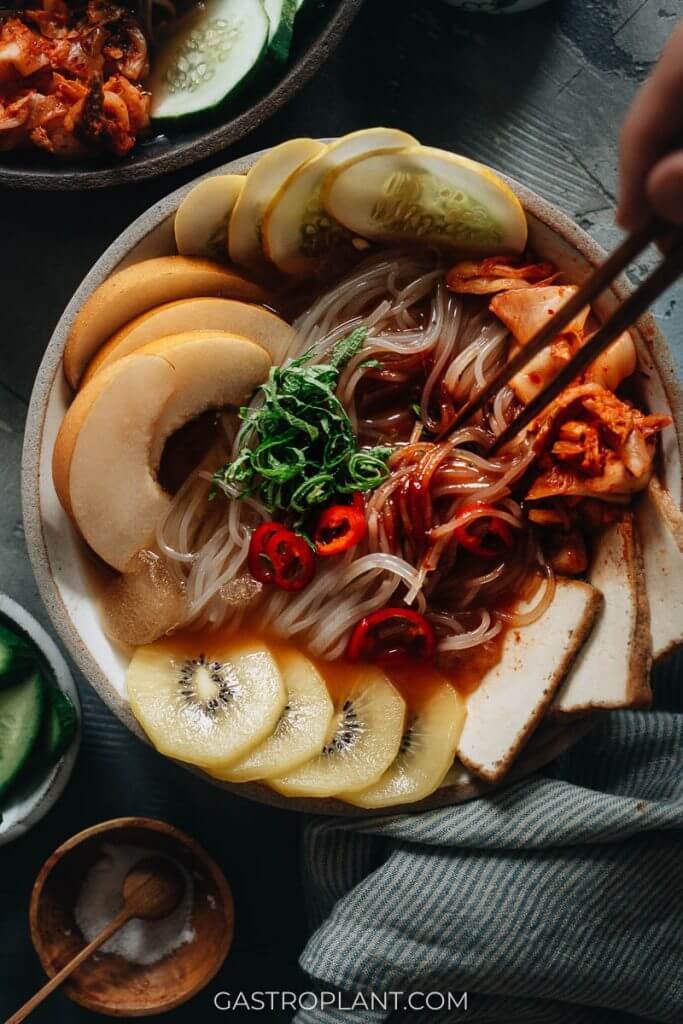 Sides to Serve with the Vegan Naengmyeon
More Soothing Summer Mains
As always, if you try this recipe out, let me know! Leave a comment, rate it (once you've tried it), and take a picture and tag it @gastroplant on Instagram! I'd love to see what you come up with.
Let me know in the comments if you have questions and happy cooking!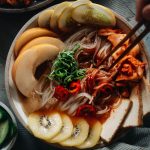 Print Recipe
Vegan Naengmyeon
This refreshing chilled noodle soup features a broth that is umami, spicy, sweet, and sour and it's garnished with watermelon, kimchi, and more. Perfect for any time you'd like to cool off.
Ingredients
2

servings soba/buckwheat noodles

or Korean sweet potato noodles
Dongchimi-Style Veggie Broth, see note
2

liters

water

(2 quarts)

½

lb

daikon radish

(225 grams) peeled and sliced thinly

¼

lb

napa cabbage

(115 grams) chopped

½

Asian pear

peeled, cored, and sliced

2

scallions

cut in half lengthwise

1

jalapeno pepper

seeded and cut in half lengthwise (can substitute Korean red chili pepper)

2

cloves

garlic

smashed

4

slices

ginger

slices should be large coin-sized
Dashi Broth, see note
1

liter

water

(1 quart)

3

dried shiitake mushrooms

1

piece

kombu

3×4 inches or 7×10 centimeters

1/2

cup

mixed dried mushrooms

can substitute an additional shiitake mushroom instead

1

sheet sushi nori

optional
Add to broth
2

Tablespoons

Korean or Japanese rice vinegar

½

Tablespoon

maple syrup

⅛

teaspoon

salt

or to taste
Pepper Paste
2

Tablespoons

gochujang

1

Tablespoon

soy sauce
Garnish / Toppings, see note
½

cup

napa cabbage kimchi

chopped

½

cucumber

peeled and sliced

½

cup

sliced watermelon

or Korean melon or other melon

4

slices

Asian pear

1

kiwi fruit

peeled and sliced

½

cup

smoked tofu

or baked or fried or cooked otherwise, sliced

Sesame seeds to taste

Toasted sesame oil

Shiso leaves

sliced thinly
Instructions
Bring a pot of water to a boil over high heat. Cook the noodles according to the instructions on the package. Drain well and rinse with cold water or submerge in an ice bath to stop the cooking. Drain immediately and set aside. You can perform this step closer to the end, as needed, depending on how quickly you want to serve the noodles.

Combine all the ingredients for the veggie broth in a large pot. Bring to a boil over medium-high heat. Reduce to medium-low heat to achieve a moderate boil. Keep at a moderate boil, stirring and adjusting the heat as needed, for the next 30-40 minutes. The vegetables should be extremely tender but not disintegrating.

Perform the same steps as described above for the ingredients in the Dashi Broth.

When the Veggie Broth has cooked enough as described above, turn off the heat for both of the broths. Strain out all the solid ingredients for each broth separately. Use a mesh strainer if needed. Place the boiled vegetables in a deep plate and allow to cool. Once cooled, strain out any remaining broth that you can, squeezing the vegetables as needed. You can either discard/compost the veggies or eat them separately (they will be pretty mushy by now).

Combine both broths in a large measuring cup, in something close to a 1:1 ratio. If you have more than 700mL total, stop adding when you reach 700 mL. If you have less than 700 mL, add all of both broths into the measuring cup. Add ice so until the liquid level reaches 800mL.

Add the vinegar and maple syrup to the broth. Stir well. Add the salt, stir well, and taste. Add more salt as needed so that the broth is lightly salty to your taste.

Combine the Pepper Paste ingredients in a small bowl. Stir until evenly combined.

You can chill or partially freeze the broths at this point if desired.

Divide the noodles evenly among your serving bowls. Likewise with the broth and garnishes. Allow each person to add pepper paste to their noodles as desired. Enjoy immediately.
Notes
You can substitute 400mL of chilled store-bought vegetable stock for the Veggie Broth in the recipe. Add it directly to the measuring cup to combine with the dashi.
You can substitute 300mL of chilled Homemade Dashi for the Dashi Broth in the recipe. Add it directly to the measuring cup to combine with the veggie broth.
You can use more or fewer garnishes / toppings than listed here.