These Vegan Chicken Nuggets are tastier than the ones you ate growing up. Golden and crispy outside and firm and meaty inside, with that signature umami flavor. Check out the recipe to discover the secrets!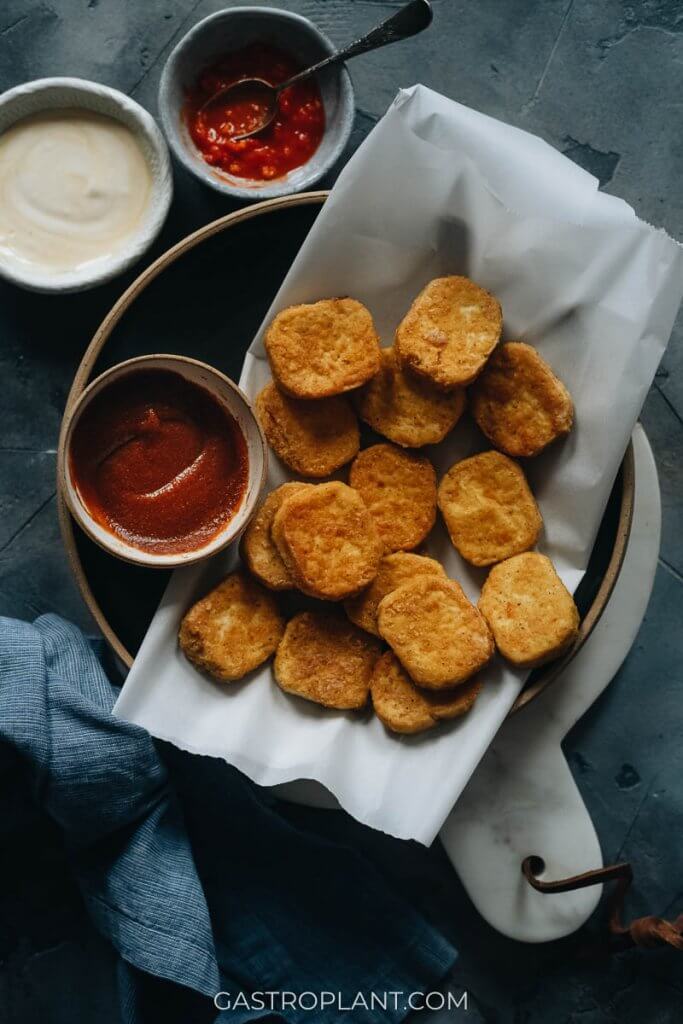 Intro to Vegan Chicken Nuggets
Like many who grew up in the US, I ate at McDonalds fairly frequently during my childhood. While it's not my top dinner choice nowadays, I still have fond memories of going there with my grandparents and eating chicken nuggets.
I recently stumbled upon a way to emulate the textures and flavors of McDonalds' chicken nuggets, using exclusively plant-based ingredients and I was excited to turn it into a recipe to share with you.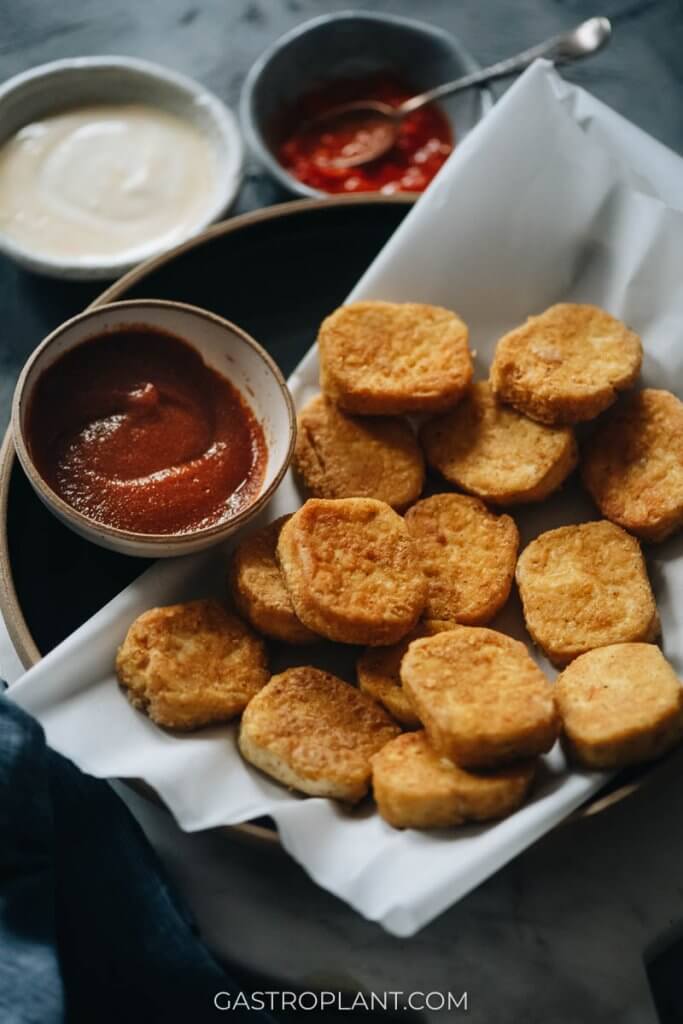 Use Extra-Firm Tofu for Maximum Meatiness
Texture is part of what makes chicken nuggets satisfying. They're typically made with a combination of meat and filler, and whipped or emulsified to create some air pockets between the chewy parts.
Extra-firm tofu is a really easy way to achieve this spongy, bouncy texture without any complicated processes. Just cut the tofu, batter it, and pan-fry it.
If you normally press the water out of your tofu, don't do it this time! The natural water content of the tofu will help the dry batter coating stick to the nuggets.
Nooch and Cornstarch for Golden Crispy Vegan Chicken Nuggets
The crispy exterior is mostly nutritional yeast and cornstarch. The nutritional yeast lends its yellow hue and a mouth-filling umami and the cornstarch gets puffy and crispy and holds the seasoning on the tofu.
To make the dry batter coating, just combine equal parts nutritional yeast and cornstarch, season the mixture, and stir it thoroughly.
When you dip the wet pieces of tofu into the into the dry batter coating, you'll want to turn the tofu over several times so there aren't any "blank spots". Be careful when handling the tofu, as your fingertips can accidentally pull off some of the batter.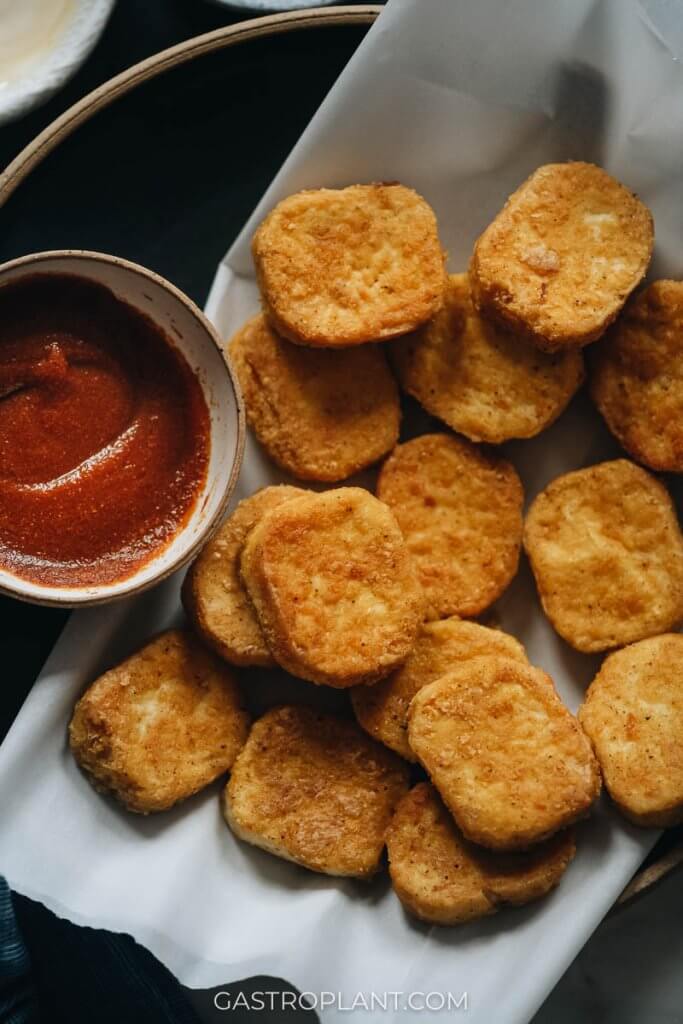 The Random Seasoning that Makes it Work
The first time I cooked these nuggets (or the dish that would evolve into the nuggets) I was just combining ingredients without much thought. I had a vague idea that I wanted crispy pan-fried tofu. For a reason I can't explain now, I put white pepper in the dry batter coating.
White pepper gives the nuggets a bit of a pungent aroma but has a very mild flavor. It's not really spicy and it doesn't stand out visually the way black pepper does. But it seems to round out the essence of the nuggets.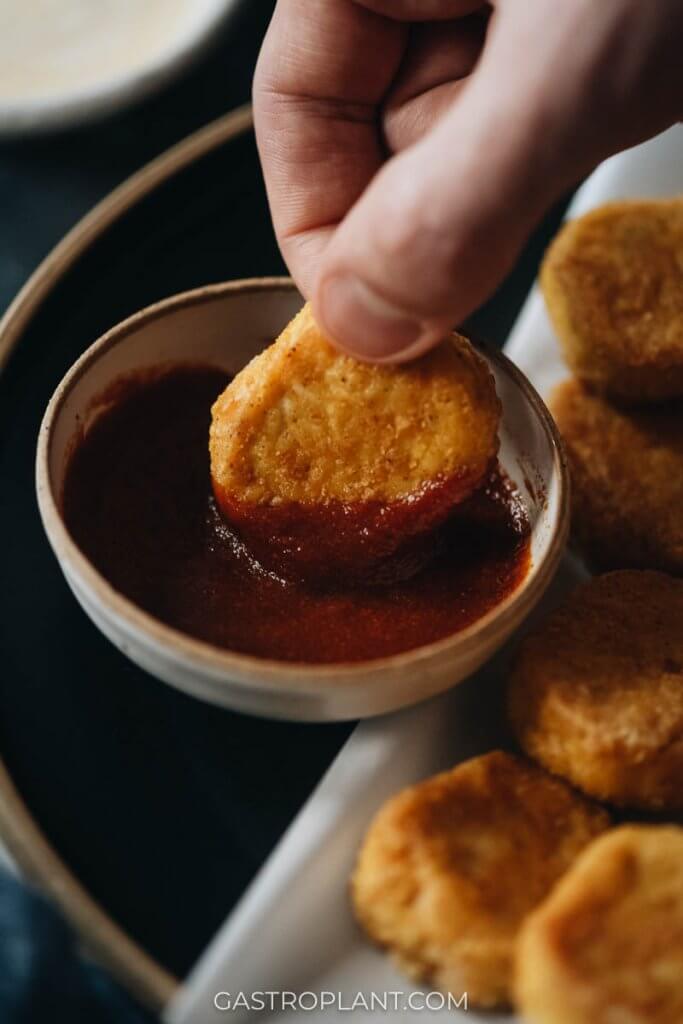 If you want to turn it up to 11…
There is an optional seasoning you can use, if you want the nuggets to really pop. I know that not everyone will be into this, but I wanted to experiment and see how close I could get to the flavor of the classic chicken nugs.
Instead of regular table or sea salt, I used MSG-laced salt in the batter. And it was spot-on.
This is just a tip, in case you want to go all-in. Feel free to skip it if you're not interested.
What to Serve with Vegan Chicken Nuggets
More Tasty Vegan "Meats"
As always, if you try this recipe out, let me know! Leave a comment, rate it (once you've tried it), and take a picture and tag it @gastroplant on Instagram! I'd love to see what you come up with.
Print Recipe
Vegan Chicken Nuggets
These Vegan Chicken Nuggets are tastier than the ones you ate growing up. Golden and crispy outside and firm and meaty inside, with that signature umami flavor. Check out the recipe to discover the secrets!
Servings:
18
nuggets (approx)
Ingredients
1/4

cup

nutritional yeast

1/4

cup

cornstarch

1

teaspoon

ground white pepper

1/2

teaspoon

salt

see note

1

pound

extra-firm tofu

(1 block)

4

Tablespoons

peanut oil

or other neutral oil

Dipping sauce

s to serve with
Instructions
Combine the nutritional yeast, cornstarch, ground white pepper, and salt in a rimmed plate or wide bowl. Mix and toss until well combined.

Drain the tofu and cut it into squares or nugget-shaped pieces, each about 1/3 inch (1 cm) thick. Do not press the water out of the tofu.

Take the tofu pieces one at a time and place them in the bowl of dry ingredients. Turn them over several times to ensure thorough and even coating, including on the edges. Place the coated pieces of tofu onto a clean plate or baking tray, gripping the tofu by the edges so you don't accidentally pull much of the coating off.

Once all the tofu pieces are coated, heat the peanut oil in a large nonstick skillet over medium heat. When hot, add the tofu pieces without overlapping them. Wait 2 minutes before moving the tofu pieces. Flip and cook for another 2 minutes. Continue to flip every 1-2 minutes from there until both sides are crispy and golden brown. It should take 6-8 minutes total. Transfer cooked nuggets to a paper towel lined plate to drain and cool.
Notes
If you want to recreate the fast-food nugget flavor, you can use MSG-laced salt instead of salt. There is a link in the post above to a Japanese brand. Korean "seasoning salt" also works.
You can cook the nuggets in batches if you need to, depending on the size of your skillet.
You can reheat cold nuggets in a nonstick skillet over medium-high heat.