This vegan tonkotsu ramen recipe is a keeper. It combines a rich and complex plant-based tonkotsu broth, toothy noodles, bamboo shoots, mushrooms, and taro root. You'll want more than one bowl of this one.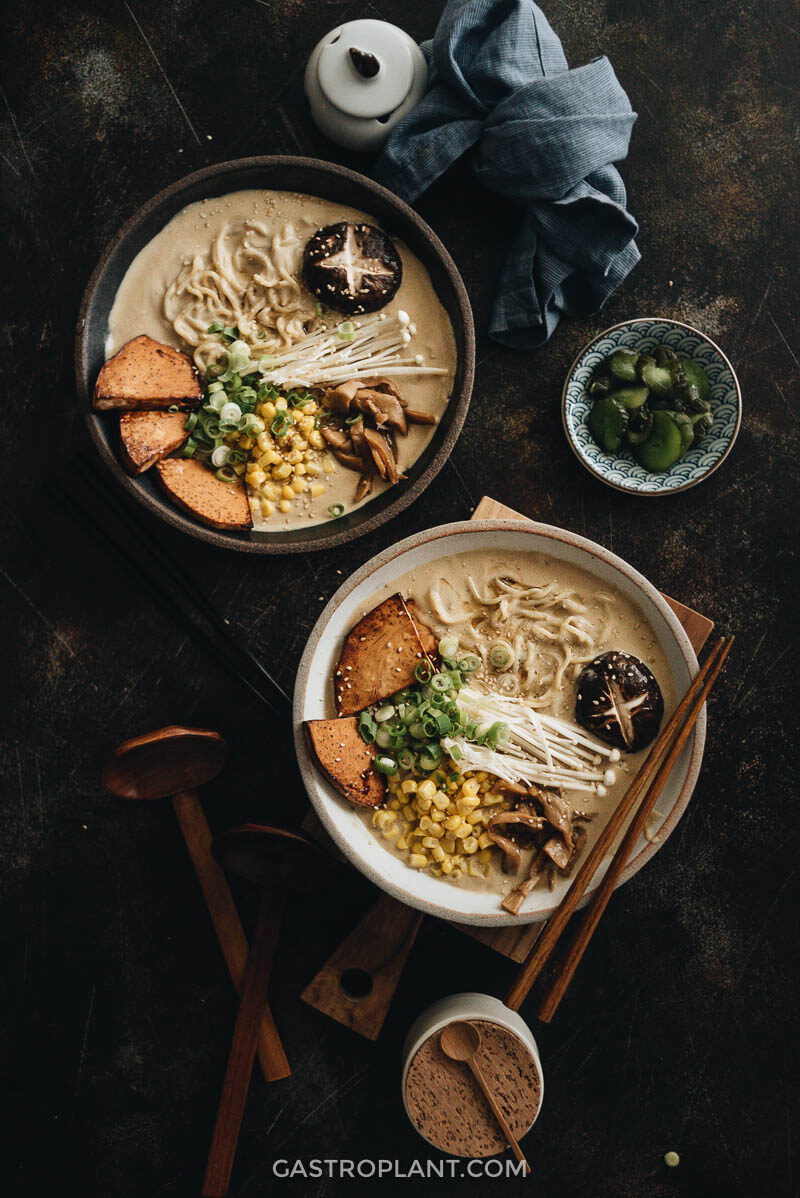 My first vegan ramen recipe
As part of my vision for this blog, I'm planning to create various guides for plant-based food topics. As a big fan of ramen, ramen would naturally be one of those topics. When I created this recipe I was both I was both really excited and slightly disappointed. Excited that I had managed to recreate many of the sensations that make tonkotsu ramen amazing. Disappointed that my next ramen recipe, say, a soy-sauce- or miso-based one, may not be as delicious.
In any case, I'm happy to share this with you. This recipe combines the complex, savory, richness of the original tonkotsu broth with the nutritional kindness of being plant-based. The broth uses a sesame cashew cream (no pork bones!) to thicken and enliven an umami vegetable soup.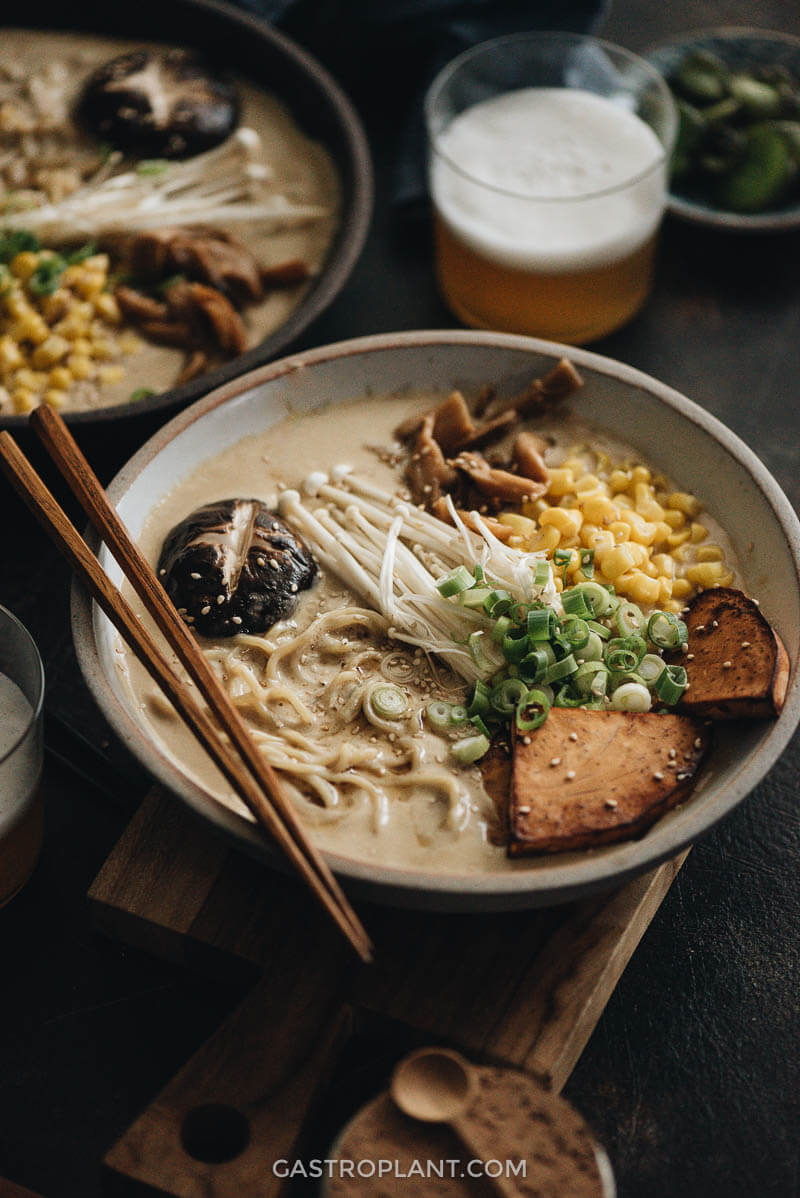 Why is this Vegan Tonkotsu Ramen recipe good?
The short answer is that the broth is super thick and flavorful aromatic and goes perfectly with the toppings.
But eating ramen is a very sensual experience, so the short answer doesn't quite cut it.
Toothy ramen noodles swim in the broth and are topped with taro root slices, mushrooms, bamboo shoots, and corn. As you dig into the bowl with your chopsticks you get the steamy aroma – it's heavy on sesame and brothy from the garlic, ginger, and kombu. As you slurp up your first bite, the noodles flail in the air as the broth clings to them. Take a bite of the taro root – it's crispy on the outside but the soft interior soaks up the soup like a sponge.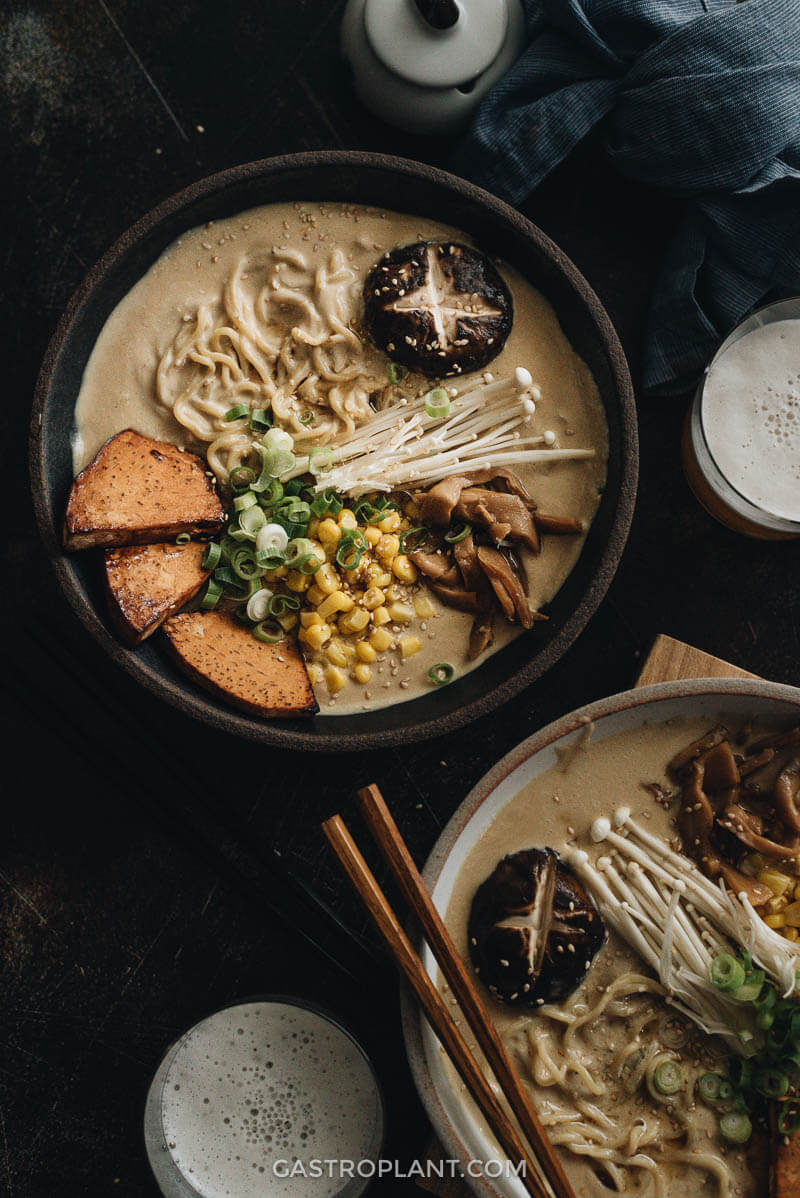 What is it like to cook this?
This ramen is a little complicated for a weeknight. I'd say it's more of a weekend project. But as far as ramen recipes go, this is very simple and straightforward.
You'll need to make a pot of the broth as per this recipe. The broth requires a blender and a large, heavy pot.
You'll need to boil noodles, blanch mushrooms, and bake some sliced taro root. You can use one pot of boiling water to cook the noodles and the mushrooms, one after the other.
If you're handy in the kitchen (or if you have some help) you can do several of these tasks at once and have the meal ready in less than an hour. More likely, it'll take an hour or hour and fifteen minutes.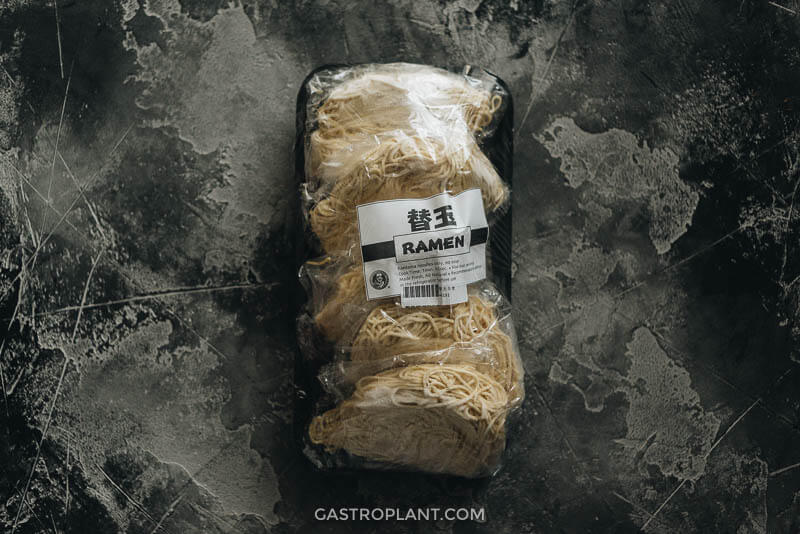 Cooking notes
I recommend using frozen ramen noodles, not dried ones. There is a vast difference in texture between the two. If you only have access to dried, you can use them but it won't be the same.
I chose the shiitake mushroom specifically for its intense flavor and the enoki for its crunchy texture. You can use other types of mushrooms than those recommended in the recipe if you prefer.
Taro root is pretty uncommon. You can replace it with sweet potato and it will be great. Just watch it closely to make sure it cooks properly.
If you want to save yourself the trouble of using the oven, you can boil the taro root (or sweet potato) in the same water you use for the noodles and mushrooms. Watch the taro or potato closely – they will start to dissolve shortly after becoming cooked.
One of the toppings is menma, Japanese fermented bamboo shoots. Your local Japanese market probably sells it in jars. If unavailable, other marinated bamboo shoots (for example, chili-oil-marinated ones from Japan, Taiwan, southern China) will be tasty, though different.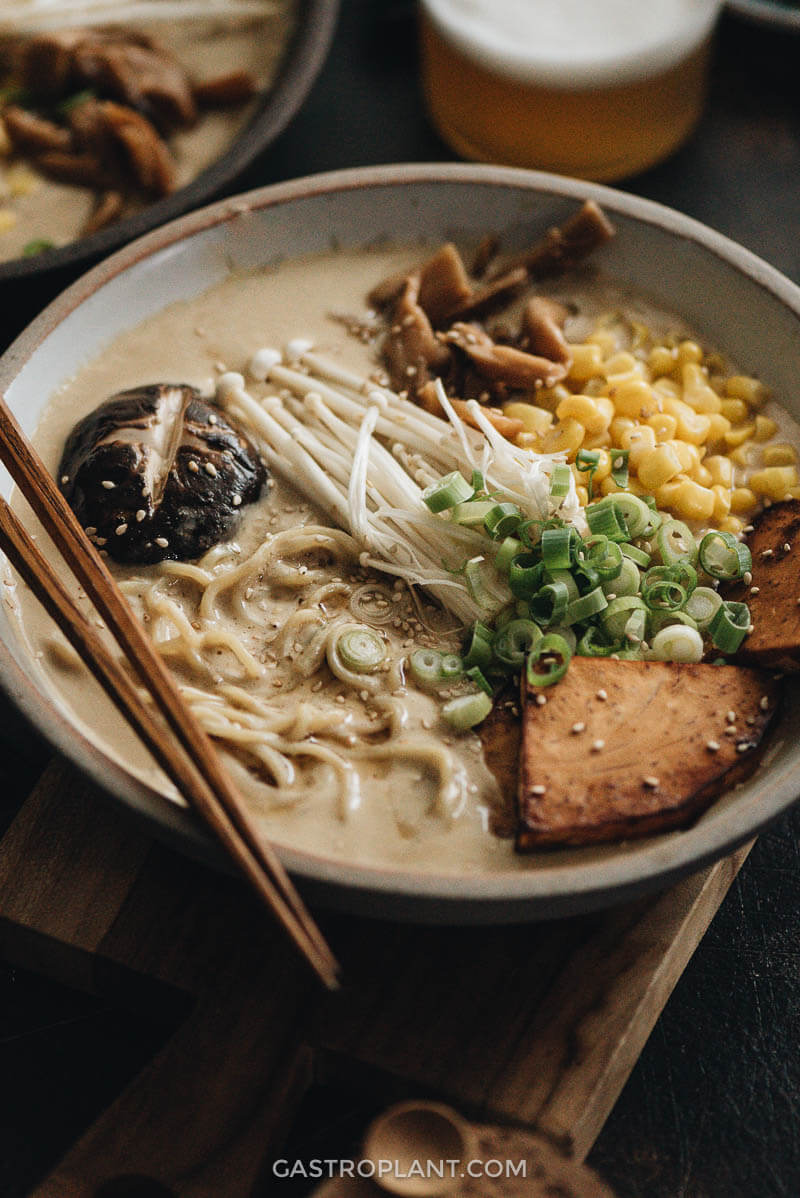 More varieties of plant-based ramen
If you try this recipe out, let me know! Leave a comment, rate it (once you've tried it), and take a picture and tag it @gastroplant on Instagram! I'd love to see what you come up with.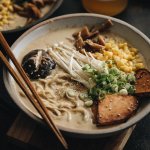 Print Recipe
Vegan Tonkotsu Ramen
This vegan ramen recipe is a keeper. It combines a rich and complex plant-based tonkotsu broth, toothy noodles, bamboo shoots, mushrooms, and taro root. You'll want more than one bowl of this one.
Ingredients
600

g

ramen noodles

frozen

4

fresh shiitake mushrooms

large, cleaned and stems removed

250

g

enoki mushrooms

cleaned and trimmed

250

g

taro root

peeled and sliced 1/4 inch thick

250

g

corn kernels

canned, drained

2

green onion

chopped finely

100

g

Japanese fermented bamboo shoots (menma)

may be sold in jars

roasted sesame seeds

toasted sesame oil
Instructions
If baking the taro root:
Prepare a rimmed baking sheet with aluminum foil. Spray a thin coat of oil onto the foil. Place taro root slices onto foil. Spray a thin coat of oil onto each piece of taro root. Season lightly with salt and pepper. Place another layer of foil tightly across the top of the baking sheet to create a seal.

Place baking sheet into cold oven. Set to 425F.

After 20 minutes, remove the foil and return the baking sheet to the oven to allow the taro root to bake uncovered.

After 12-15 minutes (when the bottom side of the taro is browned) flip the taro slices. After 12-15 additional minutes, when both sides are browned, remove the baking sheet from the oven and set aside.
While the taro root is baking, prepare the other ingredients.
Cook noodles according to the instructions on the package. Taking care not to discard the boiling water, drain and rinse the noodles briefly with cold water to stop the cooking. The noodles should be pleasantly chewy.

Use the same pot of boiling water to blanch the shiitake and enoki mushrooms, 2-3 minutes each, until cooked through.

If boiling the taro root, place the taro root slices into the boiling water and boil for 5-6 minutes until cooked through. Watch closely and remove the slices if they begin to dissolve in the water.
Assemble each bowl of ramen as follows:
Fill the bowl halfway with hot ramen broth.

Add ¼ of the cooked noodles to the bowl.

Top with a quarter of the mushrooms, roasted taro slices, tablespoons of corn kernels, green and onion.

Sprinkle roasted sesame seeds and add a drizzle of toasted sesame oil.

Serve and enjoy immediately.
Notes
Each bowl is 2 servings. A bowl of ramen is meant to be a meal in itself.
Use frozen (not dried) ramen noodles if available. You can use dried noodles but the texture will be quite different.
You can use other mushrooms than the shiitake and enoki recommended, but the texture and flavor may be lacking.
You can substitute sweet potato for the taro root.
The menma can be replaced with other marinated bamboo shoots. For example those marinated in chili oil from Japan, Taiwan, or southern China.