Homemade Potato Gnocchi are bouncy pasta pillows that gently dissolve as you eat them. And the formula is beautifully simple – just potatoes, flour, and salt. Pair these with any pesto or sauce for a low-key fancy meal.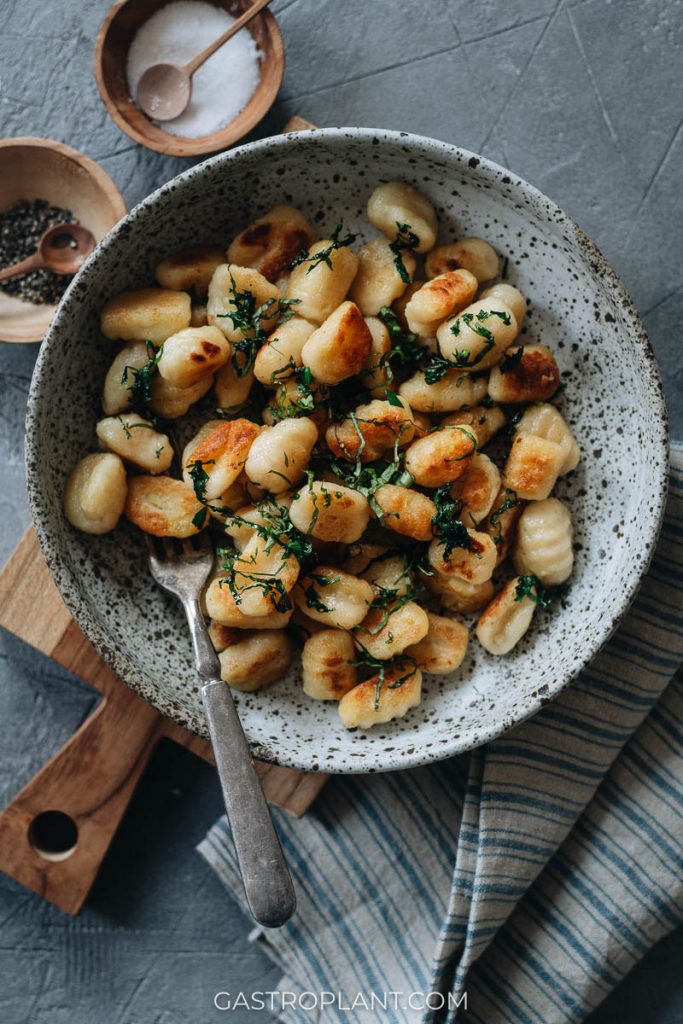 Homemade Potato Gnocchi to Soothe
This recipe was shared with me by an Italian friend with whom I've been trading messages and recipes throughout the pandemic.
I have been using cooking as a way to cope with the amplified uncertainty of everything, and I found making bread and risotto to be especially therapeutic (though I couldn't bring myself to write about cooking for almost a year).
My friend suggested making gnocchi, and I actually resisted the idea (did I think it would be too difficult?) until she showed a photo of her school-age son making really pretty gnocchi.
Convinced to give it a try, I put on some nostalgic Italian music (more) and got to work. While it took some time, the recipe was straightforward and forgiving and I discovered that making and eating gnocchi is a really grounding and satisfying process – you don't have to move to the next step until you're totally comfortable, and the mouthfeel of the finished gnocchi is 11/10.
Italian Minimalism
Whenever I cook a traditional Italian recipe, I'm impressed by the decisive minimalism embodied in the recipe.
If you want to see what I mean, head to Giallo Zafferano and click any recipe that looks familiar (use your browser's translate feature if you need to).
Many of the most common pasta recipes, for example, use 5-8 ingredients – this is a constant reminder to me that simplicity is essential to Italian cuisine.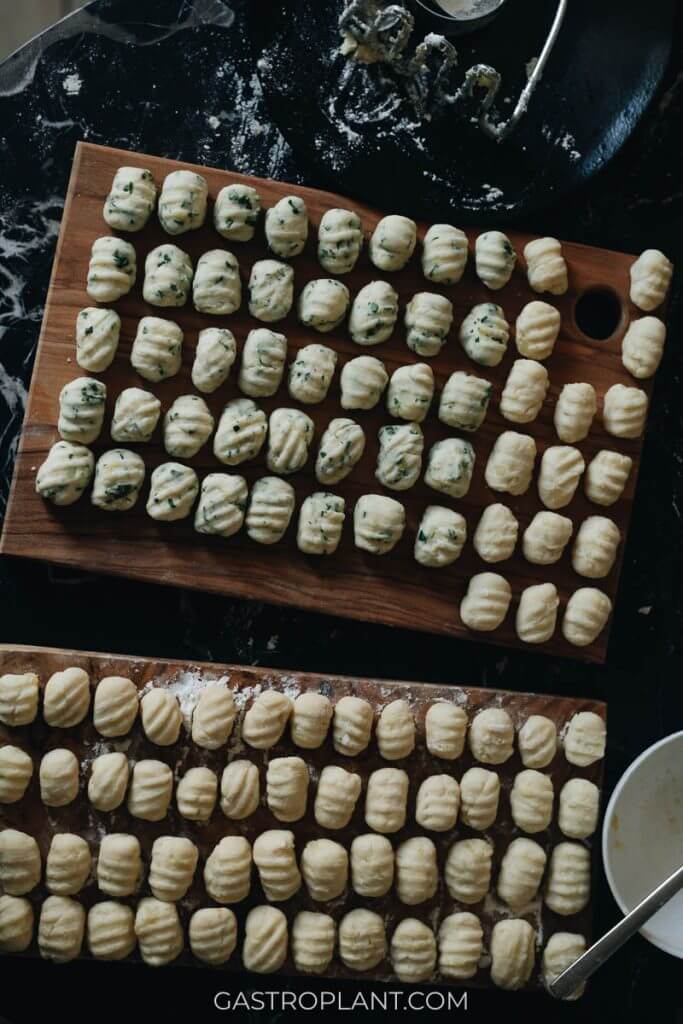 The Simplest Homemade Potato Gnocchi
What I love most about this gnocchi recipe is its simplicity. If you browse the web for gnocchi recipes, you'll see how many possibilities there are, as far as ingredients. People put all kinds of things in their gnocchi dough, from herbs, to eggs, cheeses and other dairy, to pureed veggies.
For me, though, this recipe, with its two ingredients (not including salt), is a testament to elegant simplicity. The flour is there to provide some binding bounciness, while the potato gives the dough just enough moisture to be workable and lends its melting mouthfeel and slightly sweet flavor.
Maybe the Easiest Homemade Pasta
I've been through some trials when it comes to homemade pasta – dough too hard, pasta falling apart in the pot, inconsistent thickness – there is a lot to pay attention to, if you're making, say, homemade fettucine. And you need the pasta machine, drying rack, and who knows what other gear.
The good news here is that the process is really forgiving and you don't need any special gear.
As you work the dough, you'll constantly feel it with your hands and notice it sticking. You'll work in more flour, bit by bit, until it's just right.
And if your gnocchi come out a little wonky or unevenly sized, you can always rework the dough and make them again. And also, even if your gnocchi are unevenly sized, as long as the difference isn't huge, they'll still have a great texture and flavor once cooked!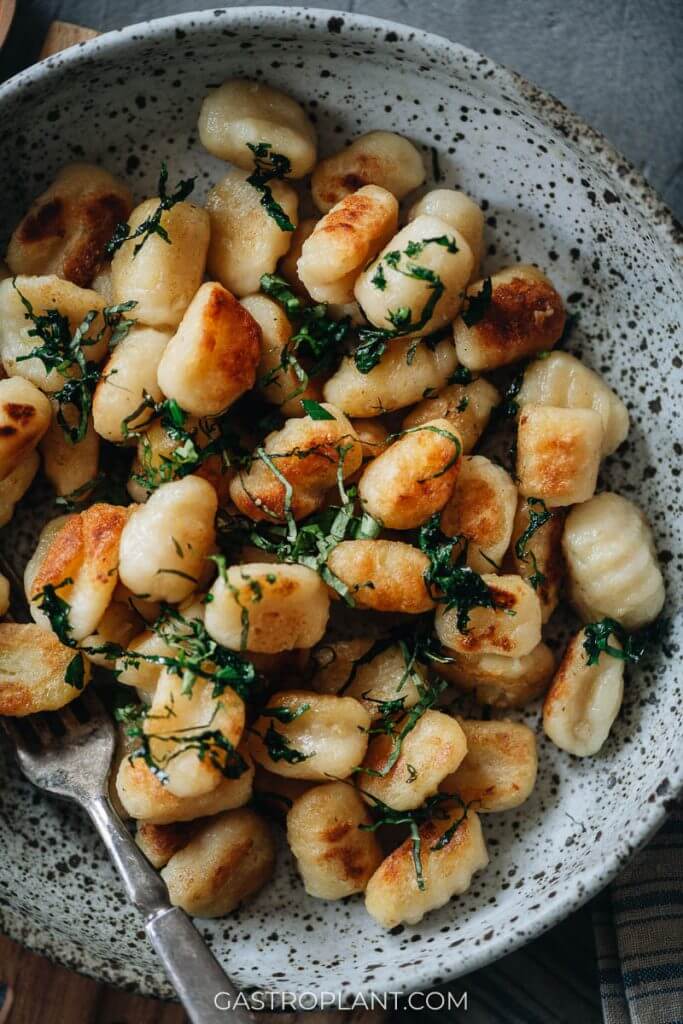 As you work the dough, you'll constantly feel it with your hands and notice it sticking. You'll work in more flour, bit by bit, until it's just right.
And if your gnocchi come out a little wonky or unevenly sized, you can always rework the dough and make them again. Also, even if your gnocchi are unevenly sized, as long as the difference isn't huge, they'll still have a great texture and flavor once cooked!
Gear-wise, you just need a bowl, a cutting board (or clean table or countertop), a knife (or dough scraper, a fork, and a pot for boiling or steaming.
Making Homemade Potato Gnocchi in a Nutshell
The rest of the post contains an overview of the steps, with tips on troubleshooting and serving. If you just want the recipe, skip ahead!
The Process
The process itself is very straightforward:
Boil or steam the potatoes until tender
Let them cool, then peel them
Knead them together with flour and salt
Roll the dough out and cut it into gnocchi
Boil the gnocchi until they float, then drain them
Prepping the Potatoes
You'll want to scrub them, but don't peel them. Cut them into chunks roughly 1.5" (4cm) on each side.
Cooking the Potatoes
You can either boil or steam them. Here's a comparison:
Steaming
Longer cooking time (25 mins)
Quicker to get started – just need to boil a few cups of water
Less chance potatoes will fall apart
Boiling
Cooking time is shorter (15 mins)
Slower to get started – need to boil a few quarts (liters) of water
Potato chunks may fall apart
My stove is not very powerful, so I have had more success with steaming.
Peel and Cool the Potatoes
Once they're cooked, let the potatoes cool enough to handle them. From there, you can peel them by hand – the skins should come right off.
Also remove any hard or brown bits you see in the flesh of the potatoes and discard them with the skins.
You can mash the potatoes to help them cool faster, if you want. For mashing, I use a fork, but a ricer can be very handy.
Make the Potato Gnocchi Dough
Forming potato gnocchi dough is a lot like making other kinds of dough, but be prepared to add quite a bit more flour, depending on the moisture content of the potatoes.
The dough contains salt and you can add any amount up to the 1 teaspoon prescribed. I try to limit my salt, so I often use less.
The dough doesn't need to be totally consistent (some small potato chunks are OK). And slightly sticky dough is fine if you plan to make pillow-shaped (not fork-pressed) gnocchi.
Rolling and Cutting Gnocchi
As you cut and roll the dough out, if a piece of dough feels too big to work with, cut it in half and work with a smaller piece.
Once you've rolled and cut, you can either cook these pillow-shaped gnocchi directly or form them into the classic shape.
Getting the Perfect Gnocchi Shape
I love the shape of perfectly rolled gnocchi – ridges on one side and the arc in the other. It's possible to create that shape with this recipe, but it may take a bit of practice.
You can either put the gnocco on your finger and roll a fork over it, as shown in the process photo ___(above/below) or use the more conventional method shown in this video.
I found my method to be easier, though for both methods, the consistency of the shape depends on evenness of the dough pieces and on the non-stickiness of the dough.
Boiling Gnocchi
This is the easiest part. Unlike other pastas that have a specific point at which they're al dente and have a perfect texture, gnocchi just need to be boiled until they start floating. It's usually about 2 minutes.
You can salt the boiling water, or not. I don't.
Troubleshooting Potato Gnocchi
It can take some trial and error to get the gnocchi just right. Here are some things I've learned.
Sticky Gnocchi Dough?
Throughout this process, the dough might stick to your hands your working surface, or utensils.
Whatever happens, don't panic if your dough keeps sticking.
Just keep working in more flour, a little at a time, until it's smooth and dry, but not crumbly.
If you notice a gnocco sticking as you roll it along your fork, work in a pinch of flour, knead the piece with your fingertips, clean the fork, and give it another try! You have unlimited do-overs!
Also, if you are having trouble with the dough sticking as you roll the gnocchi, you can always cook the basic pillow-shaped gnocchi.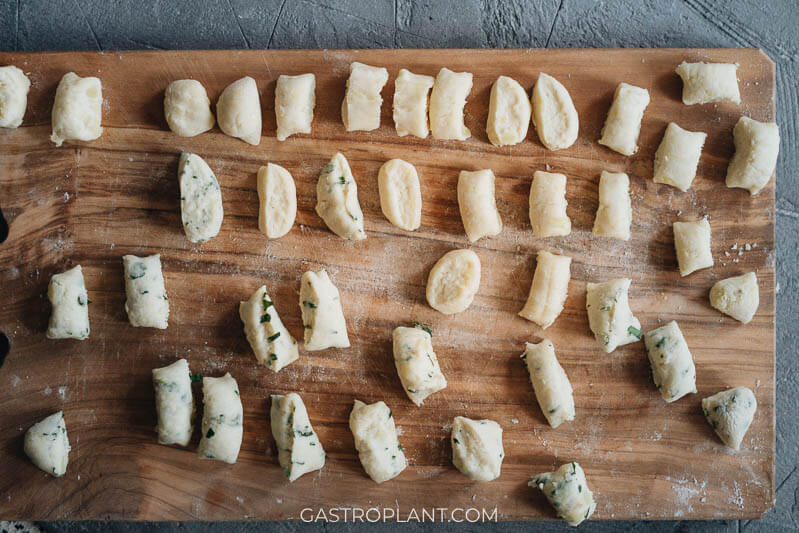 Inconsistent Sized Gnocchi?
If your gnocchi come out differently sized, you can always pull off and recombine bits of dough. Again, unlimited do-overs.
The Best Potatoes for Gnocchi
Russet potatoes are the easiest to work with as they are starchier and contain less moisture.
Yukon Gold potatoes taste the best – bright, sweet, buttery – but they contain more moisture and this may cause your dough to stick more.
Either way, larger (older) potatoes are better, as they contain less moisture. Smaller potatoes are wetter and will cause the dough to stick more and require more flour. It's not necessarily a bad thing, but you should be prepared to add quite a bit more flour.
A Note on Adding Herbs
If you're going to serve the gnocchi without sauce or pesto, it can be nice to add some fresh herbs into the dough as well. Basil, parsley, and sage all work wonderfully.
You should add the herbs at the time you combine the potato and flour. Make sure your herbs are completely dry before you do.
Tips on How to Serve Homemade Potato Gnocchi
Like any pasta, gnocchi can be dressed in any number of sauces and cooked in many different ways. Here are two of my favorites:
Saute the gnocchi in olive oil until lightly browned, add a generous scoop (or two) of basil pesto (pesto alla Genovese), mix it all together, and serve. It's a light, yet herbaceous and umami seasoning and is very easy to make if you already have the pesto.
Even simpler, I like to saute the gnocchi in olive oil with some fresh sage leaves and black pepper. The sage gets infused into the olive oil and the leaves become crispy. This minimal and elegant rendition lets you focus on the satisfying texture of the gnocchi with just a touch of fragrance.
There are some other ways that can be great, depending on what you're in the mood for:
Make your own sauce, such as my green pea pasta sauce (link coming soon), to go with it. This is a great springtime sauce as it is all about amplifying the clean grassy flavor of the green peas to make a refreshing yet satisfying meal.
Mix the gnocchi with your favorite packaged tomato sauce in a casserole dish, sprinkle with breadcrumbs and/or (vegan) cheese, and bake it. Like ziti, rigatoni, and lasagna – gnocchi is also delicious baked in sauce.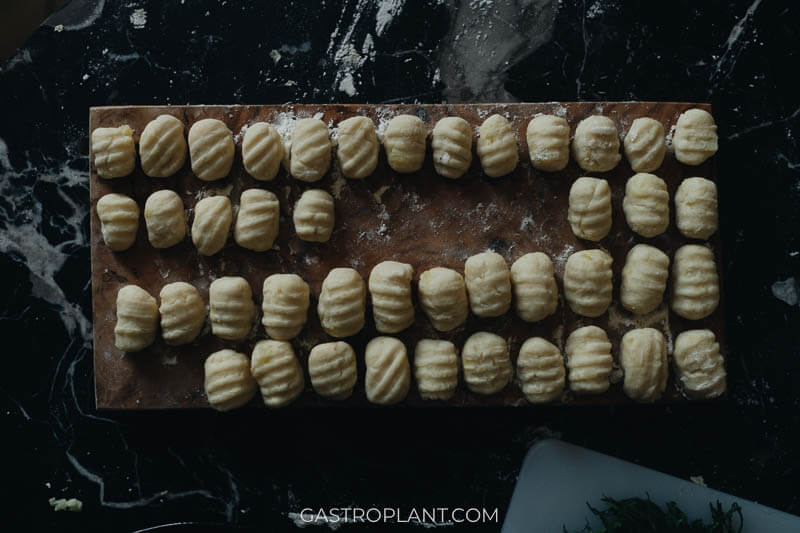 More Classic (Vegan) Pasta Dinners
More Simple, Elegant Favorites
As always, if you try this recipe out, let me know! Leave a comment, rate it (once you've tried it), and take a picture and tag it @gastroplant on Instagram! I'd love to see what you come up with.
Let me know in the comments if you have questions, and happy cooking!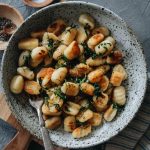 Print Recipe
Homemade Potato Gnocchi
Homemade Potato Gnocchi are bouncy pasta pillows that gently dissolve as you eat them and the formula is elegantly simple: potatoes, flour, and salt. Pair with pesto or sauce for a low-key fancy meal.
Ingredients
500

grams

potatoes

1.1 pounds, Russet or Yukon Gold – see note

150

grams

all-purpose flour

about 1 – 1 1/4 cups, plus up to 1 cup on the side – see note on measurement

1

teaspoon

salt

see note
Instructions
Cook and peel the potatoes
Prepare a pot, either for steaming or boiling the potatoes, with the appropriate amount of water and heat it over high heat.

Cut the potatoes into 1 to 1.5 inch pieces, depending on the size. You don't need to peel them just yet.

Steam or boil the potato chunks until tender, about 15 minutes for boiling or 25 minutes for steaming. You should be able to pierce the potato all the way through with a fork, easily, but they should not be falling apart.

Drain the potatoes and allow them to cool enough to handle. Once cool, remove the potato skins by hand. Also remove any tough or brown bits within the potato flesh and discard them with the skins.

At this point, you can mash the potatoes and spread them out to speed up the cooling process, though it isn't required.
Make the dough
Prepare a working surface (large cutting board or clean, dry countertop) with a dusting of flour. Also prepare the extra flour on the side (you may not need it all).

Stir the salt and flour together in a large bowl until evenly mixed (a whisk is handy here). Once the potatoes are almost down to room temperature, add them to the bowl with the flour. Mash the potatoes (if you haven't already) and mix well with a spoon or scraper, incorporating the flour and potato and scraping any bits off the inside of the bowl. Continue mixing until it forms a dough.

Once the dough can be picked up, transfer it to the working surface and begin to knead it by hand. Pay attention to how sticky the dough is – if it sticks to your hands or to the working surface, you should add more flour. Use a pastry scraper to remove any dough stuck to the surface.

Continue to knead, working in flour half a tablespoon or so at a time as long as the dough is sticky, until the dough is relatively smooth and no longer sticky.
Prepare the boiling water
Fill a large pot most of the way with water (it can be the same one you used to boil or steam the potatoes) and heat it over high heat. You will work on the gnocchi while this heats, up – if it starts to boil before you are ready to boil the gnocchi, reduce the heat to medium-low.
Cut and form the gnocchi
Cut an eighth to a quarter of the dough off (whatever size piece you're comfortable working with) and put the rest in the mixing bowl and cover it with a damp towel or paper towel to prevent drying out.

Roll the dough piece with your hands into a sphere, and then into a long cylinder ("snake") with roughly even thickness. Dust with flour as needed during this process to prevent sticking.

Cut the "snake" into roughly even small-bite-size pieces. You can boil the pieces as they are now (pillow-shape), if you like, or you can shape them into the classic fork-rolled shape.

To make the fork-rolled shape, I like to put the dough piece on my finger and roll a fork over it as shown in the process photo above. Alternatively, you can gently roll each dough piece along the back of a fork or down a gnocchi board. You can experiment by kneading in slightly more flour if your dough is sticking too much.

Place each completed gnocco onto a cutting board or baking tray, making sure to separate the gnocchi so they don't stick together.

Once you have completed a batch – it can be a quarter of the whole amount, or half – you can start boiling them.
Boil the gnocchi
Carefully add the gnocchi into the pot of boiling water. Give it a gentle stir, to separate any stuck-together gnocchi and to release any stuck to the bottom of the pot. Boil until all the gnocchi are floating – about 2-3 minutes. When all the gnocchi are floating, use a slotted spoon or small strainer to fish them out.

Cook the rest of the gnocchi in the same way (if any remain).
Dress or saute the gnocchi
Once the gnocchi are well-drained, you can either dress them in sauce or pesto or saute them on their own and eat them. See the blog post above for tips on final preparation.

If using sauce or pesto, it's best to saute the gnocchi in the sauce/pesto briefly until everything is heated through.
Notes
Russets are easier to work with, but Yukon gold potatoes have a lovely buttery texture and flavor. Yukon golds can be wetter and stickier, which can make it harder to form each piece. If you want to make pretty-looking gnocchi and you're new to this, go for russets. See the blog post above for more tips on consistency.
You can add any amount up to the amount of salt given here, or less, if you prefer. Salt is more important if you are going to serve the gnocchi sauteed without any sauce or pesto. Remember that you can always add more later.
It's OK if there are small pieces of potato in your gnocchi – they make for a lovely melty, buttery mouthfeel as you eat them.
Don't worry if you don't have a scale – you'll reach the right ratio by feel as you knead the dough and gradually add flour.