This soba noodle soup features fresh spring veggies, crispy tofu, bamboo shoots, and mushrooms in a smoky, savory broth with toothy buckwheat noodles. It's both refreshing and hearty – a slurpable and soothing one-bowl meal.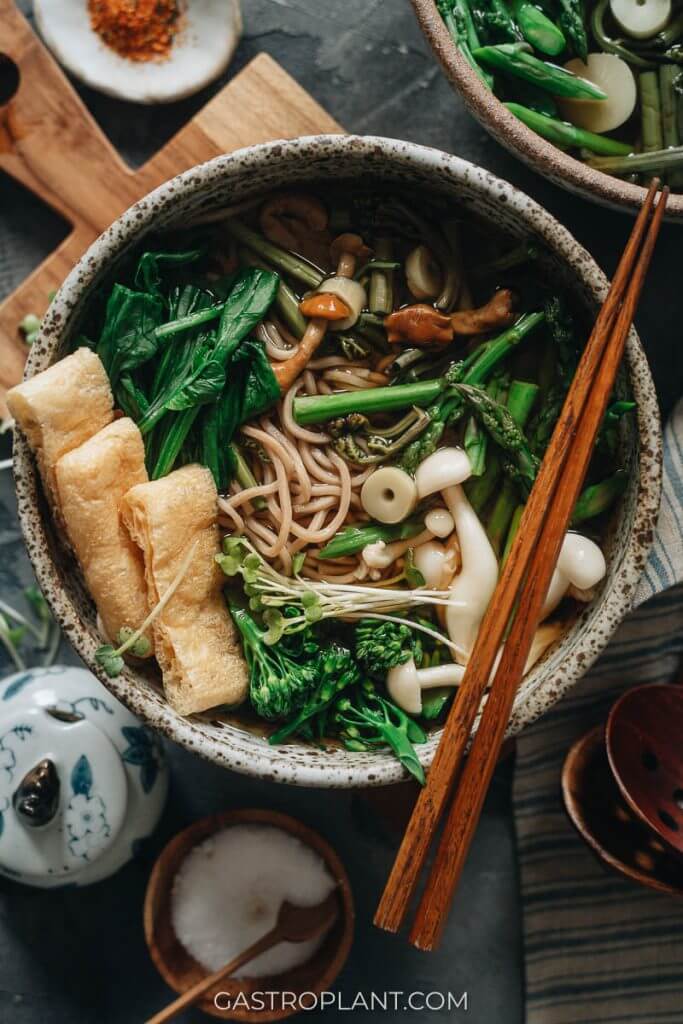 Soba Noodle Soup Goes Green
If you've followed me for any amount of time, you might have noticed that I share a lot of noodle soups. From ramen to udon to nabe hot pot, steamy soup with chewy noodles makes a really satisfying meal.
I also really enjoy meals that use an abundance of fresh green veggies – from green smoothies to pasta primavera. The wealth of nutrients the veggies bring, combined with the vibrant shades of color, are a mood and energy booster.
It only makes sense that I'd combine these approaches and make a noodle soup that's overflowing with green veggies. In honor of spring and its seasonal harvest, I put together this soba noodle soup, also known as sansai soba.
The Inspiration for This Soba Noodle Soup
This dish was inspired by one of my favorite noodle shops in the city, a soba restaurant called Cocoron. They have a vegan sansai soba, which uses their excellent house-made buckwheat noodles, a rich plant-based broth, and a veggie mix called "sansai". If you ever visit New York, do pay them a visit.
(If you live in New York, please consider ordering takeout or frozen items from them to support them during these difficult times.)
Spending 99% of my time at home lately, I wanted to recreate their sansai soba, not just so I could enjoy it myself, but so you can experience it at home as well, wherever you may be.
So How do You Make This?
There are a few components here, all of them pretty simple, but I'll walk you through them.
Soba Noodles
If you're not familiar with soba, they're noodles made at least partially with buckwheat. They have a light brown color and a chewy texture with grainy bits here and there. They taste like other wheat noodles, but with a very faint sourness.
They are less refined and more nutritious than most wheat noodles. Some (but not all) are made from 100% buckwheat – that kind is gluten-free.
Outside Japan, soba most frequently come dried, but if you are lucky, you can find fresh soba made by Sun Noodle.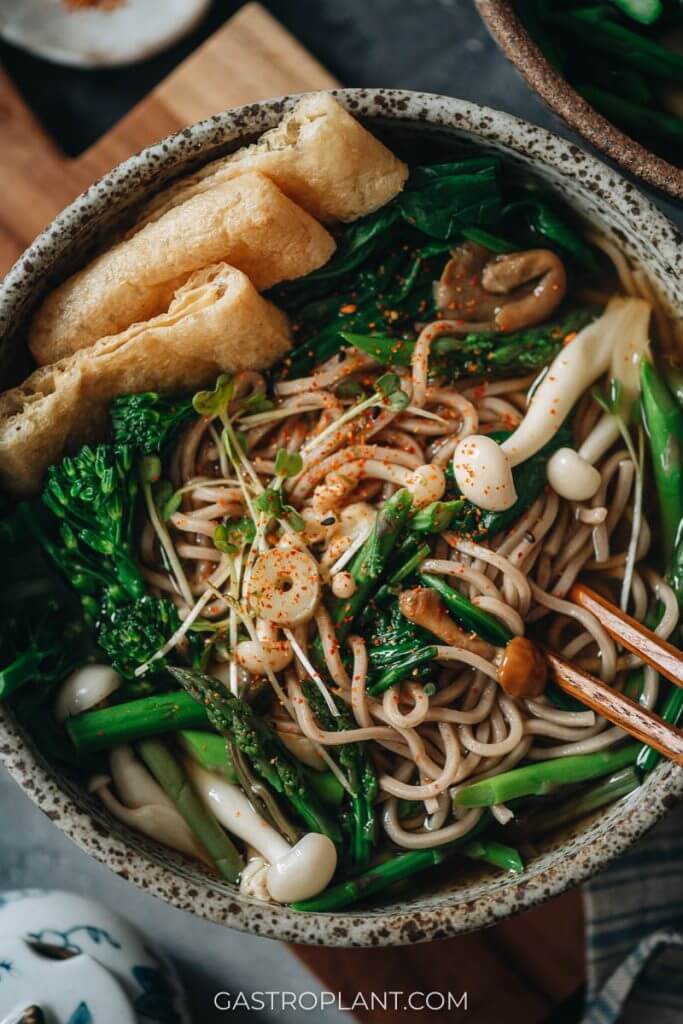 Plant-Based Soba Tsuyu (Broth)
I used a simple vegan broth (also known as tsuyu) for this dish. Similar to dashi, the main flavor comes from dried shiitake mushrooms, two types of seaweed, and soy sauce, which combine for a fragrant, savory, earthy soup.
For some extra nuance, I added a bit of sake (this is optional), which adds a sweet aroma and enhances the other flavors. Liquid smoke adds a touch of woody smokiness and maple syrup a subtle sweetness.
Sansai
Sansai is a Japanese term that refers to a mixture of vegetables and mushrooms, which were traditionally foraged. There are lots of greens and shoots and things that look wild and nourishing.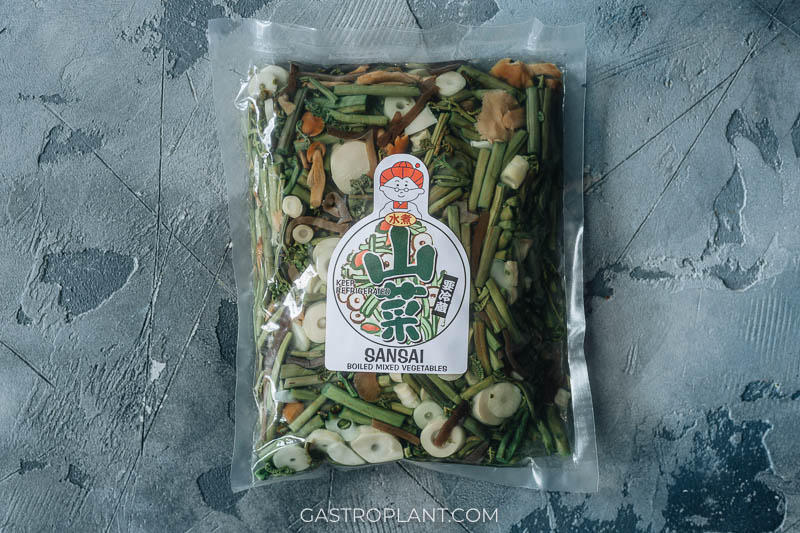 Fiddlehead ferns, bamboo shoots, wood ear mushrooms, and enoki mushrooms are common sansai ingredients.
It is possible to buy sansai in a Japanese grocery store, but you don't need to buy sansai to make this recipe! More on this below.
Fresh Veggies and Mushrooms
Since it's spring, I couldn't resist adding asparagus and broccolini. I included spinach and shimeji mushrooms to round it out.
To cook the veggies and mushrooms, I blanched them in a pot of boiling water very briefly to preserve the color and flavor.
Crispy Tofu
Since everything else in the soup is boiled or blanched, I wanted to include something dry and crispy in the soup. I baked aburaage (fried tofu) until crispy and it makes a perfect complement.
If you can't find aburaage, feel free to use cubes of firm tofu instead.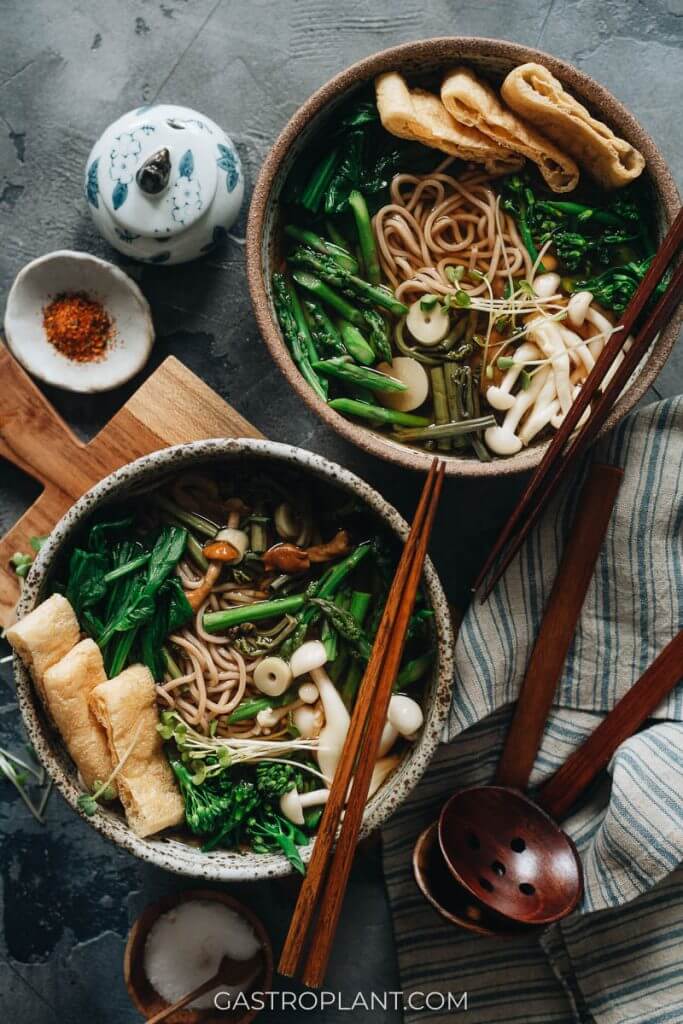 What to do if You Don't Have Sansai
You can replace the sansai with any combination of the following:
More of the asparagus, spinach, mushrooms, or broccolini already in the recipe
Other fresh veggies not in the recipe – snow peas, green beans, kale, bok choy, etc (you'll want to blanch these until just cooked)
Canned bamboo shoots and/or water chestnuts
Rehydrated, sliced, and blanched wood ear mushrooms
Any kind of mushrooms you feel like (blanch these as well)
Cooking Workflow
It's helpful to get set up before you start cooking, to make things easier. I recommend a two-pot setup here:
You'll simmer the broth in one pot – it takes at least 30 minutes to infuse the flavors of the mushrooms and seaweed. This pot won't require too much attention as it simmers, but it will need to be drained.
You'll boil water in another pot and use this to boil the noodles and each of the fresh veggies and mushrooms. It's important to pay close attention to this pot, since the boiling time can be different for each ingredient. You want the noodles properly chewy and none of the veggies overcooked.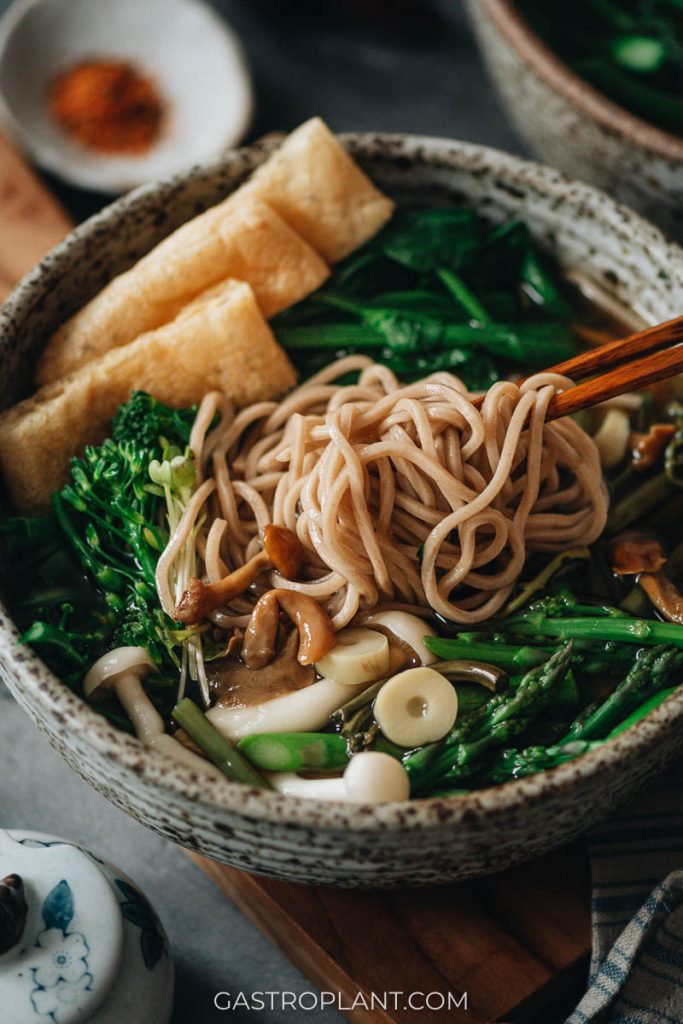 Final Thoughts
This is a pretty long post about a fairly simple dish. My hope is that you'll be able to use this guide to make a soothing bowl of soba noodle soup for yourself and those you care about with a flexible variety of different ingredients.
Confused? Have questions? Leave a note below and I'll help you out.
Looking for Zaru Soba – the cold dipping noodles? Find the recipe here.
Plant-Based Sides to Accompany Your Soba
More Plant-Based Japanese-Inspired Noodles
Yaki Udon – fat, toothy noodles cooked in a savory sauce with veggies and mushrooms
Tonkotsu Ramen – ramen in a brilliantly creamy, intensely nutty and aromatic broth
Tsukemen (Dipping Ramen) – you dip the ramen noodles into a rich, concentrated broth and slurp them down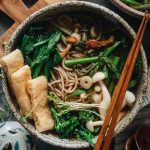 Print Recipe
Vegan Soba Noodle Soup (Sansai Soba)
This soba noodle soup features fresh spring veggies, crispy tofu, bamboo shoots, and mushrooms in a smoky, savory broth with toothy buckwheat noodles. It's both refreshing and hearty – a slurpable and soothing one-bowl meal.
Ingredients
2

servings

soba noodles

dried or fresh

1

cup

sansai

optional (see note)

2

sheets

aburaage

cut into slices (or substitute 1 cup cubed tofu)
Veggies and mushrooms to blanch
1

cup

chopped asparagus

1

cup

chopped broccolini

1

cup

chopped spinach

1

cup

shimeiji mushrooms

or enoki or other mushrooms
Broth
1/2

cup

sake

6

cups

water

1/4

teaspoon

liquid smoke

3

dried shiitake mushrooms

sliced

1

piece

kombu seaweed

2×2 inches or 5×5 centimeters

1/2

sheet

sushi nori seaweed

8×4 inches or 20×10 centimeters

4

large coin-sized slices of ginger

1

teaspoon

maple syrup

4

Tablespoons

soy sauce
Optional garnishes
Radish sprouts

Green onions

sliced thinly

Shichimi Togarashi
Instructions
If using aburaage, preheat the oven to 400 degrees F or 205 degrees C.

Prepare two pots on the stove – one medium-sized one (2.5 quarts or 2.3 liters) for the broth and a large one (5 quarts or 4.7 liters) to cook the noodles and blanch the vegetables and mushrooms.

Fill the large pot 2/3 of the way with water and heat it over high heat.
Simmer the Broth
Combine all the Broth ingredients in the medium-sized pot, except for the maple syrup and soy sauce (you'll add those two at the end). Bring the mixture to a simmer over medium heat, then reduce to medium-low heat. Simmer for at least 30 minutes to infuse the flavors.
Bake the Aburaage
Once the oven is preheated, place the sliced aburaage onto a baking sheet and bake for 10 minutes, or until crispy.
Boil the noodles and vegetables
Meanwhile, when the large pot of water reaches a boil, boil the noodles according to the instructions. You can even undercook them slightly, since they will continue to absorb liquid and soften one they're combined with the broth. Remove the noodles, strain them, and rinse them with cool tap water to stop the cooking.

If you're using cubed tofu (not aburaage), blanch the tofu cubes for 1 minute.

Cook the vegetables and mushrooms individually in the large pot. The asparagus, broccolini, and mushrooms need 30-45 seconds and the spinach needs about 10 seconds. Pay attention to the color of the vegetables – you want them to stay bright green for the best flavor and texture. Remove each vegetable from the pot, strain it, and rinse it with cool tap water.

You can blanch the sansai for 10 seconds to heat it up, but it's already cooked, so this step is optional.
Strain and Season the Broth
By now, the broth should be well-infused. Strain out as much of the solids as possible. The nori will have disintegrated, so use a fine mesh strainer or cheesecloth to remove as much as you can.

Stir the soy sauce and maple syrup into the broth.
Combine, garnish, and serve
Divide the noodles, vegetables, and mushrooms evenly into two large bowls. Spoon broth over top of them until the bowl is nearly full. Add the crispy aburaage. Garnish with radish sprouts, green onions, or shichimi togarashi, as desired. Serve immediately.
Notes
If you don't have sansai, you can increase the amounts of the other vegetables and mushrooms by 1/4 cup each.