This smoky spicy edamame is also sweet, sour, and nutty. It's a well-balanced and flavorful appetizer or snack for any occasion. It is especially good with drinks at a party or barbecue. Bonus – it's extremely easy to make.
Introduction to the Smoky Spicy Edamame
Edamame has consistently been one of my go-to appetizers since I was a teenager. There is something really satisfying about squeezing a bean from its pod. And the beans are tasty and substantial enough to stave off hunger at least for a little while.
Edamame has a certain nuttiness to it that stands up well to seasonings. While I do enjoy edamame plain or with a sprinkling of sea salt, I also like a saucy flavorful version from time to time. I had recently made a batch of homemade smoky chili oil and was eager to make spicy edamame with it. Thus this recipe was born.
What to serve with the Smoky Spicy Edamame
Edamame is commonly eaten in Japan and China and it works well with lots of dishes from both.
Plant-Based Sushi – serve the edamame with some sushi and some beer or sake and you've got a really nice light dinner
Crispy Spring Rolls – another snack that's really fun to eat; if you're going to make the spring rolls for a party, the edamame make a good easy add-on appetizer
Chinese Mushroom and Bamboo Shoot Stir Fry – a really quick and easy veggie dish; it's mild and savory so it complements the spicy edamame well.
How to make it
Boil the edamame peas in a pot of water. While that's going on, you mix together a sauce of melted plant-based butter, sesame oil, sesame seeds, chili oil, and maple syrup. When the edamame is cooked, you drain it and pour the sauce over it in a bowl. Mix it together and you're done. You can eat it warm or chill it and eat it cold.
A note about chili oil
The recipe will work with both homemade chili oil as per my recipe and store-bought chili oil. If you use my recipe, the flavor will be more complex and bright, but it's a lot easier to just use a store-bought bottle. It will be tasty either way.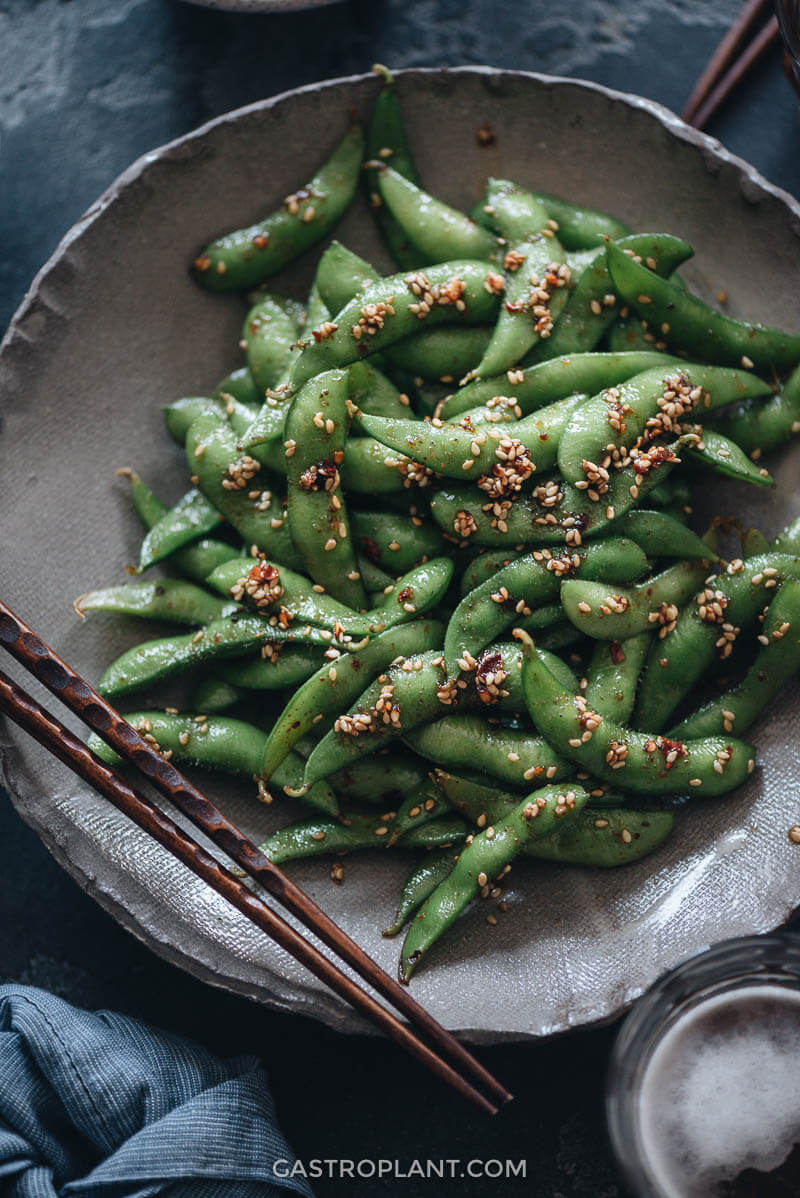 More Plant-Based Asian-Inspired Goodies
Vegan Soy Milk Ramen – this one has a lightly creamy and fresh broth, blistered tomatoes, and avocado; it is another good dish to use the chili oil on.
Vietnamese Jackfruit Salad – a fun salad to eat, with sauteed oyster mushrooms, lots of fresh herbs, lime, chile, and sesame.
Yaki Udon – the noodles with the best texture, stir-fried with some veggies and mushrooms in an umami sauce; it's easy satisfaction.
As always, if you try this recipe out, let me know! Leave a comment, rate it (once you've tried it), and take a picture and tag it @gastroplant on Instagram! I'd love to see what you come up with.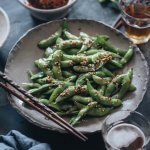 Print Recipe
Spicy Edamame
This spicy edamame is also smoky, sour, and sweet. It's a well-balanced and flavorful appetizer or snack for any occasion. It is especially good with drinks at a party or barbecue. Bonus - it's extremely easy to make.
Ingredients
1

pound

edamame

(500 grams)
Sauce
1

Tablespoon

melted plant-based butter

1

teaspoon

toasted sesame oil

1/2-1

Tablespoon

chili oil

(see blog post for the link to the homemade recipe)

1

teaspoon

maple syrup

optional
Topping
Salt to taste

1

Tablespoon

toasted sesame seeds
Instructions
Before cooking the edamame, check the package to see whether it is pre-cooked. If it is precooked, you can simply thaw it. If it is not cooked or the package doesn't say, you'll need to cook it.
If you need to cook the edamame:
Bring a 2/3-filled large pot of water to a boil over high heat. Add the edamame and cook until tender, about 5 minutes. The edamame is ready when the peas release easily from the pod when squeezed.
Make the sauce
While waiting for the water to boil, melt the plant-based butter in the microwave or in a small skillet over medium heat on the stovetop. Combine the melted butter with all of the other sauce ingredients. Mix well.
Combine and serve
When the edamame is cooked, drain it. You can rinse it with cold water if you'd like to serve it at a cooler temperature. Don't rinse it if you'd like to serve it warm.

Transfer the edamame to a large bowl. Add the sauce. Add sesame seeds and salt to taste and mix again.
Notes
The amount of chili oil you use will depend on your preferred spice level.
Once combined with the sauce, the edamame will keep for two days in the fridge.
You can serve the edamame cold if you prefer.