This vegan yaki udon is made with thick, tender noodles, assorted veggies, and shiitake mushrooms, all in a sauce that is light but deeply umami. I guarantee it's better than the one from your local takeout spot.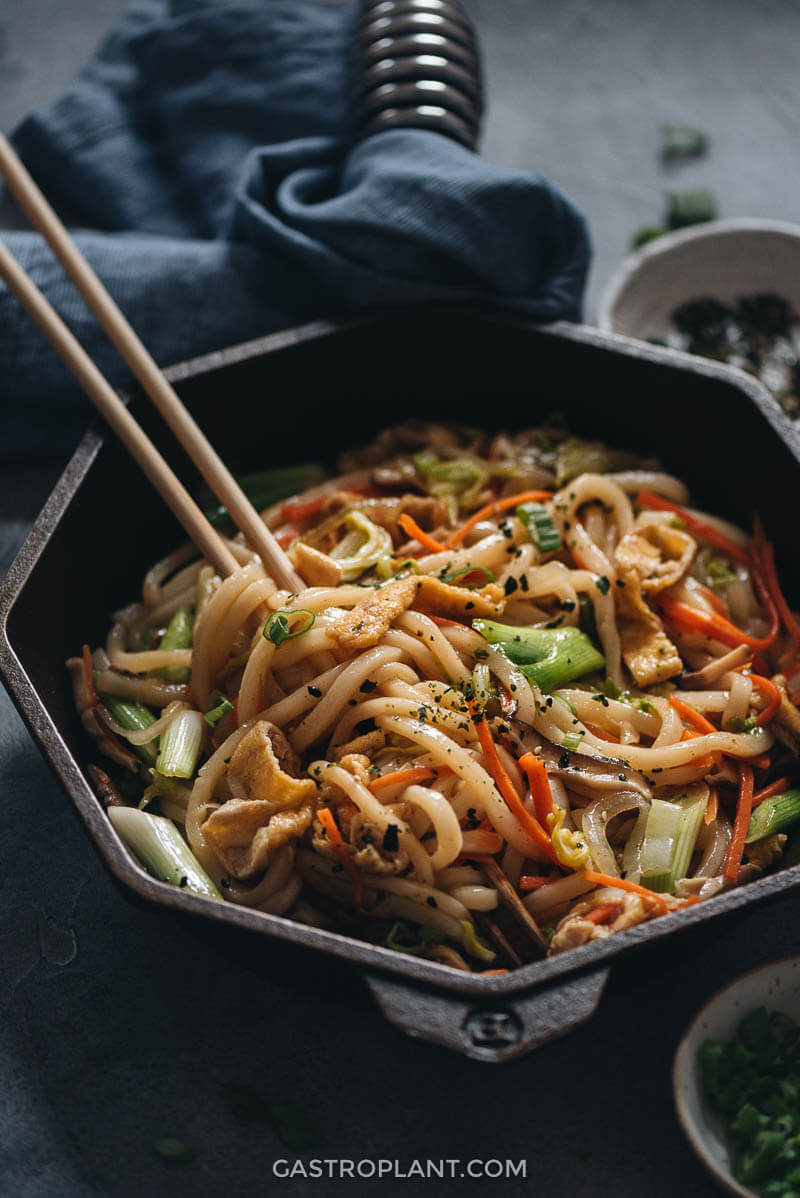 Stir-fried noodles are just great
I was trying to come up with the reason that stir-fried noodles are so satisfying, and I think that it comes down to mouthfeel. Something about hot oil-coated chewy-yet-tender noodles in a salty, sometimes spicy, sour, or sweet sauce is really enjoyable to eat. There are other additions – meat, vegetables, mushrooms, tofu – that add some character, but they are really just supporting cast. Whether we're talking about lo mein, pad thai, char kway teow, japchae, or mee goreng, it's the noodles that are the star of the dish.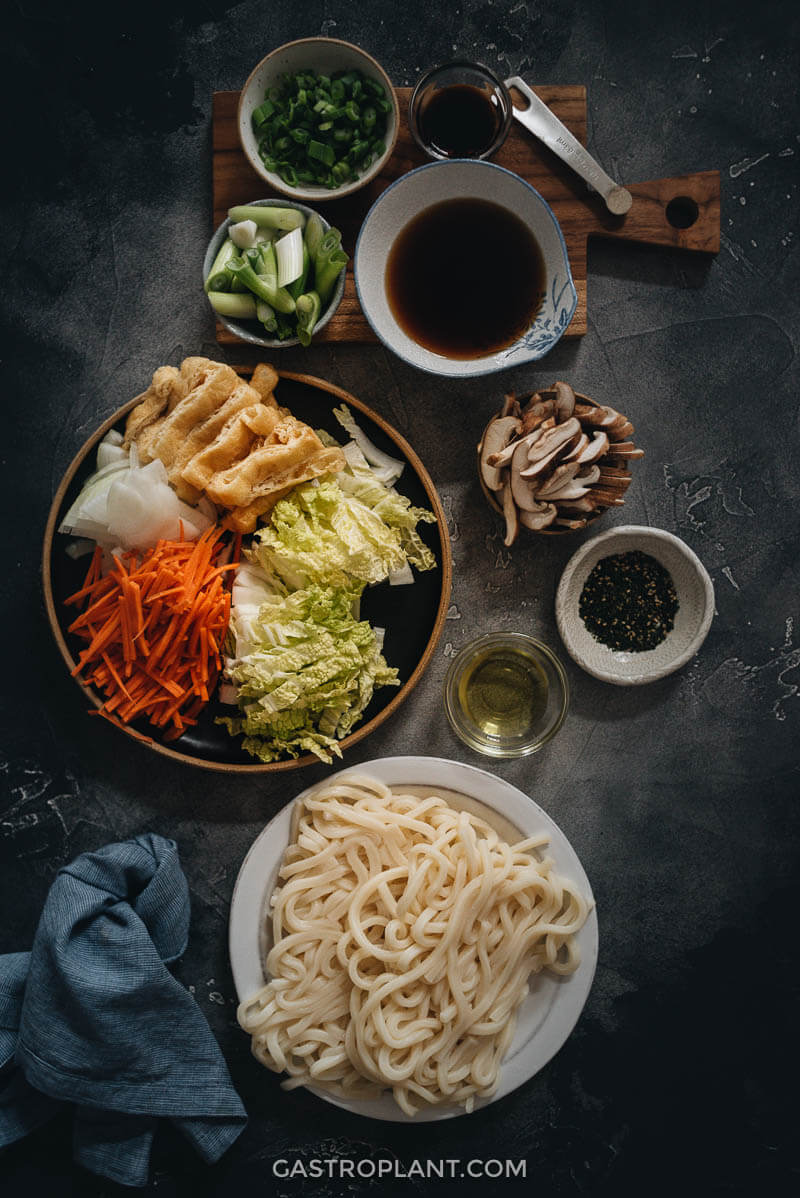 Udon is a special kind of noodle
Of the different shapes and sizes that noodles come in, few come close to udon in thickness. They are thicker than any solid Italian pasta. A few types of handmade Chinese noodles approach udon thickness, but they are flat, while udon is round.
Because of the thickness, udon has a unique "toothfeel". It's both soft and chewy. The noodles are so substantial that a meal might consist of just 10 or 15 strands. They absorb flavor really well and can stand up to a lot of heat without getting soggy or falling apart. Udon can be used in soup, stir-fried, or even served cold.
This vegan yaki udon recipe
I wanted to develop a fairly easy yaki (stir-fried) udon recipe that includes some variety of plant-based foods to make a complete meal. I went with napa cabbage because of its versatility, shiitake mushrooms for their intense flavor, carrots for their crunchy texture, and fried tofu puffs (aburaage) for their special texture.
The cooking process is straightforward. Either thaw or boil the frozen udon noodles. Mix the stir-fry sauce (or make your own – see below). Then begin stir-frying the vegetables. There are onions, mushrooms, carrots, cabbage, and green onions. Once those are mostly cooked, you add the noodles, the sauce, and some seasoning, and stir everything together. The whole cooking process takes just over 10 minutes.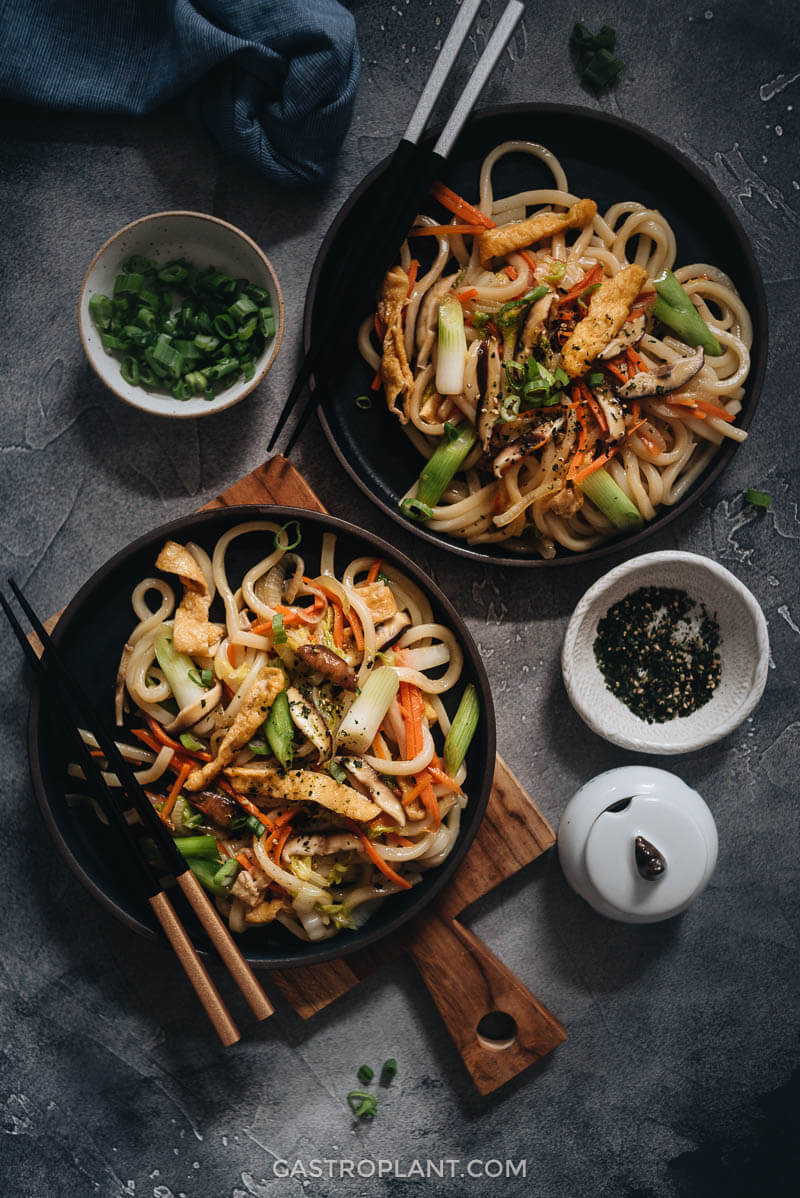 The stir-fry sauce
I needed to develop a sauce for this recipe since the traditional version actually uses a soup base known as "mentsuyu", which is not plant-based. The flavor of mentsuyu is quite nuanced with many layers of umami. It has soy sauce, kombu (kelp), and bonito flakes. Plus the boozy sweetness of sake and mirin. My goal was to replicate, as best I could, the fishy, smoky, umami of the bonito flakes. I did this two ways.
First, I tested the recipe using a homemade kombu dashi-based mentsuyu, which took some time to make but really captured the essence of the sea. I used kombu, nori, dried shiitake mushroom, and liquid smoke, in addition to the soy sauce, sake, mirin, and maple syrup. That mentsuyu was richly flavored and worked wonderfully in the yaki udon, but it is another recipe in itself. I'll share it in the coming days.
The other mentsuyu I used was much quicker and easier. It didn't require any cooking and consisted of soy sauce, mirin, sake, maple syrup, liquid smoke, and vegetarian stir fry sauce. Vegetarian stir fry sauce, aka vegetarian oyster sauce, is made from shiitake mushrooms and is quite concentrated. This quick mentsuyu also worked quite well.
How to shop for the vegan yaki udon
If you have an Asian market nearby, I highly recommend paying it a visit. There you should be able to get the ingredients for this dish, including:
Frozen udon noodles – It's important that you get the frozen kind. They may be labeled as "U-Dong" if produced by a Korean brand. This is fine. The noodles typically come in packs of five 8-ounce (250-gram) bricks. You can use dried udon noodles, which you'll need to boil completely according to the instructions, but the result will be totally different. Dried udon is just not the same.
Frozen Fried tofu puffs aka aburaage – these are sheets of fried tofu that can actually be made into pockets. They have a really nice chewy texture somewhere between firm tofu and a fried egg.
Vegetarian stir fry (oyster) sauce – made from shiitake mushrooms, it is salty and umami
Japanese garnishes – I like to top my yaki udon with various seasonings which are used as condiments. My favorites are furikake – a mixture of shredded seaweed and sesame seeds, seven spice aka shichimi togarashi – a spicy and nutty and savory all-around seasoning, ground sansho – like Sichuan peppercorn but more citrusy, and Japanese chili oil which has a fantastic nuttiness to it.
Ingredients for homemade plant-based dashi mentsuyu (to be shared shortly)
Other delicious plant-based Japanese recipes
Tonkotstu Ramen and Ramen Broth – so far, my favorite vegan ramen ever. It's rich, velvety, and full of nutty umami flavor.
Curry Rice – a satisfying and comforting staple dish, this curry is mild and well-rounded and goes well with practically any savory food.
Japanese Buddha Bowl Meal Prep – a diverse and nourishing array of foods you can prepare in advance. Includes roasted sweet potatoes, mixed rice, seaweed salad, and a tangy sesame dressing.
If you try this recipe out, let me know! Leave a comment, rate it (once you've tried it), and take a picture and tag it @gastroplant on Instagram! I'd love to see what you come up with.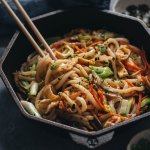 Print Recipe
Vegan Yaki Udon
Thick, tender noodles, assorted veggies, and shiitake mushrooms, all in a sauce that is light but deeply umami. I guarantee it's better than the one from your local takeout spot.
Ingredients
2

"bricks" frozen udon noodles

8 ounces / 250 grams per brick

1

Tablespoon

neutral cooking oil

1/2

onion

sliced thinly

3

napa cabbage leaves sliced into short strips

1

medium carrot

julienned or shredded

4

medium fresh shiitake mushrooms

sliced thinly

2

tofu puffs

aburaage sheets, sliced into thin strips

3

green onions

with the white part cut into 2-inch pieces and the green part chopped finely and set aside for garnish

1/8

teaspoon

white pepper

1

teaspoon

soy sauce
Sauce
1

Tablespoon

sake

1

Tablespoon

mirin

1

Tablespoon

soy sauce

1/2

teaspoon

maple syrup

or other sweetener

2

teaspoons

vegetarian stir-fry sauce

5

drops liquid smoke

1

Tablespoon

water
Garnishes (optional)
Furikake

Shichimi togarashi

Chili oil

Sansho
Instructions
Prepare the noodles
The noodles can be thawed overnight in the fridge or boiled for about 3 minutes. If the noodles have completely thawed you do not need to boil them. If using dried noodles (not recommended, see notes) follow the instructions on the package. Drain noodles and set aside.
Mix the sauce
Combine all the ingredients for the sauce in a bowl. Stir to mix well.
Cook the stir-fry
Prepare your stir-fry station by the stove with a large nonstick skillet, a pair of tongs or chopsticks, all the prepared ingredients, the sauce, and the noodles.

Heat the oil in the skillet over medium heat. When the oil is hot, add the onion. Stir occasionally for 3-4 minutes until the onion has softened.

Add the carrot and cabbage and stir for 1 minute.

Add the shiitake mushrooms and green onion. Stir for 3 minutes until the onion begins to soften.

Add the noodles. Stir well with the other ingredients. Pour in the sauce, soy sauce, and white pepper. Stir for 2-3 minutes until the noodles are heated through and well coated with sauce.

Serve immediately and garnish with the green onion tips and any of the suggested seasoning condiments.
Notes
Dried udon will work in this recipe, but the result will be quite different. You will want to slightly undercook the dried noodles when boiling them because they will absorb the sauce and cook a bit more.
Use frozen udon noodles if you have the option.
As an alternative to the sauce, you can use homemade vegan dashi-based mentsuyu (recipe coming soon).
Do take note that the recipe uses soy sauce in the sauce and in the stir fry (two times) to accommodate the possibility of using prepared mentsuyu.
You can substitute other types of sweetener for the maple syrup, which I used for convenience. Traditional Japanese recipes use sugar. A liquid will be easier to dissolve.