This Vegan Udon Noodle Soup features a homemade vegetable broth with a smoky umami, a variety of fresh veggie toppings, and crispy tofu. It's a bowl of instant comfort on a cold day. And the soup makes a great tempura dipping sauce.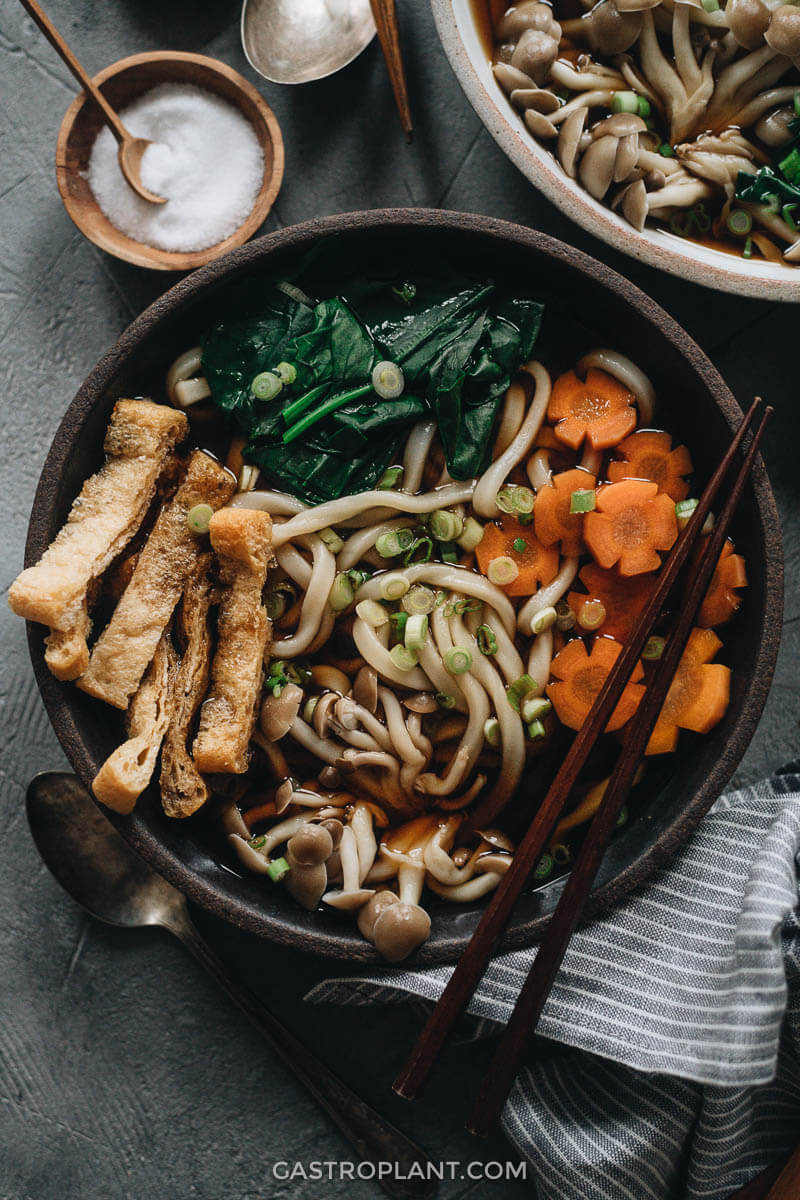 Intro to the Vegan Udon Noodle Soup
Several months ago, when I was developing a recipe for Vegan Yaki Udon, I stumbled upon a broth formula that I thought would work really well for udon soup. It wasn't exactly prime soup season then, so I decided to hold off.
It's a comforting dish for cooler months. It has extra thick, chewy noodles swimming in an umami, slightly sweet, and barely smoky broth. The noodles and broth are pretty satisfying on their own.
For some variety, color, and nutrition, I topped with crispy tofu, spinach, mushrooms, and carrots.
I've been enjoying this soup over the past couple of weeks and wanted to share it with you.
What makes this soup tasty
Super flavorful homemade broth
With the broth, I tried to emulate what makes the original version tasty. The flavor profile is based around kombu (seaweed), dried mushrooms, soy sauce, mirin, and liquid smoke.
At the base of the broth is a homemade vegetable stock made from carrot, daikon, and ginger. This stock adds a roundness, a little bit of sweetness, and a layer of fragrance to the soup.
The result is a noodle soup that is rewarding and satisfying on the surface and subtle and complex if you examine it.
Chewy udon noodles
I want to emphasize how good it feels to bite into udon noodles. They contain a combination of wheat flour and tapioca starch and are some of the bounciest noodles I've ever tried.
If you haven't had the super-thick udon before, I highly recommend checking them out. They are usually sold frozen.
Fresh, simple toppings
I chose toppings for this soup that I thought would be pretty familiar and comforting.
The spinach, carrots, and mushrooms are simply blanched and taste like themselves.
I added aburaage (Japanese fried tofu sheets) as a fun sort of wild card ingredient. Simply bake the aburaage to turn it into a supremely crispy (think pork rinds or Cheetos) textural bite.
Using the soup as a dipping sauce
One thing struck me as I slurped this soup – the flavor was also on-point for a tempura dipping sauce.
I plan to make a plant-based tempura guide at some point in the future. But for now, check out this super clever (and possibly more traditional) vegan tempura recipe from the NY Times.
Also, do try dipping anything and everything that's crispy into the soup base. The aburaage in the recipe should give you a taste of that brothy-crunchy experience. You'll see what I mean.
Some notes before you start
Try to use frozen (or fresh) udon noodles if you can, since they have the best texture by far. Dried udon won't be the same, but it will still be tasty.
I've tried this broth with soba noodles and it was delicious. If you're only working with dried noodles, you might try soba instead of udon.
If you're short on time, you can use store-bought vegetable stock and skip some of the simmering time.
Plant-Based Side and Appetizers to go with the Udon
Addicted to noodle soup? Check out these plant-based ramens
As always, if you try this recipe out, let me know! Leave a comment, rate it (once you've tried it), and take a picture and tag it @gastroplant on Instagram! I'd love to see what you come up with.
Print Recipe
Vegan Udon Noodle Soup
This Vegan Udon Noodle Soup features a homemade vegetable broth with a smoky umami, a variety of fresh veggie toppings, and crispy tofu. It's a bowl of instant comfort on a cold day.
Ingredients
Vegetable stock
6

cups

water

1

cup

carrot

sliced thinly (140 grams or 5 ounces)

1

cup

daikon radish

sliced thinly (180 grams or 6 ounces)

1/2

Tablespoon

ginger

sliced thinly (about 4 thick coin-sized pieces of ginger)

1

dried shiitake mushroom

1/2

cup

dried mushrooms

see note

1

piece

kombu

3x3 inches or 7.5x7.5 centimeters
Soup Seasonings
1/2

cup

soy sauce

1/4

cup

mirin

1

Tablespoon

maple syrup

or other sweetener

1

Tablespoon

sake

or more mirin

1/8

teaspoon

liquid smoke
Noodles and toppings
2

servings udon noodles

preferably fresh or frozen (see note)

1

carrot

peeled and sliced

3.5

ounces

fresh spinach

100 grams

2

ounces

fresh beech mushrooms

57 grams, can substitute enoki or other mushrooms

2

sheets

aburaage

fried tofu
Garnish
2

green onions

chopped

Shichimi togarashi

optional
Instructions
Make the Stock
Combine all the ingredients for the vegetable stock in a large pot. Bring to a boil over high heat, then cover, turn to low heat, and simmer for at least 20 minutes.
While the Stock is Simmering, Prepare the Noodles and Toppings
Preheat the oven to 400 degrees F (200 C).

While the oven is preheating, bring another pot of water to a boil over high heat.

When the oven is hot, place the aburaage sheets on a piece of foil and put them in the oven. Bake until brittle and crispy, 10-12 minutes. Remove the aburaage and cut it into thin strips.

If using frozen udon noodles, submerge them in the boiling water just long enough for them to soften (they only need to thaw). If using dried noodles, cook them according to the instructions, undercooking them by about 1 minute (they'll soften more once they're in the soup). Don't discard the noodle boiling water.

Use the noodle boiling water to blanch the spinach, carrot, and mushrooms. The mushrooms and carrot need about the same amount of time - about 3 minutes. The spinach just needs 20 seconds or so - remove it when it's bright green.
Complete the Stock
When you're ready to serve, remove the solid ingredients from the vegetable stock (you can eat them or discard them as you like) and stir in the ingredients listed under "Soup Seasonings".
Assemble and Serve
Prepare a bowl for each serving - put equal portions of noodles and toppings into each. Add enough soup as desired (you'll probably have some left over in any case). Top with green onion and shichimi togarashi as desired. Serve immediately.
Notes
The recipe will create more broth than you need for 2 servings. You can make a third serving if you like, or use the extra soup for a dipping sauce for tempura (or other crispy food).
If you'd like to save time, you can use 6 cups of packaged vegetable stock instead of the ingredients listed here under "Vegetable Stock". Still, you may want to infuse the packaged vegetable stock by simmering the kombu and shiitake mushroom in it for at least 15 minutes.
I use a blend of white, brown, oyster, and black trumpet mushrooms. You can use any kind of dried mushrooms you like, or replace them with an additional dried shiitake mushroom.
Fresh and frozen udon noodles will have the best texture by far. If you are going to use dried noodles, dried udon will work but won't be the same. Dried soba will work in this recipe too.