This vegan Japanese potato salad has creamy mashed potato, corn, carrot, and celery and is topped with tangy and umami okonomi sauce. It's an addictive appetizer or side dish that is really easy to make.
Intro to Vegan Japanese Potato Salad
Like a lot of my recipes, this one was inspired by a dish I tried at a local restaurant. Ramen Ishida is a tiny shop in Manhattan that makes some of the best ramen I've ever had and their vegan options are outstanding. I decided to try an appetizer with my ramen and went with this potato salad.
This potato salad was like others I'd tried, but what makes it different from Western versions are the corn (this is standard in Japanese potato salad) and the okonomi sauce (this seems pretty unique to Ishida).
I really liked the contrasts in this dish – creamy potato against the different crunches of the corn, carrot, and celery. There's also the contrast between the potato and the okonomi sauce, which is sweet, sour, salty, and smoky. So, I decided to recreate it at home and share it with you.
What is okonomi Sauce?
Okonomi sauce is a Japanese condiment made from tomato, date, onion, apple, peach, carrot, orange, garlic, soy sauce, and sugar. The flavor is really similar to that of Worcestershire sauce, incidentally, but it's much less concentrated so you can slather it on food like you might with ketchup.
An important point – okonomi sauce is entirely plant-based, while Worcestershire sauce typically contains fish.
It's a good sauce to use in place of ketchup or barbecue sauce, since it has things in common with both. I haven't tried it in a dish in place of Worcestershire in a marinade or cooked dish, but I imagine it would work that way, too.
In the spirit of full disclosure, while okonomi sauce is delicious, most brands of it contain high-fructose corn syrup. If you know of a brand that doesn't contain it, please let me know!
How to make the Vegan Japanese Potato Salad
There are three main steps to the recipe:
Prep and chopping – you'll need to cut the potato, celery, onion, and carrot, all fairly small. Uniform-sized pieces will help make a consistent texture. I tried to get each of the chopped pieces roughly to the size of the corn kernels. While you do this, bring a pot of water to a boil.
Boiling and blanching – you'll boil the potatoes until they're nice and tender, but not falling apart. Then transfer them briefly to a hot skillet to dry them out briefly. Then blanch the carrots for a couple minutes so they're tender but still have some crunch
Then you mix everything together. Mash the potato until smooth, together with salt, nutritional yeast, plant-based butter, and mayo. Then stir in the chopped veggies, season with black pepper and okonomi sauce.
A Few Notes Before You Start
The potato salad is plenty tasty without the okonomi sauce. Feel free to skip it.
You can eat the salad hot, let it cool to room temperature, or chill it. It's tasty all three ways.
Make it a Meal with Some Plant-Based Ramen
More Plant-Based Asian Appetizer and Sides
As always, if you try this recipe out, let me know! Leave a comment, rate it (once you've tried it), and take a picture and tag it @gastroplant on Instagram! I'd love to see what you come up with.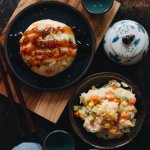 Print Recipe
Vegan Japanese Potato Salad
This vegan Japanese potato salad has creamy mashed potato, corn, carrot, and celery and is topped with tangy and umami okonomi sauce. It's an addictive appetizer or side dish that is really easy to make.
Ingredients
1

russet potato

peeled and cut into 1/2-inch (1-centimeter) thick slices (about 10 ounces or 300 grams)

1/4

cup

carrot

diced small

1/4

cup

celery

diced small

1/4

cup

white onion

minced

1/4

cup

corn kernels

drained (can be canned or frozen)

3

Tablespoons

vegan mayo

1

Tablespoon

vegan butter

1

Tablespoon

nutritional yeast

1/4

teaspoon

salt

Black pepper to taste

Okonomi sauce

(optional)
Instructions
Bring 2 quarts (liters) of water to a boil over high heat in a medium saucepan. Prepare a nonstick skillet over extra-low heat as well. When boiling, add the potato. Cook until the potato is tender, but not falling apart, 5-7 minutes. Turn off the heat under the saucepan.

Use a slotted spoon to transfer the potato pieces to the heated skillet. Increase the heat on the skillet to medium-low. Gently flip the potato pieces periodically to dry them out but be careful not to brown them. When they are dry, after 2-3 minutes, transfer them to a large mixing bowl and turn off the heat under the skillet.

Add the vegan mayo, mayo, nutritional yeast, and salt to the bowl. Use a potato masher to thoroughly mash and mix the ingredients together until it forms an even and smooth mixture.

Set the burner under the saucepan of potato water to high heat and the one under the skillet to low heat. When the water returns to a boil, add the carrot. Blanch until slightly tender but still with some crunch, about 3 minutes. Transfer the carrot to the skillet to dry it, about 2 minutes, before transferring the carrot to the mixing bowl with the potato. Turn off all the burners

Add the celery, onion, and corn to the mixing bowl. Stir well.

You can either store the potato salad in the fridge or serve it now.

Before serving, sprinkle black pepper over the top of the potato salad and add a drizzle of okonomi sauce (if using).
Notes
You can skip the drying process (in the nonstick skillet) for the potato and carrot, but the dish may be slightly more runny.
It is possible to blanch the carrots at the same time that you are drying the potatoes in the skillet. If you're comfortable with this simultaneous action, it can speed up your cooking process.