The Winter Buddha Bowl Meal Prep features filling, nutritious seasonal veggies cooked just right and paired with a warming cashew curry sauce. Use this guide to simplify your lunches in cooler months.
Introducing the Winter Buddha Bowl Meal Prep
This is one of those recipes developed out of personal need. Eating lunch at the office, I try to bring a healthy lunch as much as I can. And it only makes sense to cook food in large quantities on Sunday so I have food to eat throughout the week. 
I'm also a believer that seasonal produce is the tastiest and most nutritious choice for that time of year.
So this recipe is the result of one cold winter spent roasting veggies constantly for everyday meals. I chose a combination of veggies that I found pair nicely together and make for a nutritionally complete meal.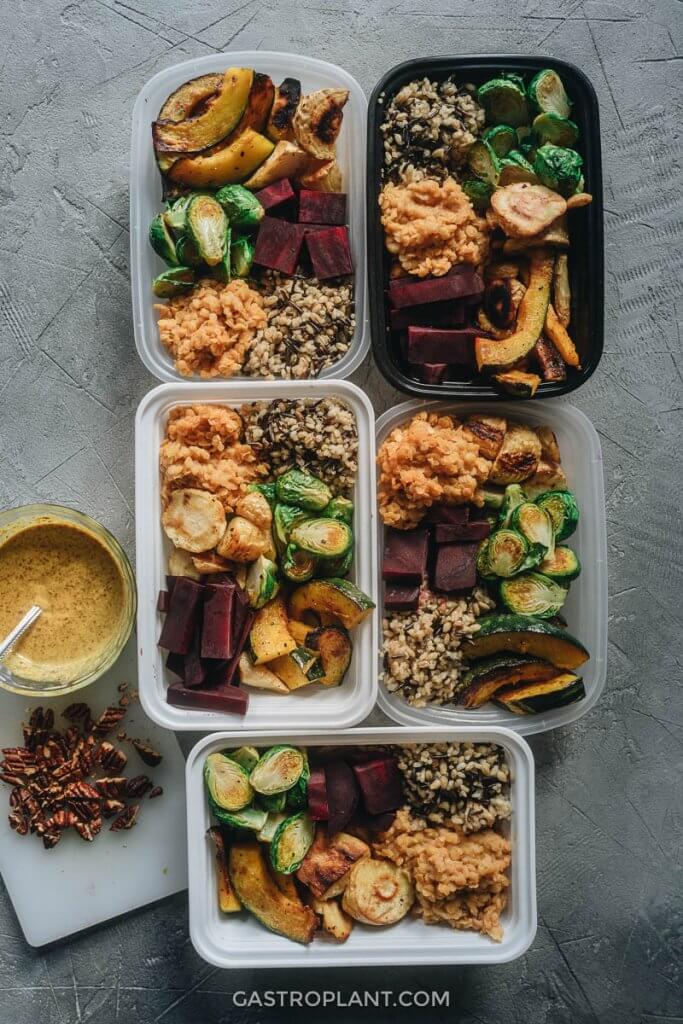 What's In this Buddha Bowl?
Roasted Veggies
Brussels Sprouts – Roasted until brown and crispy on the edges yet still a vibrant green, so they're nutty and grassy but not bitter.
Beets – Wrap them in foil and bake them in the oven – they'll come out tender and oozing with their signature crimson juice.
Winter Squash – I recommend kabocha but you can use practically any kind. We slice it thin and get it caramelized on the outside and tender inside.
Parsnips – One of the more underrated root veggies, parsnips are like fruity-tasting carrots. They have a pleasant but uncommon flavor and caramelize very nicely when roasted.
Mixed Whole Grains
I like to use a combination of brown rice, barley, and wild rice for texture and nutrition. Quinoa and farro are also nice additions. Feel free to use your favorite grain or combination of grains here.
When cooking mixed grains, let the ingredient with the longest cooking time determine how long you cook the mixture. 
Red Lentils
I went with red lentils because they cook so quickly and add a nice touch of color to the bowl. And their beany-grassy flavor works well with the curry sauce.
They're lightly seasoned with garlic, olive oil, bay leaf, and cumin. I included the option to add miso (my favorite ingredient) for a sturdy foundation of umami. You can substitute a touch of soy sauce or a pinch of salt.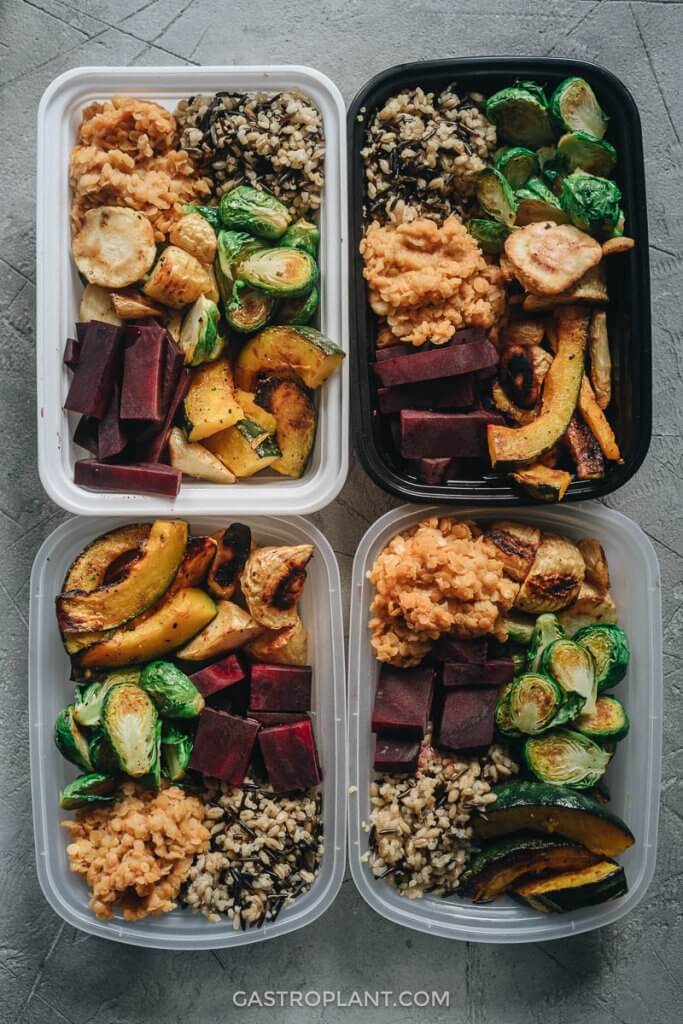 Don't Forget the Sauce
I included a sauce that is warming, comforting, and slightly rich, combining cashew butter, dijon mustard, curry powder, and maple syrup. The flavor profile is fragrant from the curry (not overpowering), creamy, and a little sweet-sour.
Definitely try it if you have the ingredients handy.
If you don't have them handy or if you want to try another kind of sauce, you might check out the KC-style barbecue sauce, spicy sesame vegan mayo, smoky chili oil, and maple mustard.
More Buddha Bowl Meal Prep Guides
Simple Recipes to Mix and Match Your Meal Prep
As always, if you try this recipe out, let me know! Leave a comment, rate it (once you've tried it), and take a picture and tag it @gastroplant on Instagram! I'd love to see what you come up with.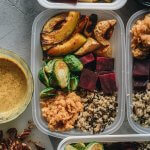 Print Recipe
Winter Buddha Bowl Meal Prep
The Winter Buddha Bowl Meal Prep features filling, nutritious seasonal veggies cooked just right and paired with a warming cashew curry sauce. Use this guide to simplify your lunches in cooler months.
Ingredients
Roasted Veggies
1

pound

beets

scrubbed

1

pound

parsnips

peeled and chopped

1

pound

brussels sprouts

halved

2

pounds

kabocha squash

sliced (can substitute other winter squash)

Olive oil

Salt and pepper
Red Lentils
1

Tablespoon

olive oil

2

cloves

garlic

crushed

1

teaspoon

cumin powder

1

Tablespoon

paprika

1

pinch

cayenne powder

(optional)

1

pound

red lentils

(450 grams)

4

cups

water

2

Tablespoons

miso

(optional)
Mixed Grains
4

cups

cooked mixed grains of your choice
Sauce
1

tablespoon

curry powder

6

Tablespoons

dijon mustard

6

Tablespoons

water

1/4

cup

cashew butter

1

pinch

garlic powder

2-3

teaspoons

maple syrup
Instructions
Roast the Veggies
Preheat the oven to 425F (220C). You can roast all of the vegetables at this temperature and can cook multiple ingredients at the same time, depending on your oven's size.

Wrap the beets individually and tightly in aluminum foil. Place them on a baking pan. Bake until tender, at least 50 minutes. When the beets are cooked, allow them to cool, then peel and slice them into bite-size pieces.

For each of the parsnips, brussels sprouts, and kabocha, toss them in a large bowl with 1-2 Tablespoons of olive oil and season them with salt and pepper. Spread each one on its own foil-lined baking sheet in a single layer.

The parsnips will need about 30 minutes. Remove them when they are caramelized around the edges and tender on the inside. Flip them at least once during cooking so multiple sides get browned.

The brussels sprouts will need around 25 minutes. Remove them when they are brown around the edges and still fairly bright green. If you notice the color turn less vibrant, remove them so they don't overcook and become bitter.

The kabocha will need about 30 minutes. It's ready when caramelized on the exterior and tender throughout. Flip it once during cooking to brown both sides of each piece.
Toast the pecans
Spread the pecans in a single layer in a baking pan. Toast until slightly darker and oily looking on the surface, 5-7 minutes. You can toast the pecans at the same time that you're roasting the veggies. Allow the pecans to cool after roasting, then carefully chop them.
Cook the Lentils
Heat the olive oil in a medium saucepan over medium heat until hot. Add the garlic, cumin, paprika, and cayenne (if using). Stir them until they become nicely fragrant, 30-60 seconds.

Add the lentils and water and stir. Turn to high heat. When the water begins to boil, reduce to low heat, cover the pot, and simmer until the lentils are tender, about 7 minutes for split lentils or up to 20 minutes for whole ones.

Turn off the heat. Thoroughly stir in the miso (if using). Alternatively, you can season it to taste with salt or soy sauce.
Mix the sauce
Combine all the ingredients for the sauce in a bowl and mix thoroughly with a whisk or fork. Alternatively, you can use an immersion blender and the mixing glass that came with it.
Set up Your Week's Meals
Distribute even portions of roasted veggies, lentils, and mixed grains into each meal prep container. Drizzle a bit of sauce over them. Sprinkle with chopped toasted pecans. The meals will stay good for up to 5 days in the fridge. Microwave them right before eating.