Mushroom Fried Rice is loaded with the huge flavors of shiitake, button, oyster, and shimeji mushrooms and accented by garlic, soy sauce, and sesame. WARNING: this rice is addictive.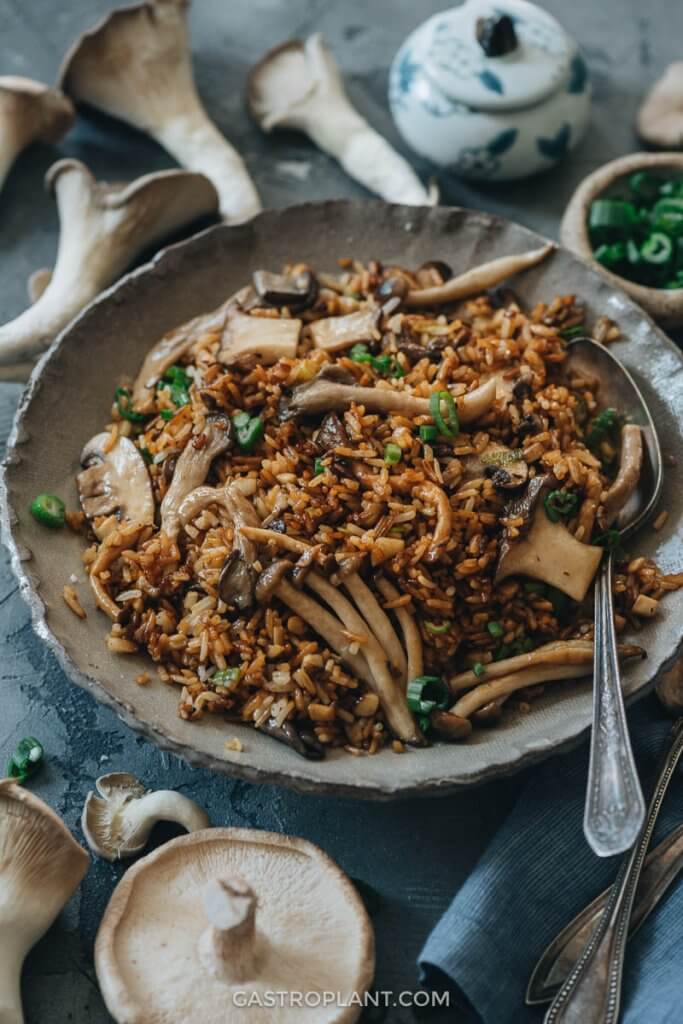 Why Mushroom Fried Rice
This dish was born out of my love for mushrooms. If you've followed the blog, you might have seen the various ways I've cooked them – roasting them in a few different ways, shredding and barbecuing them, and making them into "scallops" and "bacon". 
They're in most of my soup broths. And probably in at least 30% of all my recipes at this point.
It's not a coincidence – mushrooms are easily one of the most flavorful plant-based (or fungi-based) ingredients.
I wanted to make some fried rice that would just fill your mouth with rich umami flavor. So I experimented on a few different combinations of mushrooms, eventually settling on this one. I hope you enjoy it!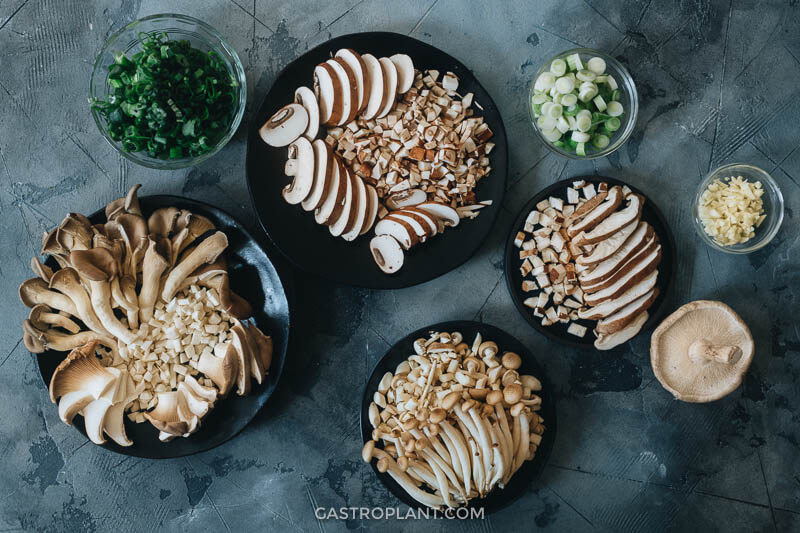 The Four Kinds of Mushrooms
I chose different mushrooms for their different characteristics. I'll explain here:
Brown button, crimini, baby bella, or champignon – different names for a very common mushroom that mild and abundant.
Oyster mushrooms are meatier and a little more flavorful than the brown ones. I chose them for their flavor and satisfying texture.
Shimeiji, sometimes also called "seafood mushrooms" have a mild yet slightly seafoody flavor and a nice toothy texture. I chose them for texture and aroma.
Shiitake are intensely flavored – just two of them are enough to fill a pan of fried rice with their deep, earthy essence.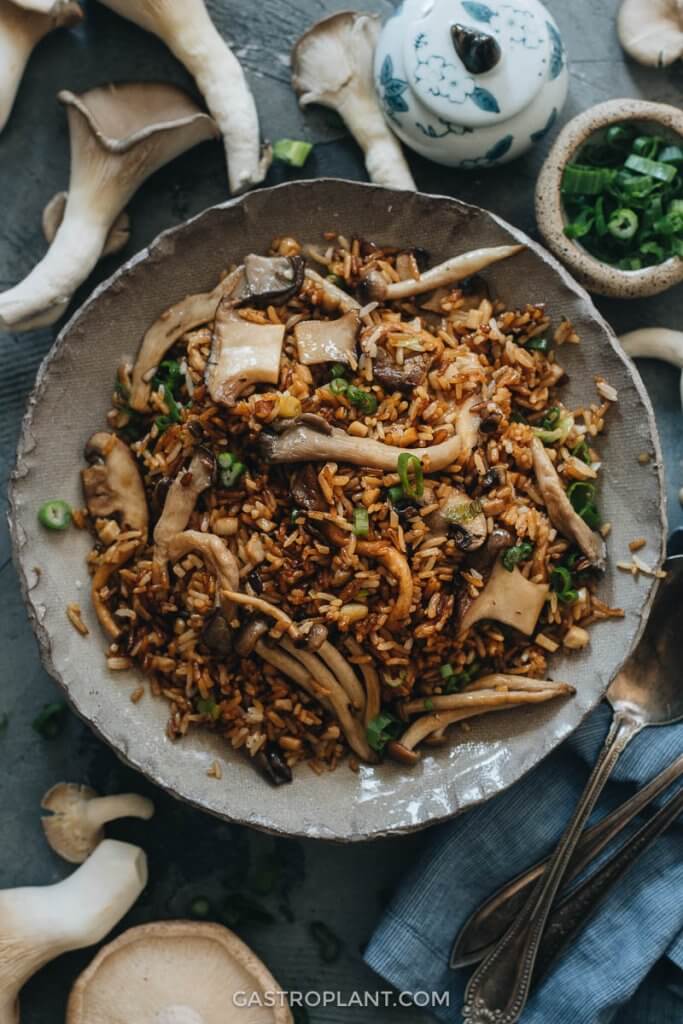 How to Make Your Mushroom Fried Rice Pop
While the dish is pretty simple, both in terms of number ingredients and process. But here are some things to keep in mind so you can make your tastebuds sing.
Pay attention to how you cut the mushrooms
I used a combination of small 1/4-inch (1/2-cm) cubes, slices, and whole mushrooms.
The small cubes have a nice even texture and ensure you get lots of mushrooms in every bite. The slices and whole mushrooms are nice to look at and have a more satisfying texture.
Be generous with the garlic and green onion
The garlic and green onion will help create some depth of flavor and they balance the mushrooms well. Cook the green parts of the green onion lightly to preserve their grassy aroma
Season the mushrooms
The seasonings here are pretty simple, so each seasoning element is important:
Salt the mushrooms after adding them to the pan to boost their flavor from the start.
Soy sauce is the perfect companion to mushrooms, as it doubles their umami power.
Toasted sesame oil, added at the end, gives every bite a buttery aroma.
You can add a bit more salt to the rice, as needed, and black pepper is a natural fit with the other flavors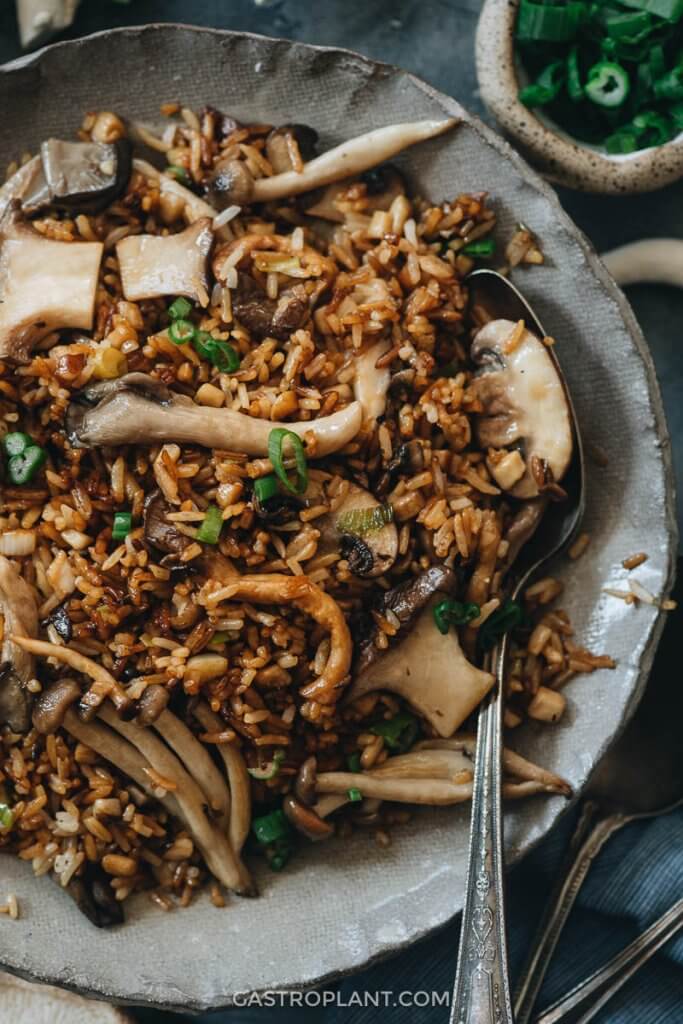 What if I Can't Find All These Different Mushrooms?
No worries! Just make sure you have the same total quantity, not including the shiitakes, and you can try whatever kind of mushrooms you like.
I don't recommend using much more than 2 or 3 shiitakes in any case, since they can overpower the dish (depending on the type) if you're not careful.
Classic Vegan Comfort Food With Mushrooms
Even More Ways to Use Mushrooms (all Plant-Based)
As always, if you try this recipe out, let me know! Leave a comment, rate it (once you've tried it), and take a picture and tag it @gastroplant on Instagram! I'd love to see what you come up with.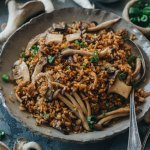 Print Recipe
Mushroom Fried Rice
Mushroom Fried Rice is loaded with the huge flavors of shiitake, button, oyster, and shimeji mushrooms and accented by garlic, soy sauce, and sesame. Warning: this rice is addictive.
Ingredients
4

cups

cooked rice

preferably refrigerated overnight

1/2

pound

brown

crimini mushrooms, diced and chopped (see note)

1/2

pound

oyster mushrooms

chopped

1/2

pound

shimeji mushrooms

chopped

2

fresh shiitake mushrooms

diced

6

cloves

garlic

chopped

6

green onions

chopped and green and white sections separated

2

Tablespoons

peanut oil

or other neutral cooking oil

2

Tablespoons

soy sauce

Salt and pepper to taste

1

drizzle

Toasted sesame oil
Instructions
Heat the oil in a large skillet over medium-high heat. When hot, add the garlic and the white part of the green onion and stir until fragrant, about 1 minute. Add the mushrooms and cook until blistered, and mostly cooked, stirring occasionally, 5-6 minutes.

Add the rice. Stir and break it apart to separate the grains as much as possible, combining it evenly with the mushrooms. Cook until the rice is heated through and possibly lightly toasted, 3-4 minutes. Add the soy sauce and the green part of the green onion. Stir for another 1 minute to mix everything evenly.

Turn off the heat, drizzle the toasted sesame oil, season with salt and pepper to taste, give it a final stir, and serve immediately.
Notes
You can use other kinds of mushrooms than those called for here. Or you can use all one kind of mushroom (though I don't recommend using all shiitake due to the potentially overpowering flavor). Just make sure you have 1.5-2 pounds of mushrooms in total.
I also used king oyster mushrooms when testing the recipe. If you use these, you'll want to dice the stems small so they're easier to chew. You can slice the caps or leave them whole.
It makes a difference how you cut the mushrooms in general. I recommend dicing at least half of them into 1/4-inch (1/2-cm) cubes so you get some mushrooms with each bite of rice, and slice the rest (or leave them whole).